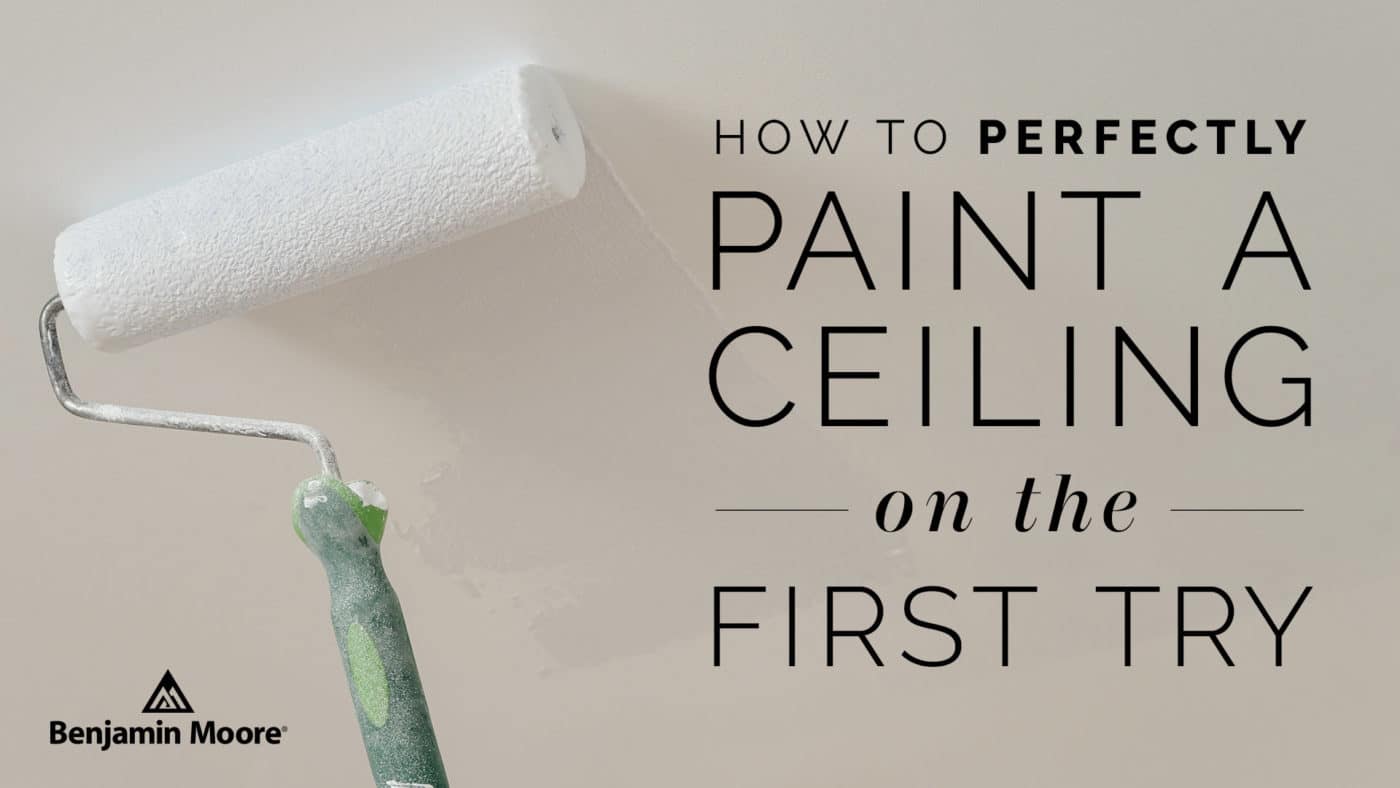 A How-To Guide to Painting Your Ceiling Like a Pro
If you're thinking about a DIY ceiling painting project, you are probably asking yourself the following questions: How do I pick a color? What tools do I need to get started? How do I even paint something so high up, anyway? Well, Janovic has you covered with one of our latest painting tips.
We've put together a quick "how-to" on ceiling painting, including a few design inspirations to make your job a whole lot easier. That means whether you're looking to paint a ceiling white, a sunny yellow, or even a moody black, you'll have the knowledge available to get the job done the right way.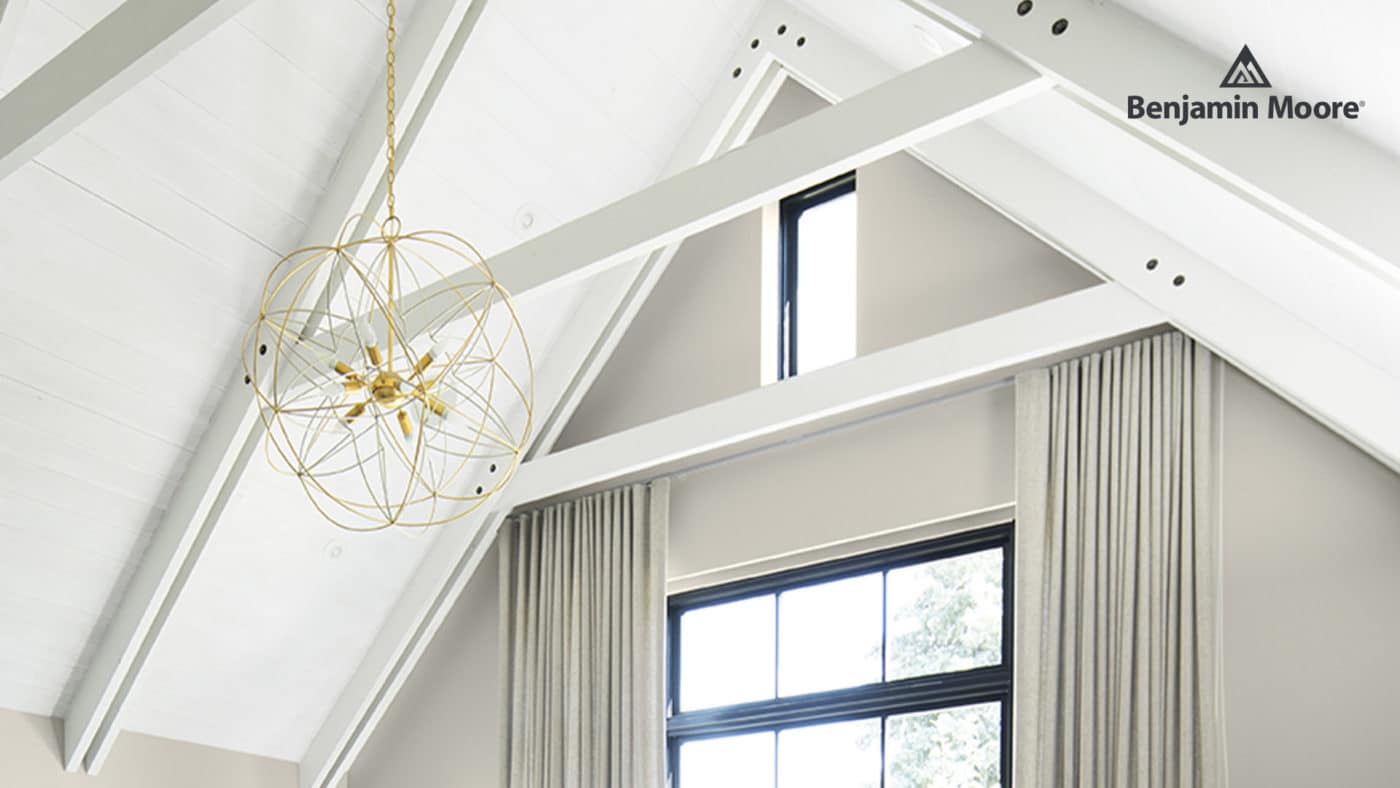 Picking the Perfect Paint Color
Everyone loves a classic white ceiling. Since white reflects light, a well-painted white ceiling can make a room seem brighter and larger than it actually is. A delicate white like Chantilly Lace OC-65 will brighten up any kitchen, foyer, or bedroom. However, if you're considering repainting your ceiling, why stop at white? Colored ceilings just might be the new trendy "accent wall" you've been dreaming about.
Ceilings don't always get a lot of love and get the typical white flat finish. Here at Janovic, however, we consider them another wall for you to pour your creativity onto. Painting your "fifth wall" a new shade can add dimension and personality to a room. The color you choose will be a mood setter for the room.
A pop of light color on a ceiling and room trim can make your home feel airy, breezy, and fresh as a sunny sky. Try Constellation AF-540 if you want to mimic a vibrant clear blue sky.  If you have brightly colored walls, using a shade or two lighter on your ceiling can be a clever way to open up the room while staying within the color scheme.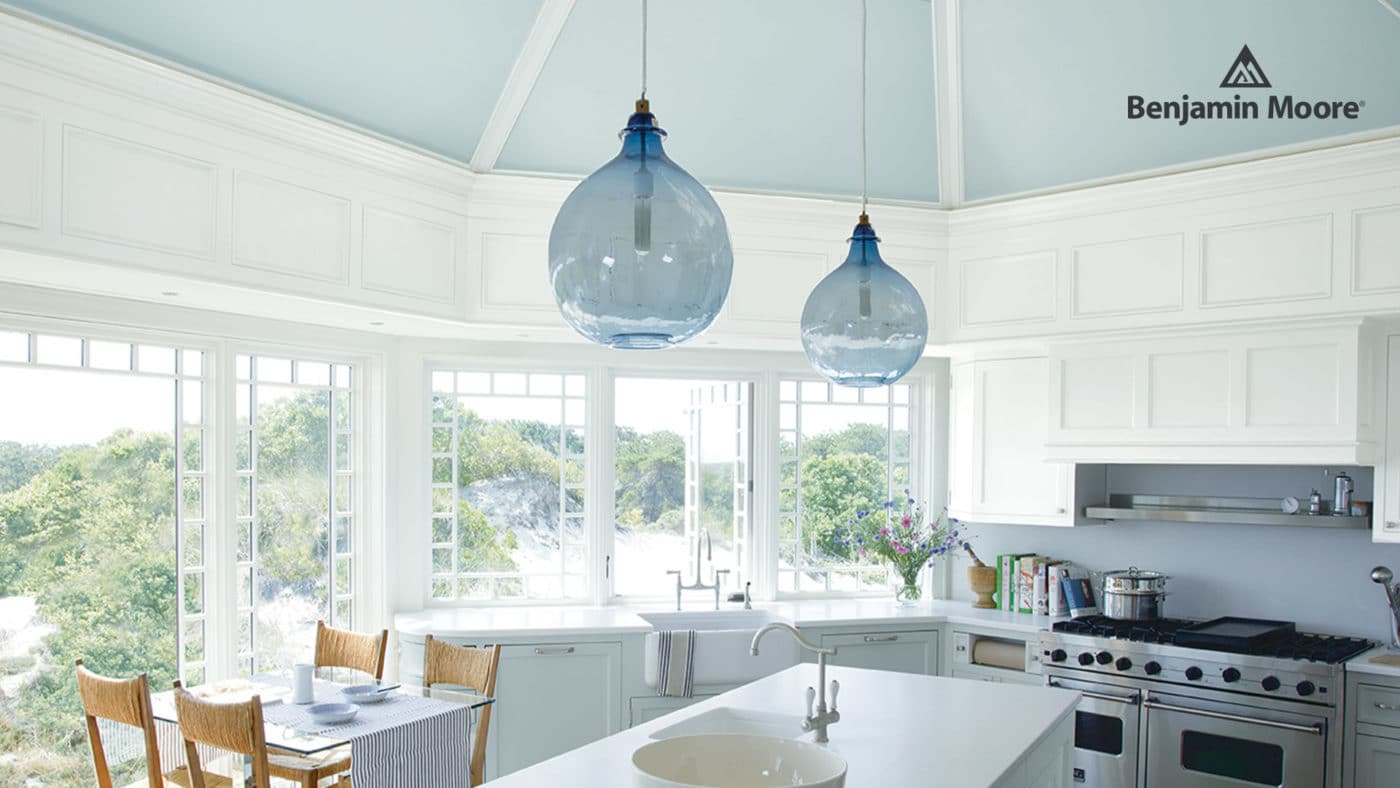 If you want to turn up the drama in your study, bedroom, or entertainment area choose a rich dark color for your ceiling. Just like the night sky, a dark ceiling can make your room appear never-ending. A ceiling painted in dramatic Cinnamon 2174-20 red will make any sophisticated study seem bolder, while a rich Space Black 2119-10 will bring intimacy to a master bedroom.
Don't rule out even brighter colors that you haven't necessarily pictured on a ceiling before. How about a quirky yellow ceiling to make a once-stuffy room seem sunny and open? Try Banana Yellow 2022-40 in the kitchen for an appetite-inducing twist.  If you're painting a bathroom ceiling, you have the perfect opportunity to get creative! Fun colors can add a playful touch, like Benjamin Moore's Pink Taffy 2075-50. The possibilities only stop at your imagination.
Lastly, don't forget about the impact that different paint sheens can have on your ceiling's look. Breakaway from the flat white ceiling with a matte or even a high-gloss finish. Check out our Complete Guide to Paint Sheen for some ideas.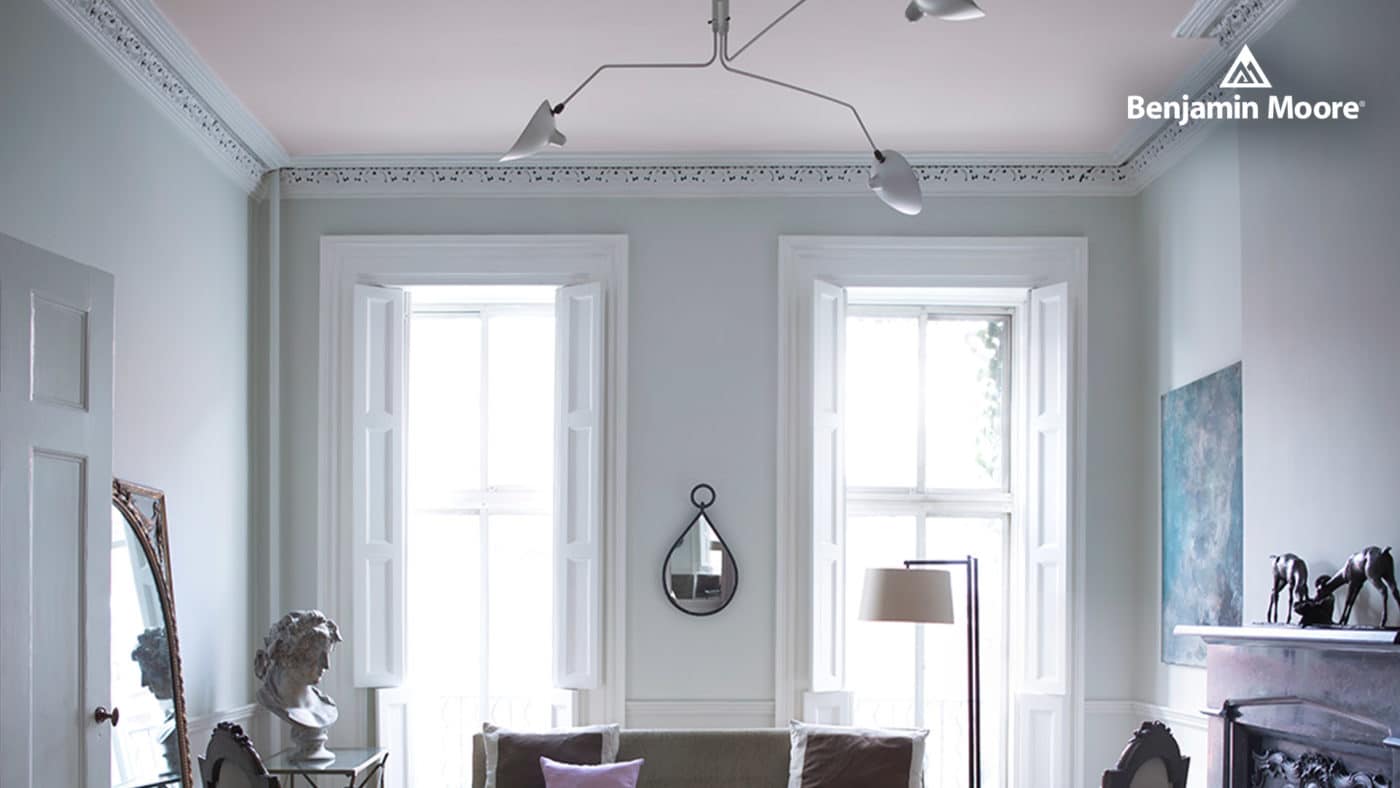 Painting Tips to Paint Your Ceiling Like a Pro
Let's get to painting. Follow these simple painting guidelines and you'll be a ceiling painting professional in no time!
STEP ONE: CLEAR THE ROOM AND USE DROP CLOTHS
Clear out the room. No matter how careful you are, painting the ceiling will inevitably lead to paint getting on something. Even professional painters cover the floor since paint spatter is virtually inevitable. We recommend dropcloths on the things you absolutely cannot move. Consider canvas on the actual floor to prevent slipping if you're going to be using a ladder.
STEP TWO: PAINTER'S TAPE IS YOUR NEW BEST FRIEND
Grab your painter's tape and tape off the crown molding, corners, or anywhere you don't want the paint to run. Don't forget to account for light fixtures like pot lights and ceiling fans, if you are unable to remove or loosen any from the ceiling you'll need to tape them off.
If you're repainting the entire room, feel free to start with the ceiling in order to skip the wall tape. If you go this route, you'll need to tape the ceiling once it's completely dry. We often get asked, "should I paint the ceiling or walls first?" The truth is both have their drawbacks and benefits! Just start where you feel most comfortable.
STEP THREE: EXTENSION POLES & PAINT ROLLERS
You can probably do most of your painting from the ground if your ceilings are lower than 10 feet. If you're thinking of painting a ceiling with a paint roller, a handy extension pole is key here. Even high ceilings can be handled with the right extension poles.
Don't forget a hat to protect your hair and head from splatter. Ideally, you'll want a stepladder on hand for painting cut lines along the edges of the ceiling by hand (more on this in a moment). You can paint virtually any type of ceiling – even highly textured ceilings or popcorn ceilings – if you have the right tools. Our staff would love to help you choose your roller covers, roller frames, and roller extension lengths!
STEP FOUR: PRIME FOR THE BEST COVERAGE & PROTECTION
Choose a primer that matches the type of ceiling you have. Priming your ceiling will put a barrier between stains and the actual drywall and will likely save you a second coat of color. Plus, a great Benjamin Moore Primer like Natura® Premium Interior Primer will provide extra adhesion to help your paint stick to your ceiling long-term. If you're wondering about painting on ceiling tiles, a primer can help you there as well. Feel free to discuss this your planned paint job with expert advice from any of our knowledgeable staff.
STEP FIVE: HIGH-QUALITY CEILING PAINT
Now it's time to get to painting! Prior to dipping your roller, make sure you are using a high-quality ceiling paint or that you've primed your ceiling to accept "normal" paint. Ceiling paint, while a latex paint, is slightly thicker and will stick to your ceiling better than the normal stuff and offers superior coverage for a flawless finish. For an ultra-flat finish, we recommend Benjamin Moore Waterborne Ceiling Paint or Muresco Ceiling Paint for paint and primer in one. Both are available in a pre-mixed white or thousands of Benjamin Moore colors.
If you choose to go with a classic white paint Benjamin Moore's INSL-X Color Changing Paint is a great choice (contact us to order this great product). This paint goes on pink to help you identify missed spots – but it dries a flat white that's great for hiding imperfections. If you're wanting to paint your ceiling a color other than white, ask one of our friendly staff members for primer recommendations. Remember, we can color match!
STEP SIX: HAND PAINT YOUR CUT LINES
Paint the edges of the ceiling with your paintbrush in a line about 2-3" wide, but don't fret if it isn't perfect. This line is just to help avoid mishaps, splatter, and paint drips. Cut Lines are a great barrier between paint your roll-on, and your walls.
STEP SEVEN: GET CEILING PAINTING!
While your cut lines are still wet, assemble your roller, and start with a coat of paint. Don't over-saturate your roller but ensure that it stays wet. To prevent paint lines, roller marks, and lap marks, keep a wet edge by overlapping your painting. Start each new paint section by overlapping the wet parts of your last paint section. Paint the entire ceiling for your first coat in one session, so that the paint dries uniformly. If you want to put on a second coat, be sure to let the first one dry completely.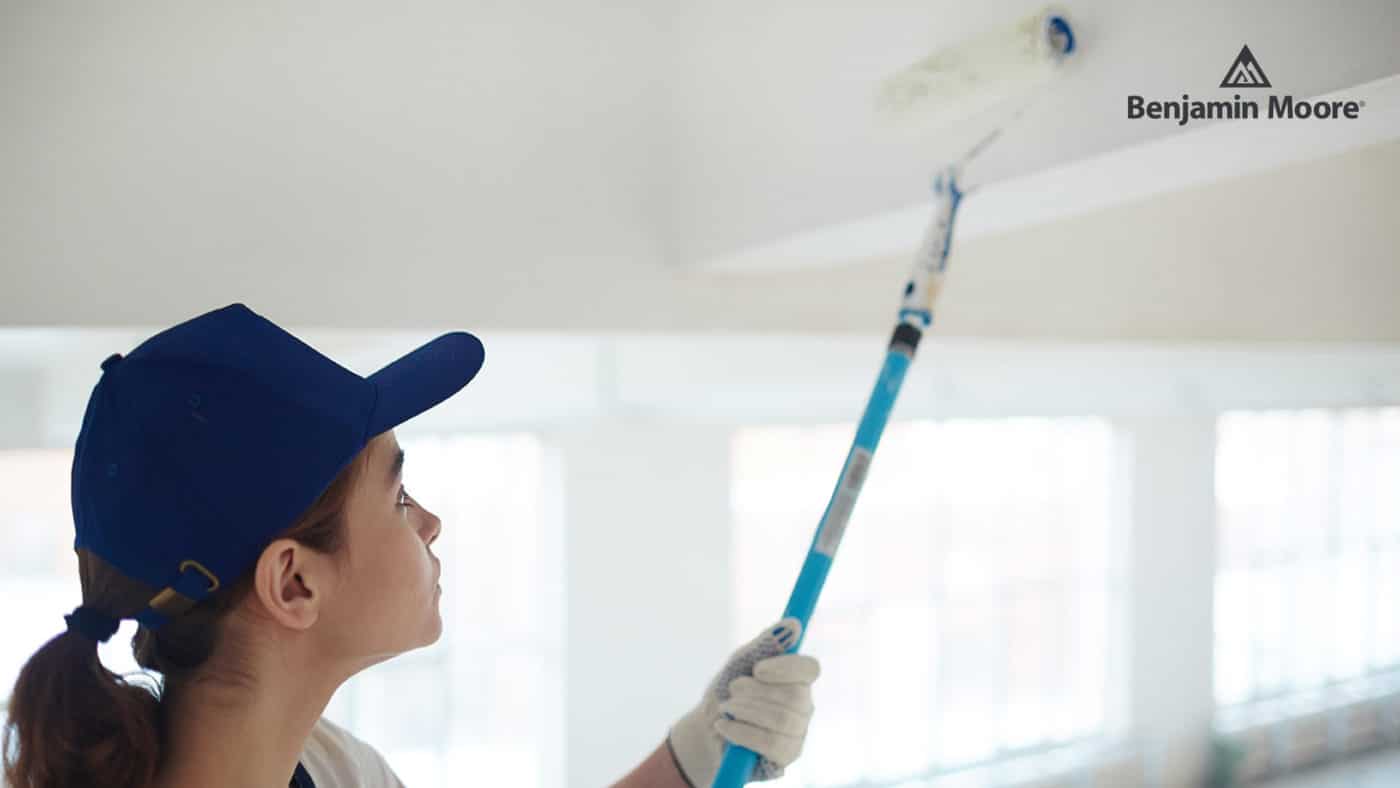 Whether you're looking for a classic white ceiling or a funky new aesthetic, Janovic's variety of Benjamin Moore paints has you covered. With these simple steps, you can paint your ceiling easily and confidently. Don't forget that you can shop Janovic Painting Supplies Online, or visit one of our 12 NYC locations and have one of our helpful staff members assist you with any questions you might have. Happy painting!