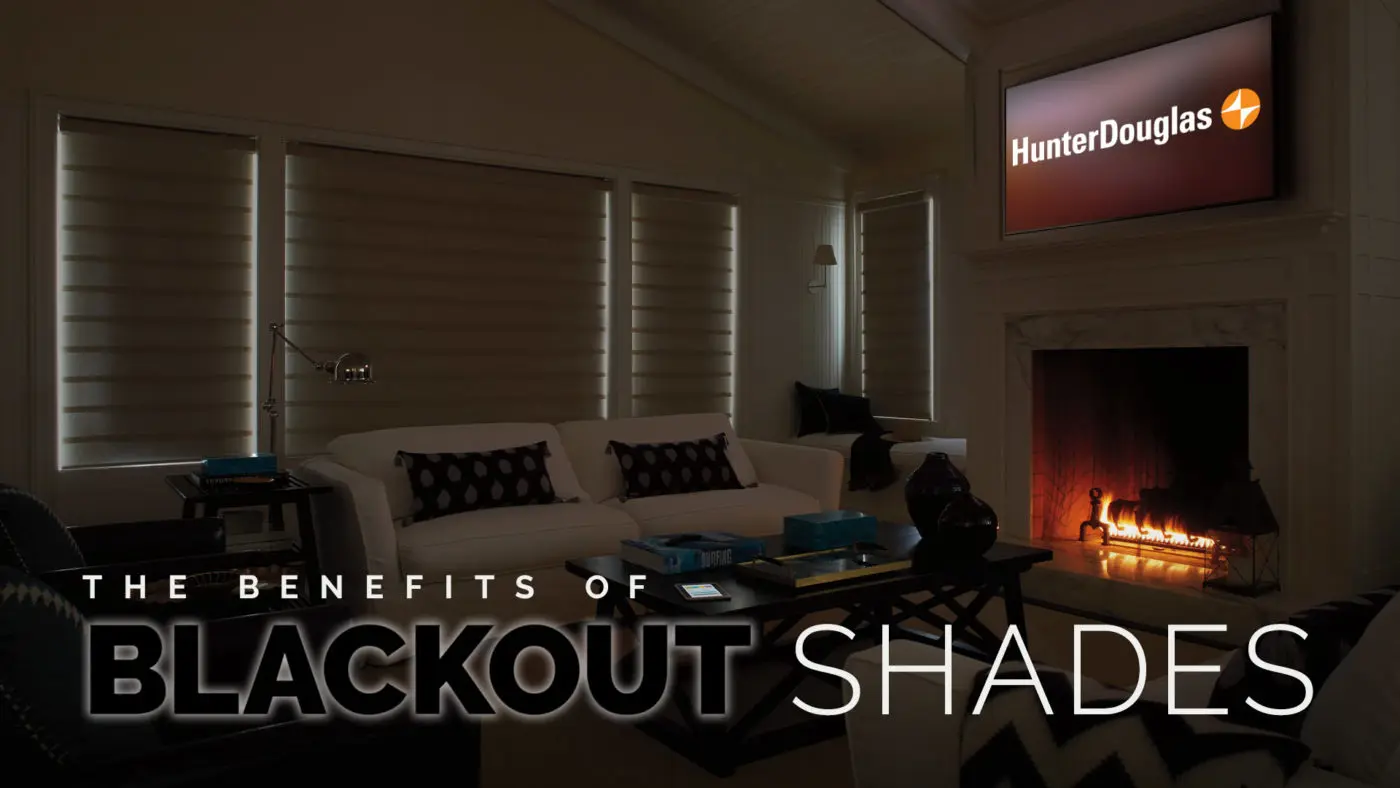 How Blackout Blinds Elevate Your Home's Ambiance
When you think about blackout blinds or shades, you probably equate them with their utilitarian purpose: Keeping your bedroom, living room, office, or media space dark to fill a specific, practical need. Perhaps you work late nights and need to block out morning sunlight in order to get a full eight hours of sleep. Or maybe you just want to enjoy a cinematic movie-watching experience during daylight hours.
Important note: The term "blackout shades" can be misleading; while there are many products that can filter out nearly all of the natural light it can be difficult to achieve it completely. We invite you to schedule a consultation with us to thoroughly discuss your particular needs.
Whatever the reason, blackout shades are an ideal solution for bright, sun-filled homes whenever you want to minimize light. And thanks to recent innovations, you can now find blackout shades that are both practical and attractive, adding another aesthetic dimension to your interior decor.
If you're considering blackout blinds for your home, just stop by your neighborhood Janovic store to speak with one of our window treatment specialists. We're proud to be partnered with Hunter Douglas, the leading U.S. manufacturer of premium blinds and shades. Our team of experts will not only help you select or order the right blinds or shades for your windows but install them as well – so you can start enjoying their benefits in as little as one week.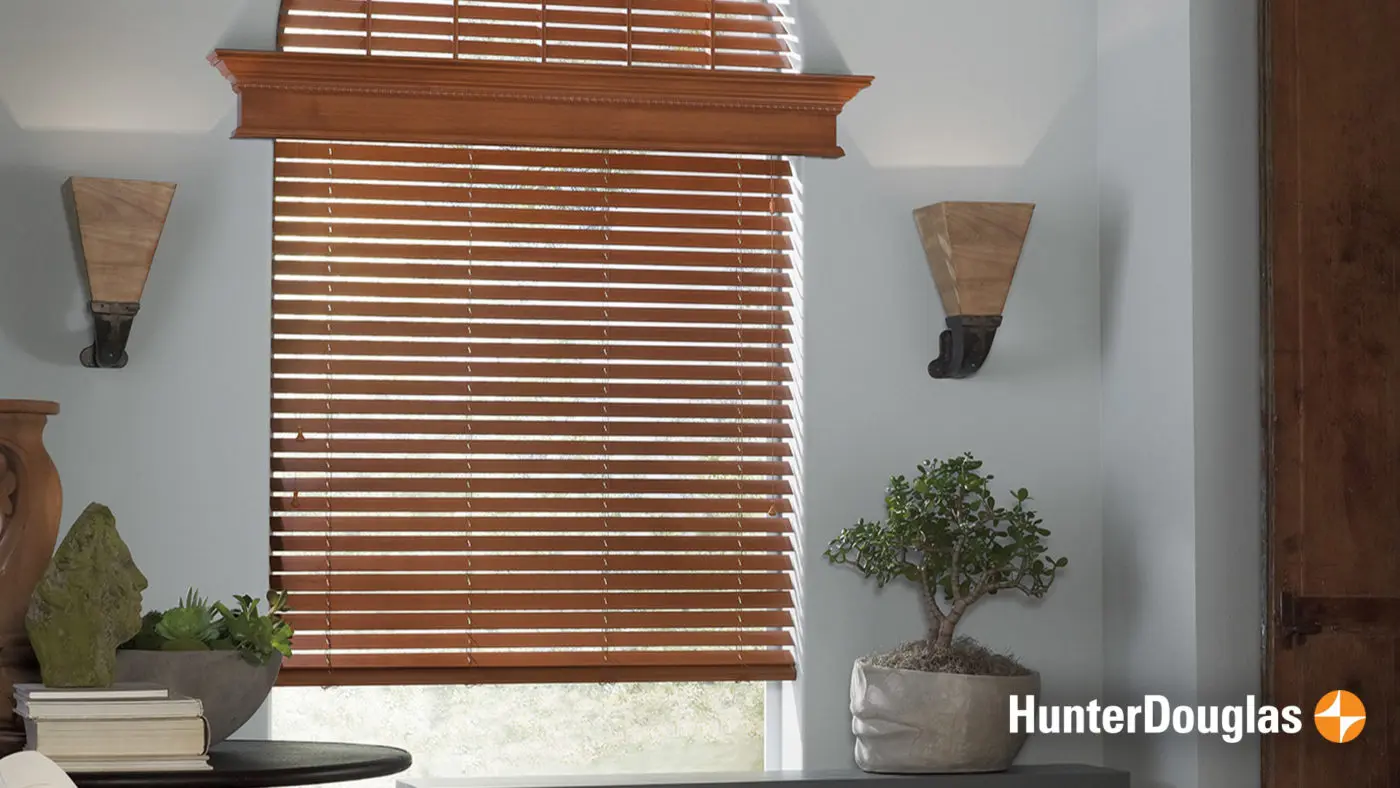 The Top 3 Benefits of Blackout Shades
It's no surprise that the number one benefit of blackout shades is their ability to "blackout" an entire room, filtering out nearly 100 percent of natural light. However, blackout blinds offer a couple of other notable benefits that you may not have been aware of – including improving the energy efficiency of your home and reducing exterior noise pollution.
These benefits make blackout shades a good fit for more than just your bedroom or media room. They can keep your home office quiet for optimal focus, insulate a nursery so the baby can sleep peacefully, or protect your antique dining room table from bleaching.
Here's a more in-depth look at the top three benefits of blackout curtains, blinds, and shades:
1. BLACKOUT SHADES BLOCK LIGHT
Blackout shades block all forms of light – including natural and artificial light – so that the room you're using them in can be made almost completely dark, even during the brightest hours of the day. They're a must-have for shift workers who need to sleep during the daytime since sunlight is a key disruptor of your circadian rhythm. They're also great for city dwellers whose apartments are constantly exposed to street lights, flashing emergency vehicles, and illuminated billboards at night.
However, blackout shades can be an excellent investment even for those who live on several acres of land with almost zero nighttime light pollution. That's because blackout shades aren't just for sleeping: They can also vastly improve your daytime media watching experience, help babies and young children fall asleep more quickly at naptime, reduce dust accumulation, and protect your floors, artwork, and furniture from fading.
The latter is especially helpful for those who own a second property, such as a summer rental home, that goes unoccupied for long stretches of time. By keeping blackout shades drawn during the off-season, valuable interior décor stays cleaner and holds its condition for longer.
2. BLACKOUT SHADES REDUCE NOISE
What if your concern isn't so much with natural light, but with your neighbor's dog who never stops barking? Or the constant wail of sirens coming from the nearby fire station? Noise can be just as disruptive to a good night's sleep as light – thankfully, blackout shades can help mitigate the issue.
While blackout shades won't eliminate 100 percent of exterior noise (they're not the same thing as noise blocking curtains), certain styles can reduce it significantly. Hunter Douglas Duette® honeycomb shades, for example, have been shown to reduce noise by up to 70 percent. Blackout blinds also improve the room's acoustics by minimizing reverberation and echo and absorbing harsh sounds that would otherwise "bounce" back and forth through the airwaves.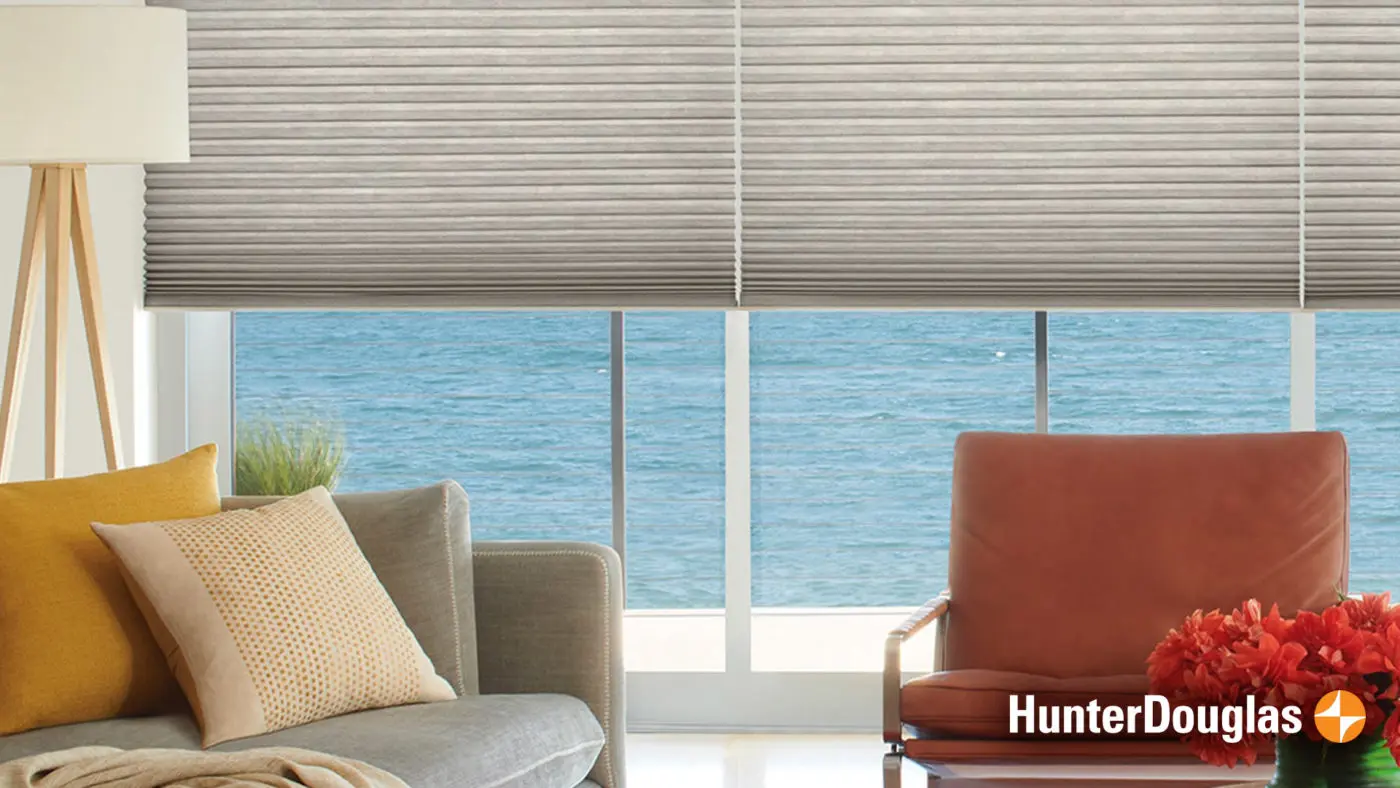 3. BLACKOUT SHADES IMPROVE YOUR HOME'S ENERGY EFFICIENCY
Did you know that, in the winter, up to 30 percent of your home's heating energy is lost through your windows? And during the summer, when you're running the A/C, about 76 percent of the sunlight that falls on standard exterior windows enters your home as heat? All this can be mitigated by installing high-quality window treatments.
According to the U.S. Department of Energy, tightly installed cellular shades can reduce heat loss through windows by 40 percent or more, which equates to about 20 percent savings in heating costs. That's because blackout shades provide a layer of insulation, preventing the uncomfortably hot or freezing cold air outside your home from getting in.
If you have a moment, go ahead and calculate how much you spend each year on heating alone – and then determine what 20 percent of that figure looks like. Your calculations may reveal that your new blackout shades will pay for themselves after only a few years of use (or, depending on the size and construction of your home, a few months).
Blackout Shades vs. Blackout Curtains vs. Room Darkening Shades
You may have heard the term "room darkening" when shopping for blackout shades. If you're wondering what the difference is between room darkening and blackout shades, here's your answer:
Room Darkening Blinds: Block out 95-99% of natural light
Blackout Blinds: Block out nearly 100% of natural light
The amount of light blocked out by your blinds, shades, or curtains is determined by the opacity (i.e. the lack of translucence) of the fabric. Different types of fabric have different opacities: Generally, the thicker the weave, the more light is filtered out. Different materials also impact light filtration.
If you're shopping for blackout curtains (which hang on a rod above the window, rather than within the window casing), look for options with a layer of linen or polyester on the outside, a layer of foam in the middle, and another layer of polyester or cotton on the side nearest to the window.
Looking for blackout blinds or shades? Stick with high quality, durable styles like slatted, honeycomb, roman shades, or roller shades that incorporate design features to minimize light gaps, seams, and rout holes – such as the de-Light™ feature on many Hunter Douglas wood and metal blinds or the LightLock™ system featured in Duette honeycomb shades.
Keep in mind that the percentages listed above are a rough estimate and not set-in-stone figures. Some manufacturers may label their blinds as "room darkening," for instance, when they only block out about 70-80 percent of light. This is why it's so important to purchase blinds and shades from a reputable dealer and do plenty of research before committing to a style.
Janovic Picks: The Best Blackout Shades from Hunter Douglas
Blackout shades are available in a variety of materials, fabrics, and sizes. The best style for your home will depend on your personal design preference, as well as the purpose for which you'll be using them. Some styles are better than others at blocking out noise, for instance, or keeping your home insulated in the winter. If you're not sure where to begin, contact us online and we'll put you in touch with one of our window treatment specialists.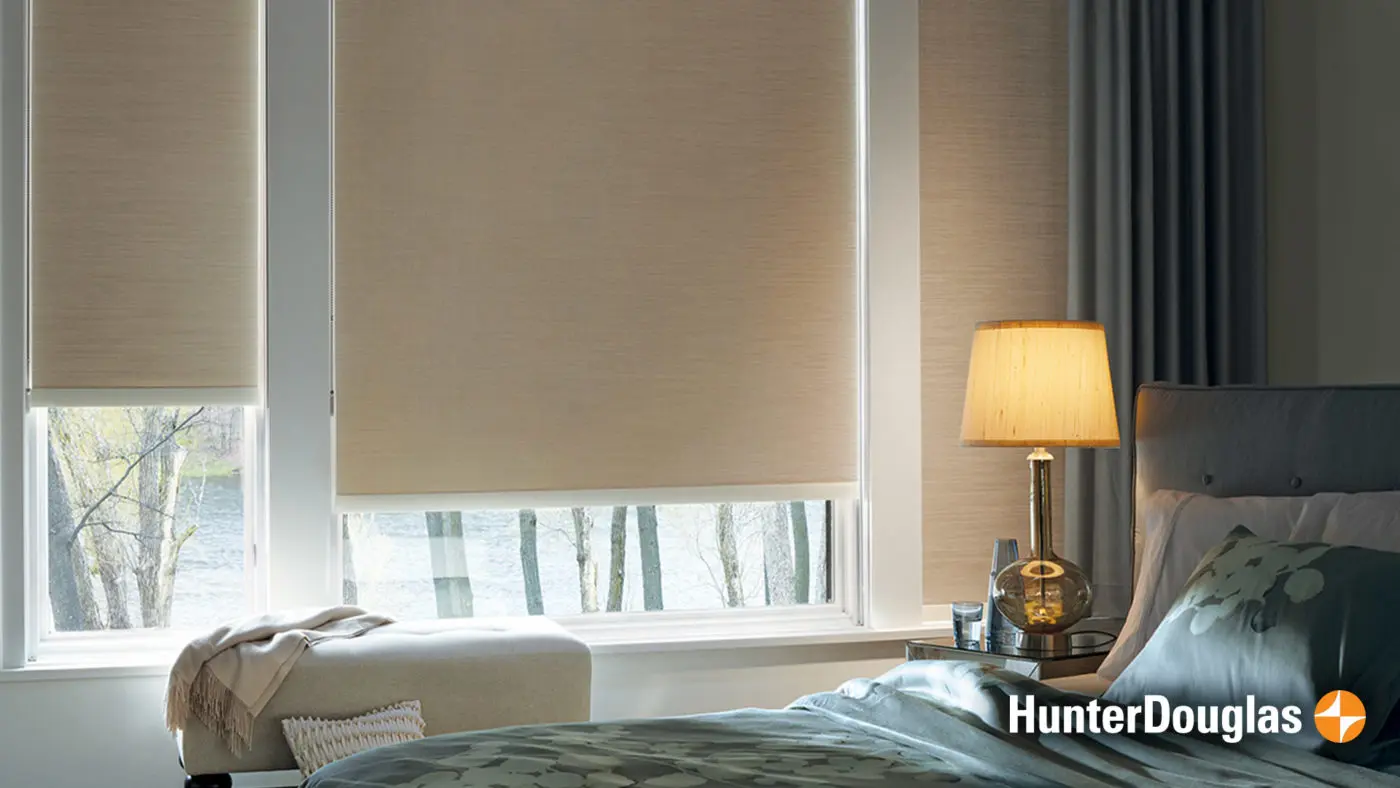 Meanwhile, here are some of our favorite blackout blind and shade styles from Hunter Douglas:
Shop Hunter Douglas Blackout Blinds & Shades at Janovic
Whether you want to get a better night's sleep, enjoy a theatre-like movie watching experience, or improve your home's heating and cooling efficiency, blackout shades are an excellent investment that your family will appreciate for years to come. Not only will they improve your day-to-day living environment in a practical sense – they'll also add value to your home if you eventually plan to sell.
Ready to order Hunter Douglas blackout blinds? Contact us online, give us a call, or stop by one of our design locations. One of our window treatment specialists will be happy to walk you through your options and place your order for quick delivery and installation.