It's important to have the right tools when you start a new project. Our team at Janovic wants you to succeed, which is why we carry all the paint tools you need to make your next project a masterpiece. Call us today to get an expert opinion on what you might need, whether you are working on a commercial or residential project.
Paint Prep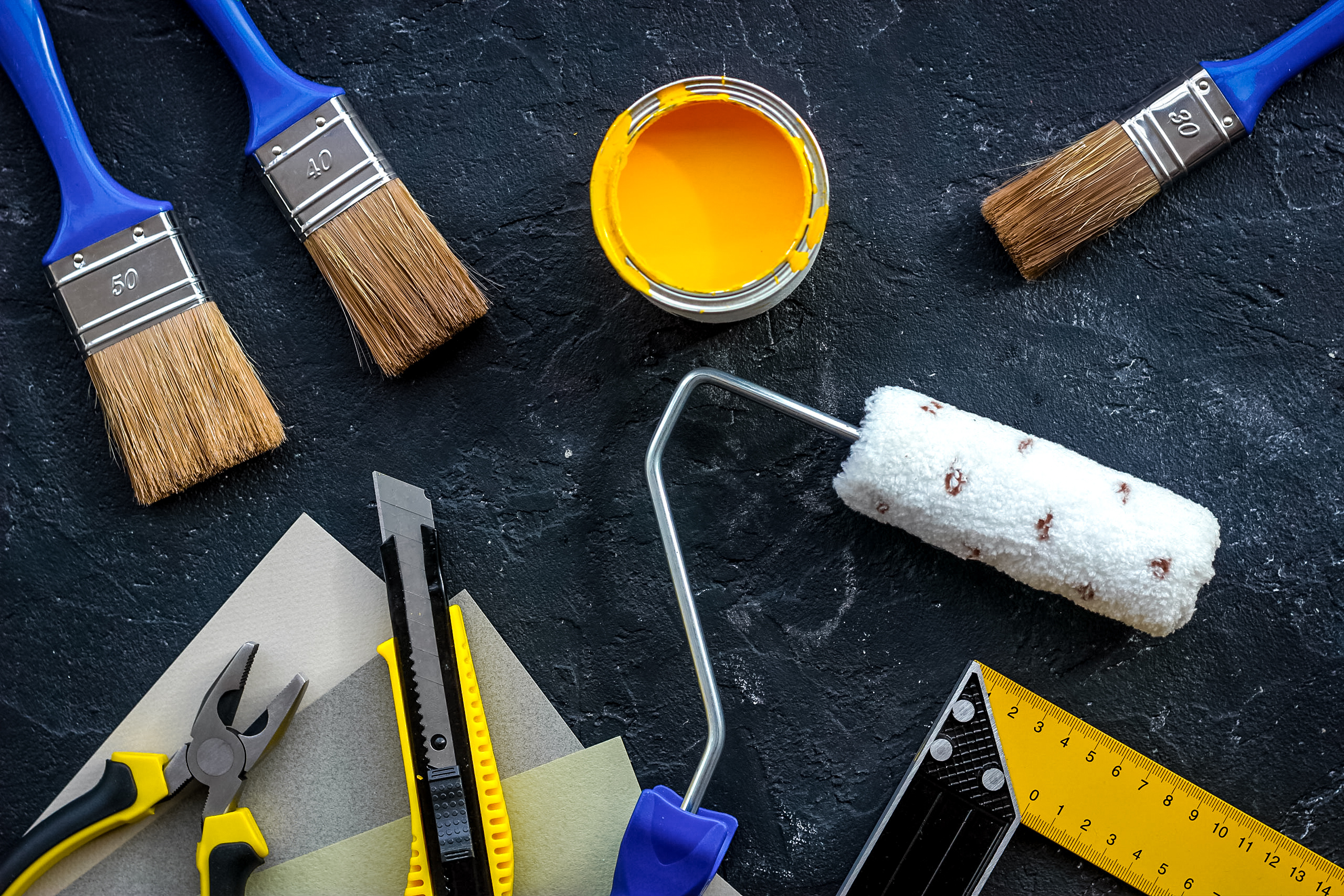 Proper prep sets the tone for your entire design. We carry all the right tools to get you started, including sanding sponges, sanding sheets, and sandpaper. These products are a brilliant addition to any paint toolkit, no matter what you're painting. Make sure to prepare your surroundings as well. Add a safety drop cloth to prevent any accidents and add sealants where necessary. Additionally, you can purchase masks to avoid fumes and shoe covers to protect your floors.
Paint Tape
Use painter's tape to get the cleanest lines possible. Add it around doors or molding to prevent messy-looking drips. We carry blue painter tape, paint masking tape, and other sealing tapes designed specifically for painting on walls. If you do make a mistake, our wiping cloths are ideal for touch-up moments throughout your project. Don't forget to be as prepared as possible and grab some of those as well.
Paint Tools
Now that you're ready to begin painting, get the high-quality paint tools you need at affordable prices. Whether you need paint knives, pads, applicators, or brushes, Janovic has it all! Our paint rollers are some of our most popular products, with the microfiber roller kits being a go-to for many of our customers. We have handles, roller covers, mini rollers, trays, cages, and more. Our rollers come in various lengths, and our brushes come in many different shapes and sizes as well. Our extensive collection is sure to satisfy all your paint tool needs.
Paint Sprayers
We carry many kinds of paint sprayers, and each has its own purpose. The Fuji Spray focuses on helping customers get the best results, no matter the size or complexity of the job. It is an impressive paint spray gun for jobs big and small. The Titan is a paint gun designed to help painters do better work without having to put in more time or effort. Check out The Accuspray for a lightweight, cost-effective paint application solution. We recommend The Binks for industrial finishing and automobile manufacturing projects. TriTech's goal is to produce the highest quality airless equipment on the market. Graco, the first portable airless paint sprayer, delivers high quality whether you're adding it to your professional arsenal or tackling a small home project. Our paint sprayers are the best of the best!
Contact Your Nearest Paint Supplies Store
We love the New York City, NY community, and we are proud to serve you at any of our multiple locations across the city or through our Shop At Home free-consultation Janovic is your one-stop shop for paint tools and supplies, Benjamin Moore paint, and Hunter Douglas window treatments. We measure. We design. We install. You sit back and relax. Contact us today to take advantage of our free shop-at-home service!