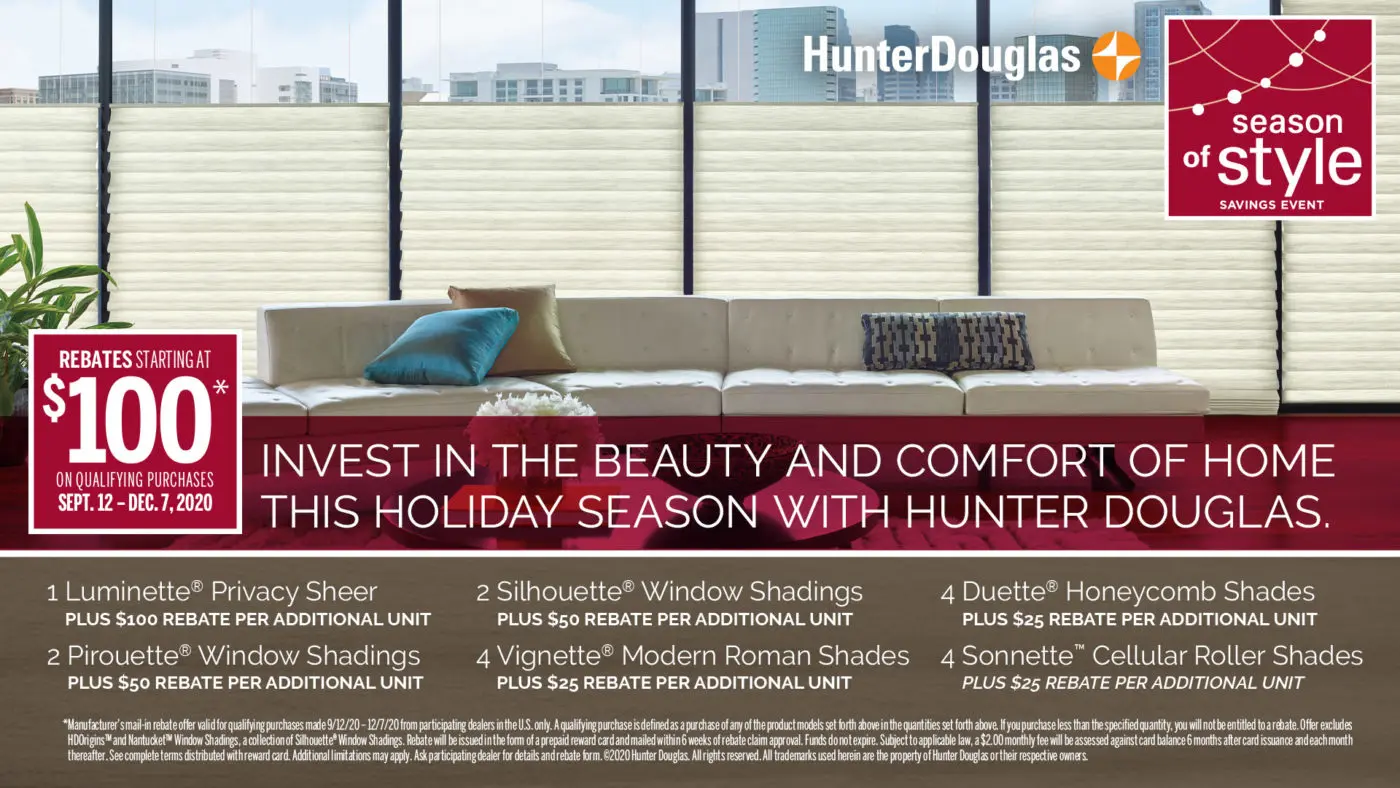 Save Big On Hunter Douglas Window Treatments Before Time Runs Out!
Hunter Douglas' Season of Style Savings Event is going on now and continues through December 7th. With rebates of up to $100 on six of our favorite Hunter Douglas window treatments, you won't want to miss out on these amazing deals. Winter is right around the corner, and now is the perfect time to upgrade your home so you're prepared. You will be amazed by the style and versatility of these window treatments. With so many options to choose from, you're sure to find the look you want at a price you never expected.
Rebates Of Up To $100 Are Available On Qualifying Purchases Of These Hunter Douglas Shades
LUMINETTE® PRIVACY SHEER
These beautiful sheers rotate up to 180 degrees offering both light control and a stunning look in any space. A wide variety of fabrics and colors complement any room, and the material itself is available by the yard so you can customize any part of your home to match. These Hunter Douglas Luminette Privacy Sheers are perfect for rooms where you want both light and privacy. We not only offer a rebate of up to $100 off one Luminette Privacy Sheer, but we also provide an additional rebate of up to $100 for each additional unit.
PIROUETTE® WINDOW SHADING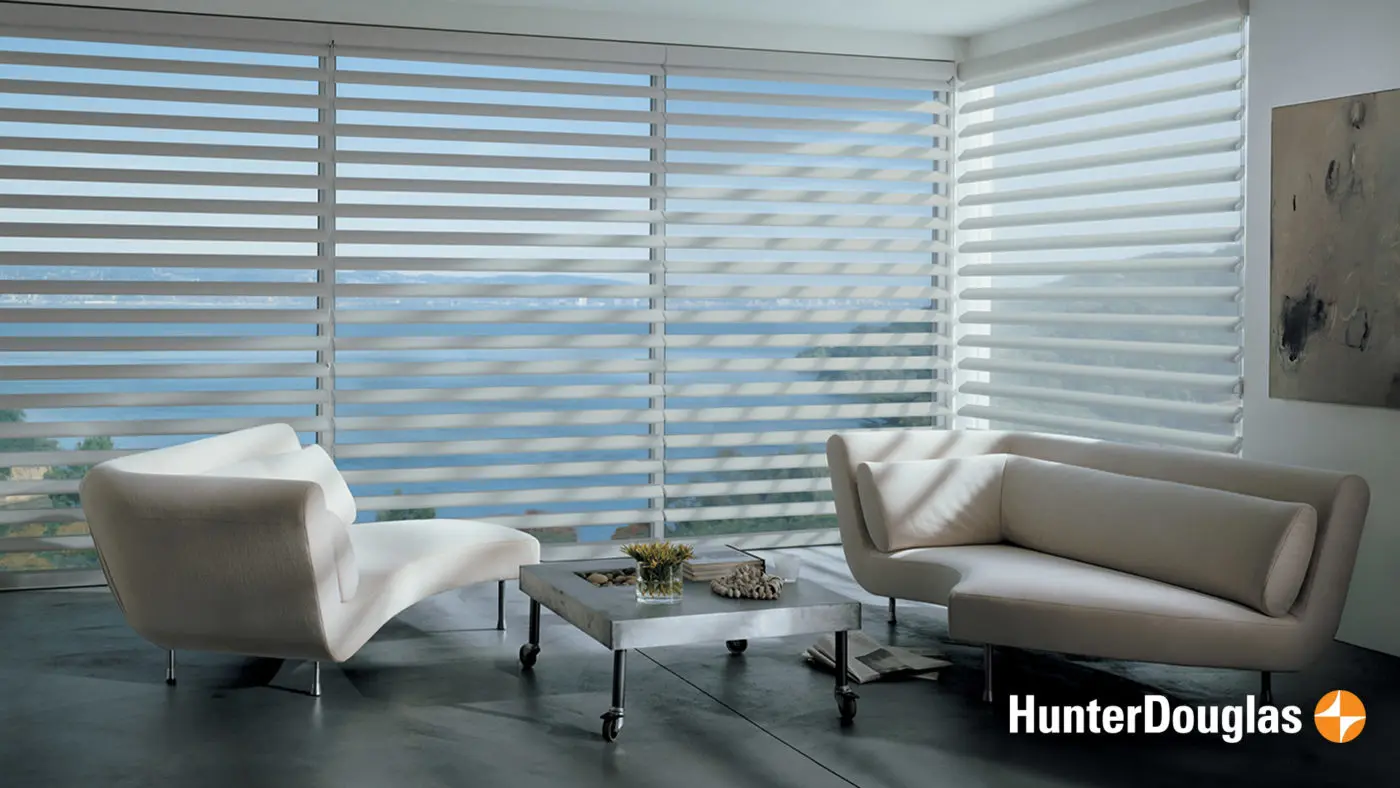 Hunter Douglas Pirouette Window Shades allow you to naturally light your home while maintaining your privacy, thanks to fabric vanes attached to a sheer backing. Available in various fabric choices, these beautiful window shades not only filter light but block up to 81% of harmful UV rays with the vanes open, and up to 99% with the vanes closed. Coupling that with a beautiful, sleek design, these Hunter Douglas Pirouette Window Shades are incredible for pretty much any room in your home. Get a rebate for up to $100 for two Pirouette Window Shades, with an extra rebate of $50 for every extra shade you purchase.
SILHOUETTE® WINDOW SHADING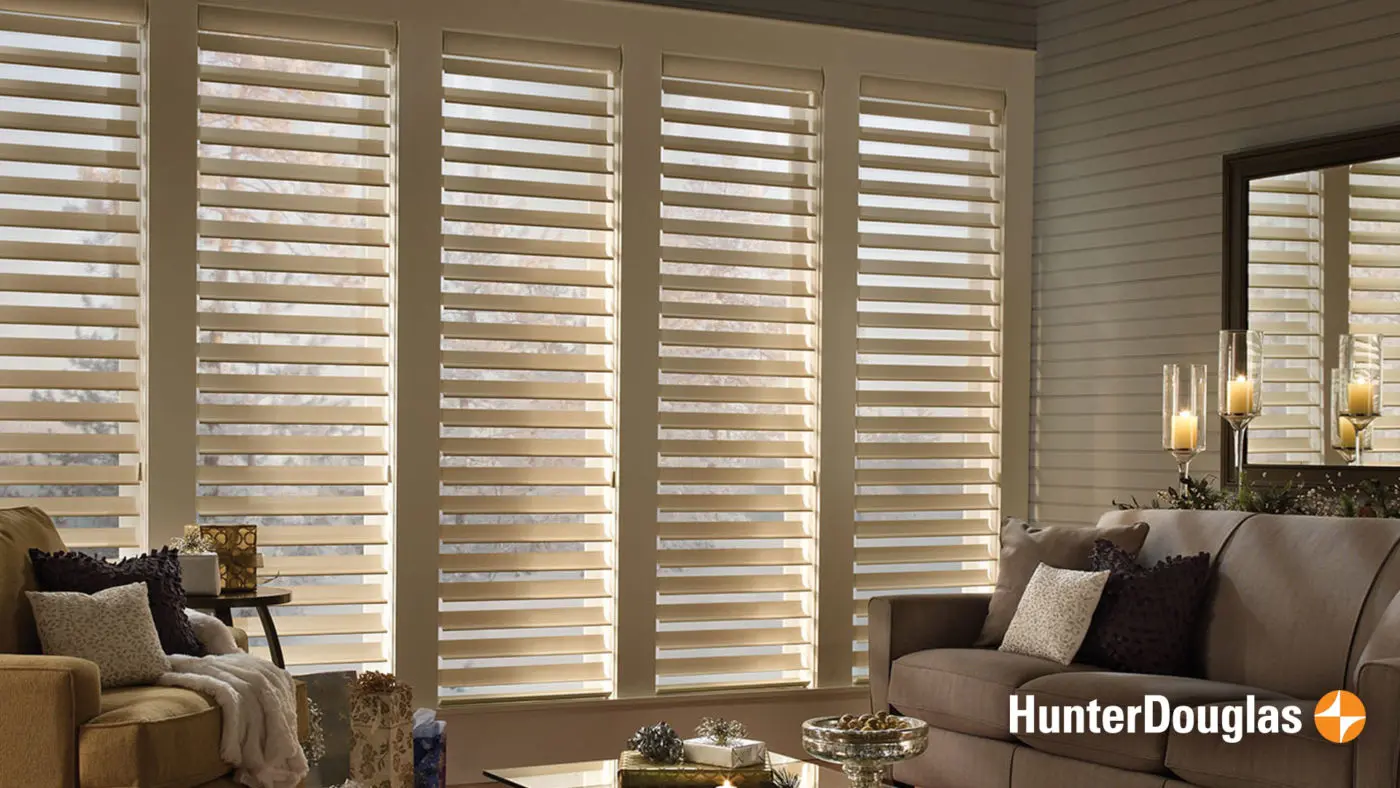 These Hunter Douglas Silhouette Window Shades feature adjustable S-shaped vanes to allow light in while keeping prying eyes out. Different colors, textures, and designs ensure these window shadings will fit any space with ease. Customizations such as different colors of sheers and other light-diffusing options allow you to optimize your space in luxury. The independently operated roller shade is easy to use, so you never have to hide a beautiful view or shade a perfect sunset. We offer a rebate for up to $100 off of 2 Silhouette Window Shades, as well as a rebate of $50 per additional unit.
VIGNETTE® MODERN ROMAN SHADES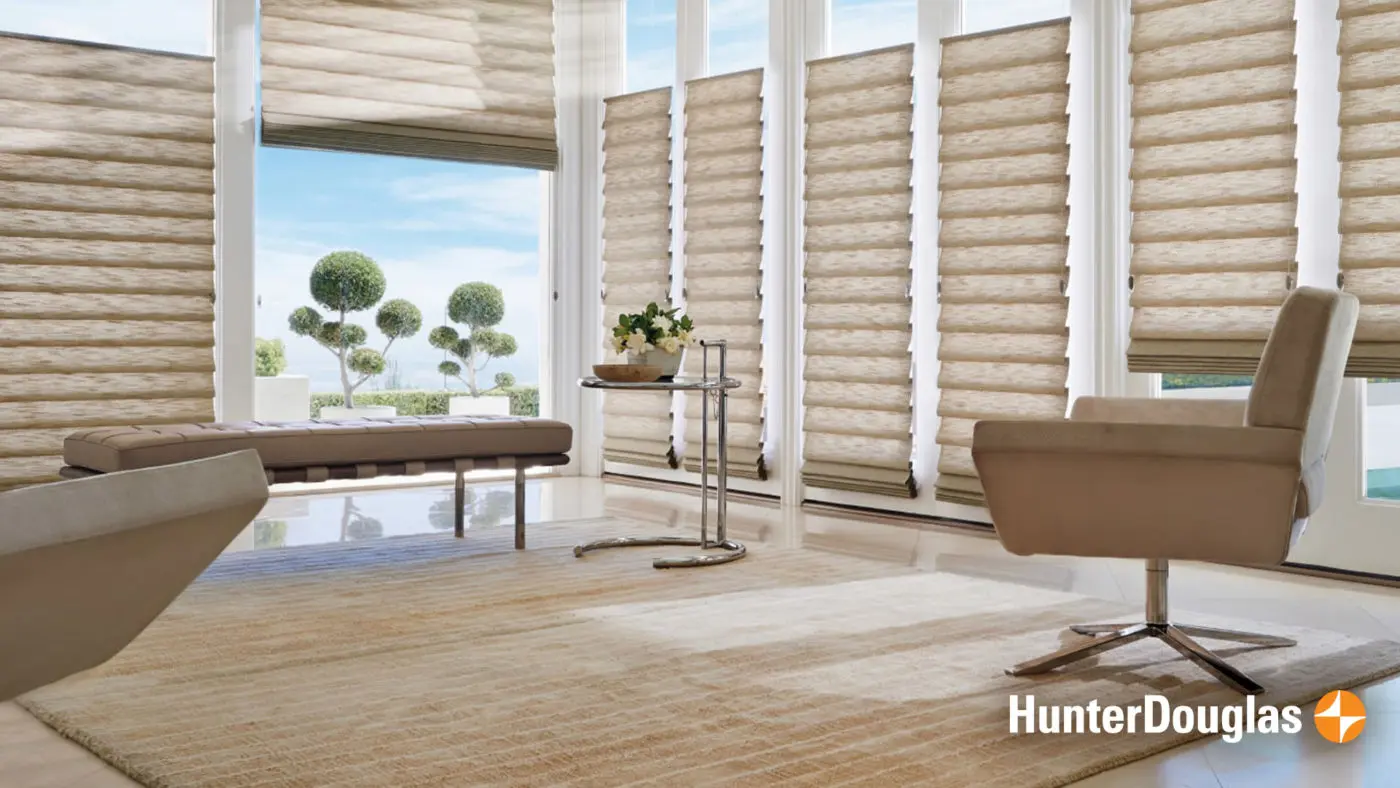 These Hunter Douglas Vignette Modern Roman Shades maintain a consistent full or flat 'fold' appearance. These gorgeous shades offer full privacy, are available in many colors and fabrics, and also offer a roll-up option to give you a complete view. While these luxurious shades would be well suited in any space, these are great for rooms that need privacy but want the option of clarity as well. A rebate is offered for up to $100 for 4 Vignette Modern Roman Shades, with an additional rebate of $25 for each additional shade.
DUETTE® HONEYCOMB SHADES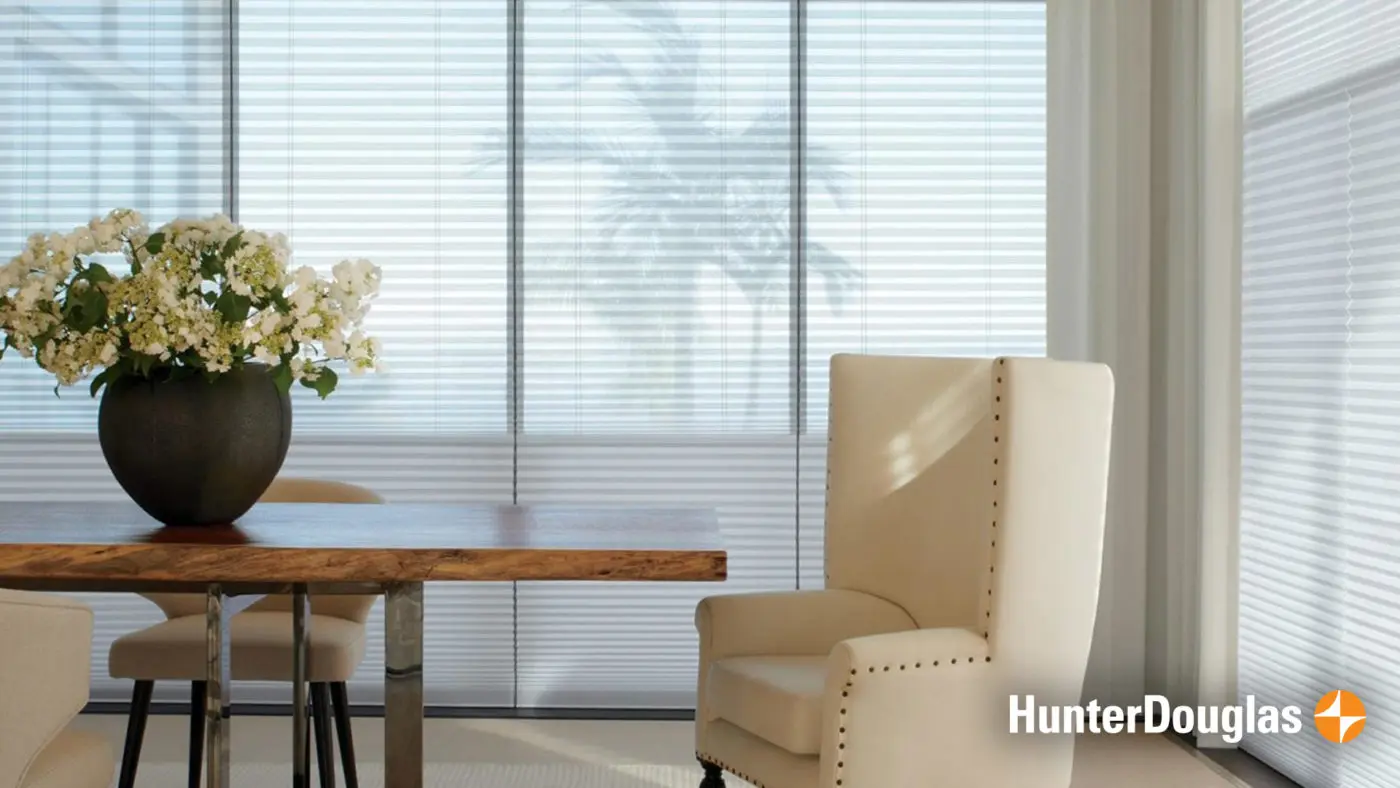 Hunter Douglas Duette Honeycomb Shades absorb up to 70% of sound energy, making the room more peaceful no matter what is going on outside. These shades are completely customizable and can be made to fit any size window or door. We offer these stylish shades in the broadest selection of cellular pleat sizes, opacities, colors, and textures in the industry. You will also quickly realize that these shades are energy efficient in any weather, keeping your space cool during the summer and warm during the winter. Perfect for any room, or even the whole house, their versatility, and customizability allow you to use them in any space you'd like. Act now and get a rebate of up to $100 for 4 Duette Honeycomb Shades, as well as an additional rebate of $25 per additional unit purchased.
SONNETTE™ CELLULAR ROLLER SHADES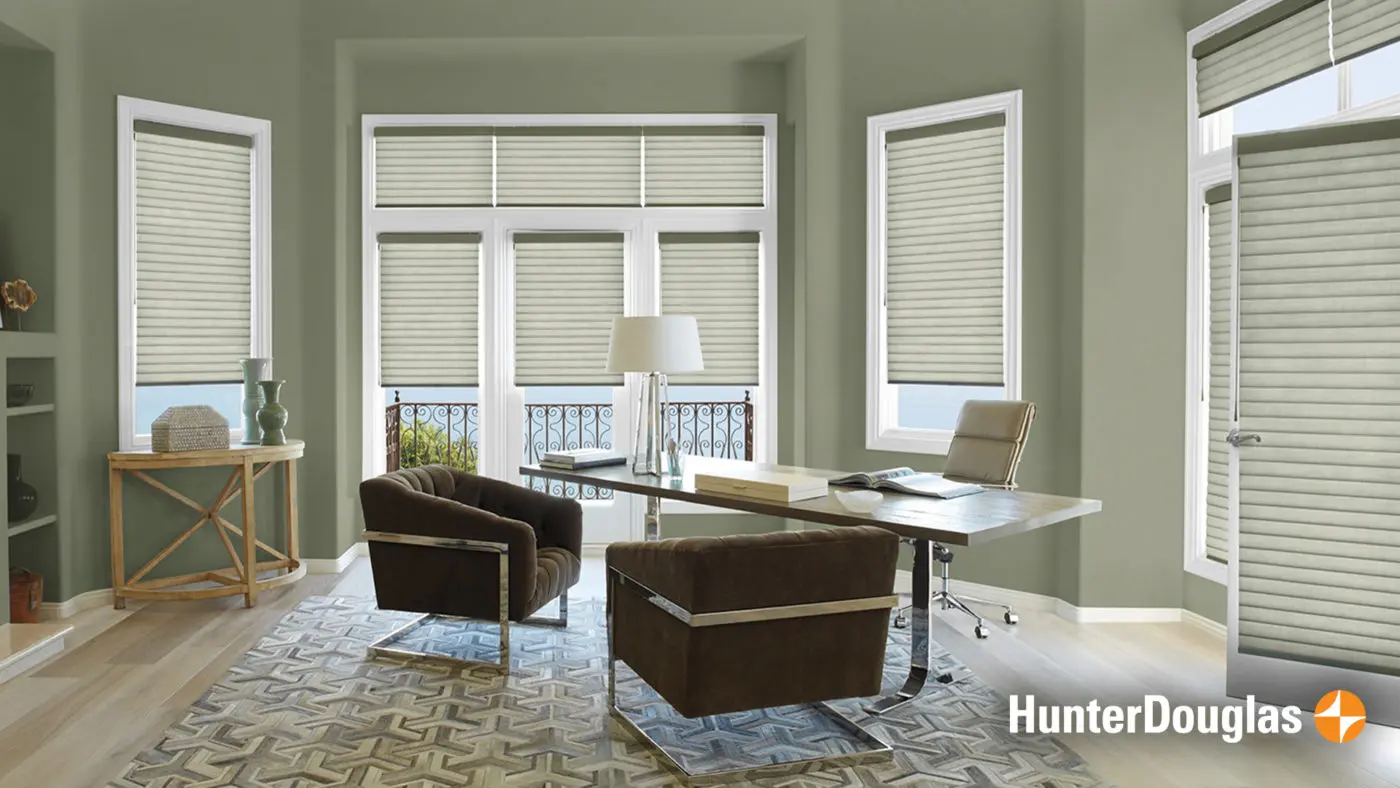 This cellular roller shade looks like a simple roller shade but is actually crafted from two fabric layers that diffuse light to create a soft glow through your window. That undetectable second layer helps make these cellular roller shades energy-efficient, insulating your home. We offer four fabric collections that include many beautiful colors, ranging from popular whites and neutrals to vibrant hues so you can dress your windows with elegance. Semi-opaque and room-darkening options allow the versatility to diffuse or block the light as you wish. You can get a rebate for up to $100 for 4 Sonnette Cellular Roller Shades, and an additional rebate of $25 for each extra unit you buy.
Don't miss out on Janovic's Hunter Douglas Season of Style Event! These fantastic deals only last until December 7th, 2020! It's the perfect sale to get the shades you need for one window or your entire home. You won't find amazing deals like this anywhere else.