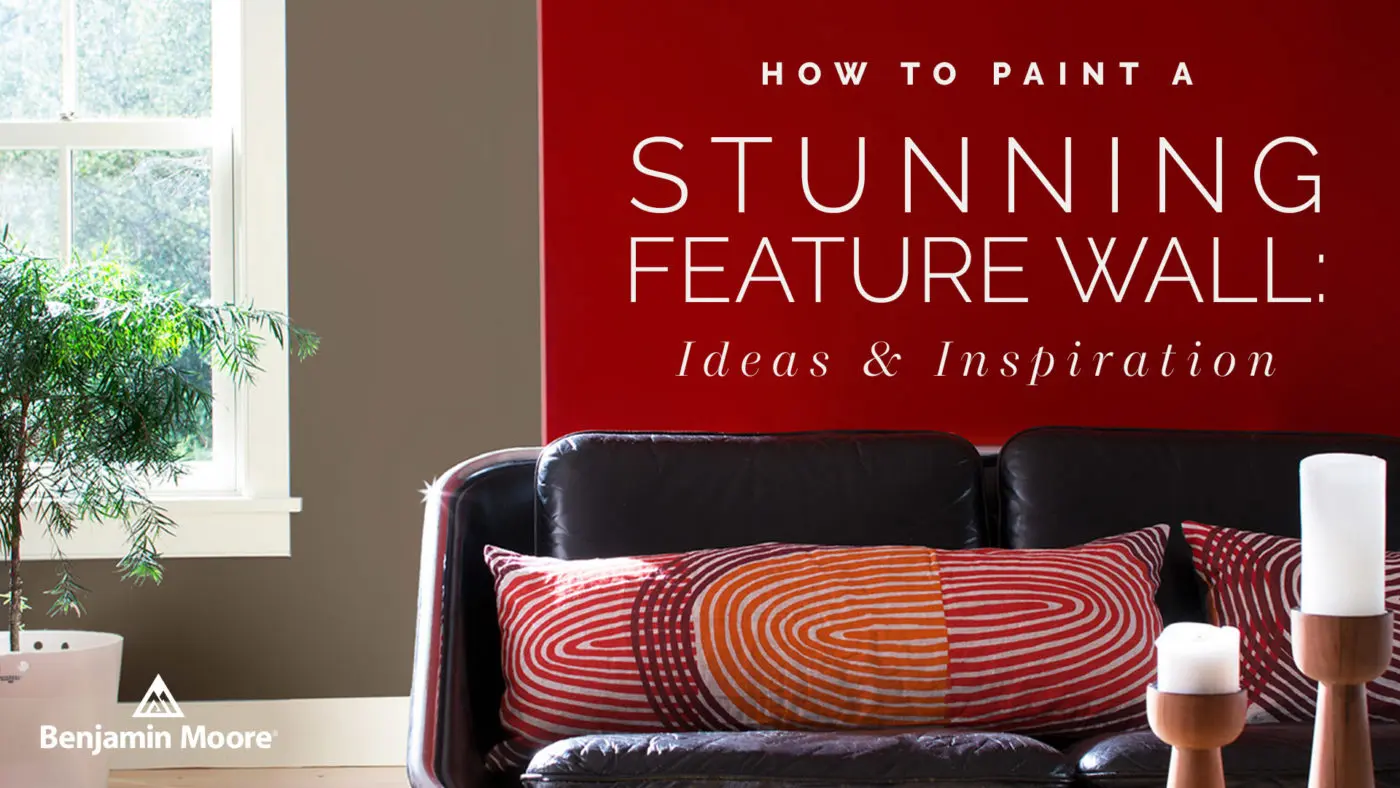 Get in on the Accent Wall Trend With a Bold Splash of Paint
If you've been thinking about redoing your bedroom, living room, or kitchen decor, you've probably seen the term "feature wall" pop up on your Pinterest or Instagram feed at least once or twice. Also known as an accent wall, a feature wall is a great way to experiment with a bold color, pattern, or millwork within a space to create a dramatic focal point.
There are tons of different options when it comes to feature walls: You can add wallpaper, wood features, stone, tile, or even upholstery. But one of the simplest ways to create a stunning feature wall – without breaking the bank – is to pick up a can of paint. You can paint the entire wall in a single color, or, if you have architectural details you want to feature, try highlighting those with a secondary (contrasting) shade.
No matter the size or purpose of the space you're redecorating, there are a few basic principles to follow when repainting, and these hold true even if you're only painting a single wall. So, before you head out to your neighborhood Janovic paint store, make sure to read through these tips from our design professionals.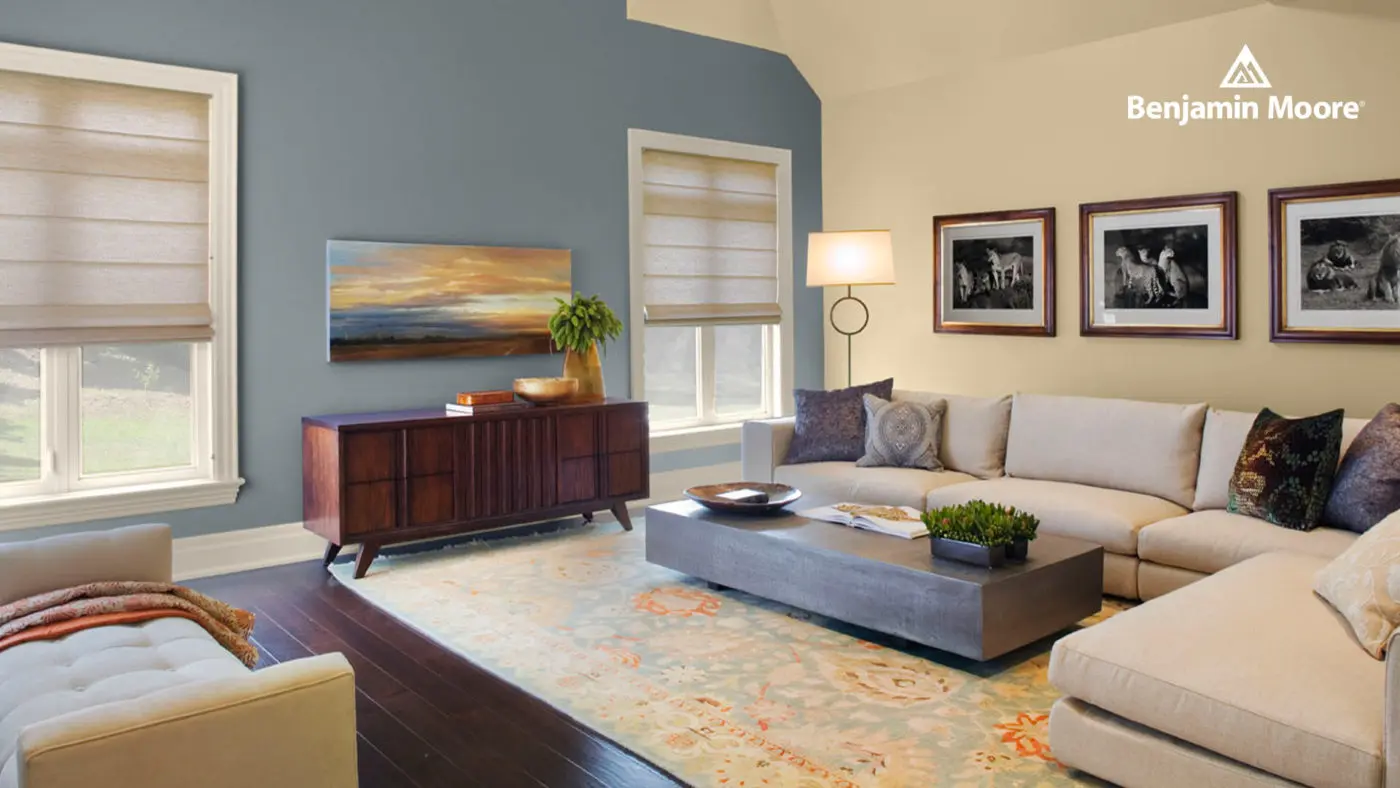 HOW TO CHOOSE THE RIGHT WALL TO FEATURE
When creating a feature wall in a room or space, picking out a color or design isn't the only challenge. First, you have to select the wall you want to highlight. Word to the wise: Don't select a wall at random. The feature wall in any given room should highlight the room's existing focal point. Don't try to create a new or additional focal point – this will only result in a busy, distracting (rather than balanced) finished product.
For example, if you're working on a feature wall in your living room, the wall where your fireplace, mantel, or media center sits is often the best choice since it's a natural focal point. The same goes for the wall behind your headboard in the bedroom.
If you're having trouble deciding which wall is the room's natural focal point, try walking through your home as if showing it off to a buyer. Whichever wall your eye is drawn to first when moving through the space is most likely the focal point of the room. Work with your home's architecture, not against it – and let your visual instincts be your guide.
A feature wall is also a great way to define an open-concept living space, where it can be difficult to determine, for instance, where the kitchen ends and the dining area begins. Using this example, a painted dark wall adjacent to the dining table will help create a visual boundary that gives your dining area more emphasis and formality.
Lastly, don't select a wall in a tiny or cluttered room as a feature wall. Doing so will only make the room appear smaller and more crowded than it already is. If you want to do a bold color in a small bathroom, for example, just commit to covering all the walls: The end result will be more cohesive and impactful.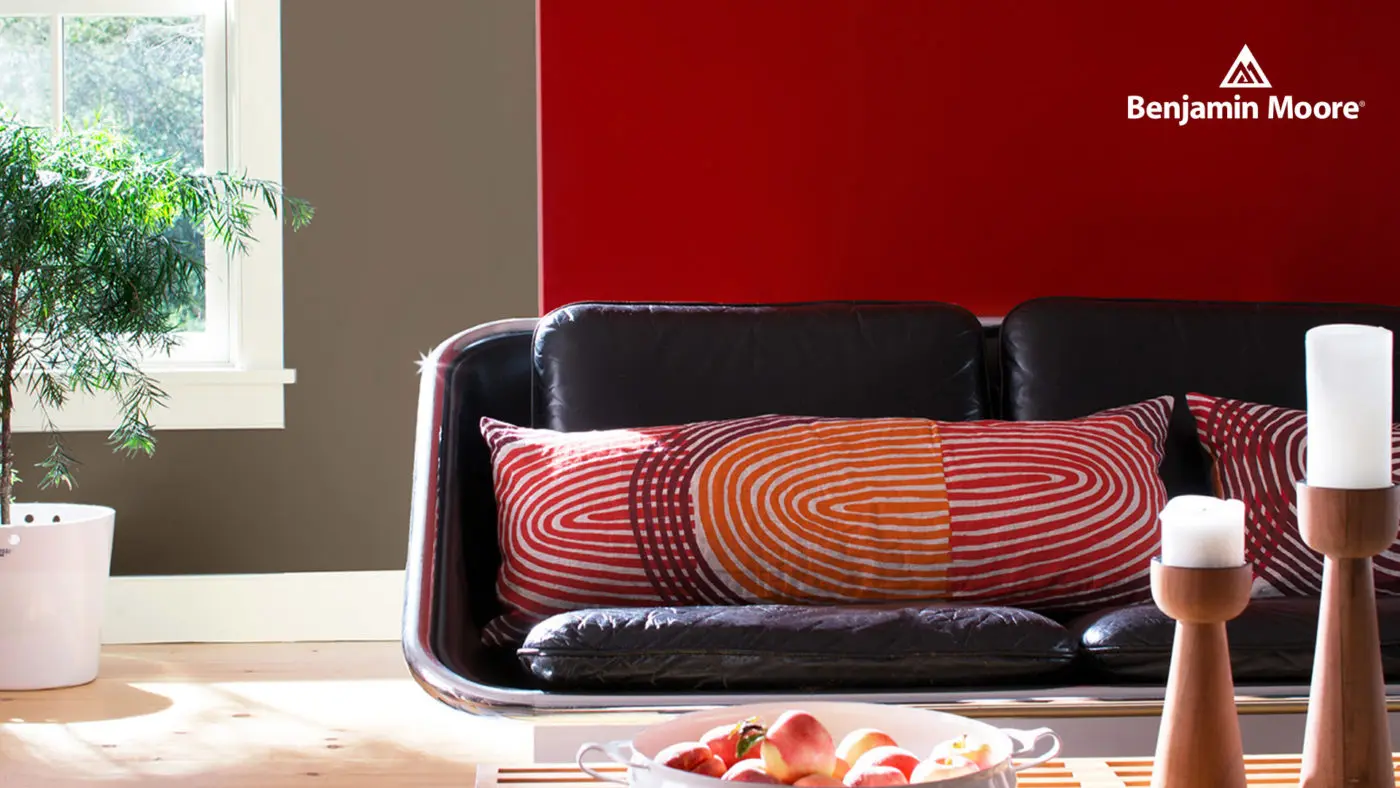 Accent Wall Design Principles
Now that you've chosen the wall you plan to reimagine as a feature wall, it's time to plan out the color and design. As with any interior painting project, you'll want to adhere to a few key design principles to make sure your feature wall works with the rest of the space (and not against it).
First: don't be scared of a bold color. A feature wall is your opportunity to embrace that fiery red, bright violet, or aquamarine hue that you've always loved. It's just paint, so you're not committing to anything long-term – and if you mess up, it's easy enough to fix.
Complimentary colors are always a safe bet. Unless you're planning to repaint the whole room, choose a shade for your feature wall that complements the paint colors, floors, fixtures, natural materials, and furniture in the space. If you have lots of brass, natural wood, and splashes of coral in artwork or furniture, try a dark green accent wall: Green (especially with blue-gray undertones) is complementary to coral.
Remember that a feature wall is meant to be an accent – so it should be immediately noticeable, not just one neutral step away from the rest of the room's color palette. If the rest of your walls are a light blue-gray, don't choose a slightly darker blue-gray for an accent wall. In other words, don't paint a feature wall out of fear. If you're really drawn to that darker blue-gray, just paint the entire room with it.
Bedroom Feature Wall Ideas
In the bedroom, you have four walls and a ceiling to consider as potential features. Most homeowners choose to show off the wall behind the headboard, but this isn't the only route. If you have a fireplace in the bedroom, dramatic picture windows, or a wall with built-in shelving, these could all be considered, as well.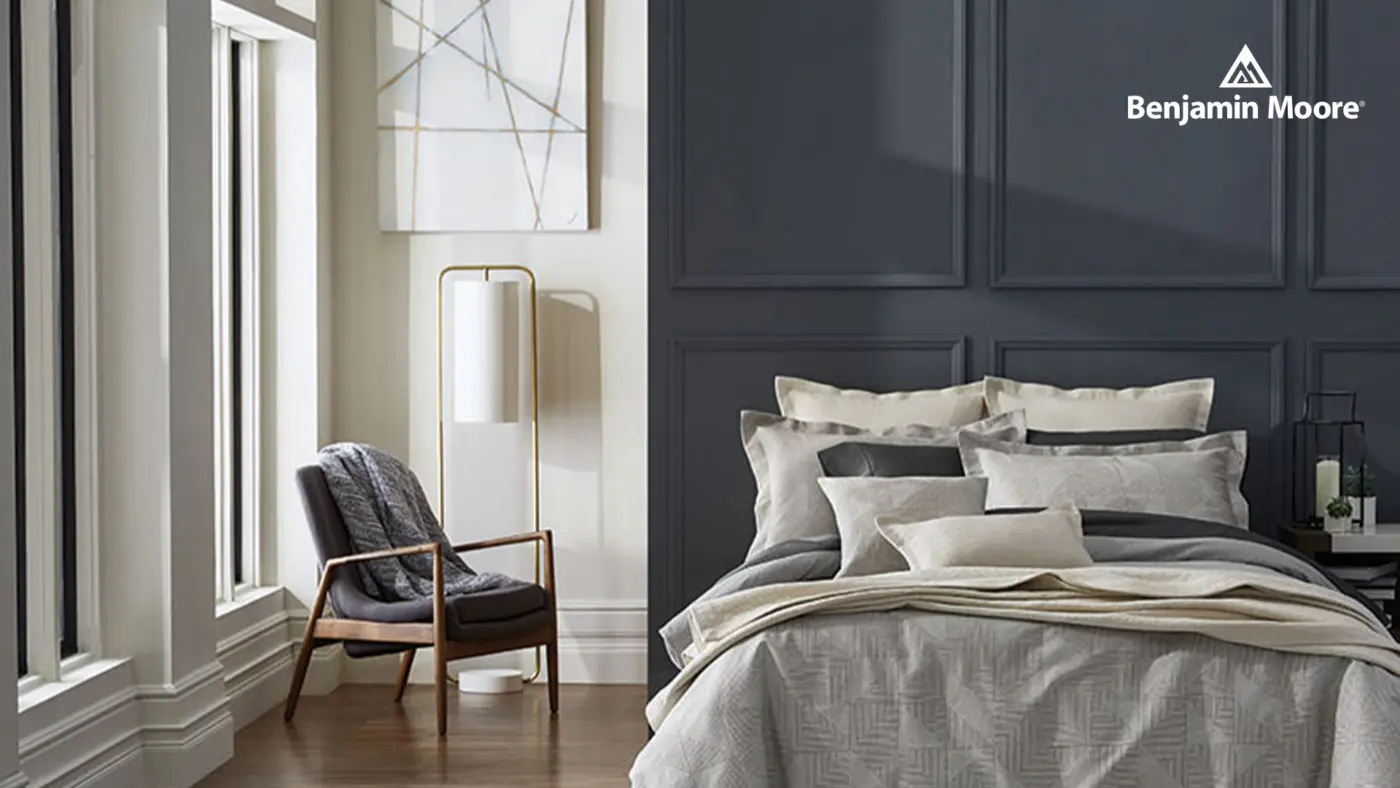 Earth tones and bold monochromatics are trending right now, and we love some of the following combinations:
A feature ceiling done in brilliant, Morrocan pottery-inspired Benjamin Moore Concord Ivory (HC-12) contrasted against walls in Benjamin Moore Metropolitan (AF-690), a soft gray.
Pictured above: A dramatic, charcoal accent wall in Benjamin Moore Steel Wool (2121-20) behind the headboard with a backdrop of neutral Benjamin Moore Paper White (OC-55) on surrounding walls for a cool, urban aesthetic.
A splash of burgundy in Benjamin Moore Wenge (AF-180) behind the headboard or on an opposing feature wall, using a brilliant white, such as Benjamin Moore Ice Mist (OC-67), on the ceiling to make the focal point especially striking.
Living Room Feature Wall Ideas
If you have a fireplace, built-in media center, or custom shelving in your living room, the surrounding wall makes an excellent focal point to dress up as an accent. Dark colors are great for creating a cozy, inviting space that invites family members to settle in and get comfortable.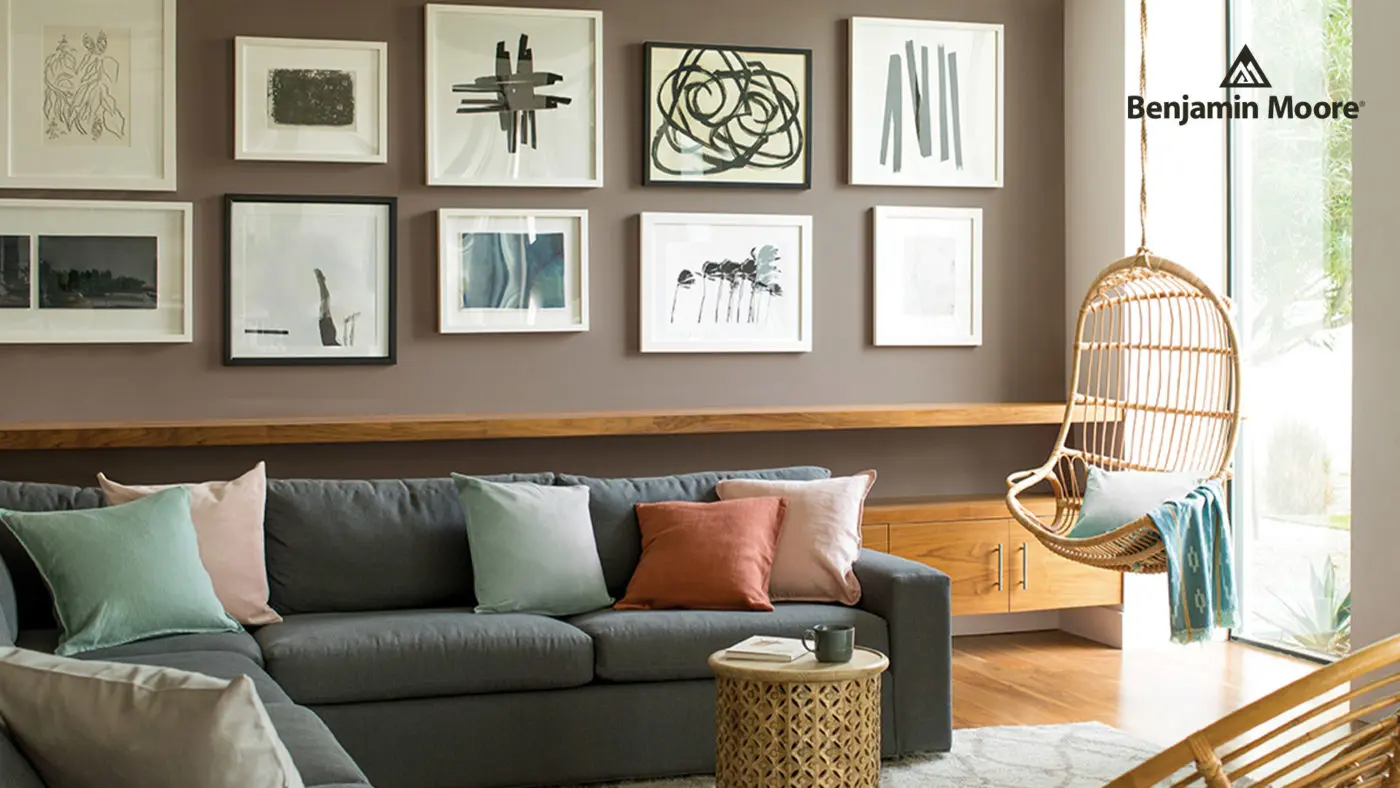 A few great options include:
Pictured above: Benjamin Moore Driftwood (2107-40) is a beautiful neutral brown that highlights warm wood floors and mid-century furniture – and it's perfect for a feature wall when juxtaposed against just about any shade of off-white, such as Benjamin Moore Atrium White (OC-145).
A dark green – like Benjamin Moore Salamander (2050-10) makes white walls or ceilings pop; the end result is a contemporary, crisp, yet down-to-earth living room aesthetic.
Don't be scared of black paint for a feature wall: As long as you have plenty of natural light, an off-black shade like Benjamin Moore Black Ink (2127-20) instantly dresses up a living area and brings life back into older wood floors or vintage furniture.