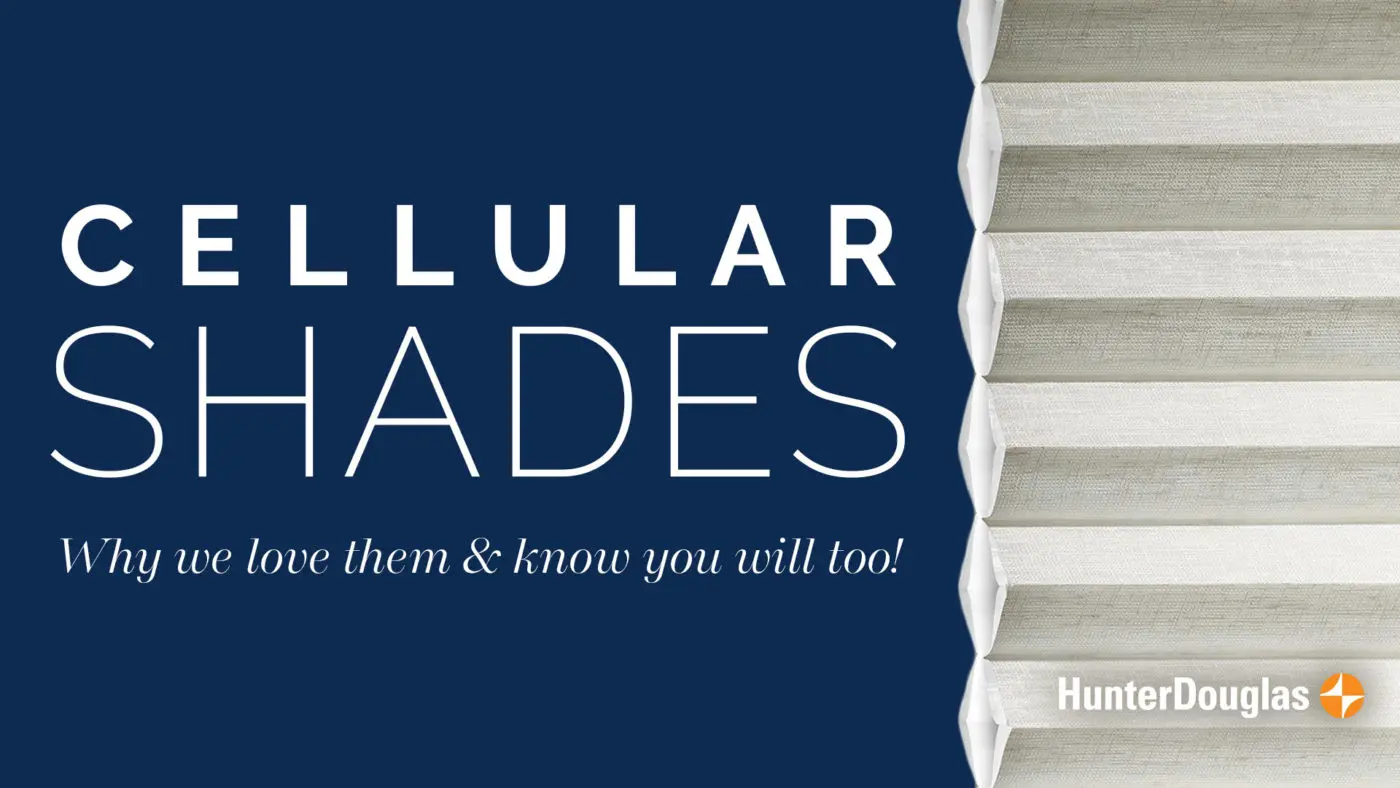 Sonnette Cellular Rollers™ and Duette® Cellular Honeycomb Shades are the Most Popular Honeycomb Shades. Which is Better for Your Home?
Cellular Shades provide an array of great benefits to your home. Not only are they stylish and a great way to control lighting in your favorite areas, but there's more to them than meets the eye! Sonnette Cellular Rollers and Duette Cellular Honeycomb Shades are both exceptionally energy efficient, keeping your energy bills low and your home comfortable, no matter the weather or season.
Our Hunter Douglas cellular shades offer many benefits, both functionally and aesthetically, and will look beautiful in any setting. Explore the differences and styles between them to find the option that best suits your home.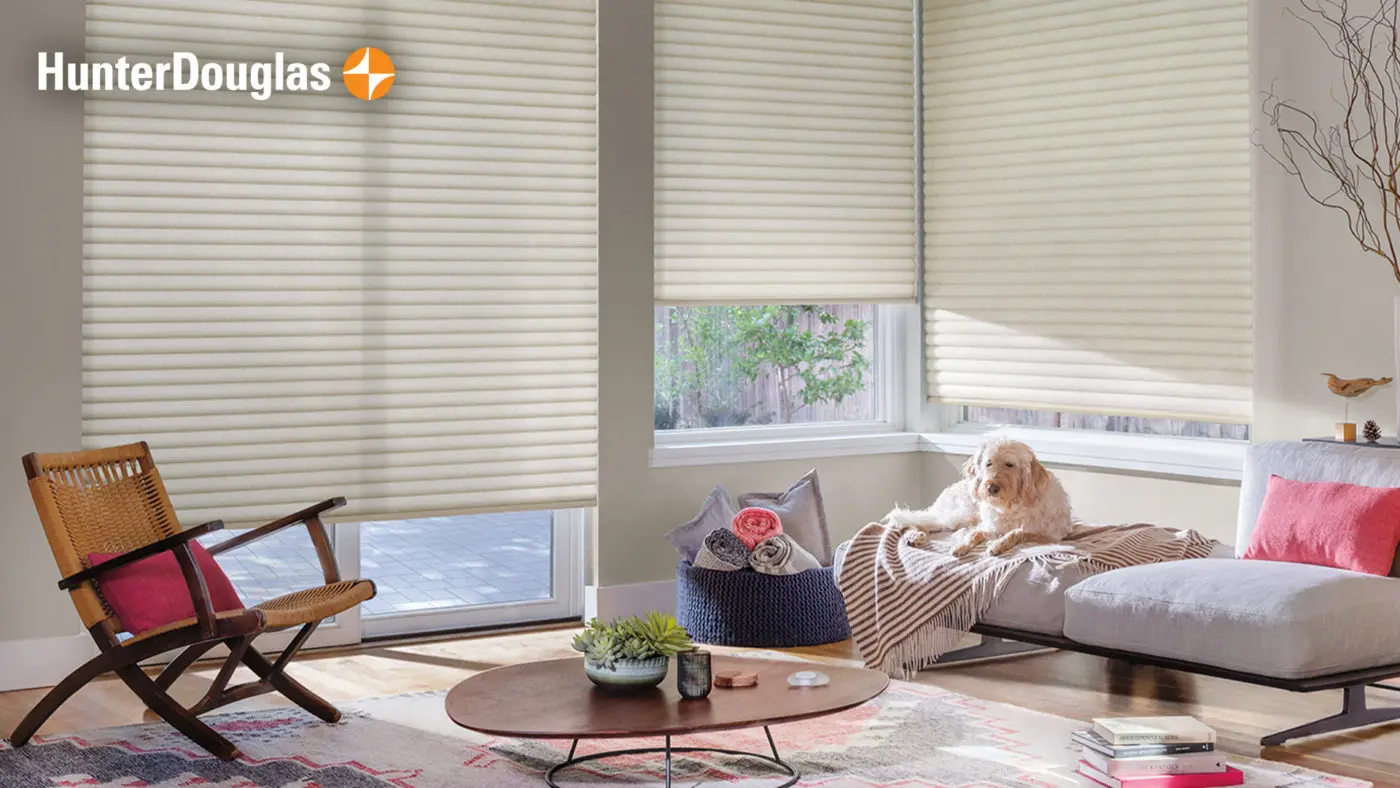 Duette Cellular Honeycomb Shades
Duette Honeycomb Shades are some of the most versatile shades available on the market today. They have been designed to fit all windows, including skylights and other oddly shaped frames. Not only that, but the customization options are not limited to these shades' fabric and color alone; you can add features such as LightLock for unparalleled darkness in your space when you need it most. Be sure to check out our Light Filtering vs Room Darkening blog for more on these crucial features.
Duette shades are also very durable, and like all Hunter Douglas fabrics, these shades will maintain their pleats over time. These beautiful shades are an excellent fit for hard to cover windows, and are also resistant to fading. Duette Honeycomb Shades help reduce the intensity of noise by up to 70%, leaving your space tranquil and calm no matter what is going on in the outside world. They also make a fantastic choice as a blackout shade.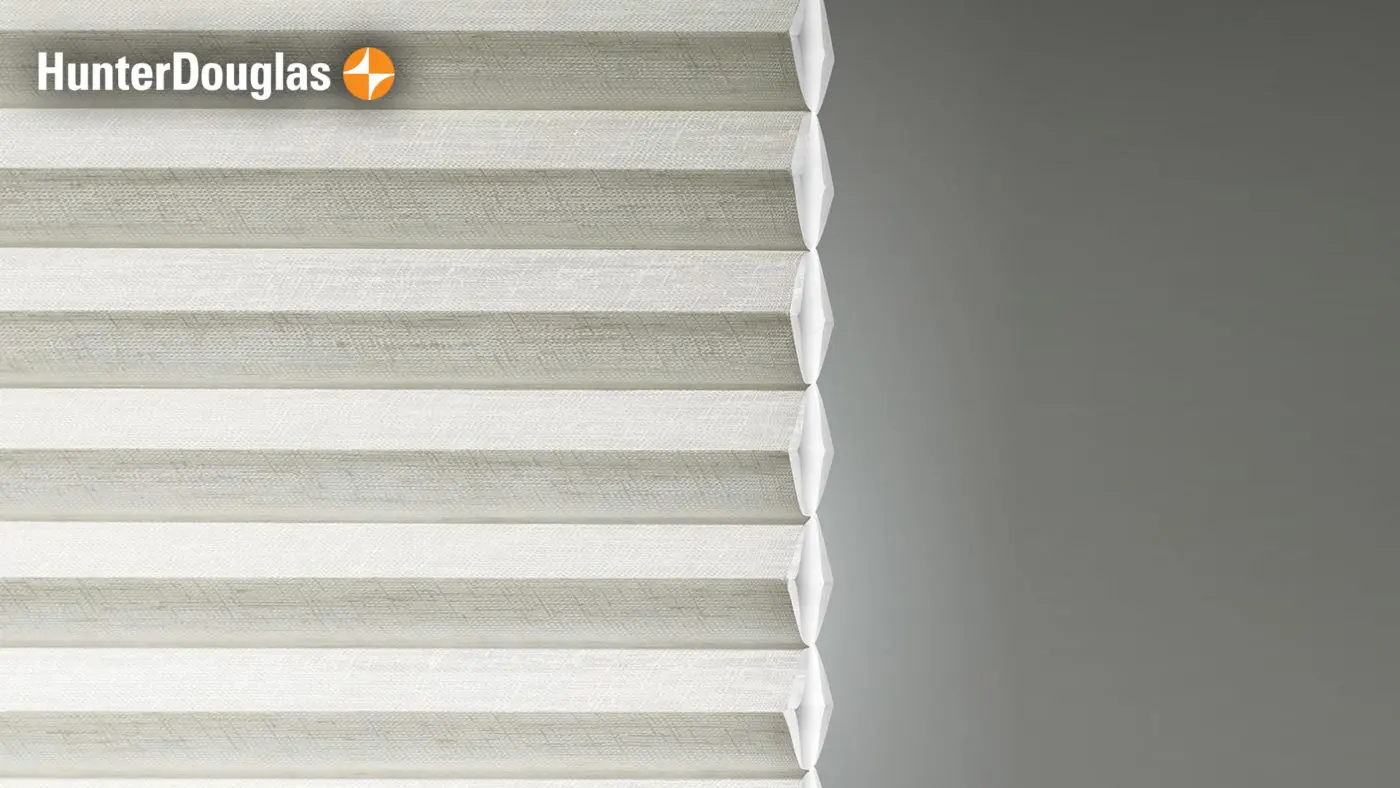 Sonnette Cellular Roller Shades
Hunter Douglas Sonnette Roller Shades provide a simple and clean look for your home, and behind that simple look are two layers of fabric that ingeniously help block and diffuse light. The second layer is undetectable but goes a long way to make these shades energy efficient — even insulating your space. This layer provides superior energy efficiency over traditional roller shades, helping to keep your home warm in the winter, cool in the summer, and your electric bills low year-round.
As with most Hunter Douglas shades, these shades come in a variety of different colors to match your decor, as well as four unique fabric options to ensure they'll fit into any space with ease.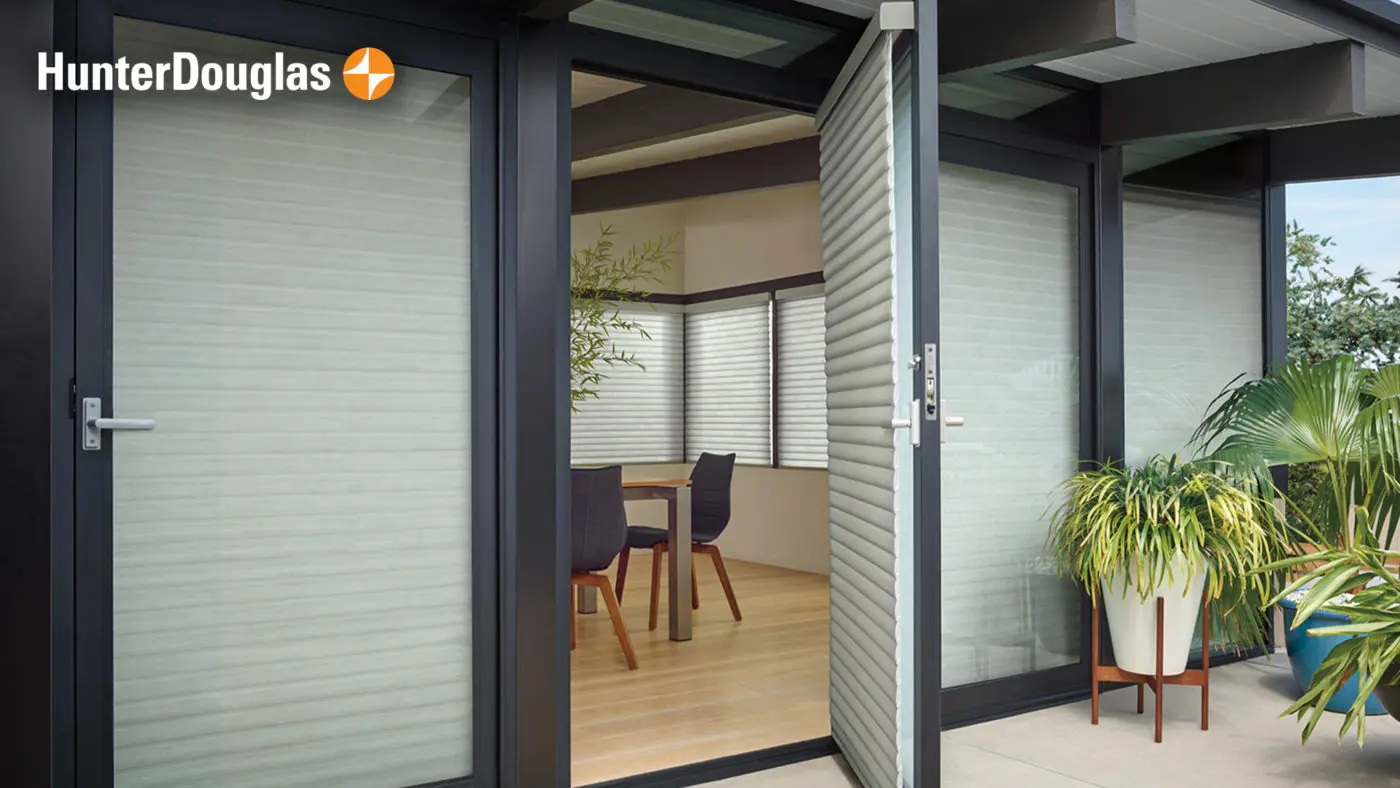 Duette Honeycomb Shades or Sonnette Cellular Roller Shades
Both shades offer many benefits and have a lot of similarities, so you may be asking, "What is the difference between them?" and "Which is best for my home?"
Available Operating Systems
There are a variety of extra options when it comes to Hunter Douglas Window Treatments. The LiteRise and The Powerview Motorization are both options for operating systems on the Duette and Sonnette Cellular Shades.
● LiteRise – allows you to raise or lower the blinds with your hand, eliminating the need for a cord.
● PowerView Motorization – allows you to move your shades via the Pebble Remote (optional), your smartphone, or tablet. With the PowerView option, you can also set a schedule for your shades.
DUETTE OPERATING SYSTEMS
Just like the versatility of the Duette Honeycomb Shades, there are also plenty of options when it comes to operating systems. Available operating systems include; Duolite, EasyRise, LightLock, Simplicity, SkyLift, Top-down/Bottom-up, TrackGlide, UltraGlide, and Vertiglide.
● Duolite – is the ideal option for controlling light, combining two separate fabrics into a single shade for impressive light-filtering.
● EasyRise – is a continuous cord loop option that is perfect for opening and closing large shades without the hassle of dangling cords.
● LightLock – is the only system of its kind to provide total darkness, available only on Duette Shades. Made with a unique U-shaped side-channel that uses rows of specially shaped micro-ridges to absorb or reflect nearly all incoming light.
● Simplicity – is a manual operating system for skylights that is available in a vertical or horizontal orientation and can move the shades to settle in any direction.
● SkyLift – a system also available for skylights that allows control with the options of being motorized, hand-cranked, or by using a telescoping pole system.
● Top-Down/Bottom-Up – this option allows precise control of your window systems to allow you to direct the light in your home as you see fit. You can position your shades from the top, the bottom, or in the combination you see fit.
● TrackGlide – is an operating system that allows you to keep the shades in place with windows that swing outward or tilt down from the top.
● UltraGlide – is a single retractable cord or wand, depending on the window treatment, that remains a constant length when raising or lowering window treatments. Great for child and pet safety.
● Vertglide – is an operating system to manage side-to-side options like sliding glass doors or room dividers. This option also comes in manual or motorized.
SONNETTE OPERATING SYSTEMS
Sonnette offers one operating system that Duette does not, the SoftTouch Motorization.
● SoftTouch Motorization – is an optional feature that includes a battery-powered system enabling you to move your shades by using the included wand. By removing the cords, these shades are a great option for homes with pets or children.
Comparison
Hunter Douglas has a fantastic way of ensuring these cellular shades will fit in any space you desire, thanks to many robust customization options. They both offer an array of sizes, shapes, styles, and colors, and neither shade is lacking when it comes to the options on offer.
However, Duette Cellular Honeycomb shades have one distinct advantage; they have been specifically designed to fit any window. From arch windows over a door to skylights above, if you've had difficulty finding a shade for a specific window, Duette Shades will have both you and your window covered.
Sonnette Cellular Roller Shades offer the clean, elegant look of simple roller shades, but utilize multiple fabric layers for energy efficiency and light diffusion, as well as plenty of options and features compared to blackout cellular shades. Their exceptional energy-efficiency helps them stand out compared to traditional shades and blinds. This not only protects your pocketbook from high energy bills but also keeps your space comfortable no matter the time of year.
That said, both Duette and Sonnette cellular honeycomb blinds are made of superior quality materials. Many window treatments may look similar to these on the surface, but the quality makes all the difference in the world. The price of other brands may be lower, but you'll find the quality is not nearly on par.
All Hunter Douglas fabrics are fade-resistant and made to maintain their shape and sharp, crisp pleats. If you opt for the less costly blinds and shades, the lesser quality of materials means that you may not receive the benefits of energy efficiency you were hoping for.
Conclusion
If simple, clean, cozy roller shades are what you're looking for, look no further than Hunter Douglas Sonnette Cellular Roller Shades. However, if you have uniquely shaped windows or need more versatility, you can get all of that and more with Duette Honeycomb Shades. Depending on your needs, you could experience the best of both worlds and customize your entire home based on your needs per room!
Schedule a consultation and see why Hunter Douglas shades are the perfect pick for you and your home!