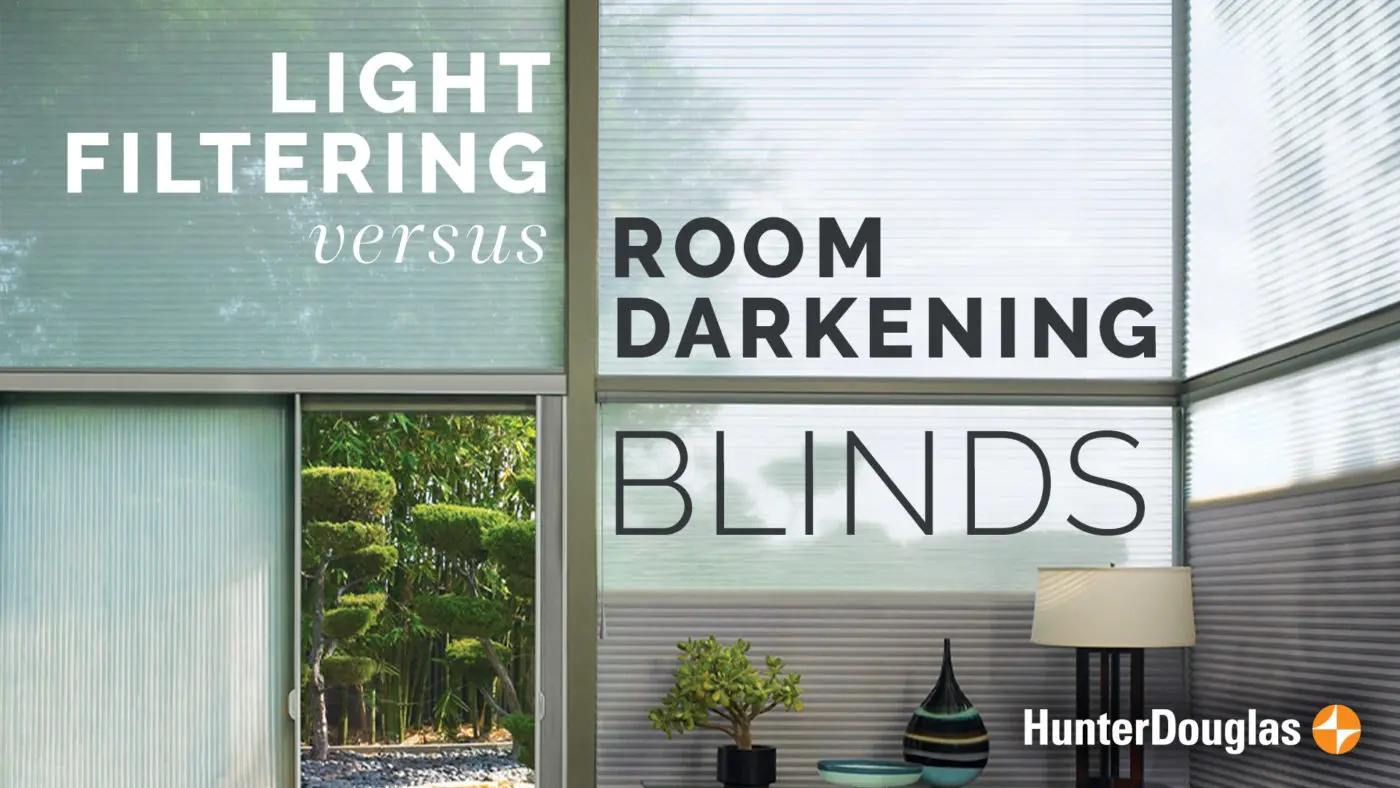 Blinds: They provide much-needed shade, privacy, and even insulation for our homes — yet we often take them for granted. That is until they stop working (or until you find yourself in a brand new home with nothing but duct-taped sheets of cardboard to block out the glare).
Whether you're moving into a newly constructed house, renting an apartment, or renovating your family home, blinds provide that important finishing touch that solidifies your interior design. They filter the natural light that comes pouring in through your bedroom windows each morning, making it a little easier to sleep in— and they block out those evening sunbeams that make TV-watching an otherwise near-impossible feat.
Unfiltered sunlight can also have damaging long-term effects on flooring, furniture, and artwork, leading to bleaching or drying. For this reason, blinds serve more than just an aesthetic purpose.
If you're in the market for blinds, you may be feeling a bit overwhelmed by your options. There are hundreds of different styles, materials, operating mechanisms, and light filtering options to choose from, all of which differ in price, aesthetic, and practicality. One of the first questions to tackle during the selection process, however, is just how much light you'd like to block out: Do you need light filtering shades? Room darkening blinds? What's the difference? We put this guide together to make it a little easier to understand your window treatment options.
When you're ready to order, schedule a consultation with one of our window treatment specialists. We work exclusively with Hunter Douglas, a premier manufacturer of custom blinds and shades. Sit back, relax, and let our professional installation team handle everything from measurements to the initial order and all the finishing touches.
What's the Difference Between Light Filtering and Room Darkening Blinds?
Natural light is a welcome home feature, lending a bright, airy, and vibrant interior feel. But there are plenty of times when your windows might require some covering up, whether to shield your bedroom from the neighbors' sightline or to block out street lights for a cozier evening mood.
Light filtering blinds are better for rooms that don't require complete darkness or privacy, such as your living room or kitchen area. Room darkening blinds, on the other hand, are often preferred in bedrooms and bathrooms for total privacy when dressing, showering, or sleeping.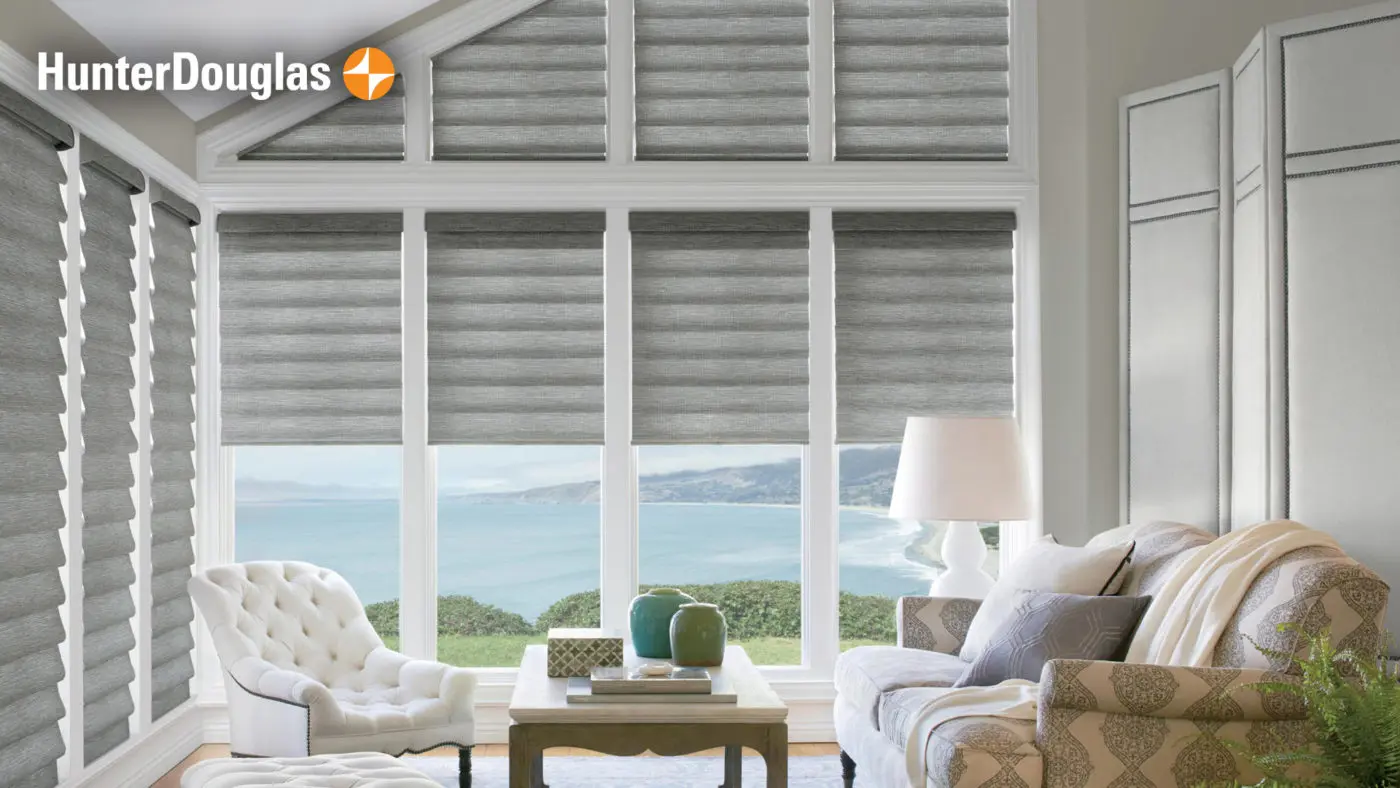 Fabric opacity (which varies depending on the type of fabric, the thickness of the weave, and other factors) is what determines just how much natural light is blocked out by your blinds. Window treatment fabrics may be described as sheer (letting in the most light), semi-opaque (letting in a small amount of light), or opaque (blocking out nearly all light). In terms of light-filtering ability, blinds and shades may also be categorized as follows:
Light Filtering Blinds: Block out less than 95% of natural light
Room Darkening Blinds: Block out 95-99% of natural light
Blackout Shades: Block out nearly 100% of natural light
Remember, these percentages are a rough estimate. Some manufacturers may label their blinds as "room darkening," for instance, when they only block out about 80% of light. This is why it's so important to purchase blinds and shades from a reputable dealer – and to work with a specialist who is familiar with fabric choices and can explain just how much light a particular option will block.
LIGHT FILTERING BLINDS
Light filtering blinds are made from thin or coarsely woven materials, allowing a variable percentage of natural light to filter through for a soft, diffused interior look. Depending on the color of the fabric you choose, the effect your light filtering blinds have on your space may be a warmer glow or a cooler, silvery cast. If you want to warm up your space, look for neutral beige, tan, or flax-colored fabrics.
When considering whether to purchase light filtering or room darkening blinds, many homeowners ask, "Can you see through light filtering blinds at night?" The answer is, thankfully, no. While onlookers may be able to make out diffuse shadows of figures crossing the room, light filtering blinds are not see-through.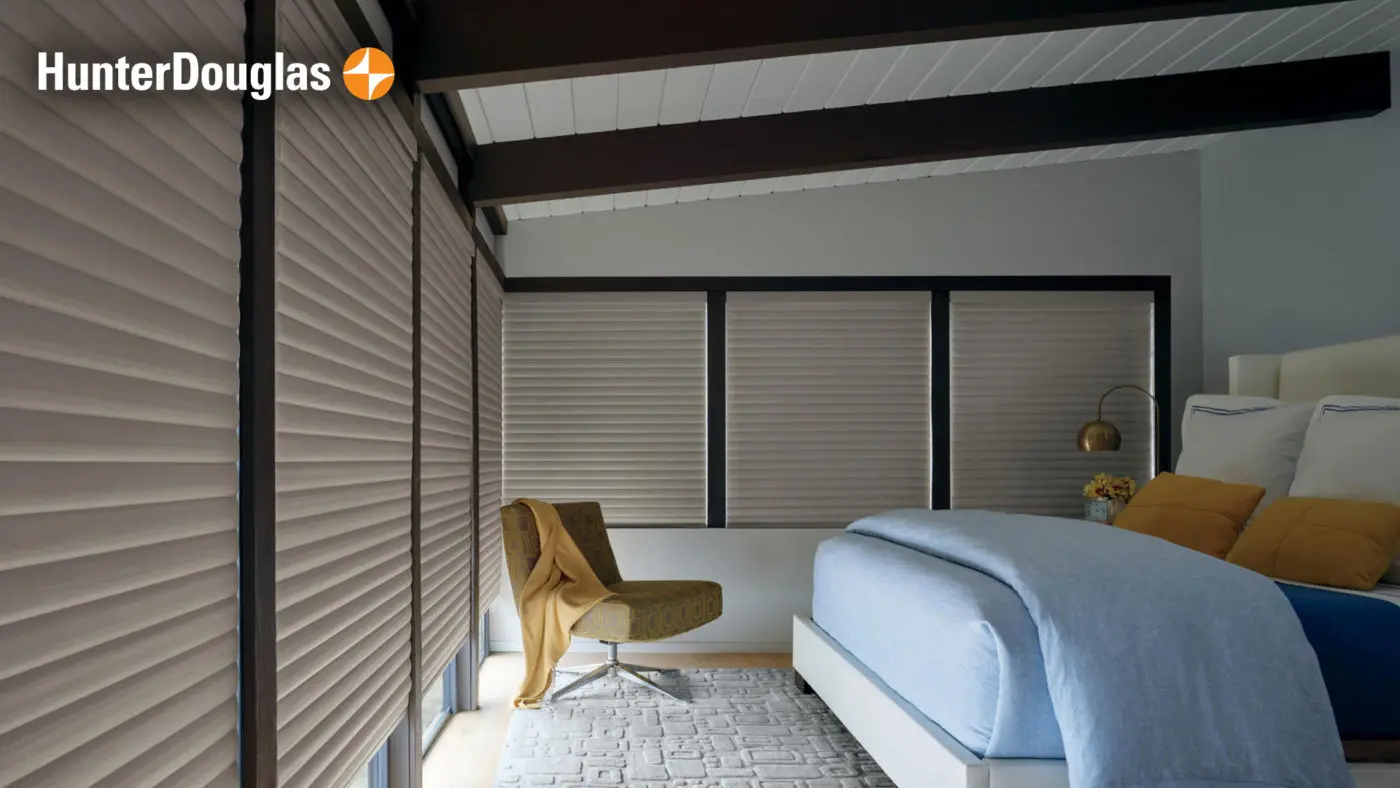 ROOM DARKENING BLINDS
While all window treatments provide some degree of light control, room darkening shades offer a more complete darkening effect that's best for homes that get round-the-clock light pollution – as many New York City apartments do – or for certain rooms and spaces where darkness is necessary or desired (such as bedrooms, bathrooms, home theaters, and office spaces).
Room darkening shades come in a wide range of styles, including:
Honeycomb shades are a popular and versatile room-darkening option that also enhance the energy efficiency of your home by trapping air inside built-in cellular pockets. The Hunter Douglas Duette® product line, for example, will keep your home cooler in the summer and warmer in the winter with its innovative honeycomb-within-a-honeycomb design.
Roman shades lend texture, richness, and warmth to any room with their soft folds that cascade vertically down the shade's surface. Hunter Douglas Vignette Duolite® Shades block out light efficiently by combining a light-filtering, sheer front shade with a built-in room-darkening back panel, both housed on the same roller.
Roller shades are available in both light-filtering (semi-opaque) and room darkening (opaque) materials, offering cord-free simplicity and energy efficiency comparable to honeycomb shades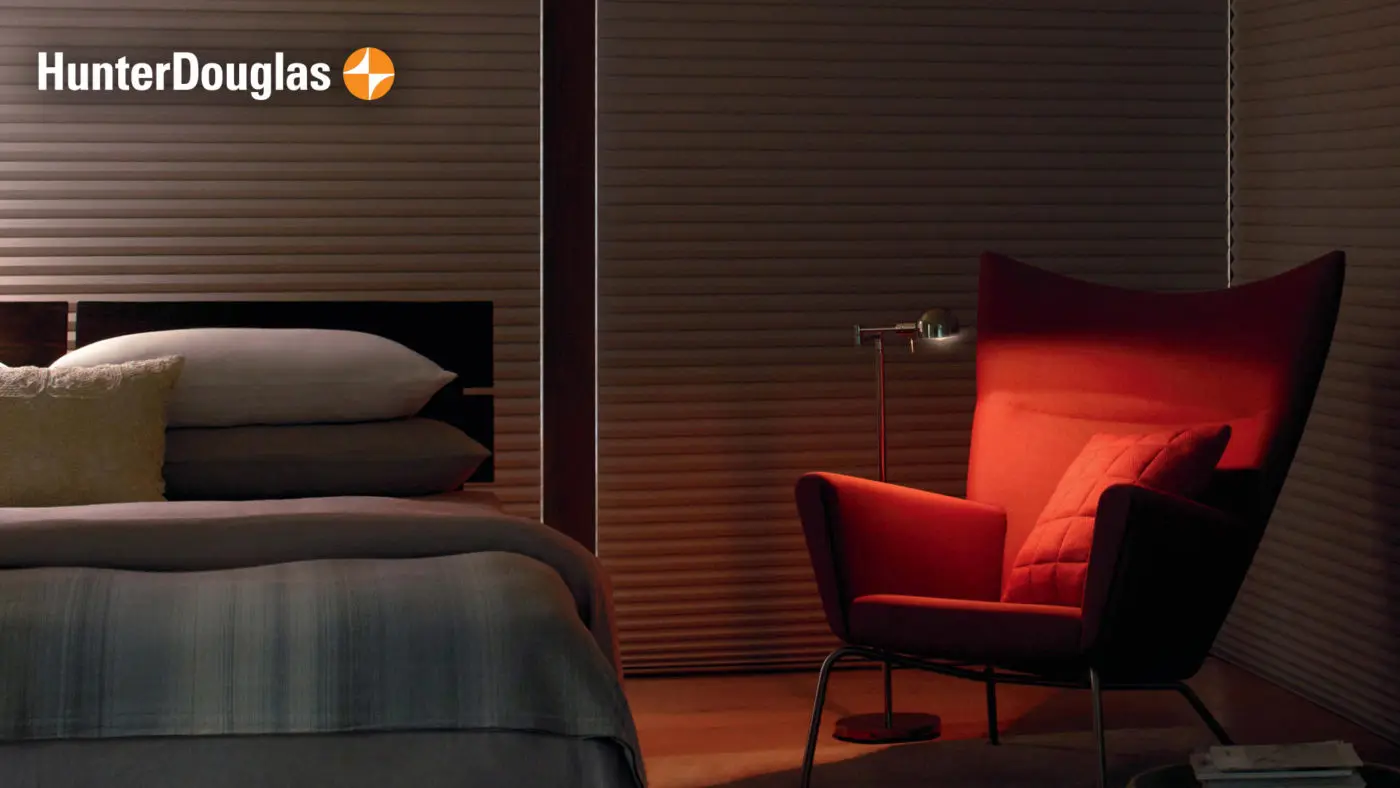 Shop Hunter Douglas Blinds & Shades at Janovic
Janovic is proudly partnered with Hunter Douglas, the premier name in window treatments, shades, and blinds. Whether you want to let in as much natural light as possible or block it out for an optimal night's sleep, our design staff will help you select the window treatments that create the perfect look and feel for your home. Don't settle for generic blinds: enjoy the comfort, convenience, and design aesthetic that's only possible with custom window treatments.
Ready to order room darkening or light filtering Hunter Douglas blinds? Contact us online, request a consultation, give us a call, or stop by one of our twelve NYC locations. One of our window treatment specialists will be happy to walk you through your options, set up a complimentary in-home consultation if desired, and place your order for quick delivery and installation.