Summer homes are the perfect place to escape the hustle and bustle of modern life. They're designed to be the most comfortable spaces where we can get back in touch with the activities, hobbies, and people we love. Gorgeous, sun-filled days create the perfect stage for enjoying time spent both in and out of doors. But, like all things in life, there is indeed such a thing as too much of a good thing, especially when it comes to bright sunlight.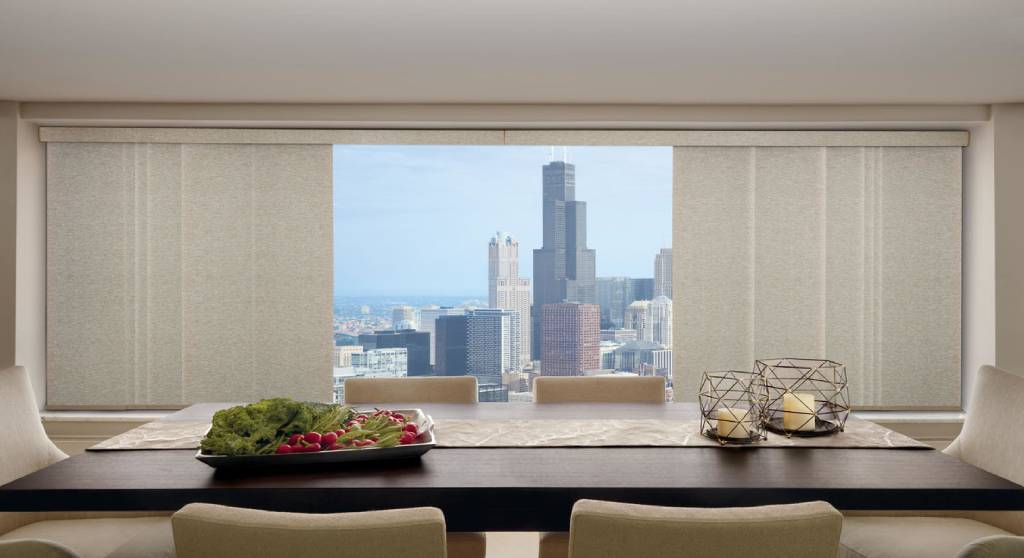 That's where a beautiful window covering comes into play. Adding new window treatments to your summer home controls how much sunlight you get, serves as a stunning design accent, and can come with even more benefits! There is a vast range of options available, and here at Janovic, we have spent years working with nearly every single one of them, so we have come up with some solutions to keep an eye out for when you are looking for window treatments for your summer home, along with some of our own recommendations.
Window panels are perfect for sliding glass doors in the kitchen or the expansive central window. This style of vertical blind uses broad, fabric panels to cover large windows effectively. When open, the panels stack on top of each other tightly to provide you with a gorgeous and completely unobstructed view. Perfect for preserving those picturesque sights. These panels are also designed to look good closed, especially when choosing options from the Hunter Douglas style catalog. Their Skyline® Gliding Window Panels come in hundreds of styles and colors, so no matter the look and feel of your summer home, there will be an option to match.
Solar screen shades are a fantastic option if you want to transform or dim light rather than block it out. These shades are made from a woven fabric that blocks out most of the sun's harmful UV rays to protect your home and furniture while letting in plenty of natural light. Solar screen shades work exceptionally well in patios and sunrooms but are a good choice for any room that you want to be filled with light. They come in multiple levels of opacity, or "openness," ranging from the most view/least privacy to the minor view/most privacy. The Hunter Douglas Designer Screen Shades come in high-quality style options for any home. Plus, since these are made from Greenscreen Sea-Tex™ fabric, a fabric exclusive to Hunter Douglas made from reclaimed plastic, you can feel good about buying a beautiful and sustainable window treatment.
Cellular shades are the number one option for the utmost in style, efficacy, and energy efficiency. Cellular shades are constructed so that the fabric forms honeycomb-shaped cells. These fabric cells trap air inside them, creating an insulating layer of air in addition to the shade itself. Since windows are one of the places in your home where most energy is lost to the outside, installing cellular shades is one of the best ways to ensure that your home stays cool all summer. Also, energy savings are always great for your energy bill! We'd recommend the Sonnette® Cellular Roller Shades from Hunter Douglas to anyone looking for a robust cellular shade.
No matter what kind of window treatment you are looking for, Janovic is your New York authority for custom window treatments and more. Contact us with any questions, or to schedule your in-home consultation. We are proud to serve New York City and the surrounding area.