Looking to buy new window treatments for your home can be a confusing task, especially with all of the different terms and names for window coverings that seem nearly identical. But learning the difference can be so helpful when trying to outfit your home with new window treatments. We can help you know whether cornices, drapery, or valances are the right accents for your windows!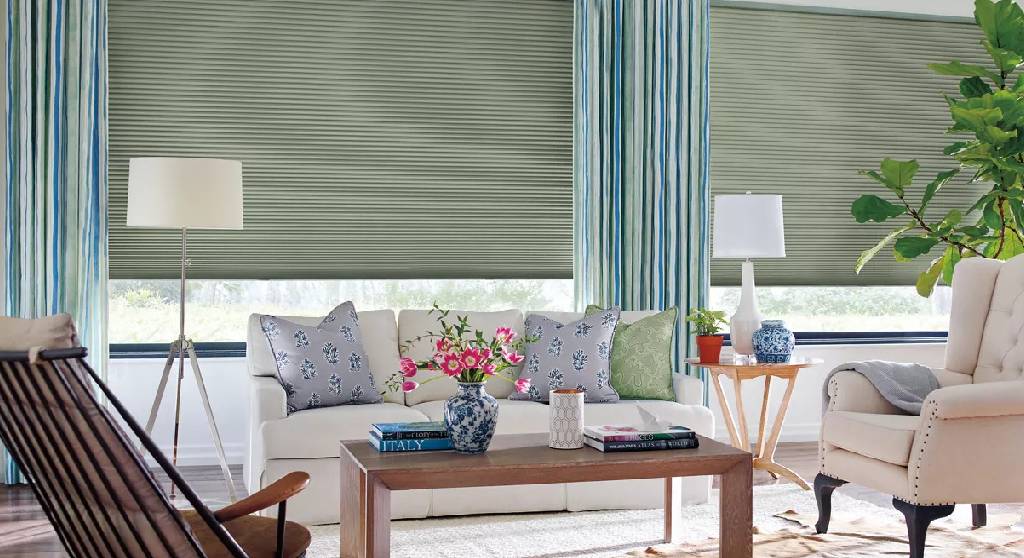 Cornices
Cornices are a hard-topped window treatment accent mounted at the top of a window. Usually made from wood, cornices can be made from any structural material like foam insulation or cardboard. This material is cut into whatever shape is desired and then stained, painted, or wrapped in fabric. Unlike Valances or Drapery, no extra fabric is left hanging from the cornice. These window treatment options pull the eye upwards towards the top of the window, which can help to make a room feel taller and hide unsightly mounting hardware.
Hunter Douglas offers six different profiles, alongside a whole library of stains and colors, for the best and highest quality cornices. Whether you are looking for something to match your existing interior or an accent piece, a cornice from Hunter Douglas can be a beautiful addition above any of your current window treatments.
Drapery
Drapery refers to large fabric panels that are hung next to your window treatments. They extend to the floor and can even be long enough to have fabric pool beneath. Drapery panels are an excellent option for adding elegance to any room and can also be a fantastic way to manage light and insulation. Layering fabrics can diffuse light to produce a warm glow or can be thicker to help block out intense light.
The Hunter Douglas Design Studio™ drapery panels are available in many patterns, pleats, colors, and fabric options. Hunter Douglas Design Studio® offers one-of-a-kind designs from acclaimed artists, including Seema Krish, Marcie Bronkar, and Rebecca Atwood. Drapery panels are an excellent method to bring sophistication to any window treatment you already have installed.
Valances
Like cornices in that they are placed above your window treatment, valances are soft window top treatments made from any fabric in a variety of styles. They are not made from solid materials like cornices and are smaller than drapery. Valances are large enough to cover the top of your window treatment and are great options for hiding mounting hardware or drapery rods.
These fabric accents can be made to match any interior decor and come in a wide array of fabric and style choices. Valances are a simple way to add additional visual interest to any of your windows or hide your window treatment's metal hardware.
Contact Us
No matter what kind of window treatment you decide is best for your home; we will be happy to help you with your next project! The Janovic team is proud to serve you at any of our multiple locations across NYC or through our Shop At Home free-consultation. Contact us today to take advantage of our free Shop-At-Home service.