Custom drapery is a surefire way to add texture and visual interest to a space. As much of a difference drapes can make, the curtain rod you choose can have just as much impact. Here's how to channel your inner interior designer and choose a curtain rod that pairs well with your custom window treatments.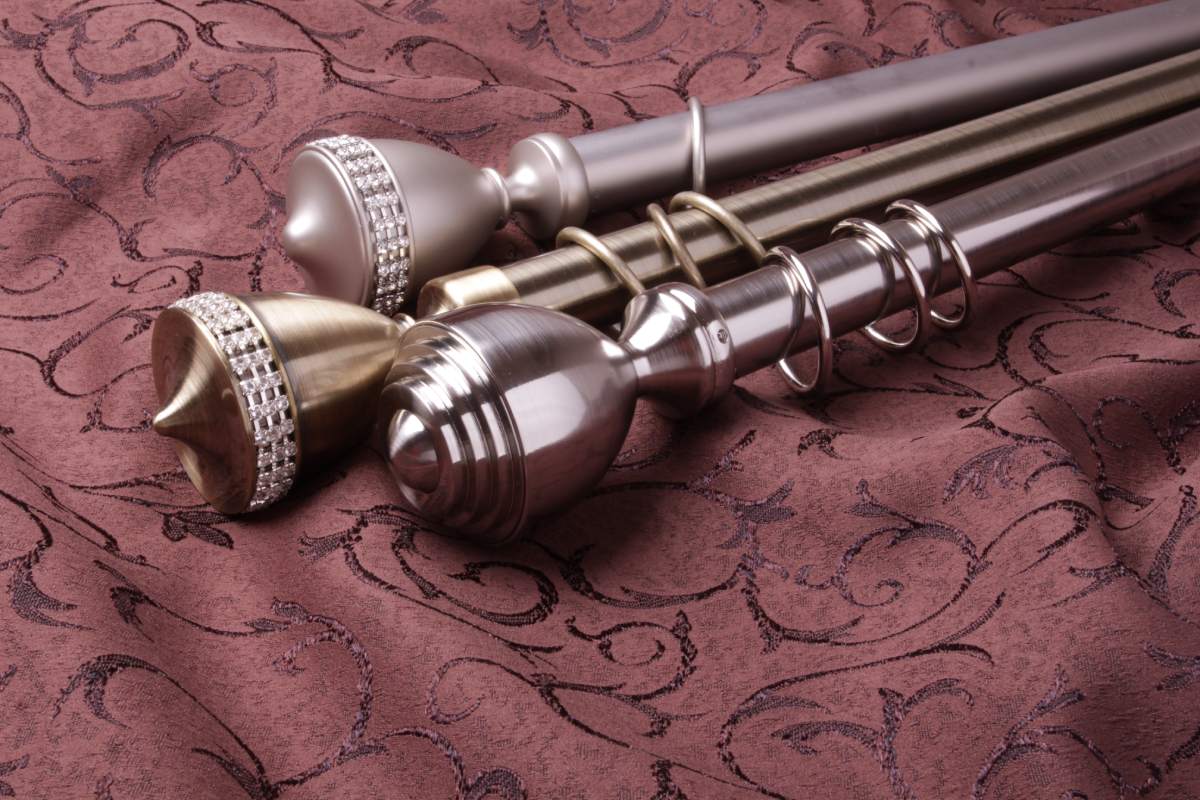 If drapery is the main focus of your window's outfit, then a curtain rod is the jewelry. The right curtain rod can complete the ensemble or leave it feeling unfinished. Installing a coordinating curtain rod will make your drapes feel like an extension of your existing decor rather than a late addition.
Curtain rods come in different metals, colors, finishes, and designs. Not every curtain rod is made equally, either. Some function in various capacities than others; For example, some may require a different method of hanging your drapes. It is essential to understand the different features and options before you purchase a curtain rod.
With so many different kinds of rods, the choices can feel overwhelming. Thankfully, there are two main types of rods: single and double.
Single curtain rods are the most common kind of rod. It features one singular horizontal bar to hold curtains or drapes. Single rods are often decorative and functional – they are designed to be seen. They can range from ornamental and stately to simple and minimalist.
The double curtain rod is identical to its singular sibling with one major exception: instead of one horizontal bar, a double curtain rod features two. The second rod is typically much smaller in diameter and sits an inch or two behind the primary rod. Homeowners utilize a double curtain rod when they want to hang a secondary pair of shades, often sheers or a light-filtering window treatment, in addition to their drapes.
Modern Curtain Rod Finishes
Silver or gold, glossy or matte – with hundreds of styles and finishes, you're sure to find the right one for your home. Here are a few of our favorite trending styles in 2023:
Gold curtain rods can blend well with several interior design styles depending on the tone. Bright luminescent gold is trendy and modern, whereas deeper, distressed gold rods lean more vintage and traditional. Either way, opt for warm tones or neutral drapes to compliment your gold curtain rod.
Black curtain rods are the epitome of industrial interior design. Use white or gray drapery to emphasize the contrast and create a sleek modern look.
Maximalists and art deco lovers will adore decorative curtain rods, which feature embellishments along the rod. Be sure to select drapery that enhances these adornments instead of hiding them.
Modern Curtain Rods & Custom Drapery in NYC
Redecorating your NYC apartment should feel exciting, not stressful. That's why the expert team members at Janovic are thrilled to assist New Yorkers with all their home decor and renovation needs, including Hunter Douglas window treatments and Benjamin Moore paints. Visit us at one of our many NYC locations or book a complimentary, in-home consultation today!