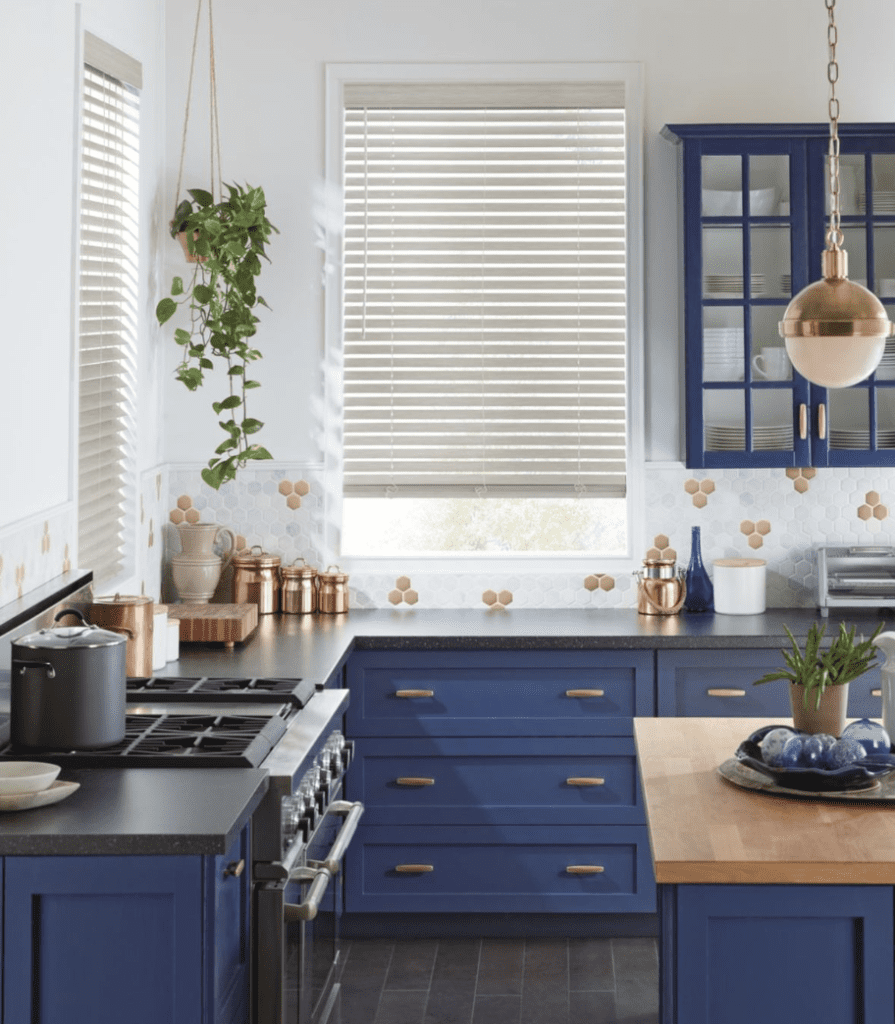 Choosing something to adorn your windows is never an easy decision because of the many options out there. Blinds are one of the most common choices, but because you've seen them so often, you may be left feeling like they aren't anything to be excited about. With wood blinds from Hunter Douglas, you can create beautiful, custom blinds that will look great in any room in your home. At Janovic, we offer a wide selection of colors, stains, and other options, so you can completely customize your blinds. Stop by one of our showrooms today to find out why your home needs wood blinds.
Wooden blinds give your home a warmth and inviting nature that can't be found in many other products. They feature clean lines that will keep your windows looking neat and uncluttered and fit well with any interior design scheme. Plus, there are many color options available, so you can choose something that will look great with your existing decor.
Parkland® Wood Blinds are made from genuine hardwood. They feature rich wooden slats that will give any room in your home a luxurious feel. Choose from a large selection of stains and finishes to create exactly the look you want in your home. You can even choose the slat size, so you get the perfect level of privacy and light control. If you have specialty-shaped windows, like arches or ovals, Parkland® blinds can outfit those, as well.
If you like the look of hardwood, but need something a little more durable, consider our EverWood® Alternative Wood Blinds. These amazing blinds are made to imitate the appearance of real wood, but they are made from stronger materials. They are perfect for bathrooms and kitchens, because they are guaranteed never to crack, yellow, or bow, regardless of heat or humidity. In addition, they can be stained to look like real wood, or you can have them painted in a solid color to perfectly complement your existing design scheme.
Another great thing about wood blinds is that they tend to be a neutral option for your windows. This means that if you ever want to change the paint color in your room, you won't have to change your blinds, too. At Janovic, not only do we carry amazing blinds, shades, and shutters from Hunter Douglas, but we also offer a large selection of high-quality Benjamin Moore paints, so you can create exactly the look you want in your home.
To learn more about adding beautiful wood blinds to your home, contact the experts at Janovic today. Founded in 1888, we are committed to using our expertise to bring our customers amazing products and service. We have 10 showrooms conveniently located all over NYC, including the Upper East Side, Chelsea, Soho, the Upper West Side, the West Side, the East Village, Yorkville, Long Island, Gramercy Park, and Hell's Kitchen. We also offer in-home consultations, including color consultations and at-home shopping, and we are proud to serve all of New York City.