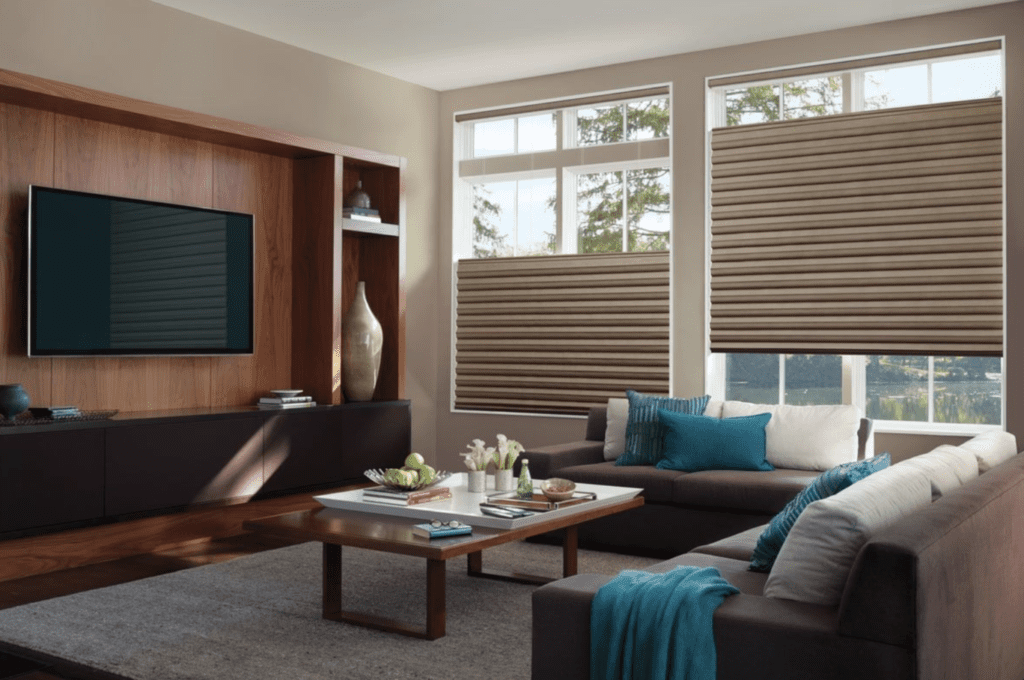 One of the things NYC is so well-known for is the fashion. While normally people mean clothing, we think it should extend to your home as well. At Janovic, we offer a beautiful selection of custom window treatments from Hunter Douglas and can help you find the perfect one for any room of your home. One option that really sets itself apart in terms of style is roman shades from Hunter Douglas. These shades mimic the soft, luxurious folds of drapery but have a sleeker profile for a more modern look. Stop by your nearest Janovic store today to learn more about elevating homes' styles with roman shades.
VIGNETTE® MODERN ROMAN SHADES
Vignette® Modern Roman Shades feature soft, sculpted folds of fabric for precise light control and a beautiful aesthetic. Additionally, there are no exposed rear cords, so not only will your windows look neater and less cluttered, but your children and pets will also be safer. We carry many different fabrics, including options for both room darkening and light filtering, so you can get the perfect level of light control and privacy in your home. You can also choose between the Rolling Style and Stacking Style to further customize your shades.
SOLERA® SOFT SHADES
Solera® Soft Shades not only look amazing in your home, but they can help you save money as well. Hidden inside the soft folds of this shade are structured pockets that trap air and keep it from moving freely through your windows. This way, your home's internal temperature stays at a more constant level, and your heating and cooling units won't have to work as hard to keep your home comfortable. Additionally, we offer many light filtering fabrics, so you can rely less on artificial light and enjoy the benefits of natural sunlight. Solera® shades are the perfect thing for elevating homes' styles with roman shades.
DESIGN STUDIO™ ROMAN SHADES
Design Studio™ Roman Shades allow your inner designer to run wild with over 250 different fabric options. We offer sophisticated textures, stripes, solids, and other patterns in a variety of different materials, including cotton, silks, and linens to help you find exactly the style you want. Additionally, we also offer our fabrics by the yard, so you can create decorative accents to match your window treatments. Like our other roman shades, Design Studio™ Shades are also available with PowerView® Motorization, so you can control your window fashions with just the push of a button on a remote or smart device.
If you're interested in learning more about elevating homes' styles with roman shades, stop by your nearest Janovic store today. We have 10 showrooms conveniently located in and around the city, including locations in Soho, Chelsea, the Upper East Side, Yorkville, the East Village, the West Side, the Upper West Side, Gramercy Park, Hell's Kitchen, and Long Island, NY. We also offer a gorgeous selection of Benjamin Moore paint for your home and have over 100 years of experience. Come see us to create the home you've always dreamed of.