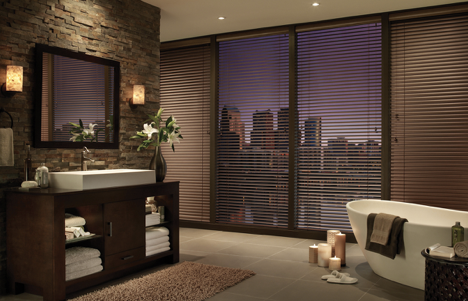 There's nothing like the holiday season in the Big Apple. With the lights and the celebrations, New York enjoys holidays like nowhere else in the world. With all of the stress of buying gifts for your loved ones, it can be easy to forget about what you may want for the holidays. We know there is always the new smartphone or gadget, but don't forget about your home and its needs when it comes time to circulate your holiday wish list. To help you get in the holiday spirit, Janovic is here to tell you about three fantastic home décor items you should be dreaming of this holiday season.
1. HUNTER DOUGLAS MOTORIZED BLINDS OR SHADES
If you're in the mood for home décor for the holidays but you also don't want to fall behind on the latest technological trends, motorized blinds or shades from Hunter Douglas are perfect for you. Hunter Douglas already offers some of the most stylish, well-made blinds and shades on the market, but motorization truly makes them an ideal gift to ask for. You have the option to operate your blinds or shades from the Pebble® remote control and can raise and lower them as you choose, or you can download the PowerView® app onto your smartphone or tablet. This allows you not only to program your blinds and shades to operate on their own, but you can also control them from anywhere in the world that has an Internet connection. So, whether you're running down to your nearest Janovic store to pick up some paint, or you're celebrating with your family in a different borough, you can be sure that your blinds and shades are exactly where you want them to be.
2. A CUSTOM UPHOLSTERED FURNITURE PIECE
It happens to all of us: we are either gifted a piece of furniture or we inherit one, and we just don't love it. But whether this piece has sentimental value, or you don't feel like you can get rid of it, you find yourself stuck with it. This doesn't mean that you should shove it into a closet or stare at a piece you hate every day. Instead, you should ask someone to bring it to Janovic and have it reupholstered for you! Janovic has a wide selection of premium fabrics, so you are sure to find one that turns your piece into a favorite you will cherish for years to come.
3. WALLPAPER
Like all things here in New York, wallpaper had fallen out of fashion for a time, but is now back in the spotlight. Nothing says "chic" these days like a bold, patterned wallpaper. If you feel like your walls could do with a makeover, why not add wallpaper from Janovic to your holiday wish list? By the time New Year's Eve rolls around, you'll have the most stylish walls in the city.
No matter what holiday you celebrate this winter, Janovic is here to provide the perfect gifts for you and your loved ones. We're about more than just paint: we want to make every aspect of your home beautiful. We have locations in Soho, Chelsea, the Upper East Side, Yorkville, the East Village, the West Side, the Upper West Side, Gramercy Park, Hell's Kitchen, and Long Island, but we proudly serve all of New York city.