With just two months left in the year, it's time to start looking forward to next year and enjoying the Benjamin Moore Color of the Year 2023. Bubbling with optimism and personality, Raspberry Blush captures all the excitement of a new year.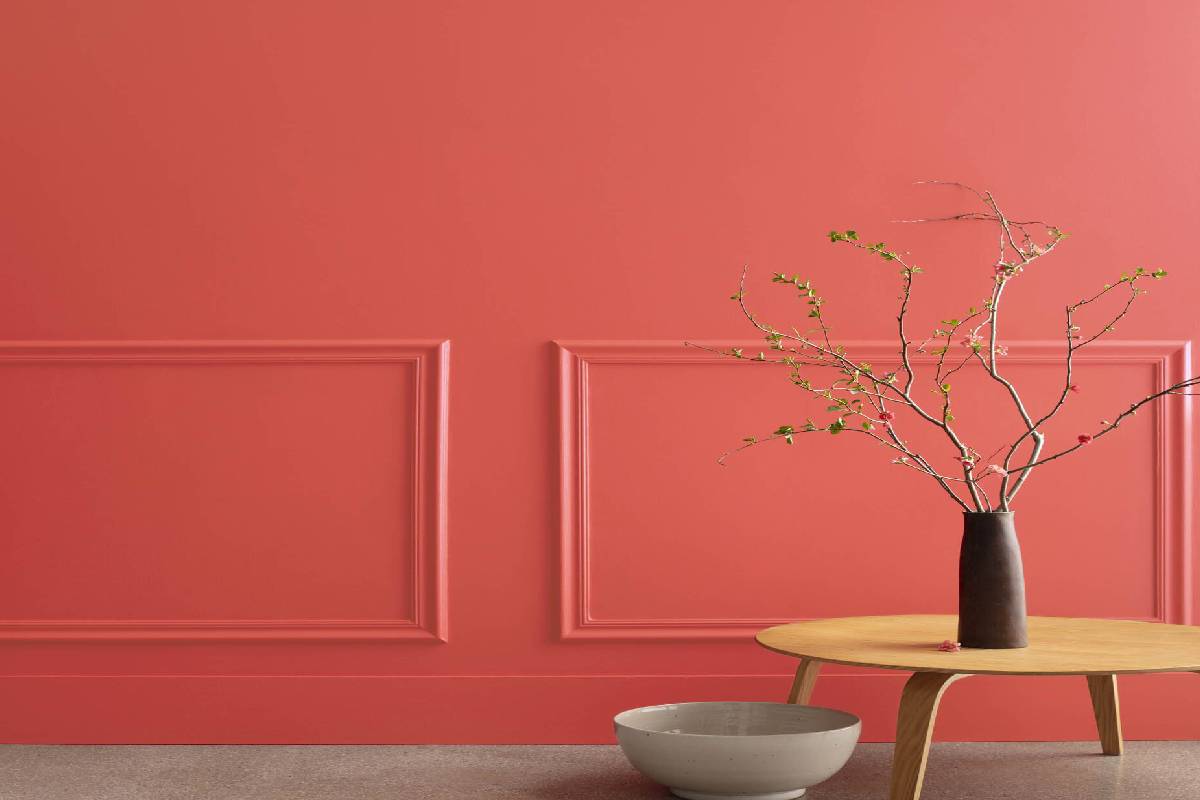 A Very Berry New Year
2023 is all about bold, vibrant shades. While selecting the Color of the Year 2023, Benjamin Moore wanted to move in a bold direction compared to the past. After years of neutrals stealing the show, it is time to let brighter hues take center stage. Raspberry Blush shines in the spotlight. A cross between coral and pink, Raspberry Blush is bound to bring cheer into your space.
This year's hue may feel like a stark contrast from previous color trends. Still, Raspberry Blush's fruity shade earns itself its berry cute name and also helps the shade find common ground with October Mist-an organic sage green-the Benjamin Moore Color of the Year 2022.
As maximalist interior design starts to overtake minimalism as the most popular decor trend, bold, boisterous shades will find themselves at the center of attention. For those more reluctant to let go of their beloved creams and grays, you can find synergy in the shades selected to complement Raspberry Blush.
Color Trends 2023 Palette
In addition to releasing their selection for Color of the Year, Benjamin Moore also announces an entire color palette dedicated to the new year. Celebrate new beginnings in style by integrating one of these illustrious shades into your next home improvement project.
The Color Trends 2023 palette has something for everyone. Bright-eyed homeowners will love the yellow-tinted Savannah Green. Pair it with Raspberry Blush for a space any sherbet shop will envy. Amp up the contrast with the near-black Wenge and royal Starry Night Blue. Or lean on the soft peach Conch Shell, warm spice Cinnamon, and the almost-white New Age to tone down the bold tones in Raspberry Blush.
The entire palette fits the theme of bold, confident colors. Pair the shades together for unexpected combinations and a lively look.
Complimentary Colors
In addition to the showstopping shades featured in the Color Trends 2023 palette, Benjamin Moore also offers several suggestions for pairing these bright hues with soothing neutrals. Whether you're using a soft shade to cover your trim or you intend it use it to create a blank canvas in which Raspberry Blush, Starry Night Blue, and Savannah Green can pop, these neutrals are perfect for adding the finishing touches to your space:
Etiquette: a warm, creamy oatmeal shade
White Heron: a cool-toned off-white
Gray-Owl: a simple, straightforward gray
Onyx: a deep charcoal gray
Paints for 2023 and Beyond at Janovic
Janovic is home to the New York City color experts! We are proud to serve you at any of our multiple locations across the city. Stop by one of our showrooms or visit us online to explore all the paint and supplies we offer and get design help from our Benjamin Moore experts! Contact us for your color consultation today!