At Janovic, we help our clients with a myriad of design projects including upgrading your window treatments. We make it easy: we measure and install, while you get to sit back and watch your vision come to life. From blinds and shades, to shutters and drapery, Janovic has your windows covered! Some of our staff favorites come from our Hunter Douglas vertical blinds collections. Our vertical blinds have endless ways to customize, including colors and fabric, and come with perfect view-through technology. Sign up for your free in-home consultation today to learn more about our Hunter Douglas vertical blinds!
Skyline® Gliding Window Panels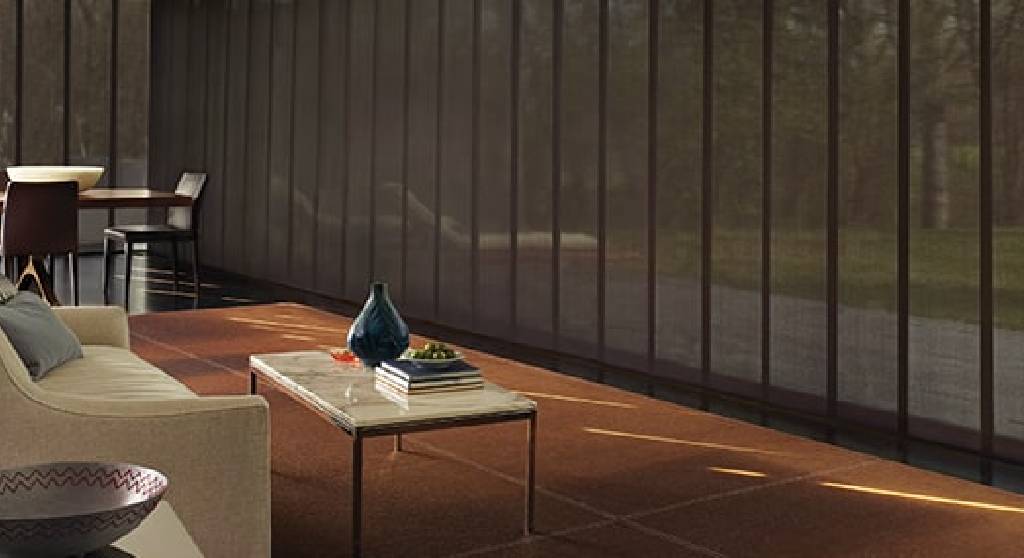 For a sleek, modern, and versatile aesthetic, choose Skyline® Gliding Window Panels. Skyline® panels are a statement all on their own with over 600 colors to choose from and incredible functionality as they stack tightly when open. This leaves you with unmatched views and natural light when you want it. Our gliding window panels operate smoothly and have an interlocking bottom weight, which prevents the panels from tangling and adds stability. Plus, these beautiful treatments double as a stylish room divider. Skyline® is also available with multiple top treatment options including a metal valance, fabric valance, a fabric-wrapped cassette, and a box valance.
Cadence® Soft Vertical Blinds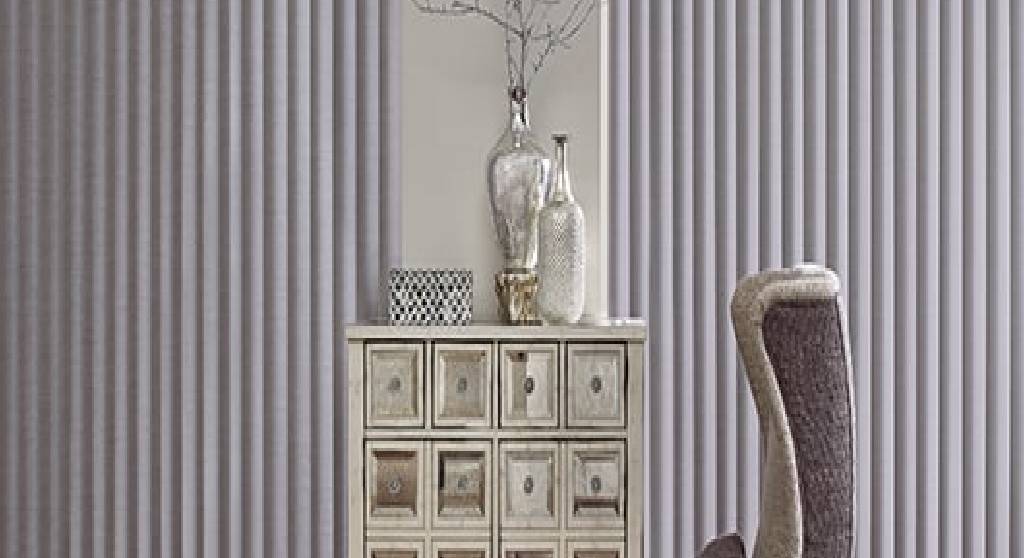 Cadence® Soft Vertical Blinds are a customer favorite for their soft, yet dramatic folds. These drapery-like curtain panels offer a luxurious aesthetic, featuring curved vanes that mimic sumptuous drapery folds. The vanes provide superior sound absorption, which helps improve a room's acoustics while reducing the intense noise outside. With so many color options available, these blinds are sure to fit in perfectly with your existing decor. We're also proud to offer our patented headrail technology, which reduces incoming light and allows for smooth operation every time!
Somner® Custom Vertical Blinds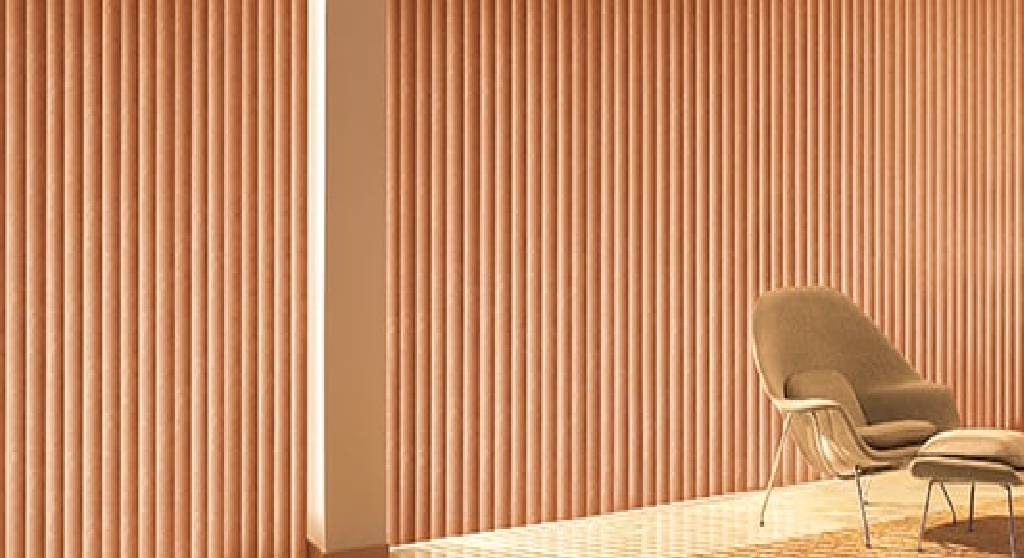 If you want to experiment with customizing your windows and glass doors, opt for the Somner® Custom Vertical Blinds. You can experiment with colors, textures, prints, statement textiles, light-catching metals, and more! The possibilities are endless with these vertical blinds for windows. They are available in fabric, vinyl, and aluminum, and the Somner® louvers reduce the outside noise, leaving your interiors peaceful and serene.
Vertical Solutions® Vertical Blinds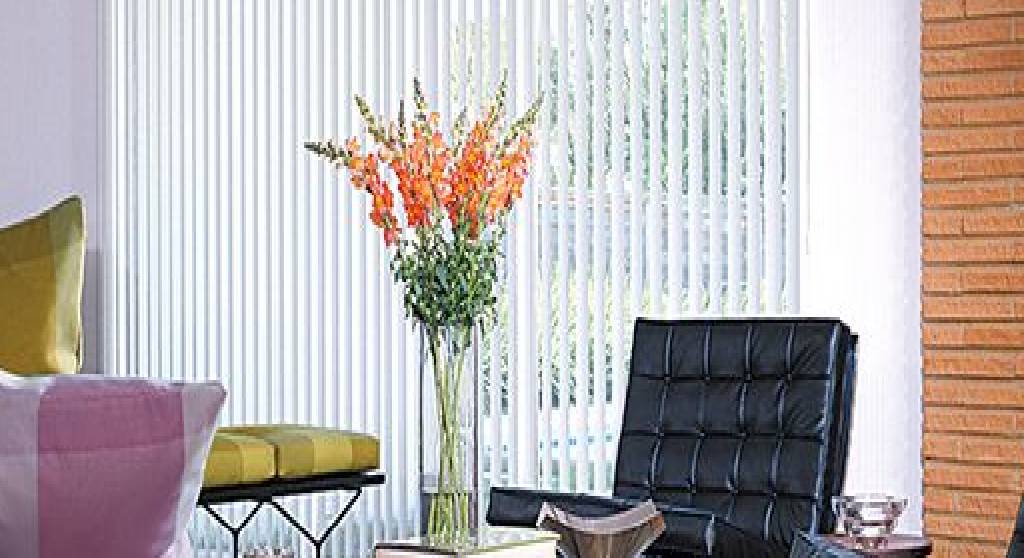 Our Vertical Solutions® Vertical Blinds are the perfect minimalistic approach to decorating your home. Our headrails allow trouble-free operation for a lifetime! Vertical Solutions® is available in vinyl and fabric options with varying patterns and colors. This collection of vertical blinds also comes with superior sound absorption technology, which improves your homes acoustics while reducing noise from outside.
Contact Us
Our designers love vertical blinds for their endless ways to customize, their sound absorption technology, and versatile aesthetics. Let's work together to figure out which collection of vertical blinds is right for your home! If vertical blinds aren't for you, we have Hunter Douglas' full line of custom window treatments at our disposable. We're sure to find what works for your needs!
At Janovic, we handle all your interior design needs from window treatments to Benjamin Moore Paint and from hardware to wallpaper. We do it all! We've been serving the New York City community since 1888, and we continue to so at our multiple locations across the city. Contact Us today to set up a free in-home consultation, free color consultation or stop by any of our many locations in New York City, NY. We can't wait to serve you!