If you live near New York City, NY, Janovic is here for all your window covering and interior design needs. Since our doors first opened in 1888, we have been The Color Authority of New York City. Today, we have locations all over NYC. We offer custom window treatments, Benjamin Moore Paint, hardware, wallpaper, and more. Call us today to set up a free in-home consultation or free color consultation. Let us help you find the perfect interior design solutions. One of our favorite solutions is our Hunter Douglas custom window blinds!
Hunter Douglas Wood & Metal Blinds
PARKLAND® WOOD BLINDS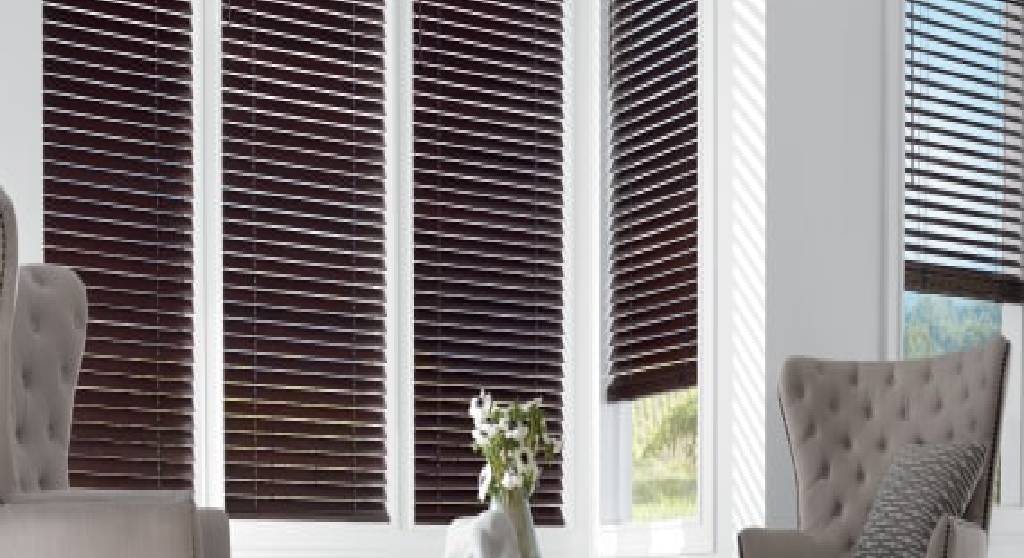 Bring natural beauty into your home with our Parkland® Wood Blinds. Parkland® blinds provide view-through without being raised, which allows you to enjoy your incredible view while maintaining your privacy. Additionally, our wood blinds have a varied color palette of wood stains and solid paint colors, complementing today's cabinetry and furniture styles. Plus, our hardwood is harvested from responsibly managed forests, so these wood blinds are a responsibly sourced option for your home. Parkland® is one of our styles that we offer the de-Light™ feature, which reduces incoming light for a room-darkening effect.
EVERWOOD® ALTERNATIVE WOOD BLINDS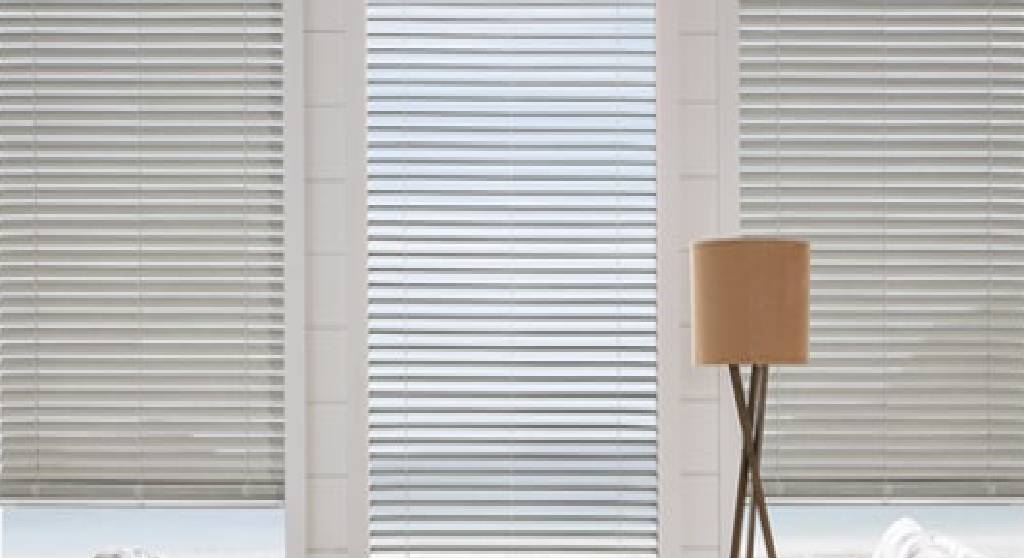 If you love the look of real hardwood but need long-term durability for high-traffic rooms, EverWood® Alternative Wood Blinds offers a wonderful balance of the two. EverWood® Blinds are made with a long-lasting wood alternative, available in TruGrain® finishes and a large selection of solid colors. Like our Parkland® Blinds, we offer advanced view through without raising your blinds. Simply rotate the slats for your unique balance of light and privacy. The de-Light™ feature is also available on EverWood® blinds.
MODERN PRECIOUS METALS® ALUMINUM BLINDS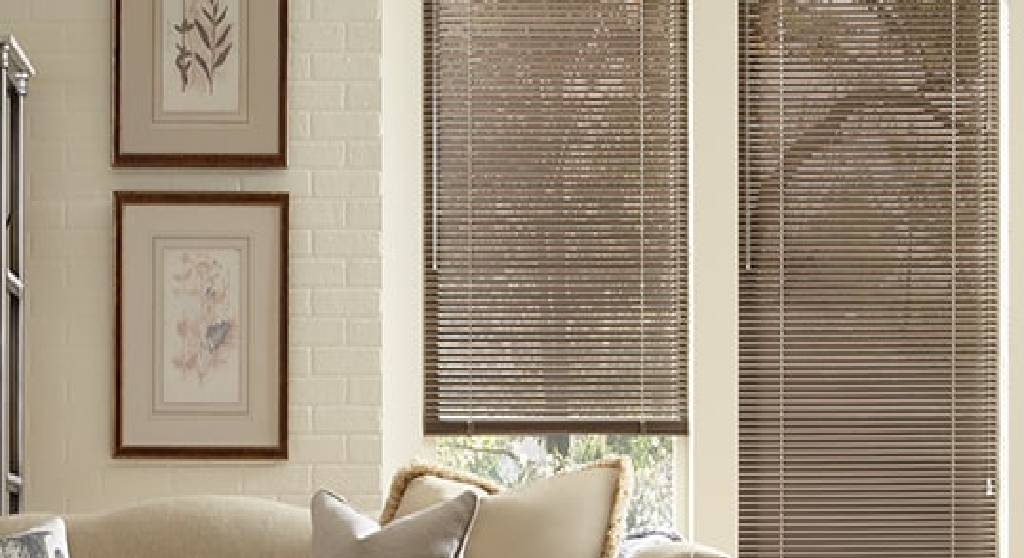 For a sleek look and unlimited ways to customize, Modern Precious Metals® Aluminum Blinds is a versatile option. Choose the perfect slat size, color, and finish for your home. Our aluminum blinds are also available in a wide range of finishes, including mattes, metallics, and soft, iridescent hues. This collection is offered with the de-Light™ feature for room-darkening capabilities as well as decorative tapes to accent your new window treatments.
Hunter Douglas Vertical Blinds
SKYLINE® GLIDING WINDOW PANELS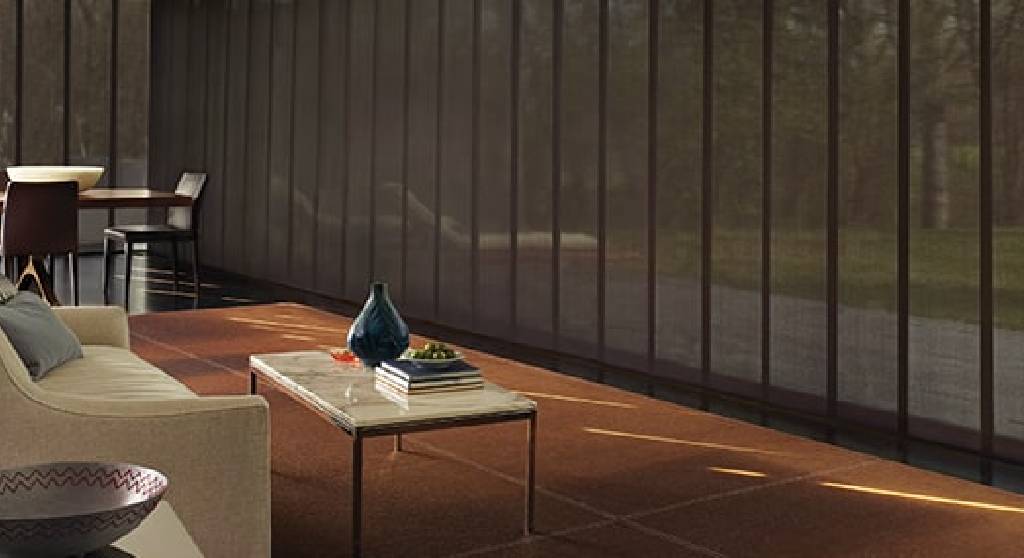 Skyline® Gliding Window Panels is a staff favorite when it comes to displaying incredible views. When Skyline® panels are open, they stack tightly leaving a completely unobstructed view. They are also a statement all on their own as they double as a functional room divider. With over 600 colors to choose from, you are sure to find the perfect addition to your home with these vertical blinds. Our gliding window panels are also available with top treatments and a patented track system for smooth operation.
CADENCE® SOFT VERTICAL BLINDS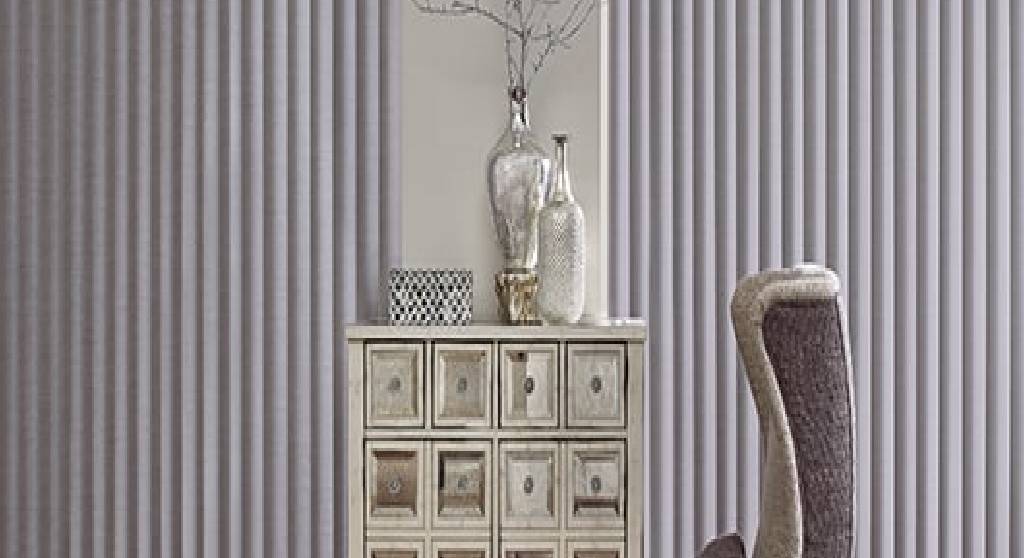 If you love the features of vertical blinds, but want the look of drapery, Cadence® blinds are the option for you. Cadence® blinds have a soft fold and curved vanes to mimic drapery. This collection is one of our favorites for its sound absorption capabilities, which helps your room's acoustic while reducing outside noise. Our patented headrail helps block incoming light and allows smooth operation.
SOMNER® CUSTOM VERTICAL BLINDS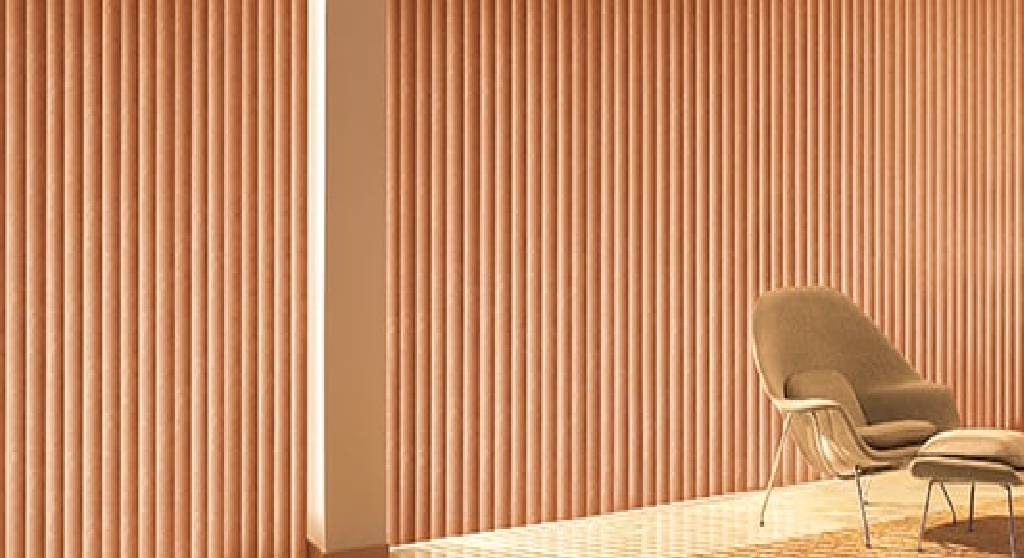 Our Somner® collection of vertical blinds is best known for its extensive range of fabrics, styles, and finishes. We can do printed textiles, geometric patterns, metallic finishes, and more. Somner® blinds are also available in fabric, vinyl, or aluminum. Our Softex™ texturing process allows you to have a degree of sound control with your vertical blinds.
VERTICAL SOLUTIONS® VERTICAL BLINDS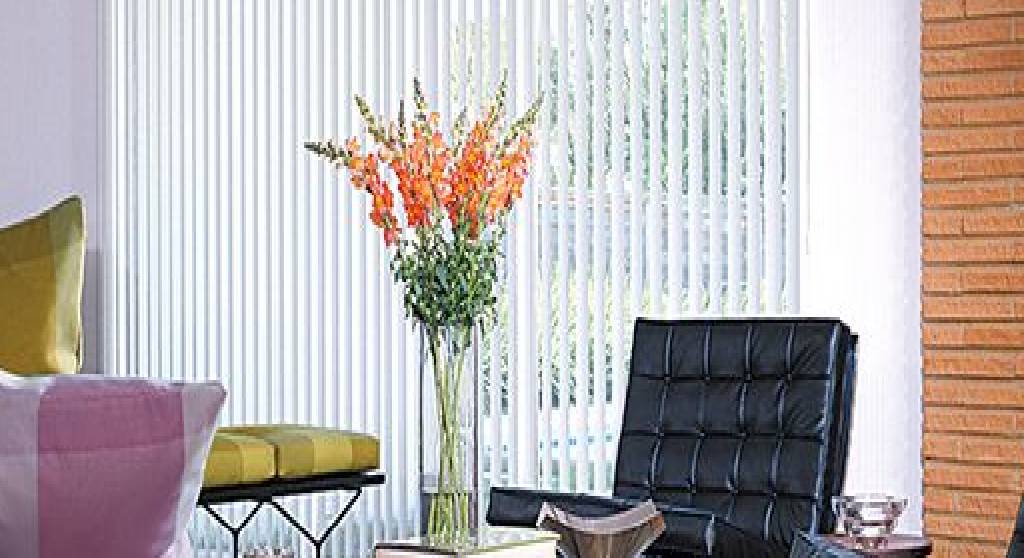 The functionality is in the name, as the Vertical Solutions® Vertical Blinds are the solution for a minimalist aesthetic. This collection of vertical blinds is meant to be an economical option with a stunning designer look. We offer this collection in both fabric and vinyl options with several patterns and colors to choose from. Another great feature of Vertical Solutions® is its sounds absorption technology to improve acoustics and reduce outside noise.
Contact Us
We love the New York City, NY community, and we are proud to serve you at our many locations across the city. Janovic is your one-stop shop for custom window treatments with our various collections of blinds, shades, shutters, and drapery. We measure. We design. We install. You sit back and relax.
We are also your resident interior design experts who specialize in Benjamin Moore paint, wallpaper, hardware, and more. Contact Us today to take advantage of our free in-home consultation and our free color consultation service! We are proud to serve the entirety of New York City and the surrounding area including Manhattan, SoHo, and Long Island, and we can't wait to serve you!