The New York City Color Trends Palette for 2022
If you saw our blog post announcing New York City's 2022 Color of the Year, then you know it is the beautiful Purple Haze 1413. This comforting purple color represents nurses' scrubs and gloves, as well as the color of royalty. Healthcare workers have been New York's royalty/heroes over the last years, throughout the pandemic, and this color honors them in a beautiful way. The color, however, does not stand alone.
That's why we are so excited to announce the New York City Color Trends Palette for 2022! Our homes and interior spaces don't need to reflect our stresses or the excitement of the outside world. The 2022 palette features cool colors meant to create a sense of calm, reflect a pastoral peacefulness, and tap into the cottagecore aesthetic that so many people are striving for, having grown tired of an overly digital world. In the 2022 palette, you'll find soft grays like the cobblestones of an ancient street, the gentle green of moss or an evergreen forest, and the whites of freshly cleaned tablecloths and the delicate china sitting on top of it.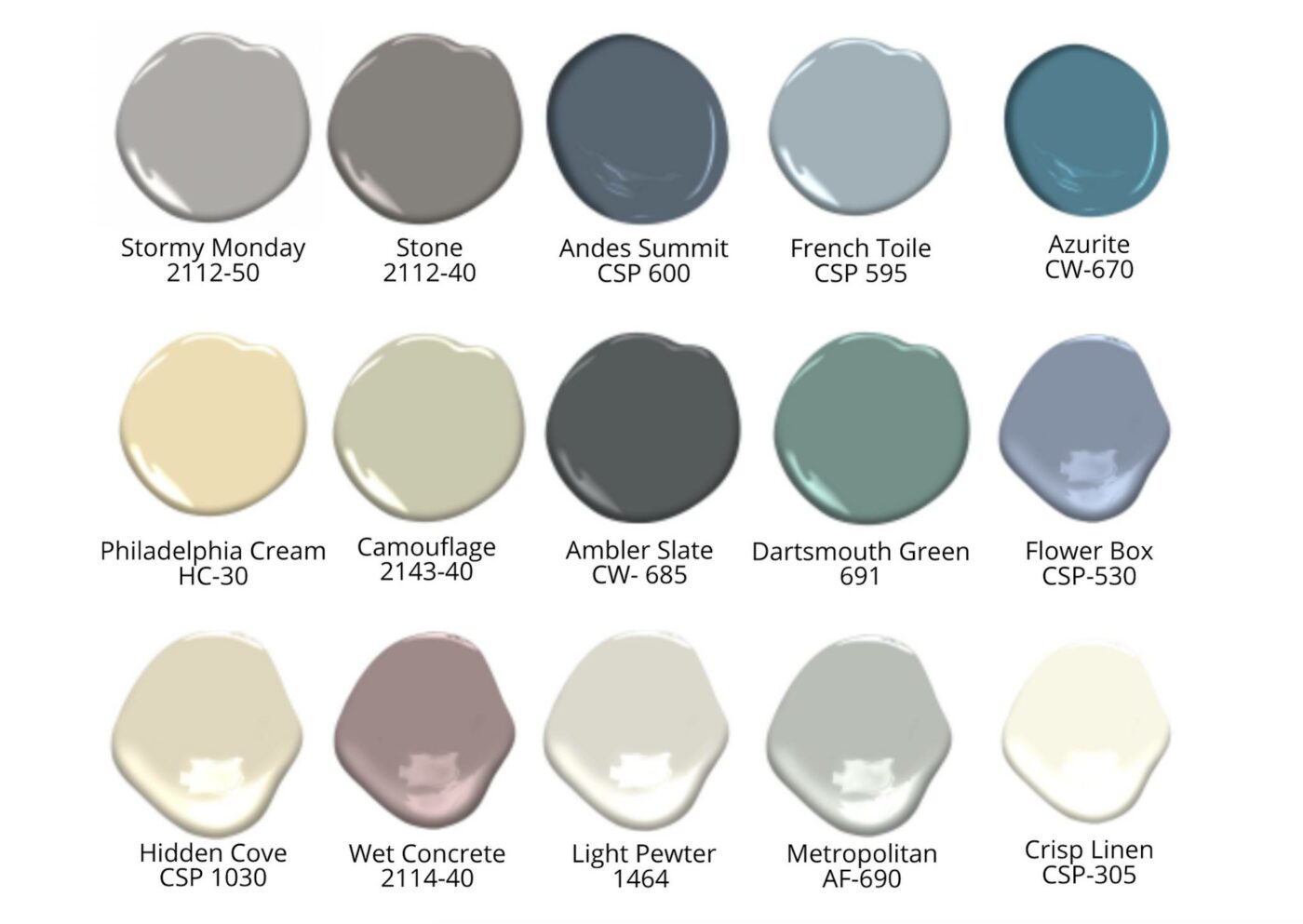 In 2022, turn your space into the home of your dreams. Ditch the dispassionate beige in favor of the gentle welcome of Crisp Linen CSP-305. Consider French Toile CSP-595 for your bathroom redesign to complement a claw-foot tub and a minimalistic aesthetic to your home spa. The possibilities are plentiful, and Janovic is here to help you see those possibilities turn into reality. Whichever color from the color trends palette calls your name, you can pick it up at Janovic. Stop by one of our NYC locations or place an order online for same-day pickup.
Our Favorite Colors
Design trends often equate soft hues with blending into the background, but they can make just as much of a statement as bold colors. Imagine the contrast between the whites and blues in traditional porcelain designs or the pop of color in an English garden. The 2022 Color Trends Palette is full of colors that excite us in this way, and here are some of the ones that are exciting us the most.
Flower Box CSP-530: Bring this color named after an exterior accessory into your home by contrasting it with a white window frame in a tasteful, calming accent wall in a kitchen or living room.
Azurite CW-670: A door painted with this color makes a statement reminiscent of a country cottage or a magical doorway into a greenhouse.
Philadelphia Cream HC-30: Bring some color into a typically neutral living room with this color to draw out the rich browns and maroons of furniture pieces or inset wood cabinetry.
Janovic is here to help!
The colors and hues of the New York City Color Trends Palette of 2022 is all about cozy, comfort, and community, and we want to be part of your community to make your color dreams a reality. Contact the paint professionals at any of our stores across New York City to learn how to integrate the palette into your space. Janovic is here for all your interior design needs, including paint, custom window treatments, wallpaper, fabric, and more. We offer in-home consultations for our services as well a color consultation, so we can show you just how these colors will look in your house. We can't wait to work with you!