Fall reintroduces us to cool weather at the end of each year, but most of the hues in an exquisite autumn palette embrace the warmer side of the color wheel. Our fall color palette features the usual red, yellow, and orange but has a couple of unexpected guests: slate blue and plum.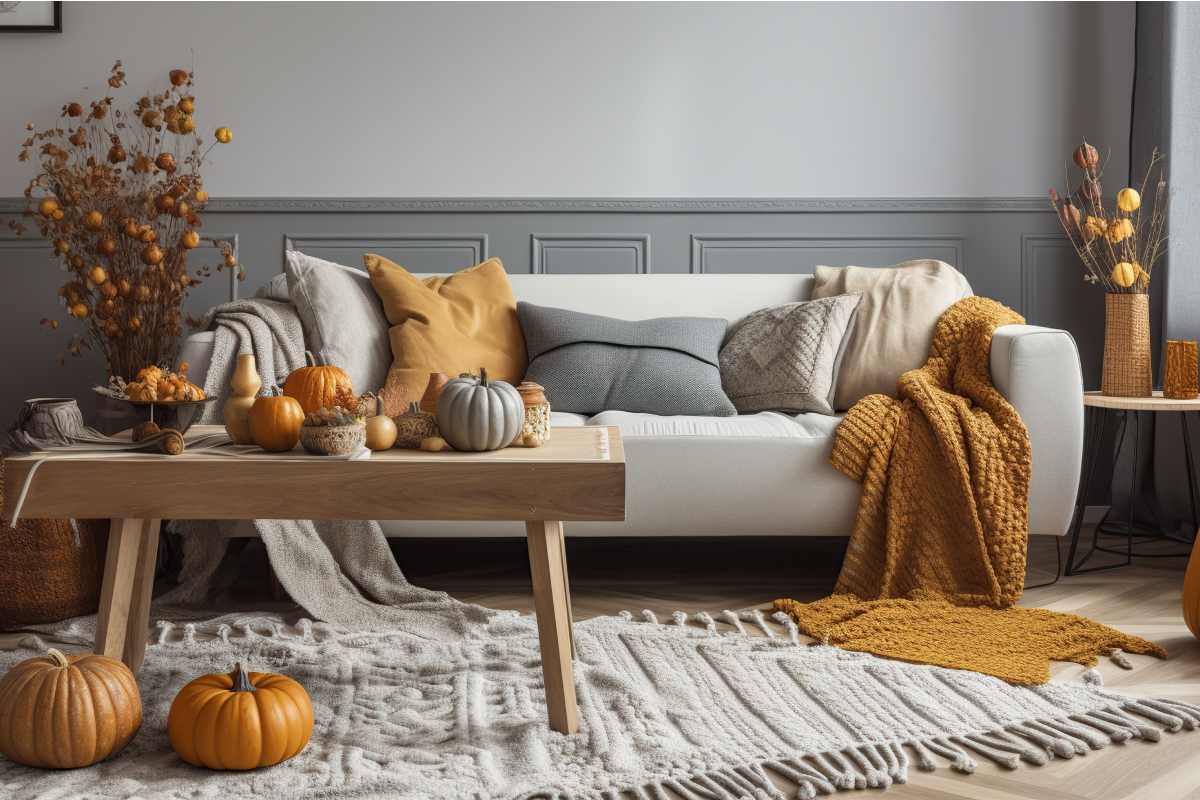 Benjamin Moore Blue Nose CC-800
The color of the sky on a crisp October day, Blue Nose, is a timeless shade of slate blue. This classic, muted shade of blue is ideal for creating a relaxing bedroom oasis or a chic kitchen. It's versatile and pairs well with light and dark shades of gray, like Gray Mist CC-80 or Stonecutter 2135-20. Brighten a space with Blue Nose by accenting it with Tangy Orange 2014-30.
Benjamin Moore Spicy Mustard 2154-20
This golden hue is an excellent way to make a guest room feel warm and welcoming. Spicy Mustard is reminiscent of the deep yellow sunset just before the Harvest Moon. If you want to introduce a neutral color without sacrificing the warm aesthetic, Powder Sand 2151-70 is soft, radiant white.
Benjamin Moore Fall Harvest 2168-10
A deep, earthy shade of burnt orange, Fall Harvest embodies an ideal color for an autumn palette. This bold shade is a fantastic choice for a warm, intimate dining area. Try painting the ceiling with Feather Gray 2127-60 to mimic a pumpkin patch with a subtly overcast sky ready to release the season's first snowflakes.
Benjamin Moore Dark Purple 2073-10
While not as common as the usual fall colors, many plants and shrubberies transform to a deep purple in autumn. Dark Purple is a deep shade of plum that is an ideal choice for making open spaces feel cozier. Since plum is such a dark shade, it's nearly neutral and looks fantastic when brightened with yellow, like Westminster Gold 200. You can tone down the color with other neutrals, like Snowfall White OC-118 or Mineral Ice 2132-70.
Vermilion 2002-10
This bright shade of red is attention-grabbing and exudes confidence. Think of Vermilion as extravagant jewelry; it shines its brightest when you reserve it for accent use. Use Vermilion to transform an average entryway into an energetic and exciting one. A soft, neutral color, like Cedar Key OC-16, is an exquisite way to ground a space with shades of bright red.
Choosing Your Fall Palette
If fall were a person, it would be someone who is self-assured and makes their presence known to everyone; the colors we chose for this deep autumn color palette reflect that. We thoughtfully selected each color based on its dramatic and enigmatic appeal. The soft autumn color palette accommodates every style, from maximalist and eclectic to subtle and sophisticated.
Timeless Fall Color Palettes for Your NYC Home
Welcome a bold fall color palette into your home with Benjamin Moore paint from Janovic. We are the city's premier Benjamin Moore dealer and have everything you need to transform your apartment using the power of paint. Visit one of our locations throughout New York or schedule an in-home color consultation today.