If you feel like your kitchen looks a little drab and could use something to revitalize its look, look no further than your cabinets. Doing something as small and simple as giving your cabinets a new coat of paint can transform the look of your kitchen; you don't have to worry about ripping anything out or any major construction projects.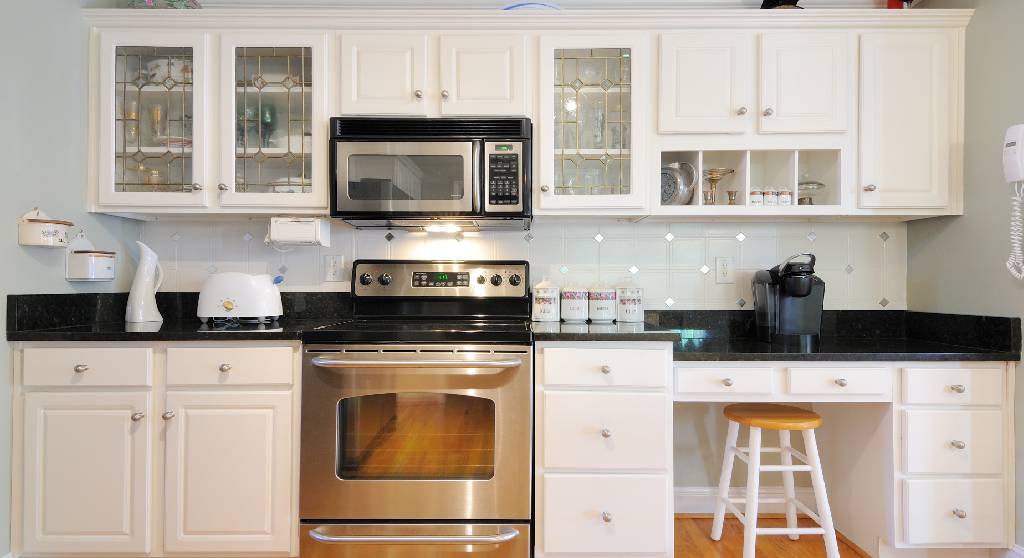 Why You Should Paint Your Kitchen Cabinets
There are a plethora of benefits to giving your kitchen cabinets a fresh coat of paint. First, painting your cabinets is a straightforward way to change the look and feel of your kitchen. You don't have to worry about ripping anything out, like your floors or counters, and you can do it all on your own if you choose to do so. You can dramatically alter your kitchen aesthetic in just a couple of days of work. Brighten up the room with whites and neutral, or give it a pop of color with something unexpected like a shade of yellow.
In addition, painting your cabinets has more benefits than just looking good. With the right kind of paint, you can protect your cabinets from all sorts of kitchen cooking-related hazards; food splatters, popping oil, spilled drinks, or dropped food. Whatever kind of mess you can make, a good coat of paint between it and your cabinets we'll keep them lasting longer. Talk with one of our specialists, and they can recommend a good cabinet paint that easily stands up against the kitchen's moisture. We'll help you find one that has a surface durable enough to scrub, ensuring that you're not going to have and long-lasting stains marring your kitchen's image.
Cabinet Painting Recommendations
Painting all of your kitchen cabinets can feel overwhelming, but with some preparation, you'll have no problem managing this project. The first thing you want to do is make sure that your cabinets are clean. A clean working surface will ensure that your paint & primer sticks appropriately and dry with a smooth, even finish. Pro tip: you can use medium grain sandpaper to sand just enough of the surface for the paint to adhere better when you apply it. Just make sure to clean up any dust or wood shavings before painting.
All that's left is to cover any other surfaces with plastic or painter's tape, and you're ready to paint. There are many choices for paint color and finishes for your cabinets. Neutral colors, like black or grey, are excellent choices if you are looking to hide maybe some surface blemishes end to cover any marks or scratches on the surface of your cabinets. Bright colors can be used for accents or to brighten up the atmosphere of a dark kitchen.
Contact Us
No matter how you decide to paint your cabinets, our expert team is excited to help bring your vision to life. Janovic is New York City's authority regarding all things window paint and color, so contact us online or stop by one of our many locations across New York City. Contact us today for your complimentary color consultation!