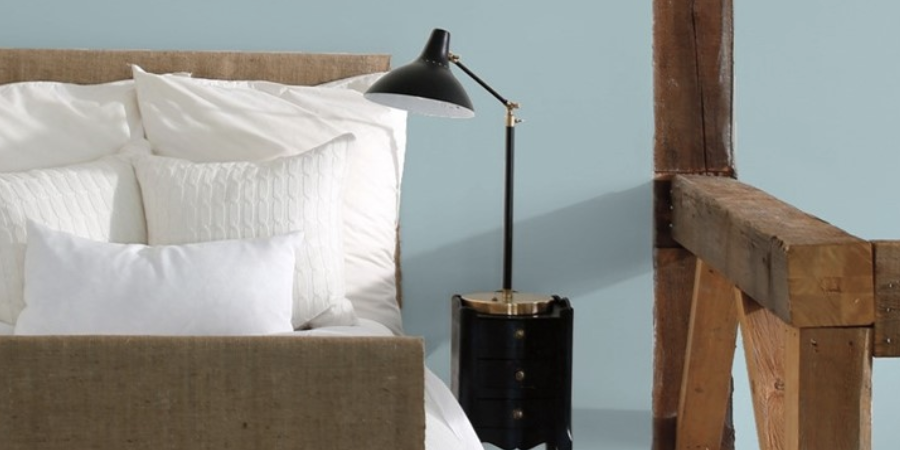 With the anticipation of the upcoming year, Benjamin Moore has introduced us to its top pick for color of the year 2020, First Light. But, have you seen the other 9 colors? The color palette for 2020 was curated over the course of the past year. Highlighting the tone of each color, we've learned that these colors were chosen for their character, full of emotion-evoking flavor.

Often seen with natural elements, the range of colors chosen either stand out in style or simply pair well with ever-popular wood tones. And, as we're learning, these colors look dynamic when used togther–even unlikely duos–reminding us that as we move into a new decade, it's important to take chances…
Golden Straw with Blue Danube
With a touch of whimsy, but mature beyond the nursery, yellow nearly always finds a spot among the top colors. It moves from deep mustard to soft and sunny, able to set the stage. And, now, many consider it neutral when it comes to the color palette.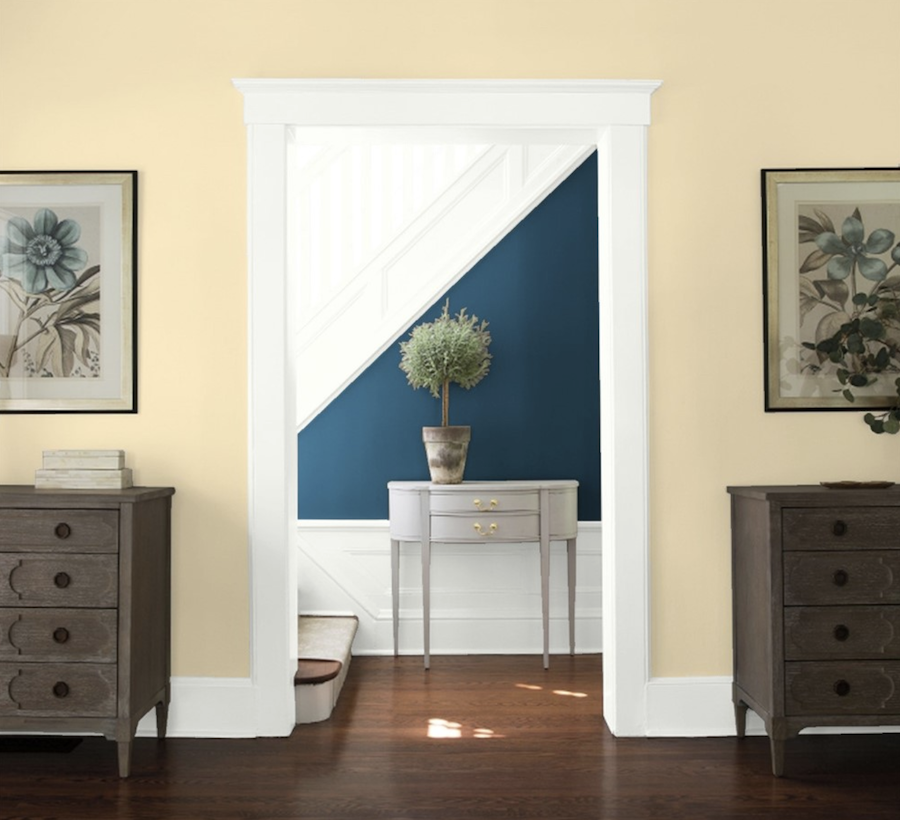 The captivating blue seen here is Blue Danube, one of this year's color palette picks. It draws you in with its depth–exciting, yet reserved. The trimwork is done in White Heron, another color coming to us with the Benjamin Moore top ten.
Thunder with Windmill Wings
Thunder has long been a popular choice in the Benjamin Moore color palette. It's the perfect shade when you want a neutral, but you're hoping for a paint color with a little more depth. The stone beige hue makes a statement without being bold.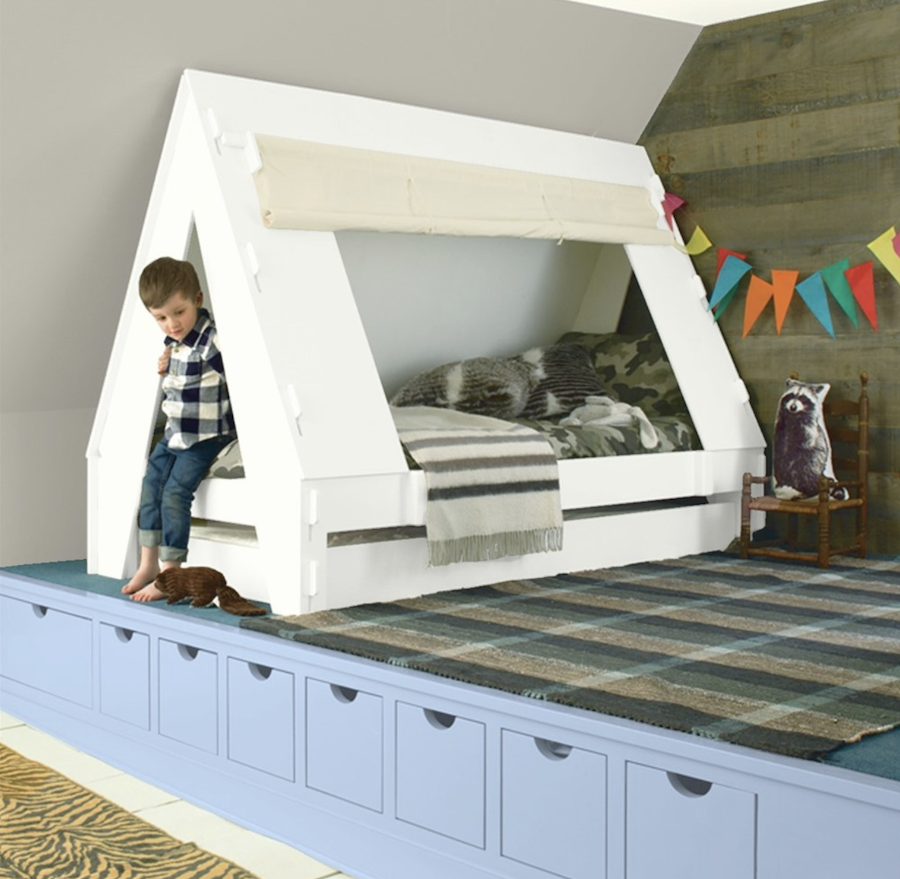 Painting cabinetry is a color trend that has taken root. No longer satisfied with the typical finishes, many people have turned to colors to create a unique, refreshing look. This year's Windmill Wings is a great choice for this space. And, the playhouse in White Heron proves that whites are not just for trim and ceilings. White is a statement maker on its own.
Green with Envy: Cushing Green & Crystalline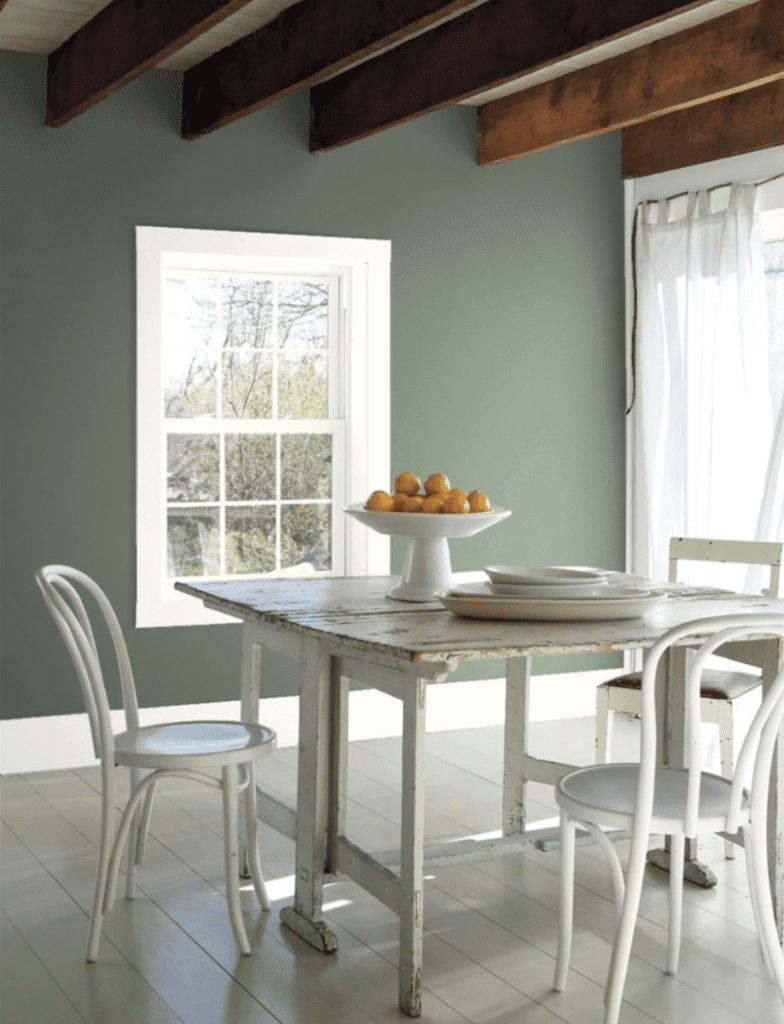 Earthy and grounded, Cushing Green solidifies the feeling of contemporary casual style. Full of character and charm, the rustic elements of this dining room stand out against the green walls.
The other green on the top ten color palette, Crystalline heads in another direction. While still soothing and quiet, in this natural light-filled living room, sophisticated elegance shines. As a common pairing with colors, green and pink still prove that they are made for each other.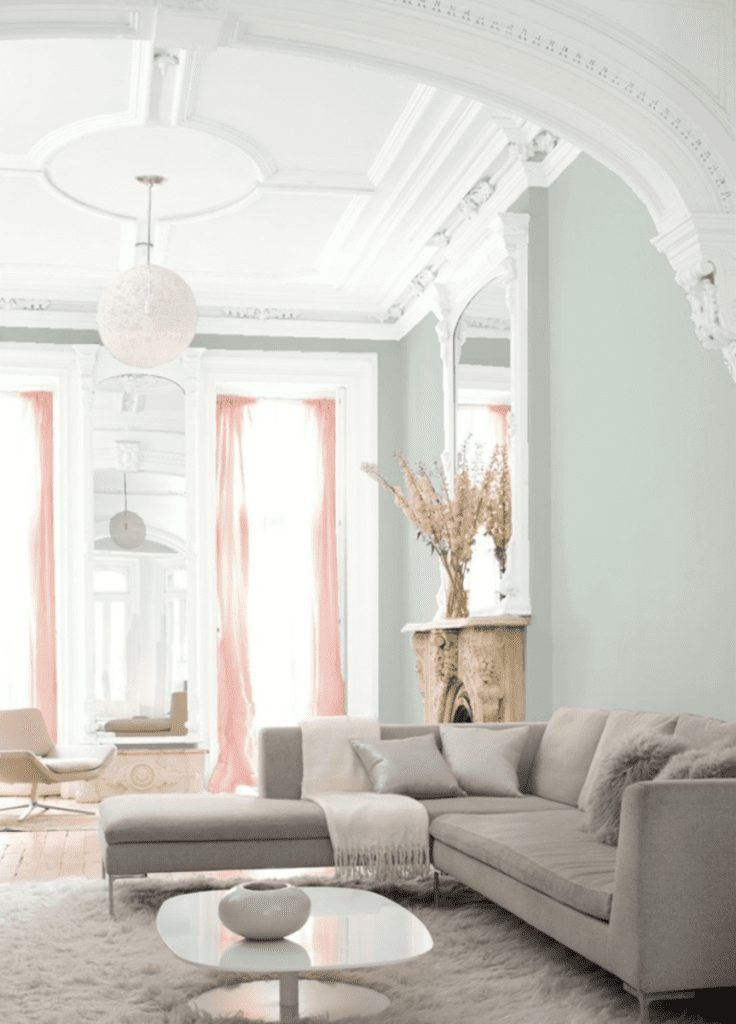 Which Is Your Color Palette Pick?
As you browse the top ten from Benjamin Moore's color palette, do you have a favorite? Are there one or two colors you saw that you're excited to try? At Janovic, we carry the full collection of Benjamin Moore paints. Shop online, or stop into one of our twelve locations throughout NYC to browse color swatches and pick up all your project needs. Contact our team today with questions!