Colorful ceilings are one of the most unexpected yet idea-rich interior design trends of 2022. The perfect project for anyone looking to make an unexpected statement, painting a ceiling is much easier than it sounds – plus, this idea can add unique benefits to your space. Here's everything you need to know to perfect your overhead painting technique!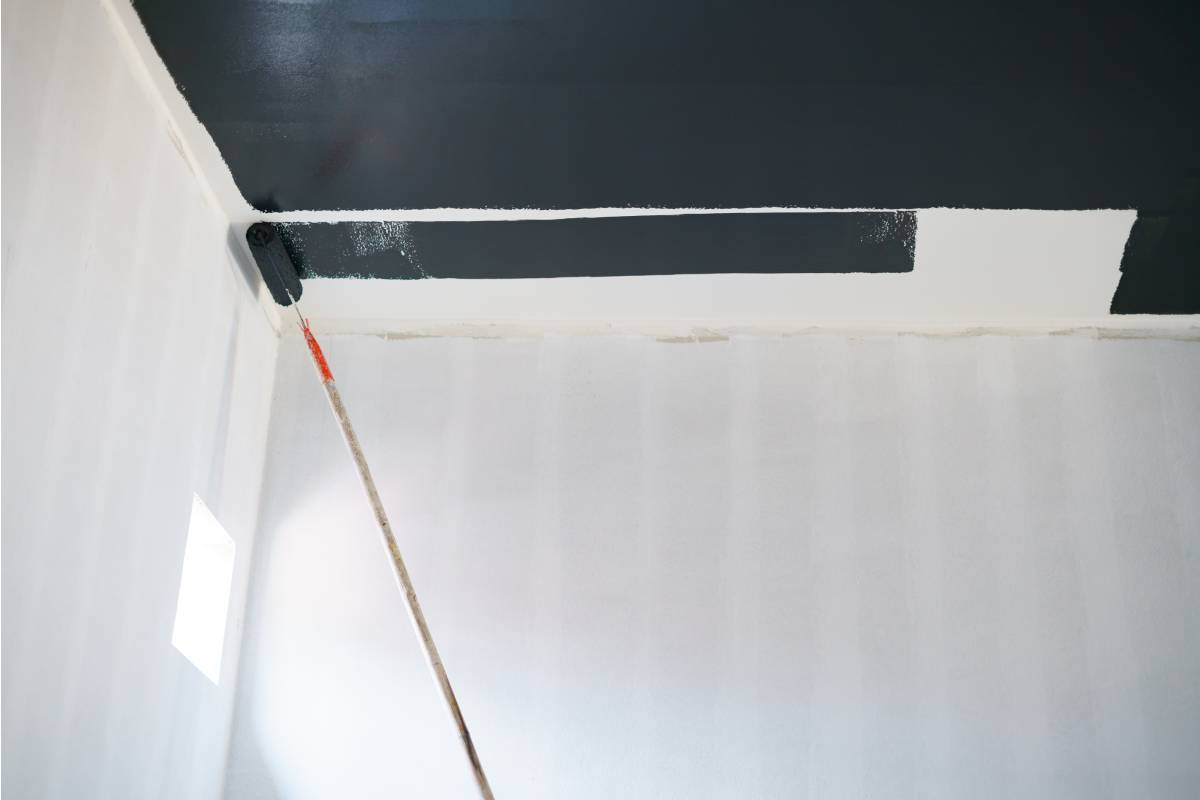 Why We Love Painted Ceilings
Ceilings are often the overlooked surface in a space. Maybe it's because we're spending so much more time at home these days, or because Maximalism is quickly becoming a popular design trend, but the time has come to look up and show some love to the fifth wall of your room – the ceiling.
A painted ceiling can add depth and interest to a space, and the colors you choose can drastically impact the way a room feels. Lighter ceilings with darker-colored walls make rooms appear much larger. On the other hand, make a large room feel cozier by painting the ceiling a deeper hue and then leaving the walls in lighter colors.
Decorate your ceiling to completely transform your space in just one day and showcase your creativity while doing so! This trend is relatively new, so hop on it to impress your guests and give them major house envy. Soon enough, the whole neighborhood will be filled with colorful ceilings!
Best Ceiling Paint Colors
Painting a ceiling is inherently more difficult than a regular wall, so selecting your palette carefully is crucial. Different shades have different effects on the feel of a space. Consider the purpose of the room you're painting and choose a shade that embodies that feeling.
Additionally, consider the size of the room and how much light it gets throughout the day. Much like wall paint, painting your ceiling in a similar color to the walls will make the space feel smaller and more uniform, whereas an off-white or bright color can open up the room, giving the illusion of added space.
How your ceiling color and wall color interact will also play a large part in dictating the interior design style of the space. Colorful maximalists may opt for bold, contrasting colors or painted patterns and murals. Those decorating a more formal area may use the same shade on the walls and the ceiling. Selecting a color just a shade or two lighter or darker than your wall color is easy to add interest without committing to one specific decor style.
Cost to Paint a Ceiling
Painting a ceiling is a simple, inexpensive way to create a dramatic transformation. The most considerable expense will be the primer and paint. It's imperative to select high-quality primer and paint to ensure the coats apply evenly. Because you're working overhead, rather than in front like a standard wall, you'll want to find paint that only requires one or two coats. Ultimately, paying more for a premium brand of paint, like Benjamin Moore, will save you time, money, and energy in the long run.
Painting It Perfectly
You may not be used to painting at this angle, so take extra care while prepping your space and applying the paint to achieve a remarkable result.
Protect Your Space: Painting overhead means fighting gravity, so take extra precautions and lay down a drop cloth to protect your furniture and floors. Drips will happen, but they'll be no big deal if you've taken the time to safeguard your space. For additional protection, tape the edges of your drop cloth to prevent any drips or leaks.
Ceiling Before Walls: If you're painting both the walls and the ceiling, tackle the ceiling first. You'll likely accidentally get paint on the walls, so saving those for last means you can just paint right over your mistakes!
Crown Molding: The transition between a ceiling color to a vastly different wall color has the potential to be a bit stark. Add crown molding after your paint dries to help ease the two colors together and create a more finished look.
Paint for Every Ceiling
Janovic is New York City's color authority, and we want to help you make your home as colorful as you are! We are proud to serve you at any of our multiple locations across New York City. Stop by one of our downtown storefronts or visit us online to discover your next ceiling color. Contact us for your personal color consultation today!