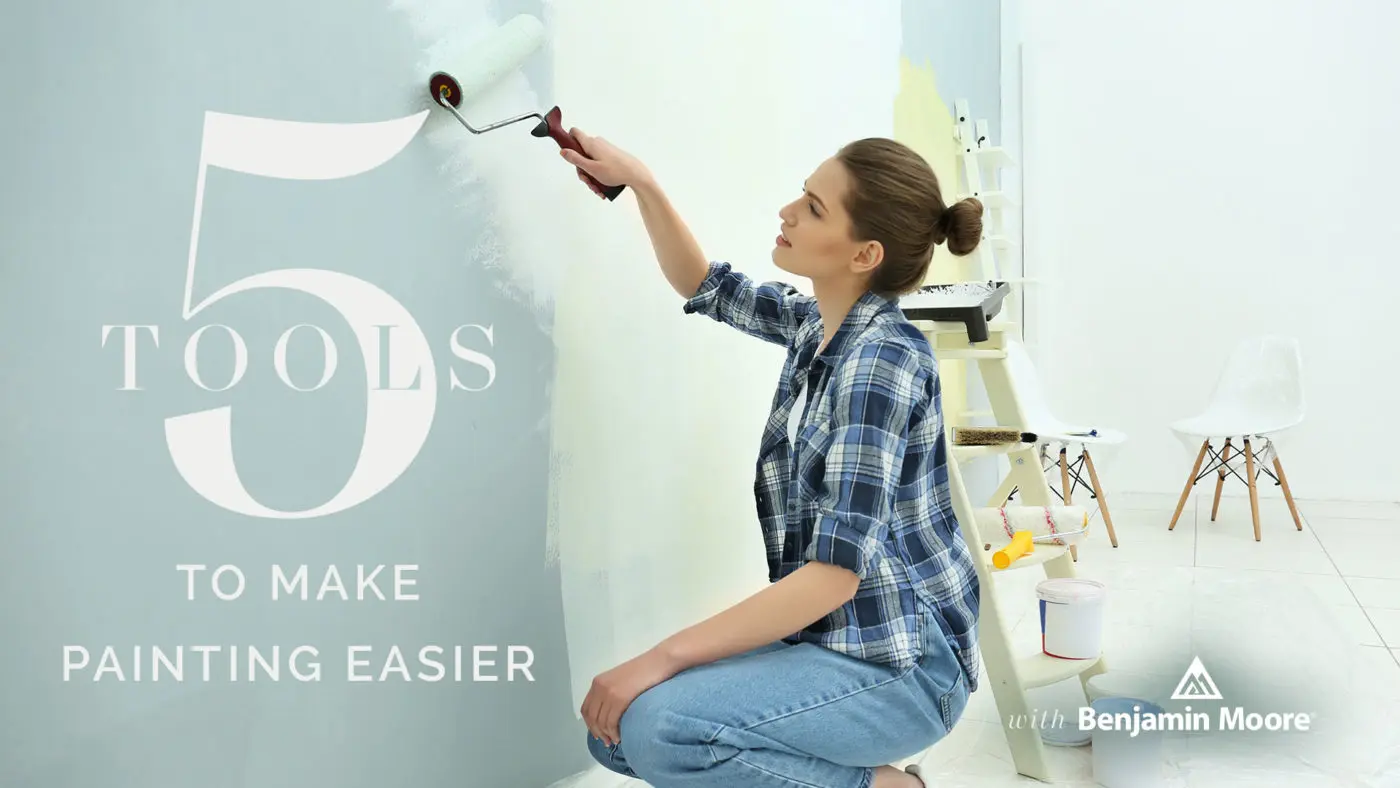 When you begin any painting project, you must carefully consider the supplies that you buy. Primarily if you're focusing on interior paint projects, even the slightest imperfection will reveal itself, nagging at you for years to come. The supplies you purchase directly impact the final product – quality supplies are essential for top-quality work. That's why, at Janovic, we offer only the best brands and the best sundries for your painting needs.
With the right painting supplies, your project can move forward quickly and efficiently, leaving you with a beautiful finish that your family and guests will fawn over for many years to come. So, before you begin your project, here are five products that you can't live without, along with some helpful painting tips.
3M™ Sanding Sponge
Sanding sponges are imperative for any painting project because they help smooth rough surfaces and clean any dusty surface. They can be used on wood, paint, metal, plastic or drywall. The sanding process helps prepare the surface to receive a coating of paint, whether you're starting with paint or primer. They are made of a foam block wrapped in sandpaper on all four sides, so you can easily hold the sponge in your hand and maneuver it with ease, whether the sponge or surface is wet or dry. This durable sanding sponge can be rinsed and reused for future projects.
HOW TO USE IT
First, choose your grit level. If you have a rough surface, you'll want a coarse grit, but if your surface is more delicate, you'll want to choose one with a fine grit. Medium grit is an excellent choice for all-purpose projects. You can purchase all three grit levels and work through a sequence for the best results, starting with coarse and moving to medium and then fine grit. You can order them from Janovic's online store now for delivery or pick up at one of our New York City locations.
Janovic Canvas Drop Cloth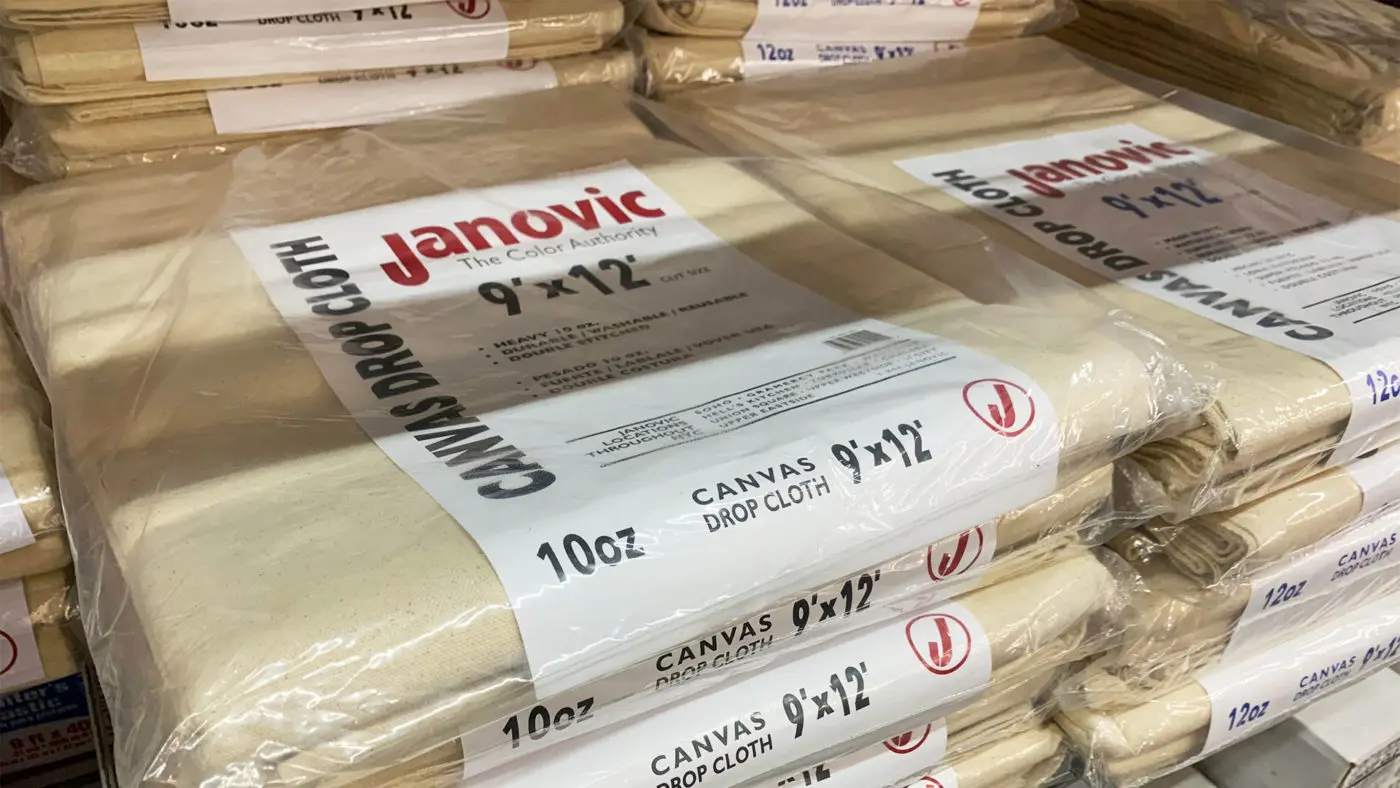 With any painting project, you want to be sure that you're protecting all of the flooring and surfaces beneath your painting area. It can be easy for paint to spill or splatter during a project, so a canvas drop cloth is a must-have for any painting project. The ­Janovic Canvas Drop Cloth is durable and thick enough to absorb paint drips, so they don't seep through or splash onto your carpeting or other unwanted surfaces. The best part is that these canvases are reusable, so they will last you for many future painting projects as well. (if you're that ambitious!).
HOW TO USE IT
Measure the space you'll need to cover before purchasing your drop cloth. Janovic carries the following three sizes: 4' x 12', 9' x 12', and 12' x 15'. If you're on the edge of a size, always choose a size larger because you can fold up the part you don't need, and you definitely don't want to be left with a cloth that's too small. You can also choose your thickness – either 10 oz. or 12 oz. A 10 oz. drop cloth is the most popular choice among contractors and is considered a heavy weight that will safely cover any surface. If you're doing an exterior project and need to cover shrubs or are just looking for an extra heavy cloth, the 12 oz. will serve your needs. When using a drop cloth, you want to make sure that you always place the same side face down on flooring or furniture, so you don't risk getting any old paint or particles on the items you're trying to protect. Make sure your surface or object is fully covered, and then you can begin painting.
DAP Plaster of Paris (Dry Mix)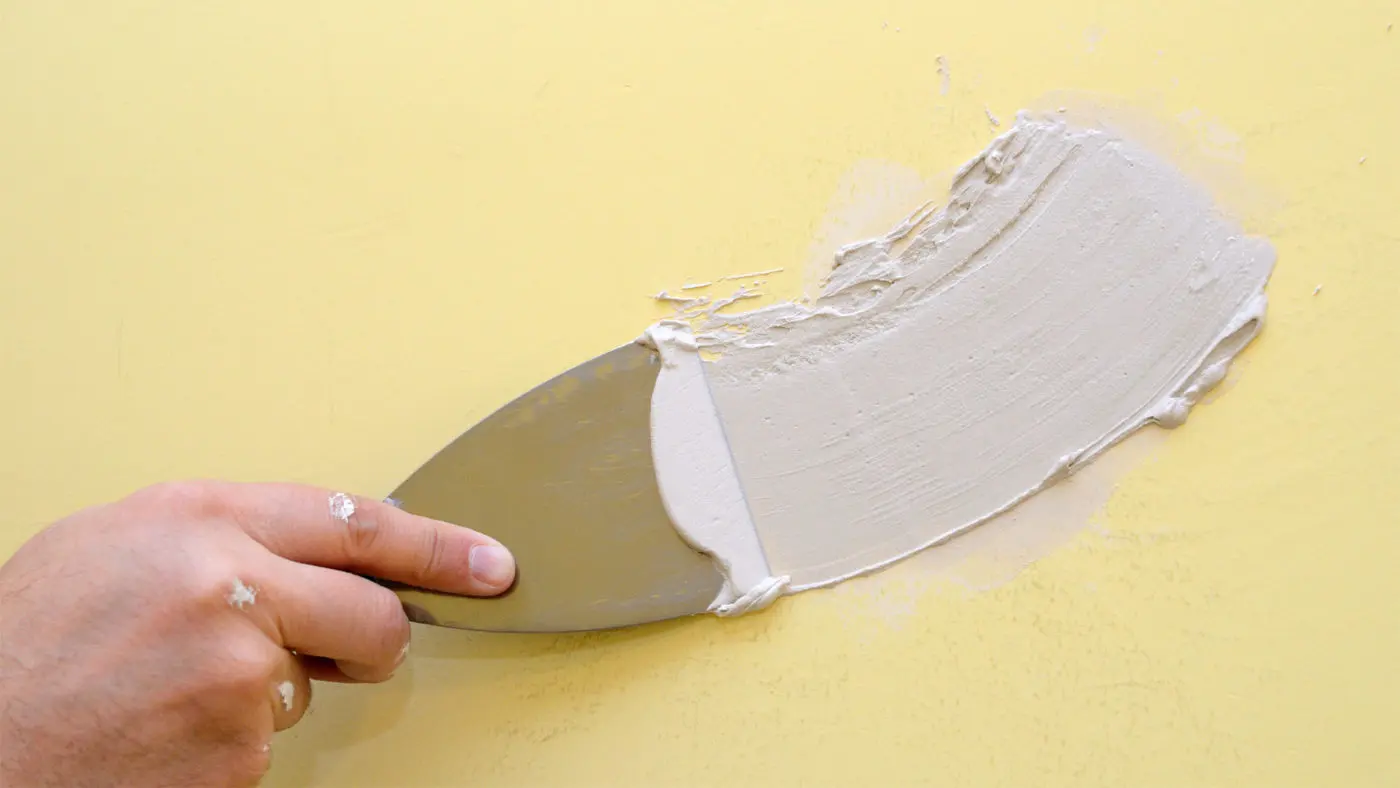 There's nothing more irritating than a small hole in your wall. Maybe you've been staring at it for years, and now you want to start a painting project. The good news is that a small repair shouldn't take you very long to fix up. That's where Plaster of Paris is helpful – it's used for general wall and ceiling repairs, and it can be used by anyone even if you have no experience repairing drywall. This particular mix sets fast in 20-30 minutes so you can patch your walls and get on with your project. The DAP Plaster of Paris mix will become your new best friend, revealing professional quality work, so you'll never know there was a gaping hole in your drywall. Here's a quick painting tip: don't forget to cover it all with Benjamin Moore paint, also sold at your local Janovic in NYC.
HOW TO USE IT
This product comes in a dry mix, so you will need to add water before using it. As a general rule, the ideal ratio is two parts Plaster of Paris to one part water, but you can simply follow the instructions that come with the mix. You'll then fill up the gap or crack with the mixture using a putty knife. Let it dry completely, which should only take about 30 minutes. Once it's dry, you can even use the 3M™ Sanding Sponge to smooth out any rough surfaces before painting.
ScotchBlue™ Original Painter's Tape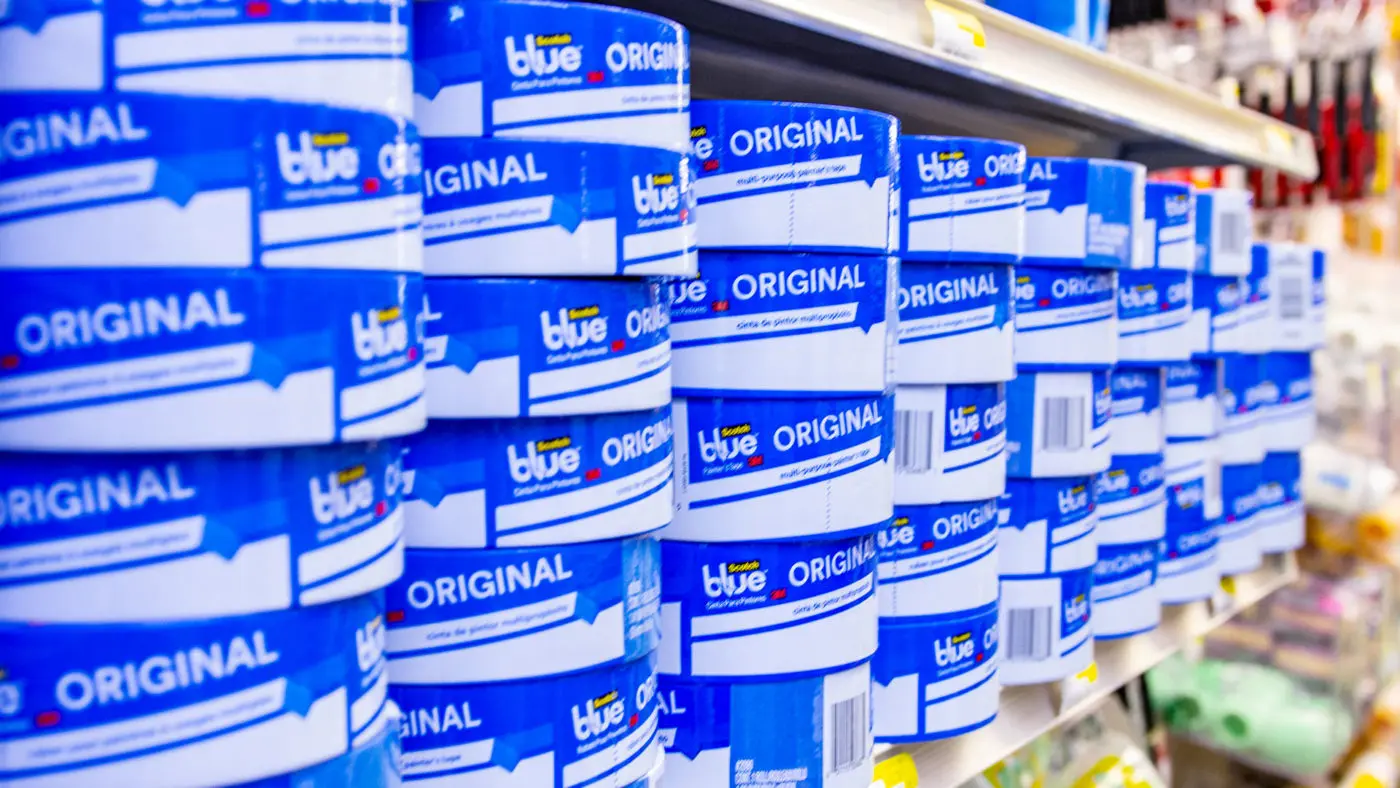 The blue painter's tape is a staple in any homeowner or contractor's toolkit! It allows you to set hard edges in your painting projects, so you don't get any excess paint on your trim, windows, baseboards, or other unwanted surfaces. Once you adhere the tape along the edge of your painting area, you can leave it on for up to 14 days without any sticky residue left behind. The tape is UV and sunlight resistant, so it won't fall off or cause damage when exposed to sunlight or harsh UV rays.
HOW TO USE IT
Simply apply the tape pressing down firmly as you go to ensure that the tape is secure. Before application, make sure the surface is clean, dry, and dust-free so that the tape will stick properly. Let the tape set for about 30-60 minutes before painting. This tape can be used on smooth or lightly textured walls, trim, baseboards, tile, and even glass. Once you're done painting and ready to remove your tape, make sure that the paint is completely dry before peeling the tape off. Lift the tape by slowly pulling back, removing at a 45-degree angle and your beautiful paint edging will reveal itself!
ArroWorthy Pro-Line Lamdel Weave Roller Covers
If you're working with premiere Benjamin Moore paint, for best results, it must be applied using the best painting supplies available. That's where our professional-level roller covers have you covered. The Lamdel Weave fiber found in our weave roller covers is made using an exclusive NYLYN™ polyester technology, allowing the material to pick up, hold and deliver an even coating to the surface you're painting. Whether you're a contractor or DIY homeowner, you can paint with ease, knowing that your coat will turn out beautifully with the best weave roller covers on the market.
HOW TO USE IT
The paint roller can be attached to any roller frame for painting. Once attached, we recommend you use ScotchBlue™ Original Painter's Tape to press around the roller cover to remove any excess lint or dirt that may have gotten stuck. Next, lightly dampen the roller and remove excess moisture using a towel or paper towel. Now you're ready to paint! Roll the roller into the paint tray and make sure it's fully coated before you begin painting. Don't forget to pick up an extension pole to increase your reach!
Janovic is Ready to Help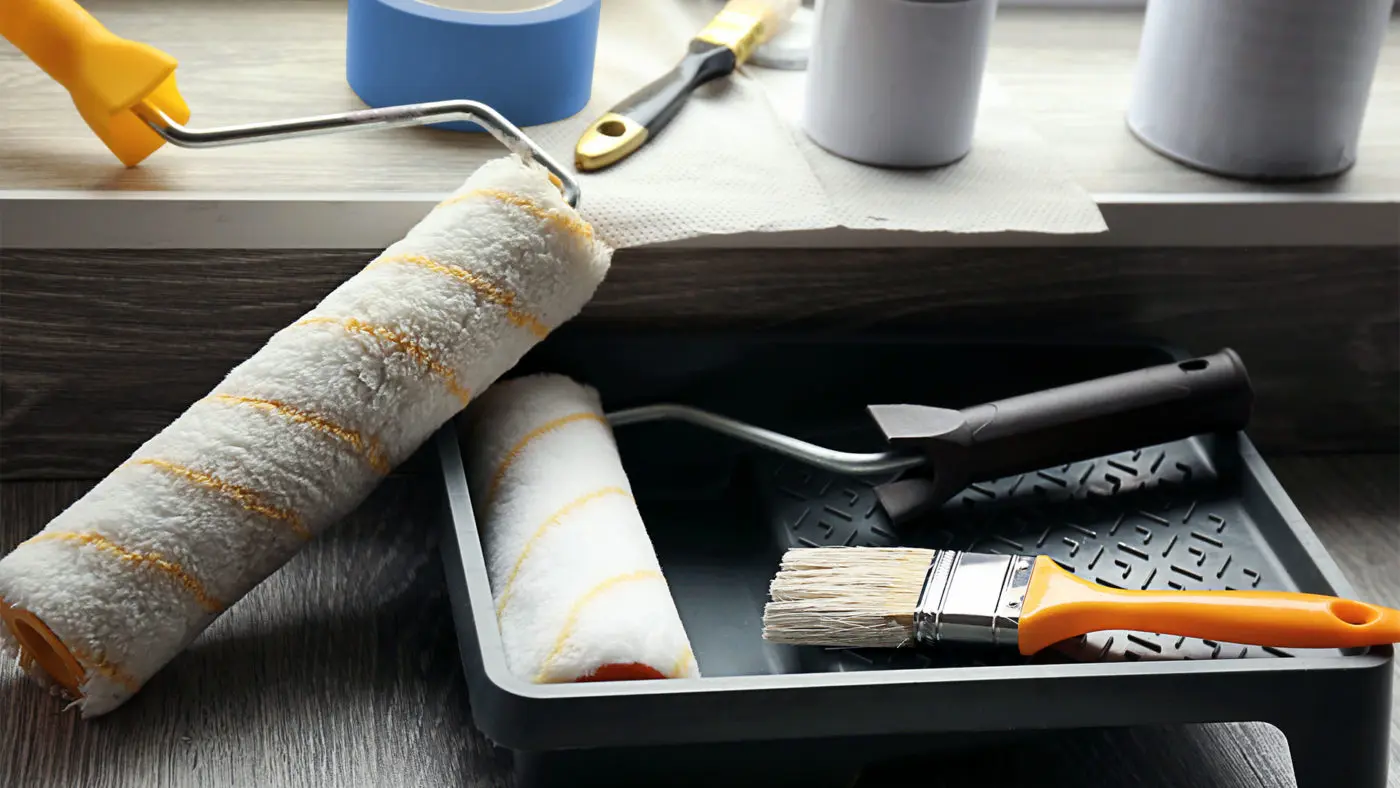 With these five professional-level tools, your painting project will be a breeze. You can order these using the online store for curbside pickup today! Don't forget that these products are only as good as the paint you use. Choose quality Benjamin Moore paint for your next project – our design consultants are standing by and ready to answer any questions. Only at Janovic, The Color Authority.