Indulging in new window treatments can be an exciting decision, especially if you opt for Hunter Douglas blinds, shades, or shutters. As the top window treatment brand on the market, Hunter Douglas offers genius perks and features. Here are a few of our favorite features that make modern and stylish window treatments well worth the investment.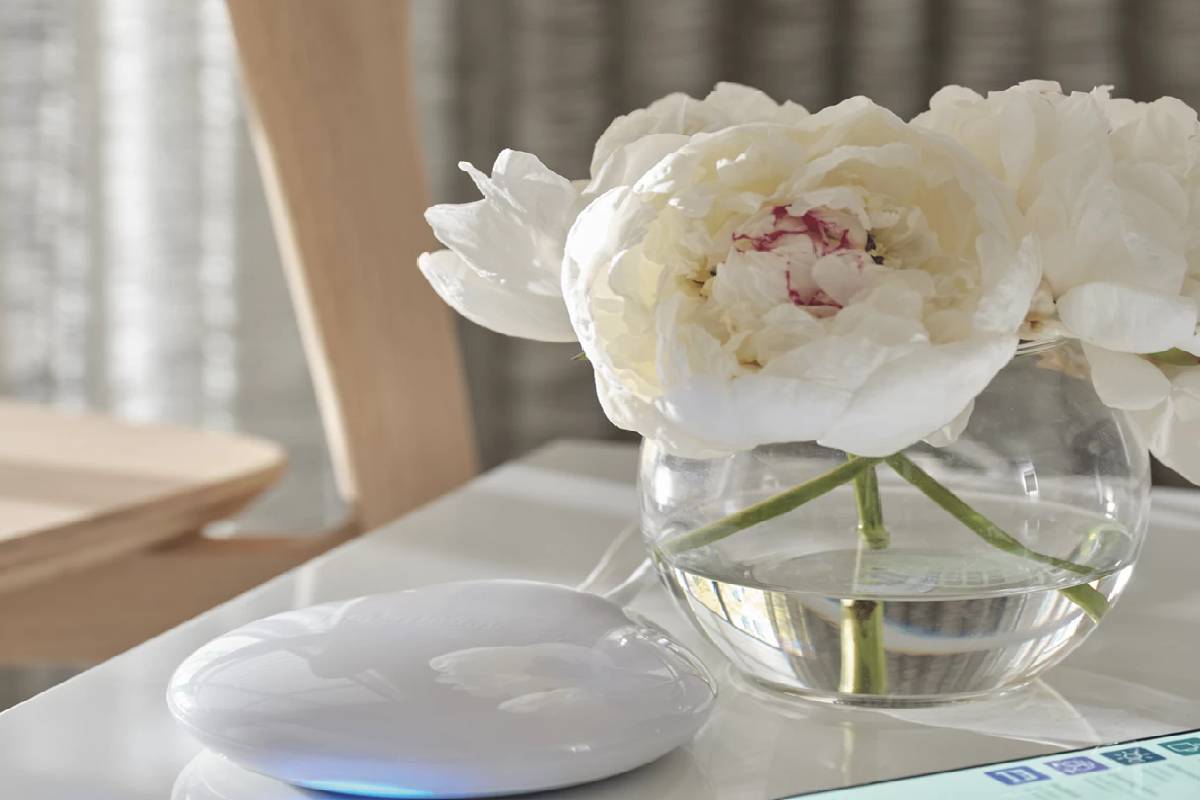 Top-Down/Bottom-Up Functionality
Traditional horizontal window treatments operate from the bottom up, meaning that the top section is stationary, and the blinds or shades are locked in place from the top casing and stack up for openness. This is a classic design and absolutely has its purpose in modern homes. In some instances, though, a space calls for the ability to operate a window treatment and allow for privacy at the bottom and open light up top.
This is precisely the challenge that the top-down/bottom-up feature solves. For areas that would benefit from natural light but require privacy, such as the bathroom or an office, top-down/bottom-up shades are a lifesaver. Keep the lower portion of the window covered while you expose the upper portion of the window and enjoy all the natural light with the benefits of eye-level privacy.
Design Studio™ Fabric
The only thing better than having brand new shades and drapes is having brand new window treatments that you customized! With the Hunter Douglas Design Studio™ Side Panels and Drapery, you have the opportunity to create your perfect drapes, curtains, side panels, or top treatments.
With exclusive prints from renowned artists Seema Krish, Rebecca Atwood, and Marcie Bronkar, Design Studio™ has the best fabric for Roman shades, roller shades, and drapes.
LightLock™
Even if you have the best light-blocking window treatments protecting your space against unwanted light, some light may still leak through. The LightLock™ system from Hunter Douglas adds an additional layer of light protection you need for perfect darkness.
Unique, U-shaped side channels on either side of your new window treatment fit snugly into your window casing to eliminate even the smallest slivers of light from passing through. The LightLock™ system is a must-have for sensitive sleepers everywhere.
PowerView® Automation
Even the nicest window treatments can use an upgrade. Take advantage of the premiere motorization system by installing the third generation of PowerView® Automation from Hunter Douglas, now powered by Bluetooth® technology. With a variety of ways to control your shades, including our PowerView® app, the Pebble® remote, voice control options through your smart home assistant, or with a customizable pre-set schedule, adjusting your shades has never been easier.
Motorized blinds are especially essential for windows in hard-to-reach places, like skylights. Instead of reaching for a flimsy string or just forgoing window treatments altogether, control the incoming light from skylights with the touch of a button! Motorization is also a great safety feature for small children and pets by eliminating dangerous hanging cords.
Bring Home Your Smartest Shades Yet
You deserve the absolute best, which is why you deserve Hunter Douglas window treatments. Stop by one of our New York City showrooms today to see why Janovic is the leading home improvement vendor for New York City. With locations across Manhattan, you're just a few minutes away from the window treatments you know you deserve. Take advantage or our Shop-At-Home free consultation with one of our experts. We measure. We design. We install. You sit back and relax. Contact us today!