Autumn is here, and it's a great time to update your space with a new color palette to reflect the coziest season of the year! Integrating the warm shades we associate with the Fall season into your home doesn't have to look the same for everyone. Here are some autumnal shades we love for every interior design style, all year long!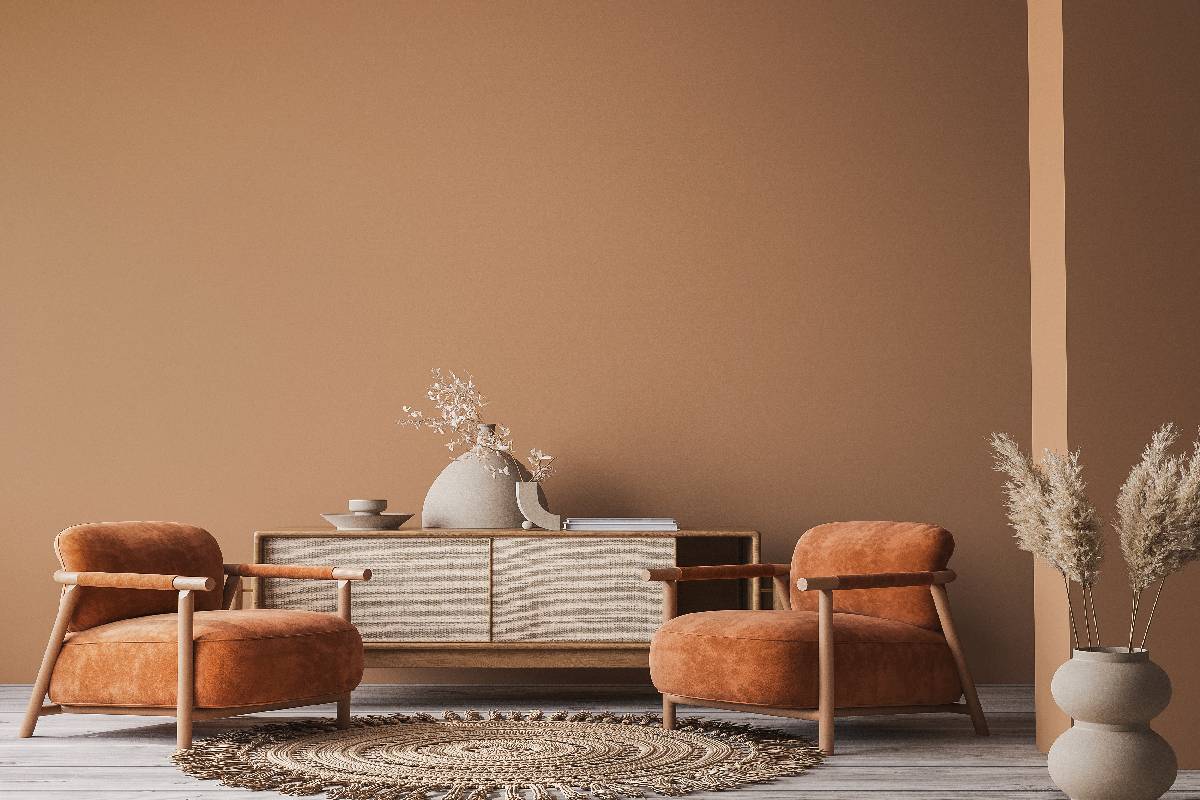 2022 Fall Design Trends
This autumn season is different from past years in that the most prominent trends are rooted in individuality. For years, home decor trends have been leaving behind standard design choices in favor of colors, patterns, and textures that embody your overall aesthetic in lieu of certain styles, places, or seasons. This is especially true in the 2022 autumn season. The most popular trends this year are:
The Season, Not the Holidays: In line with the shift toward seasonal aesthetics, this year's Fall decor trends embody the overall atmosphere of autumnal tones, rather than referencing Halloween and Thanksgiving—the major American Fall holidays.
Muted Colors: One of the reasons Fall is so popular is because it is the perfect time to transform your space into the ultimate cozy escape. Muted, warm shades have a calming effect, making us want to snuggle on the sofa with an oversized blanket and a pumpkin candle.
Evergreen Cozy Shades: Because Fall decor is more about feeling and less about direct symbols like pumpkins and turkeys, standard all-season shades like creams and browns can be utilized to create cozy spaces without needing to drastically change your color palette for each season.
Fall Color Palettes for Different Styles
This shift toward abstract seasonality allows homeowners the freedom to adjust their Fall decor to match their personal style. Long gone are the days of sacrificing individuality to celebrate everyone's favorite season!
Boho Style
Autumn motifs fit in perfectly with Bohemian design. In tune with nature, Boho homeowners can opt for deep, warm colors to bring Fall into their space. Shades like terracotta and mustard yellow ground a room while feeling reminiscent of autumn leaves, pumpkins, and cozy evenings by a fire without being too seasonal or literal.
Traditional Spaces
Traditionalists are often set in their ways. We're here to tell you that it's okay to ditch the holiday figurines! Instead, opt for home accessories in shades of greens, berry tones, and oranges and covering your walls in cream and brown. Paint your walls a comfortable neutral shade and accessorize with pops of rusty red and burnt orange to capture the essence of your favorite season.
Eclectic Aesthetic
Above all else, eclectic decor is fun and exciting. Traditional red, orange, and yellow tones won't make the cut in an eccentric space. Deep greens and rich purples will imbue your space with personality while keeping the mood comfortable and grounded. Experiment with an accent wall or a fun painted pattern to make an oversize impact!
New York City Fall Color Palette
Janovic is home to the New York City color experts! We are proud to serve you at any of our multiple locations across the city. Stop by one of our showrooms or visit us online to explore all the fantastic shades we offer and get design help from our Benjamin Moore experts! Contact us for your personal color consultation today!