Banded shades are a relatively new window treatment option gradually making their way into homes across the nation. Banded shades, also known as zebra shades, are an incredibly versatile window covering. They could be the perfect addition to any home or business because they offer stylish view-throughs, perfect privacy, and the solar protection you require from a high-quality window treatment.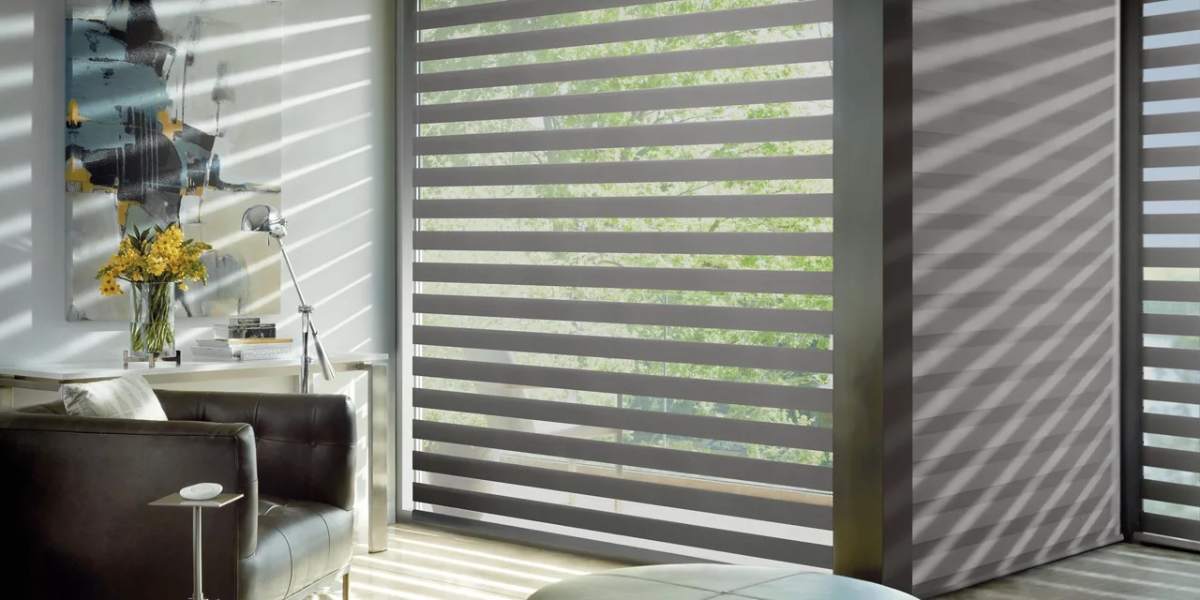 A banded shade is a style of sheer window treatment made of alternating strips of sheer and opaque fabric. One long sheet of fabric suspends to create a long loop of two panes. Adjust the sides to overlap or stagger them to achieve your desired level of privacy or view-through.
Known for their sleek profile and easily adjustable bands, zebra shades are an excellent option for homes and businesses of all types. First popularized in business settings, zebra shades are also a great addition to residential spaces.
Every homeowner knows the struggle of deciding between privacy and enjoying their outdoor views. With banded shades, you can have the best of both worlds! Utilize the dual-layer design to block out the outside world, embrace the sunshine, or a little bit of both as you see fit. On the days you want to fully enjoy your exterior views, roll the shade up into the casing at the top of the shade.
Banded shades are ideal for spaces that don't require complete privacy or darkness, like living rooms and offices. Stagger the opaque strips to keep things completely confidential. Overlap them to enjoy the natural light while still enjoying some seclusion throughout the day. With Hunter Douglas Designer Banded Shades, the choice is completely up to you.
Banded Shades Are Versatile in Style and Function
With banded shades, you can customize much more than just the amount of visibility and privacy you get. Zebra shades are available in just about any color combination imaginable! Whether you prefer neutral tones or shades that make an impact, banded shades come in a fabric option you will love.
In addition to color, many fabric options also feature different patterns and textures. Solid colors, woven textures, and specialty shapes make your shades just as unique as you are! Look into Designer Banded Shades from Hunter Douglas to explore all the options.
Combine your new banded shade with other window treatments like drapery from the Design Studio® to truly customize their appearance and easily integrate them into your existing decor. Complete the look with a top treatment, like a valance or cornice, to hide the operating system. Layer drapery or side panels with the shades to add texture and pattern and to soften the edges of the shade. The possibilities are endless!
Banded shades are compatible with most operating systems, making the window treatment a good fit for any household. Adjust your shades with a traditional pull cord at the office and then opt for motorization at home to keep your pets and children safer.
Explore banded shades all the different operating systems at one of our many New York City locations!
Janovic is your locally owned and operated source for all the supplies you need to tackle any home project including Benjamin Moore paint! Visit a showroom to browse banded shades and Hunter Douglas products, and let us help you perfect your vision. Also enjoy your free, shop at home consultation with one of our experts. Contact us today to schedule your visit!