If you are a fan of DIY projects and want to reimagine your home's exterior, try one of these fun projects with concrete paint! Your next home refresh could be as subtle as painting a concrete patio to look like stone or as bold as creating a rainbow pathway leading to your front door. With concrete paints from Benjamin Moore, the possibilities are endless!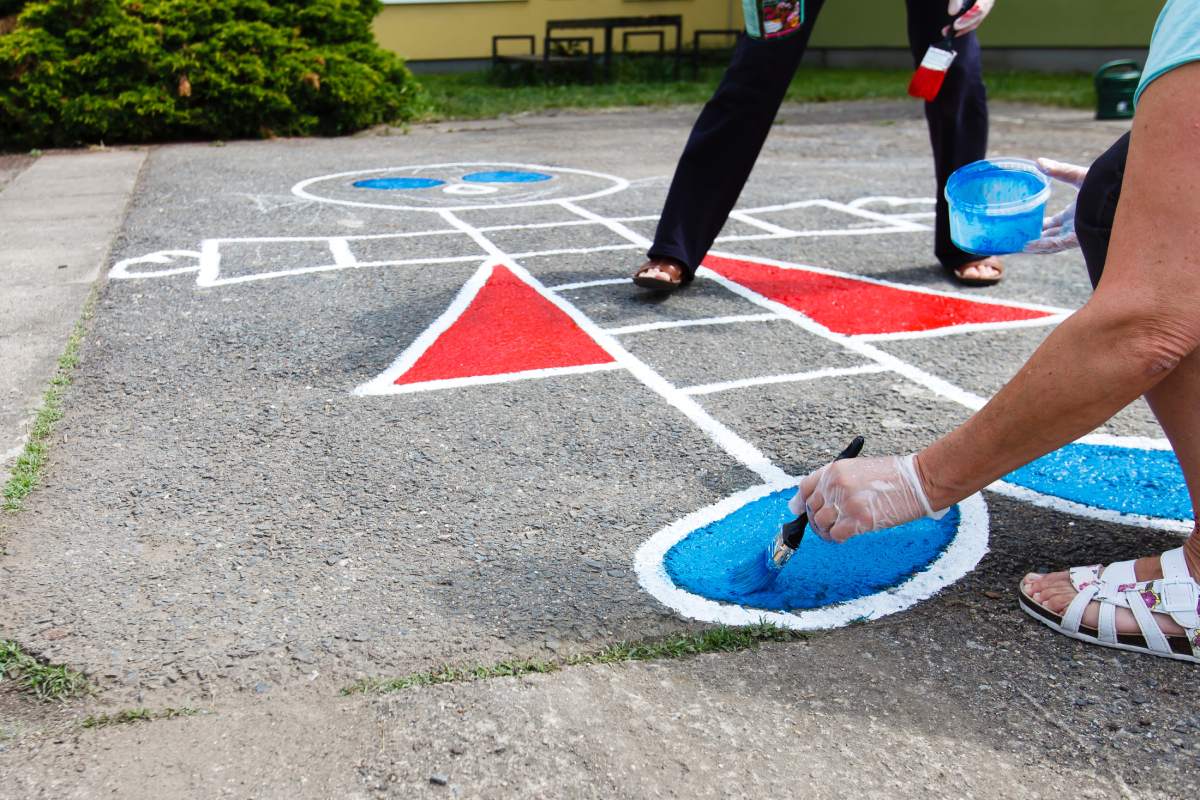 Begin with Preparing Your Space for Concrete Paint
No matter what design you plan to do, properly prepping your space will always be the most critical step. If you opt to paint concrete without taking the time to prepare it, you risk the paint applying unevenly and washing away quickly.
Before committing to the painting project, ensure you have several days of nice weather. Rain or snow will wash away the paint while it's drying. Temperatures too hot and too cold will affect the paint's drying time and make you feel uncomfortable while you work. The ideal weather for a concrete painting project is when the day is sunny and warm, but not hot.
First, move all your furniture away from the surface you intend to paint. Clear an area larger than just the section that will be painted so that you have plenty of room to move around quickly while you complete the project.
Concrete can get incredibly dirty, especially in high-traffic areas or spaces exposed to the elements. To create a smooth canvas, use an exterior cleaner and a gritty brush or a pressure washer to rid the surface of dirt, dust, and grime.
Priming your concrete is an integral step in ensuring the longevity of your masterpiece! We suggest a strong exterior primer, like a Fresh Start® Exterior Primer from Benjamin Moore. Apply an even coat and allow it to dry thoroughly before painting your design.
No matter which project you tackle, painting concrete is a fun and easy way to spice up your home's curb appeal. Start small or go big with one of these fun ideas!
Customized Steppingstones
Add a personal touch to your garden or walkway with customized steppingstones! This is an excellent project for beginners, as you can do as much or as little as you want! Steppingstones are easy to find at any home improvement store. Select your design, prime them, and then paint away using your favorite Benjamin Moore exterior paint! You can even complete the painting process in an indoor space and place outside at your leisure, making this the most adaptable of concrete painting projects.
This one is ideal for families with young children but can be adapted for groups of all ages! On your driveway, patio, or sidewalk, clean a small concrete area. Paint templates for popular outdoor games, like hopscotch or four-square. Gone are the days of drawing a hopscotch path with chalk, only for it to get washed away with the rain!
Paint Concrete Patio to Look Like Stone
If you're ready for a more time-intensive project, try painting your concrete to look like stone! Many homeowners wish for a stone patio but make do with concrete instead.
Select multiple shades of exterior paint to create realistic highlights and shadows. Just outline the shapes of your stones, apply the color, and blend it all out to make your new stone patio look realistic!
Exterior Projects with the Help of Janovic
We love the New York City, NY community, and we are proud to serve you at any of our multiple locations across the city. Janovic is your locally owned and operated source for all the supplies you need to tackle any home project including Hunter Douglas window treatments! Visit a showroom to browse Benjamin Moore paints and supplies and join us in a color consultation to find the right paint color for your home. Contact us today to schedule your color consultation!