Are you ready for 2024? Benjamin Moore is gearing up for the new year by introducing their Color of the Year 2024 and Color Trends Palette 2024. Blue Nova 825, an enigmatic shade of blue and violet, is the perfect color for discovering the uncharted territory of a new year.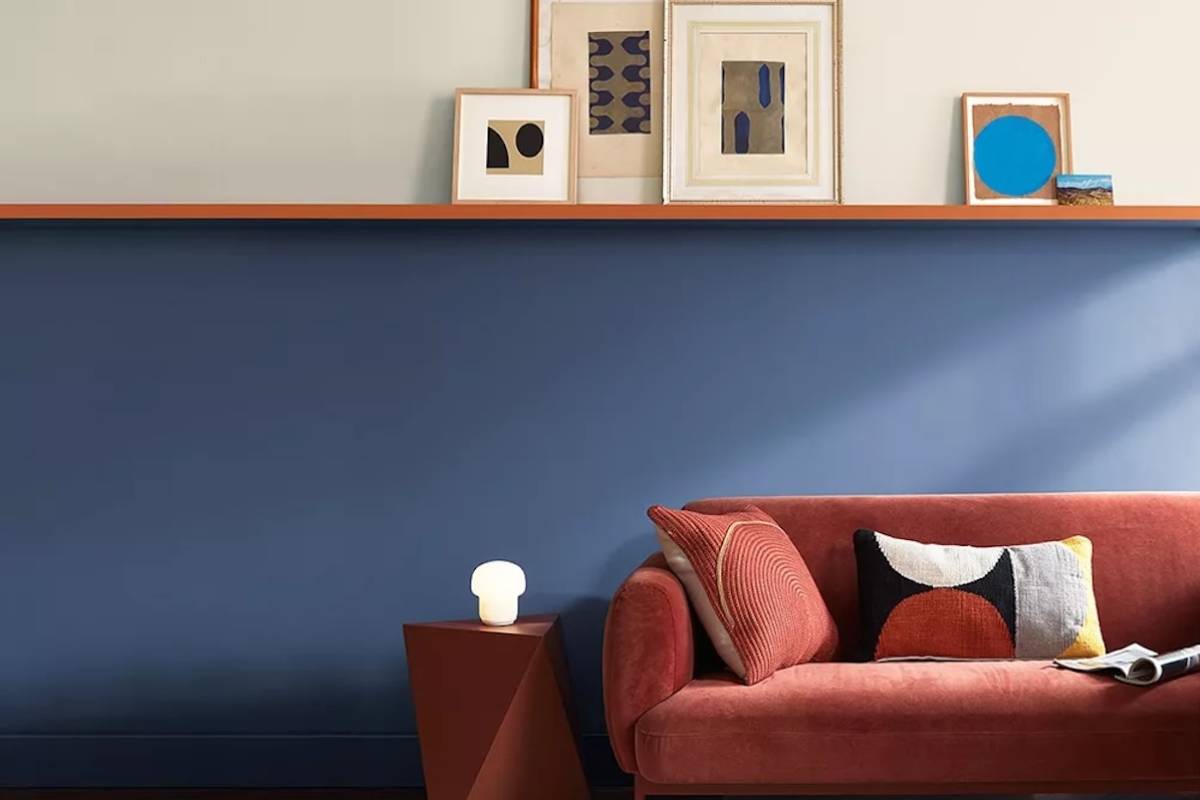 A Blue That's Anything But Basic
You may remember the bright, cheery aesthetic of Benjamin Moore's Color of the Year 2023, Raspberry Blush 2008-30. The moodier and alluring Blue Nova 825 is stealing the spotlight this year. Both colors are bold and vibrant but offer very different aesthetics.
Blue Nova is an ideal component for a strong color palette surrounded by ample, luxurious texture. Much like space itself, Blue Nova can be taken in an infinite number of directions. Use it on the ceiling to lessen the cavernous feel of expansive rooms, in bathrooms for a spa-like vibe, or on kitchen cabinets for the ultimate homey quality.
Color Trends Palette 2024
Excitement, exploration, and imagination are the inspiration for this palette. The abundant contrast invites you to break the routine and step from the ordinary to the extraordinary. A nova is an explosion in space that makes a star shine a million times more brightly. Pair Blue Nova with the deep orange of Topaz 070 for an epic combination usually seen only in one-in-a-lifetime cosmic events. The soft, versatile yellow Honeybee CSP-950 uses the science of color theory to juxtapose Blue Nova perfectly.
For an understated look, use Blue Nova with the clean, classic White Dove OC-17 or the dusty rose undertones of the off-white Pristine OC-75. Lean into the color-drenching trend by using the pale blue of Polar Sky 1674 to create a monochromatic palette. Give any room in your home a quaint quality with vibrant pink and coral Teacup Rose 2170-50 or a moody feel with Hazy Lilac 2116-40, a mid-tone violet with a hint of gray.
The Color Trends Palette 2024 is anchored by color powerhouses Regent Green 2136-20 and Antique Pewter 1560. Antique Pewter's green base and gray tinge create a look reminiscent of a rich patina and pair well with crisp Chantilly Lace OC-65 or creamy Ancient Oak 940. The deep pine of Regent Green is an ideal base to accent the misty warmth of gray-green April Showers 1507. For a striking contrast, pair it with Jack O'Lantern 2156-30, a classic pumpkin perfect for October but with year-round staying power.
Complimentary Shades
If you want Blue Nova to be the true star of any space, pair it with these complimentary colors:
Paper White 1590: a crisp, blue-gray for clean, classic contrast
Quincy Tan HC-25: A sandy neutral that fits in well with warm and cool color palettes
Mount Saint Anne 1565: A refined medium gray with blue undertones
Monterey White HC-27: An understated neutral with warm, creamy tones and a welcoming feel
Benjamin Moore Paint Colors for 2024