No matter how large your NYC home is, there's probably one area you'd like to be bigger. Since renovation isn't always an option, the second best choice is to use paint to make a small room look big. We're spilling all the best secrets about how to make rooms appear larger using paint.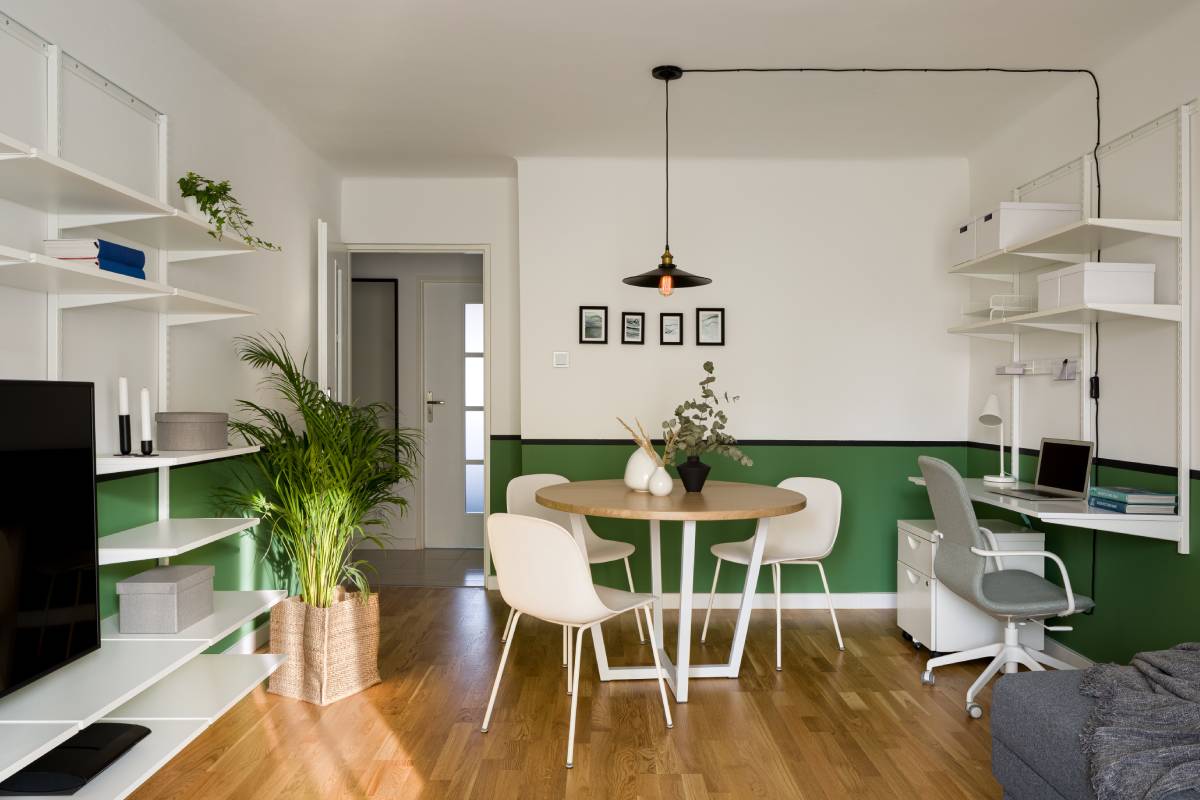 What Paint Colors Make Rooms Look Bigger?
Light paint colors are the ideal choice for small spaces. We won't argue with this, but we will encourage you to approach choosing paint colors for small rooms with an edgy New York vibe. After all, rules are meant to be broken, right? You can opt for an all-white space, but we're here for it if you want to be more daring and dramatic.
Immersive Color
Color drenching is an on-trend interior design technique that is straightforward and works for every space. Monochromatic looks are en-vogue right now, and using the same color everywhere – walls, ceiling, trim, and doors- creates the illusion of bigger walls. More extensive walls = larger rooms. If you want to go all-in on the look, you can also paint stand-alone pieces, like furniture and bookcases.
The Two-Tone Trick
Rooms with more than one paint color on the walls are instantly more exciting. You can approach the two-tone trick in a few ways:
Create the illusion of height with an off-center color division. Painting the lower ⅓ of a room with a deeper shade than the upper portion visually anchors your gaze lower, which extends the space between the top and bottom of the room.
You can also use two paint colors to make a room appear more expansive. This technique is a bit more labor intensive but worth it. Paint the ceiling and lower half of the walls in a light color and a darker hue on the upper portion. This technique will sandwich the dark shade between the light color, making the room look wider.
Effortlessly elongate a space by painting the ceiling and a single wall in a dark color and the remaining white. The white walls will expand the area while the long lines of the dark wall draw the eye forward.
Choose a Creative Ceiling Color
The majority of people default to white for their ceilings. We get it. It's an easy choice because a white ceiling will go with any interior design style, but it will never be a statement piece. When the ceiling is bright white, especially against dark walls, you become hyper-aware of the size and shape of the ceiling and, thus, the room. Instead, choose a ceiling paint color similar to the walls to blur where one ends and the other begins. Colors inspired by nature, like light blues and soft sage green on ceilings, will also open up a space.
Make Your NYC Apartment Look Bigger with Benjamin Moore Paint
Get creative and make your small spaces look bigger with Benjamin Moore paint from Janovic. We are the city's premier Benjamin Moore paint and  Hunter Douglas window treatments dealer. Stop by one of our New York City showrooms across NYC to shop our selection or book a complimentary in-home consultation.