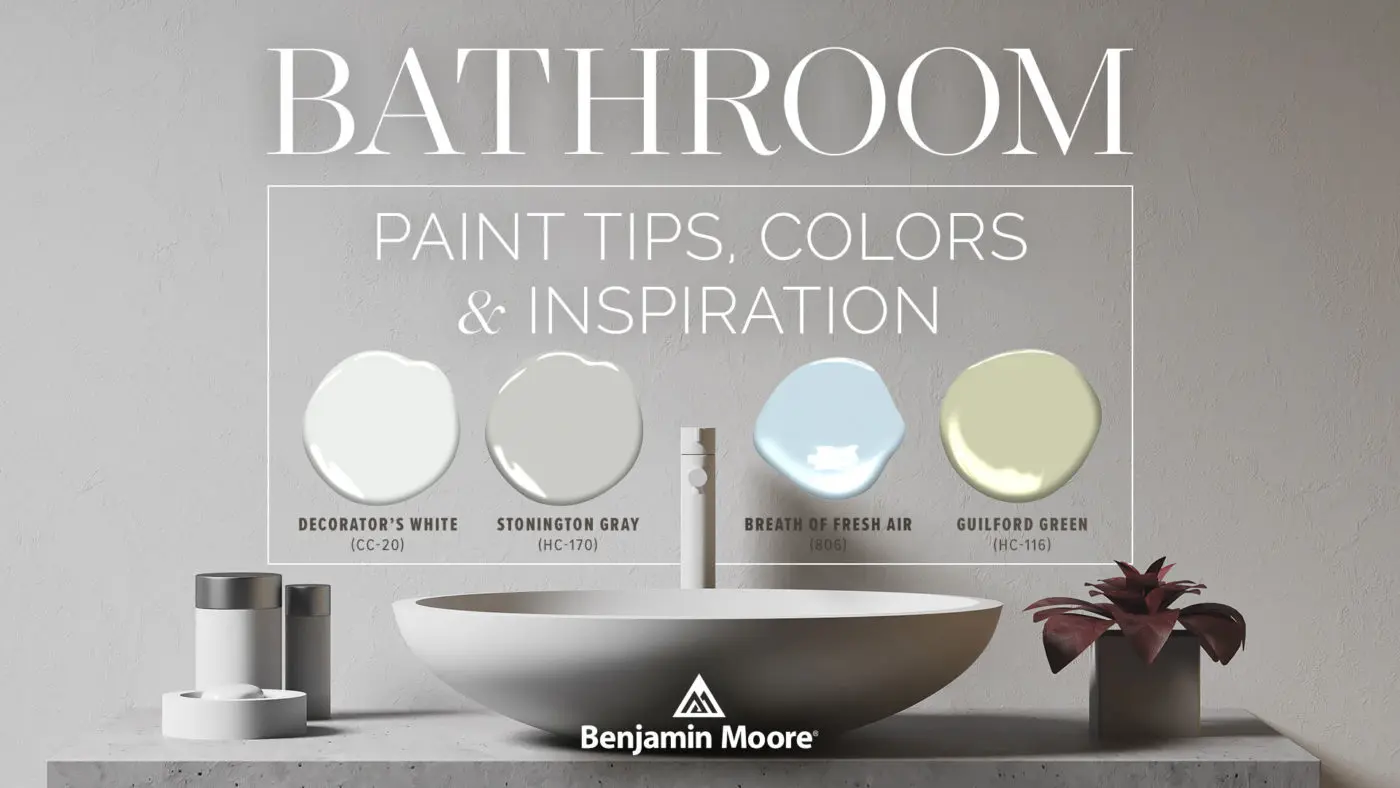 Repainting Your Bathroom? Start Here
If you're in the mood for a bathroom renovation but aren't quite ready to commit to a total overhaul, starting with a new paint color is a great way to (affordably) create a new, fresh look. And because bathrooms – at least, those in most average-sized homes – are more compact than other interior spaces, they're less time consuming to paint and a great way to ease yourself into DIY redecorating.
When planning out your bathroom painting project, it's important to remember that bathroom surfaces tend to see a bit more abuse than the average living room or dining room wall. If you're working on a half bath or powder room, there's less to think about – but for a full bath with a shower and tub, you'll need to choose a durable paint that can withstand the heat, steam, and humidity prompted by our daily use. A mildew and mold-resistant paint, especially for ceiling use, should be your top choice.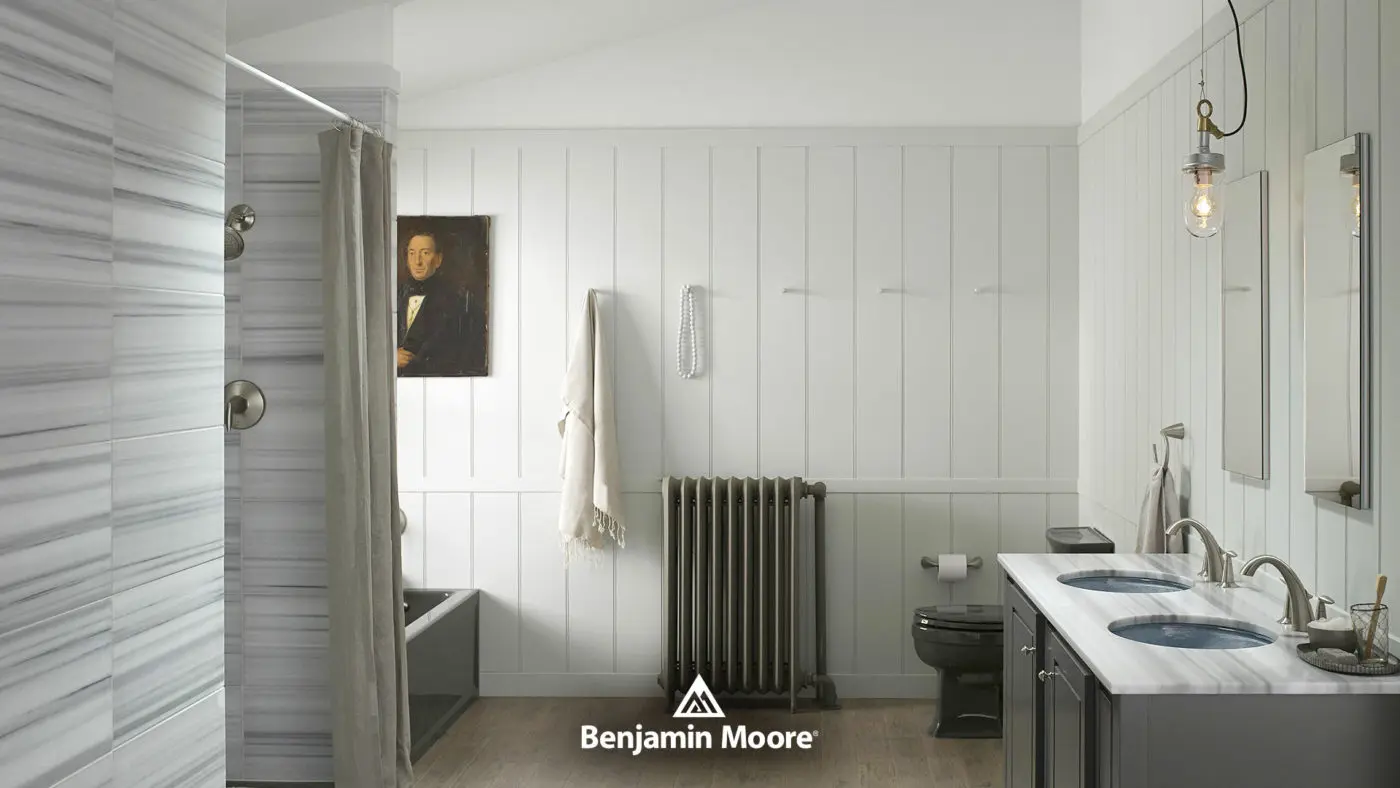 Ready to get started? Take a look at these tips our Janovic Paint experts put together for choosing the right type and color of paint for your bathroom. When you've settled on a color palette, just stop by one of our NYC locations to pick up a gallon of your chosen Benjamin Moore shade – or place an order online for pickup or delivery.
How to Paint Your Bathroom the Right Way
While painting a bathroom may seem like a quick and easy home project, there are several reasons why the task actually demands a great deal of attention to detail. Because your bathroom is home to multiple water sources and, in all likelihood, is heavily used, it's important to carefully prepare your surfaces prior to painting and stock up on the right type of paint, primers, and supplies.
At Janovic, we recommend Benjamin Moore Aura Bath & Spa paint for all bathroom projects – or for any space that is regularly exposed to humid conditions. Aura Bath & Spa is resistant to mildew, stands up to repeated washing and exposure to water, and offers extreme coverage to easily hide imperfections with fewer coats. Because of its unique formulation, this paint also doubles as a primer. This means you can save a bit of money without worrying about any detrimental impact on the end result.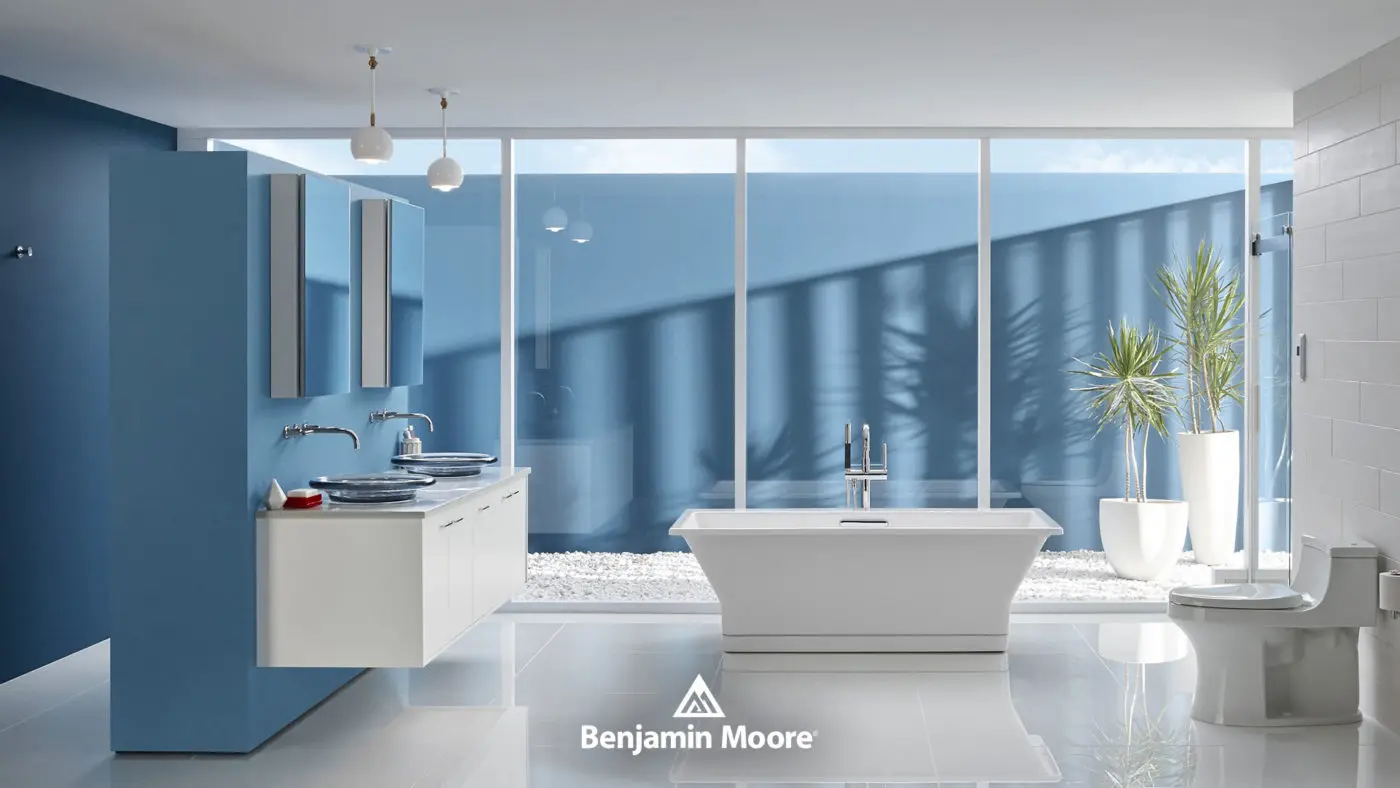 Once you've decided on a paint color, place an order with us online or in-person at one of our locations. Don't forget to purchase these supplies, as well:
Once you've picked up all of your paint and supplies, it's time to give your bathroom a thorough cleaning. Make sure to wipe away any mildew, built-up soap scum, or dust from the walls and ceiling. You may need to temporarily remove your toilet tank to be able to paint behind it (it's easier than it sounds). Then, take off any wall plates, mirrors, bathroom exhaust vent grilles, towel racks, or other items that could get in the way.
Before dipping your brush into the tray, tape off any areas that will not be painted using your painter's tape. Lay down drop cloths or tape plastic sheeting over surfaces as needed. Before you grab the roller, we recommend using the 2-inch sash brush to paint the areas just alongside the tape, keeping the brush fairly dry to avoid drips. Once this process is complete, pick up the roller and begin working to fill in the center of your "outlined" wall spaces.
When painting with the roller, make sure the roller cover stays thoroughly saturated. Use diagonal strokes going both directions (like an X) to thoroughly coat the surface of the wall. After finishing the first coat, wait at least two hours, and then move onto a second coat. And that's it! Remove your painter's tape, uncover your tub and vanity, and enjoy your beautifully repainted bathroom.
Our Favorite Bathroom Paint Colors and Looks
While taupes, grays, and bright whites are some of the most common bathroom paint colors, there's no harm in getting a little creative and expressing your personality when you repaint your bathroom. The best colors are the ones you feel naturally drawn to – and that work well with your existing fixtures, linens, and decor.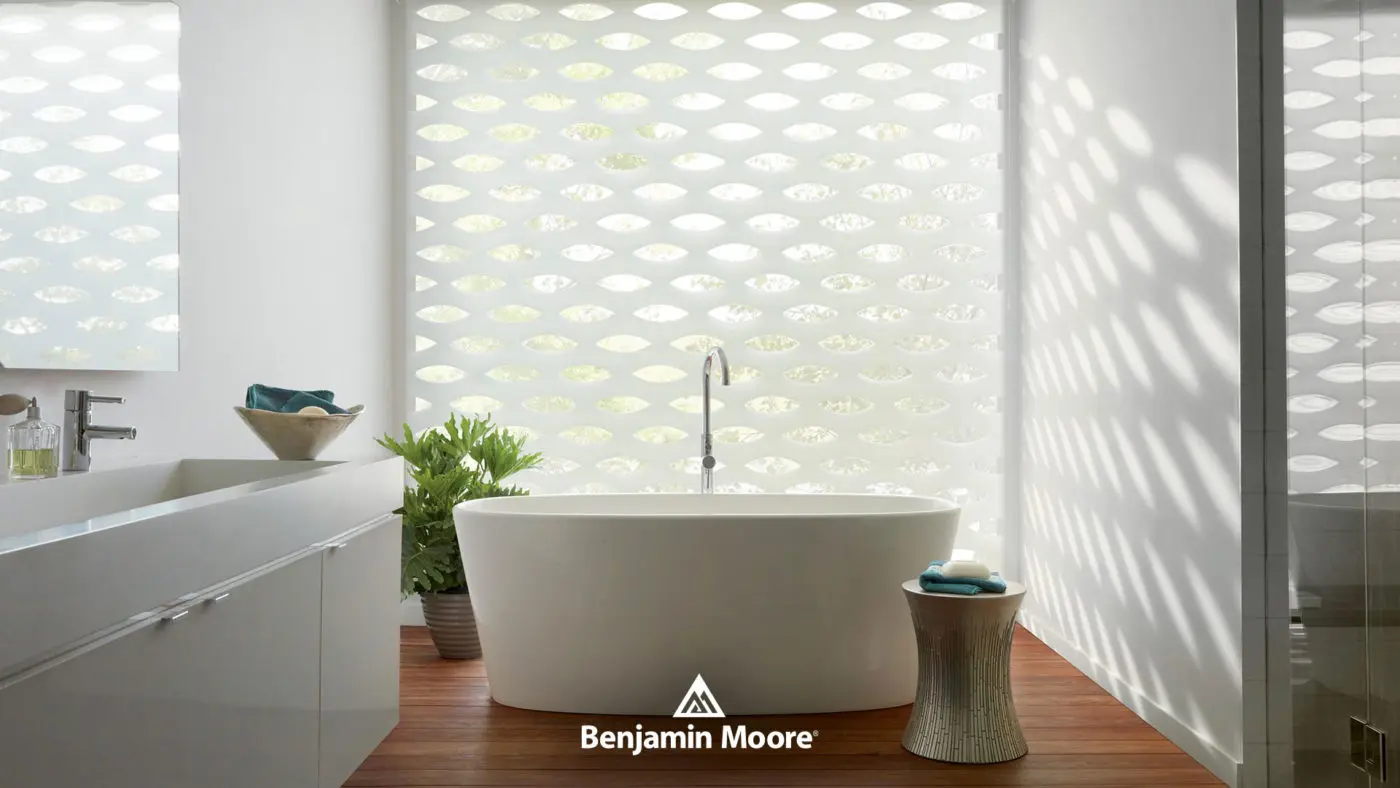 Before getting in too deep looking at paint colors, we suggest taking a look at what's already in your bathroom. Decide on which elements you want to keep and which you'd rather replace. If you have a special piece of artwork, for example, that you'd like to make the centerpiece of your bathroom decor, try using the colors and mood of that art piece to inform your paint decision. A watercolor seascape may offer subtle greenish-gray hues that could make a perfect backdrop on your bathroom walls.
Don't forget to consider your shower curtain, bath towels, rugs, floor and shower tile, and sink fixtures as elements that will contribute to the finished look. Gold fixtures, for instance, look especially sharp when contrasted against a deep teal or dusty blue paint color. Or, if you have lots of light wood accents like a bamboo bath mat or driftwood-framed mirror, try a very pale gray with blue undertones.
Want to know what bathroom paint colors are trending now? Here are some of our favorites:
A fresh, vibrant bright white that's perfect for opening up smaller spaces: Benjamin Moore Decorator's White CC-20.
 A crisp light gray that looks good with almost any bathroom fixtures, countertops, or tile: Benjamin Moore Stonington Gray HC-170.
A timeless pale blue that does exactly what its name implies, making your bathroom feel like a hotel spa: Benjamin Moore Breath of Fresh Air 806.
A cheerful light green that mimics the feel of the tropics (with a touch of modern flair): Benjamin Moore Guilford Green HC-116, featured in the image below.
A perfect deep navy that evokes maritime elegance and is perfect when paired with off-white trim: Benjamin Moore Hale Navy HC-154.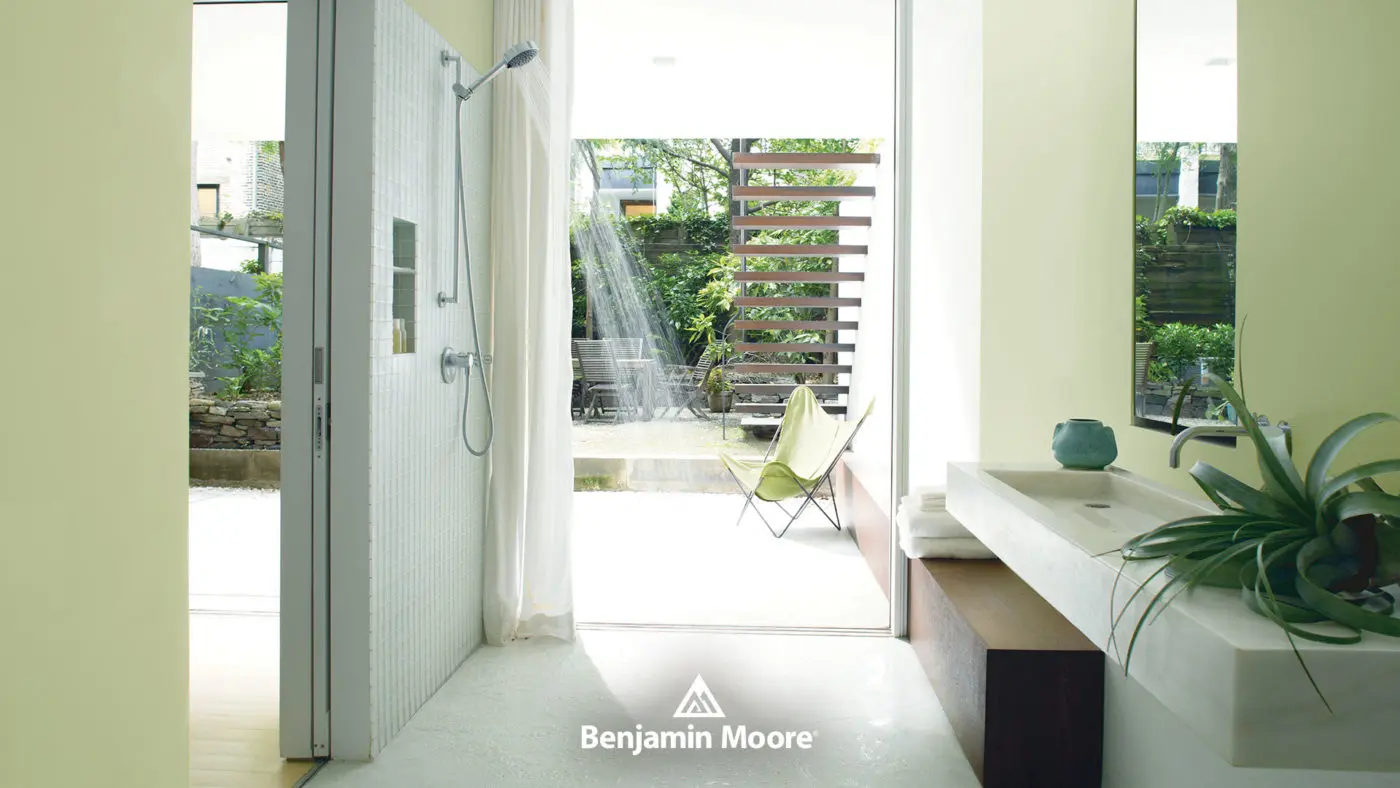 Start Your Bathroom Painting Project at Janovic
We hope this quick guide has made it a little easier for you to shop for the right paint for your bathroom. Just stop by your neighborhood Janovic store to pick up the supplies you need to get started. Still having trouble deciding on a shade? Bring a few photos of what your bathroom looks like now, including fixtures and decor, and one of our specialists will be happy to provide a few suggestions. We can't wait to see your brand new bathroom look!