We love the warm temperatures that come with summer, but we enjoy going back to a cool apartment when we've had enough. Check out a few smart ways to keep your apartment cool in summer and look chic all year.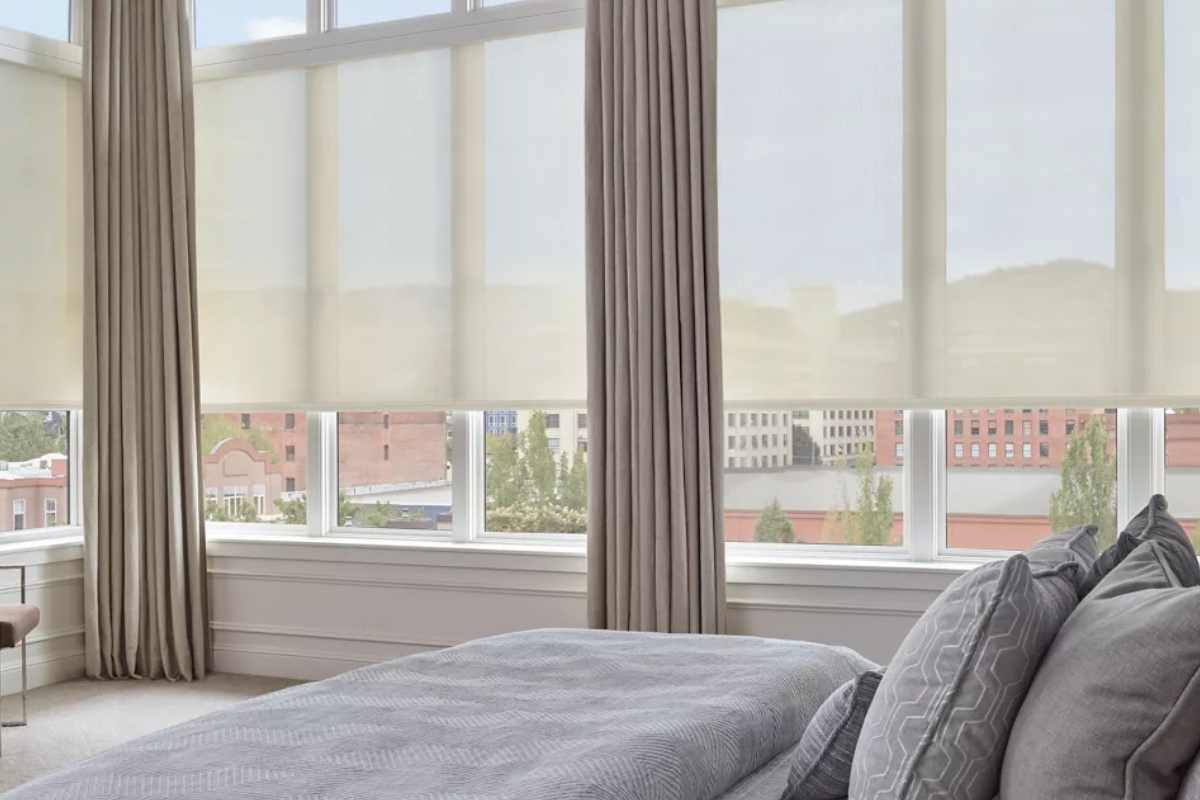 Heat Blocking Window Shades
When you leave your windows uncovered during hot weather, heat creeps in making your home feel like a sauna. Window coverings that serve as a layer of insulation are your best line of defense against an uncomfortably warm home. The trick is to find shades that block heat while looking fantastic and maintaining your view.
Solar Shades
Solar shades are a fantastic way to keep the heat out of your apartment while enjoying your city view. They have a sleek appearance and perfectly fit within narrow window frames. Your home's interior will also be protected from nearly 100% of damaging UV rays. Solar shades are ideal for keeping your apartment cool in areas that don't require complete privacy, like living rooms or kitchens.
Roller shades are a close relative of solar shades. They share the same design and operation, but roller shades block more light and provide increased privacy. We suggest the dual-roller setup to enjoy two different opacities when needed.
Cellular Shades
Cellular shades are an exquisite union of beautiful texture and exceptional insulation at the window. The unique honeycomb interior traps air and can reduce your apartment's heat gain by as much as 80%, making a significant difference in the temperature inside your home. We love cellular shades in bedrooms because they provide ample privacy and can cover sliding glass doors and skylights for a polished look.
Roman Shades
Upscale decors may benefit from Roman shades. Soft folds give these heat blocking window shades their sophisticated aesthetic, and their diverse fabric design does an excellent job of keeping unwanted warmth out of your apartment. You can opt for chic and subtle Roman shades or adorn yours with decorative trim and a matching valance. No matter how decorative your Roman shades are, they're a phenomenal accent to dining and formal sitting rooms.
Woven Wood Shades
If you're anything like us, you've left much of what you learned in science class far behind. However, we have to share this fun fact – it's not the sunlight that makes your apartment so hot; it's the UV light that passes through the windows. This is the time for woven wood shades to shine. They block up to 99% of UV light, and that's without an optional liner. Woven wood shades are available in chunky, open weaves for a laid-back look or more tightly woven styles for a refined appearance.
Woven Wood Shades
Don't forget to add motorization to your heat blocking shades. You can operate motorized shades from anywhere via an app or remote. You can also schedule yours to open and shut when needed and keep the sun out at the hottest times. They're also simply convenient; who doesn't enjoy the ability to close their shades without leaving the couch?
Heat Blocking Window Shades at Janovic
Janovic has heat blocking window shade options for every style and aesthetic. Visit one of our many showrooms across the city to shop our wide selection of Hunter Douglas window treatments and Benjamin Moore paint. Janovic also offers free in-home shopping services; contact us today to schedule your free consultation.