You can't beat the nightlife here in New York City. The bright, bustling streets are exciting unless you're at home trying to sleep or relax. Fortunately, blackout shades have your back when creating dark spaces at any time of the day or night.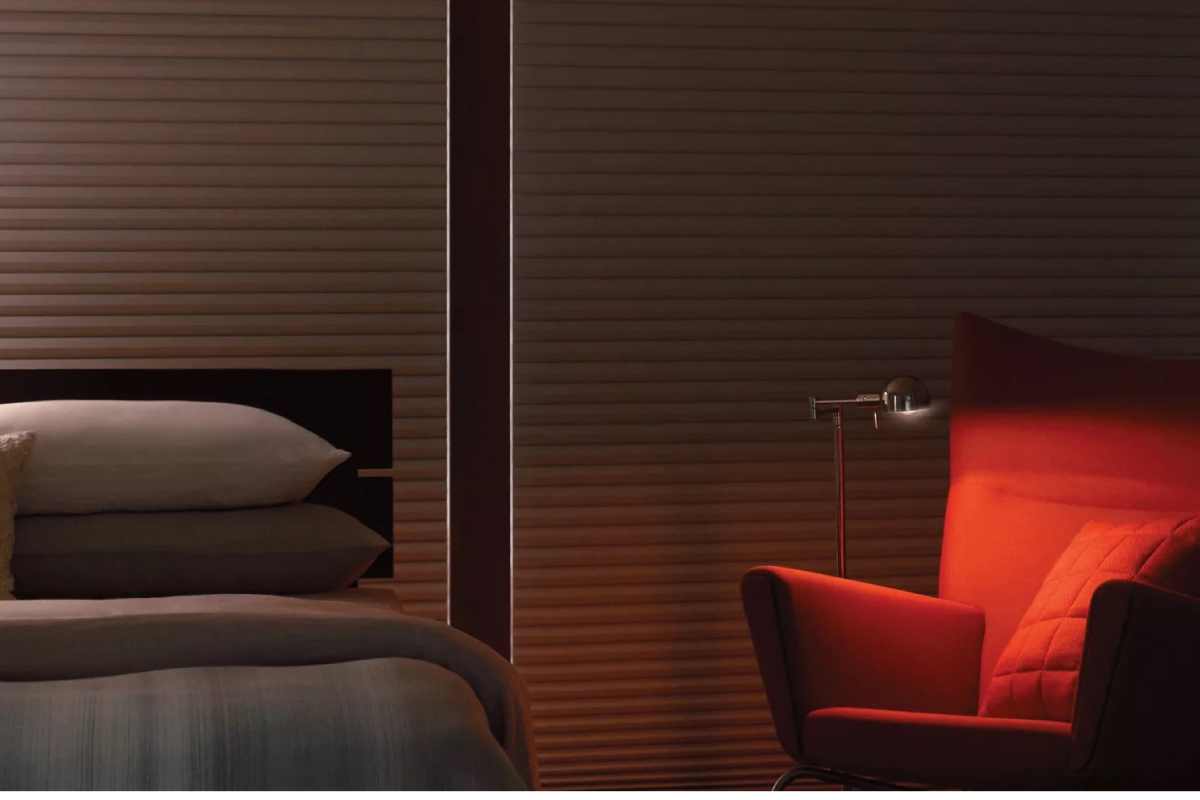 Energy-Efficient Blackout Shades
One of the most common questions we hear is, "Do blackout shades keep heat out?" Absolutely. Not only do they keep heat out, but they can also keep it in. Blackout shades are a jack of all trades for increasing your apartment's energy efficiency. During warm months, blackout shades keep the sun from heating your home. When the temperature drops, you can rely on your blackout shades, especially certain fabric styles, to keep the heat inside your apartment where it belongs.
Enhance your shade's energy efficiency even more by adding motorization. Motorizing your blackout shades allows you to schedule them to open or close at midday to take advantage of natural heat or to keep it out. Better yet, you don't even have to be at home to do it.
Blackout Shades for Better Sleep
Great sleep helps you look and feel your best, and blackout shades can help you get it. You get the most quality sleep in a dark, quiet space; blackout shades can make that a reality by eliminating up to 99% of unwanted light from entering your bedroom. Blackout shades are also a fantastic bedroom window treatment idea because they can reduce sound, and every New Yorker knows we don't live in a silent city.
Enjoy the ultimate room darkening experience with the optional blackout system for cellular shades—the best energy-efficient shades on the market. Unique side channels absorb and deflect up to 50% more unwanted light than standard cellular shades. Your shades do all the work so you can focus on getting the rest you deserve.
Blackout Shades Fabric Styles
Blackout fabric doesn't have to be average and dowdy. You have options galore when choosing blackout shades for your home. Add the right amount of texture with cellular shades, Roman shades' luxe style, or roller shades' sleek appearance. Any of the three will offer exceptional room darkening capacity while perfectly complementing your home's interior decor style.
You can choose from hundreds of fabric and color combinations when designing blackout shades. Believe it or not, blackout fabric can even be light in color. Mount your Roman or roller shades inside the window frame for a polished look or outside to reduce light gaps at the side of the window treatment. Inside mounts are also an excellent choice for narrow windows or rooms with little excess space, especially around the window frame.
Blackout Shades in NYC with Janovic