When considering shades, shutters, and blinds for their home, most people are thinking of their windows. While this is the primary usage for these products, there is another important part of your home that could benefit from these coverings: your doors. Your sliding glass door, French doors, patio door, balcony door, and any other glass doors in your home are a great choice for a variety of different window treatments that could help provide increased privacy and light control while offering additional insulation and still providing access to your outdoor views!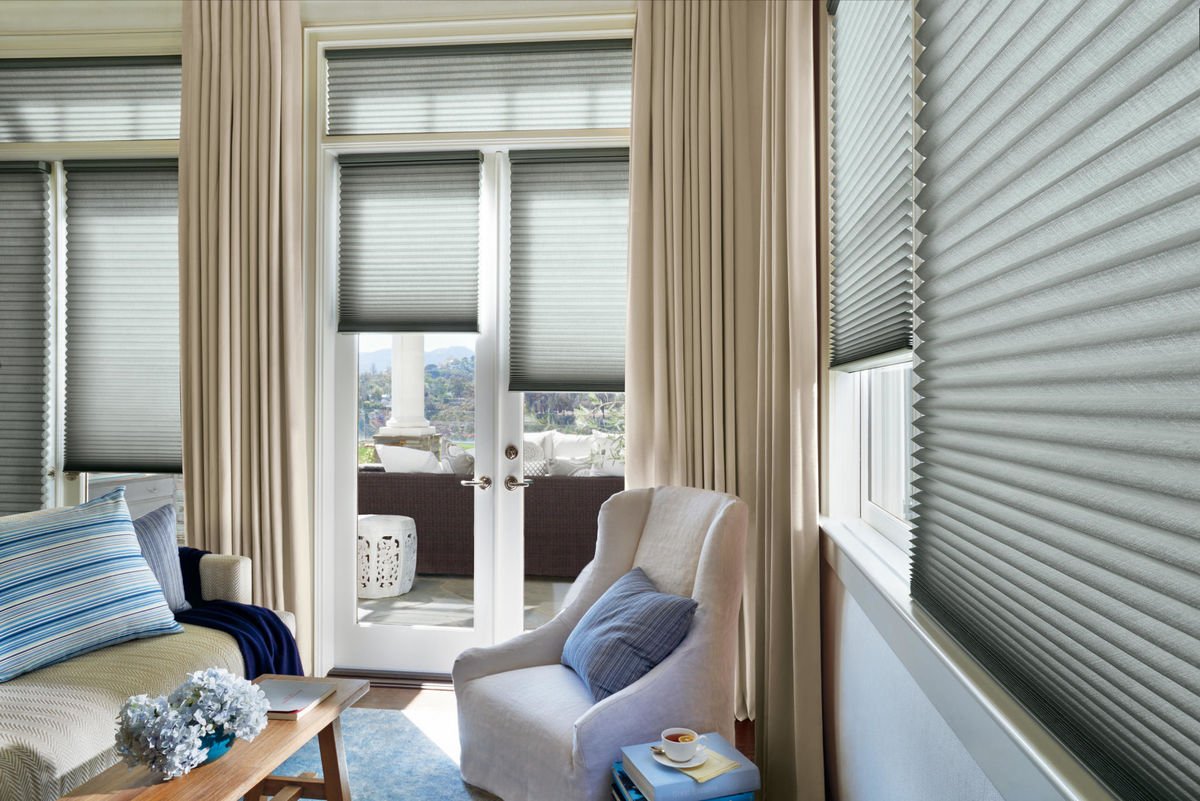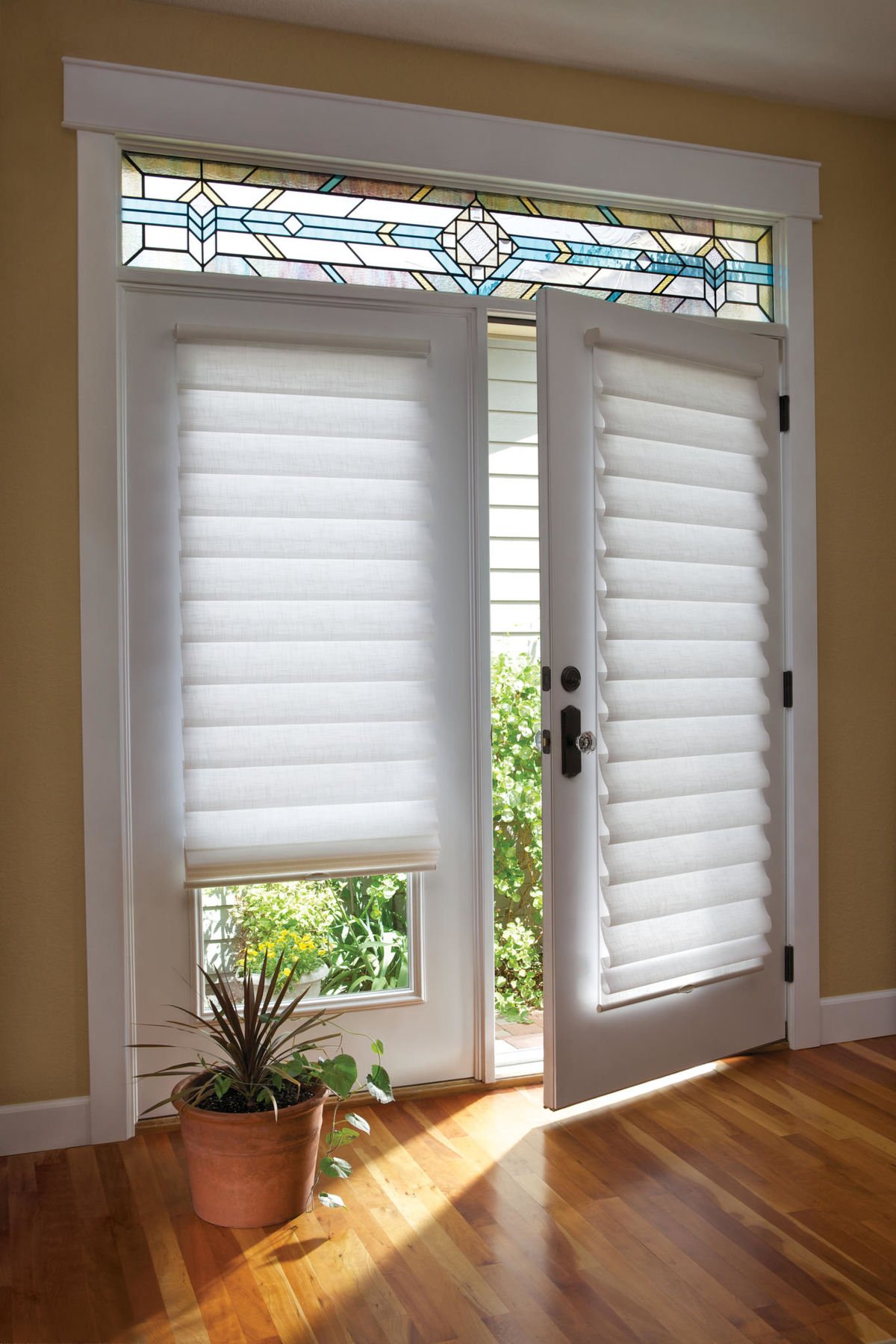 French Door Blinds, Shades, and Shutters
French doors require special considerations when searching for a window treatment. Not only are the windows on French doors large windows, but the shape and size of the window covering must account for the door knob as well as the possible need for extension brackets or spacer blocks when the blinds or shades need to be mounted outside of the window frame. Hunter Douglas window treatments take these needs into consideration with a range of products that are perfect for French doors. NewStyle® Hybrid Shutters, for example, are available with cutouts. Additionally, the dovetail construction makes these stylish window treatments extra durable for shutters that will see a lot of use and movement.
Other shutter styles are also a great choice for your doors. Palm Beach™ Polysatin™ Shutters are made of an innovative material that can withstand hot climates, humid conditions, and the sunlight entering through your glass door without ever warping, cracking, peeling, or discoloring. This makes these shutters a smart choice for the door since it has so much exposure to the outside.
Shutters are not the only option for French doors. Roman shades and roller shades with flat construction can fit behind the door handle and lie flush against the glass. For this reason, Vignette® Modern Roman Shades and Designer Roller Shades are both perfect for French doors, and they come in a variety of styles, colors, and designs to match the style of your home.
Sliding Door Shades
Sliding glass doors require different window treatments than other doors and windows because it is important for the coverings to open in the same way as the doors. Hunter Douglas has several vertical door blinds that are the ideal choice for sliding glass doors. Skyline® Gliding Window Panels come in a variety of colors, patterns, textures, and fabric choices that make them a statement of their own when closed. Thanks to their design, these panels fold easily without tangling or taking up any space, so they offer full access to the great, unobstructed views out of your sliding glass doors when they are open.
Hunter Douglas also has bi-fold and bypass track systems for their shutters for the best of a vertical treatment that still functions like a horizontal treatment. With this system, you could have traditional plantation shutters with real hardwood, like Heritance® Hardwood Shutters, even on your sliding glass doors.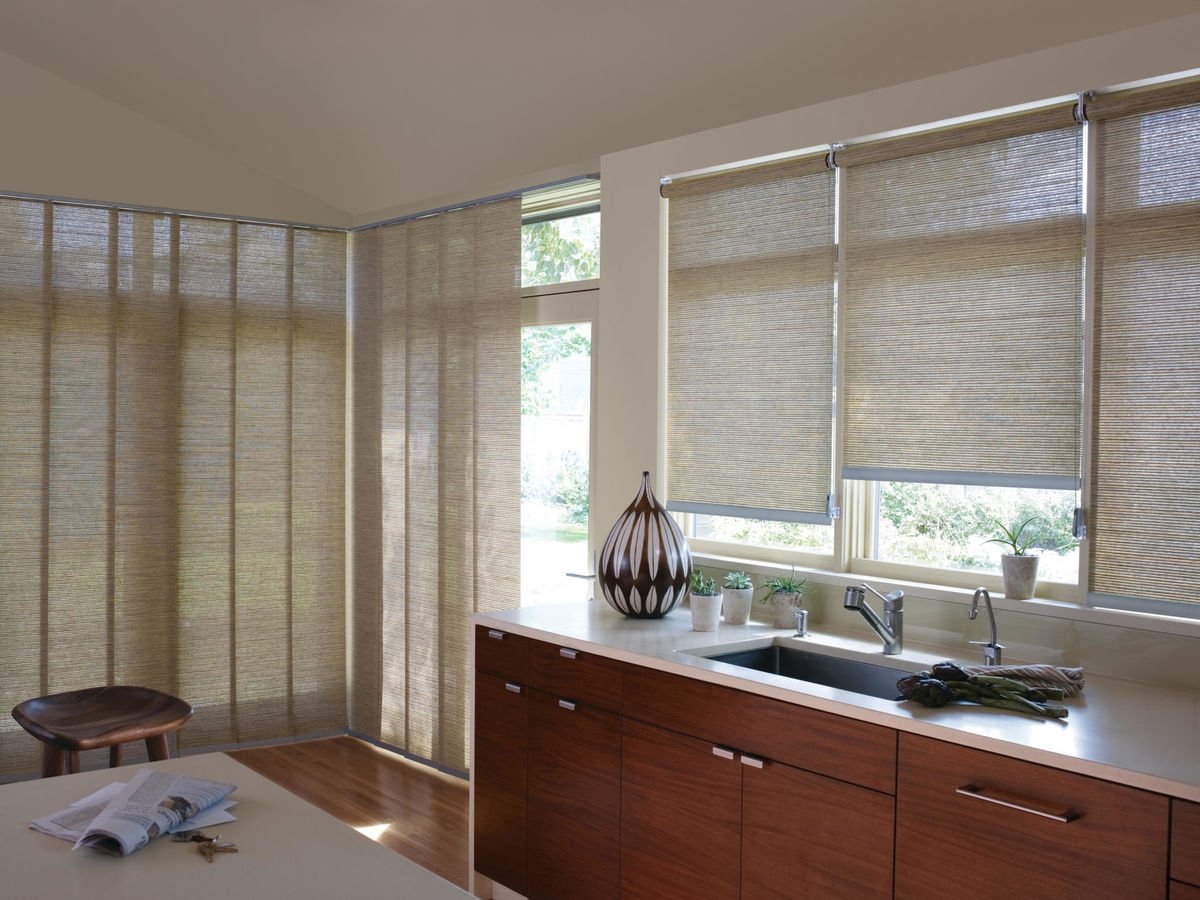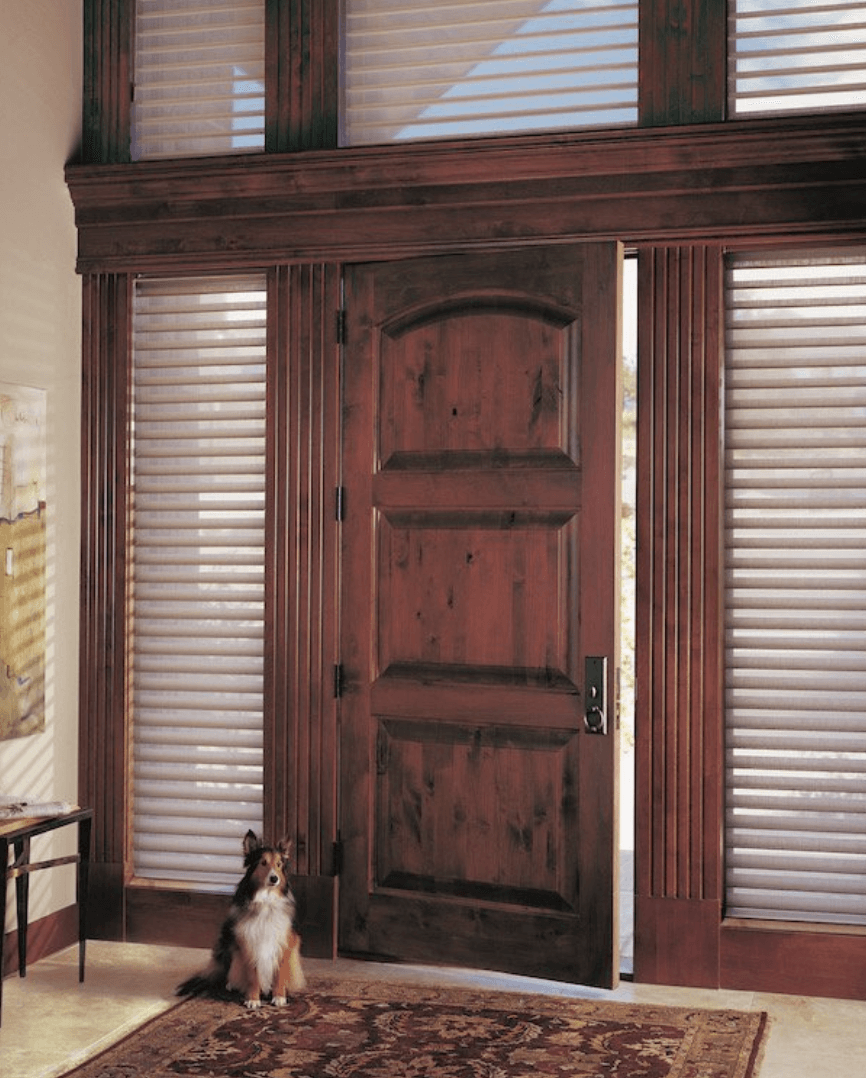 Sidelights
When considering your glass doors and coverings for them, it's important not to forget the sidelights on either side of many doors. Sheers are a great choice for sidelights as they gently diffuse light into the room. Luminette® Privacy Sheers from Hunter Douglas give you extra control with their ability to rotate up 180°. By doing so, you can control the amount of light entering your home as well as the amount of privacy afforded by your sheers. And because Luminette fabrics can be cut in yardage, you have the ability to coordinate with the fabrics of accent pieces in your home like decorative pillows.
Each curtain, shade, shutter, blind, and sheer made by Hunter Douglas is designed to perfectly suit your needs. Janovic is here to make sure you make the perfect choice from all these great options. The professionals at Janovic will help you determine the best color, style, and type of window treatment for your door blinds and coverings.
If you need help with other ideas for any space in your home, we are here to help, and we invite you to contact us. We offer an extensive collection of curtains, shades, sheers, blinds, and shutters in New York, NY and beyond.