Choosing a nursery window curtains or child safe window coverings can be tricky. Small objects, curtain rods, and long dangling cords can be a nightmare in a baby room, child's playroom or nursery. Even if you do not have young children, corded window blinds and shades can be a hazard to small pets too. Luckily, with the innovative window treatments available from Hunter Douglas, you can ditch all of these hazards for a smoother operating system and beautiful shades.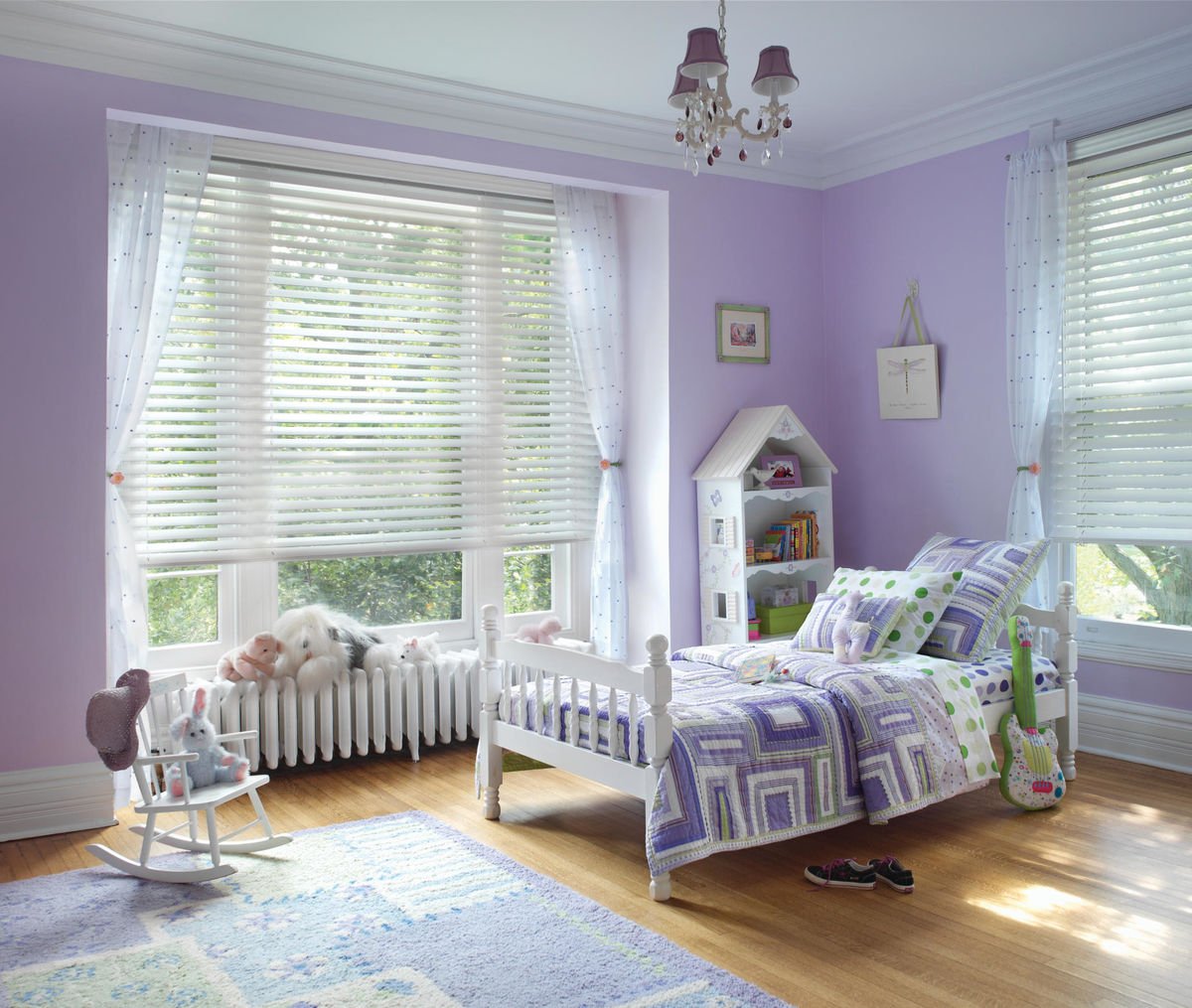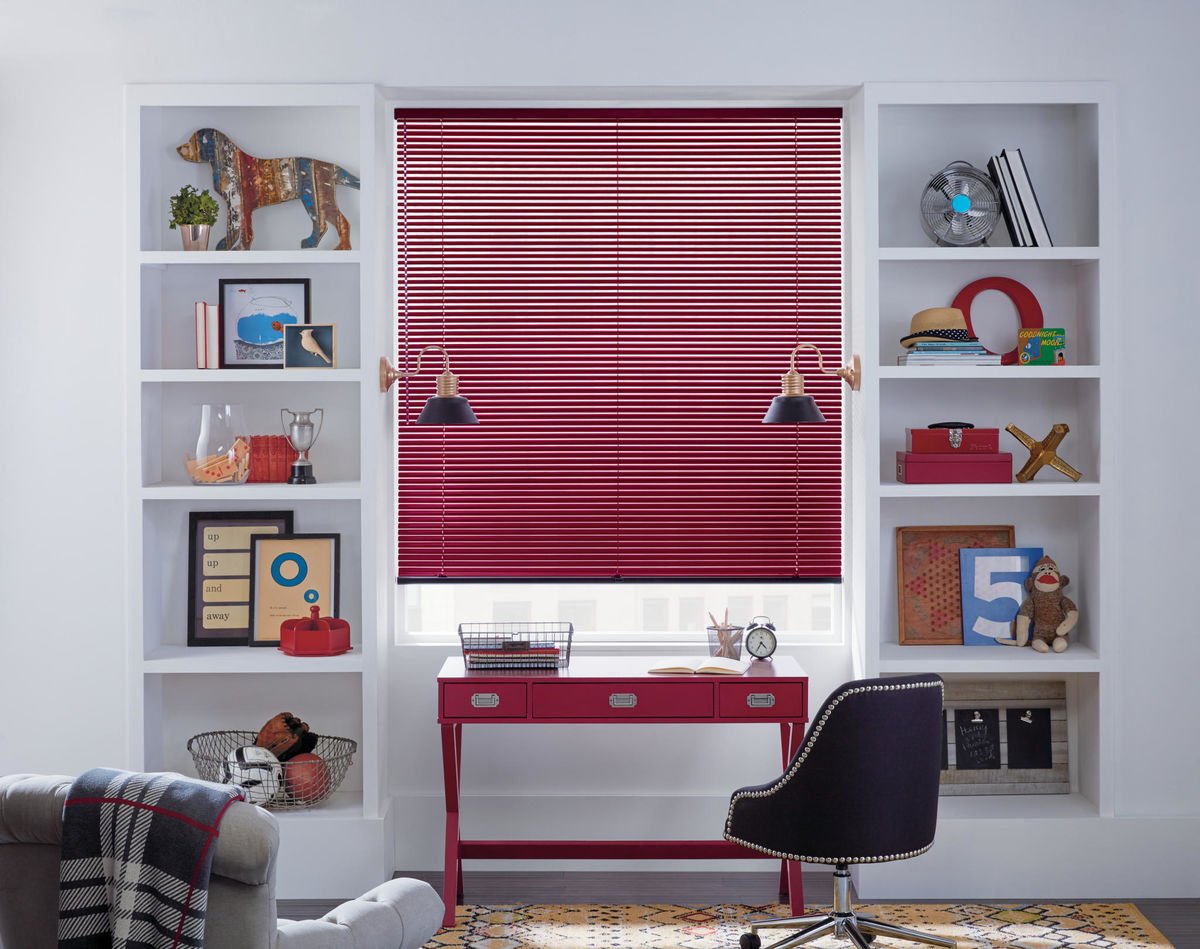 Child Safe Shades
While design and style are of great importance for window treatments and nursery window curtains, safety is the most important consideration. It's important that your blinds and shades or other window treatment in your nursery do not have looped and loose pull cords or wands that a child could reach. A window cord can be a choking hazard, and your baby, young child, or pet does not need potentially hazardous objects around the nursery and the rest of the home.
The LiteRise® system from Hunter Douglas is a cordless window system that allows you to keep the style you want with the safety you need. This system operates by pushing lighting on the window covering to raise it or to pull down to lower it. Wherever you choose to stop the shades, that's where they will stay. Simply push the window covering up to raise and pull down to lower, and your blinds and shades stay right where you put them.
This system is available on a number of Hunter Douglas blinds and shades, and every Hunter Douglas product has a variety of color, size, and design customization options for you to choose from. So if you want pink nursery curtains to match that rest of the baby room, you can have that as well as the safety of your child with the LiteRise® system. Along with being aware of hazards for young children, the cordless window covering looks great and is quickly becoming a new standard in homes.
Retractable Corded Products
Some window coverings still use cords, but not all cords are the same. Hunter Douglas UltraGlide® retractable cord system can be used with products like Designer Banded Shades and Design Studio™ Roman Shades but does not pose a hazard to young children or pets. This is because there is no dangling window cord, and the cord is kept at a constant length, so there is a reduced chance of anyone or anything becoming entangled in this corded product. While being a safer product, it also creates a clean and uncluttered look for your window treatment.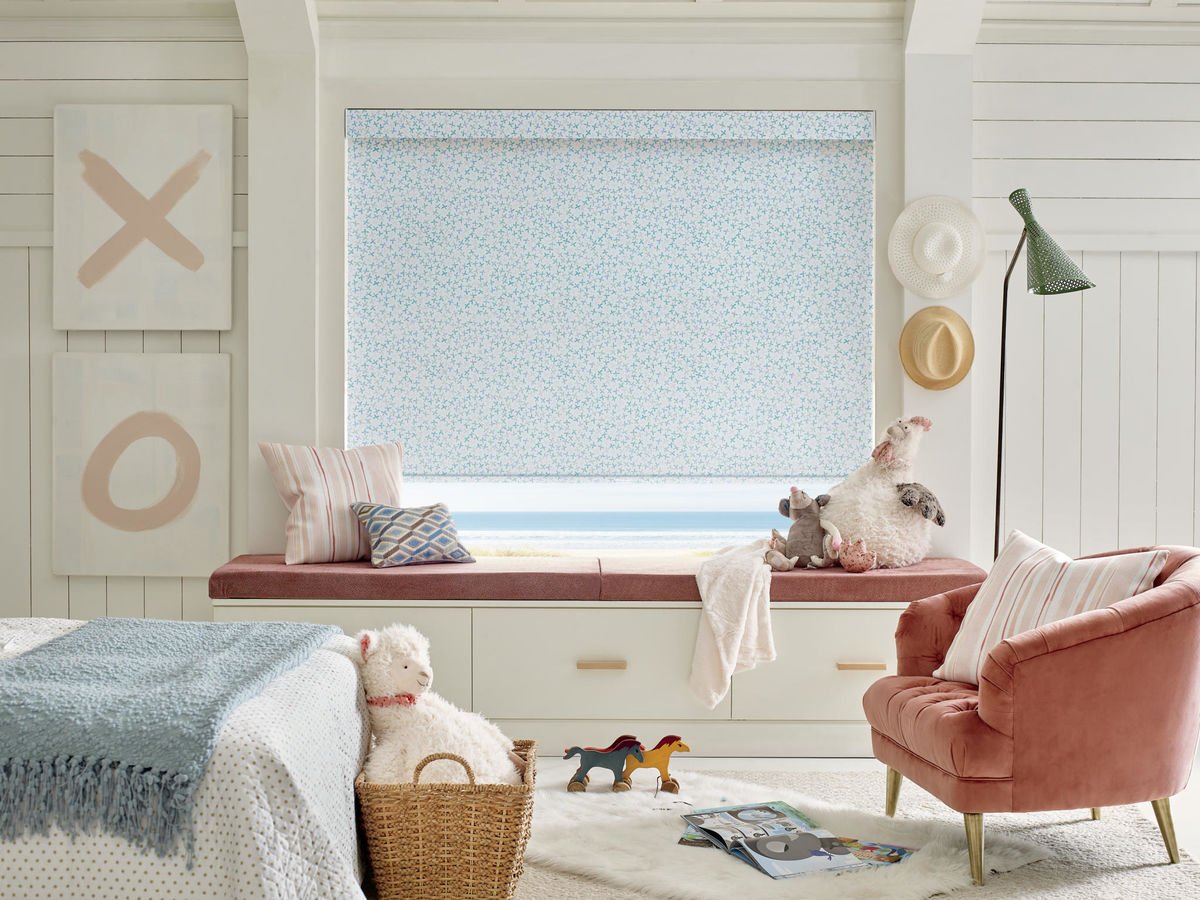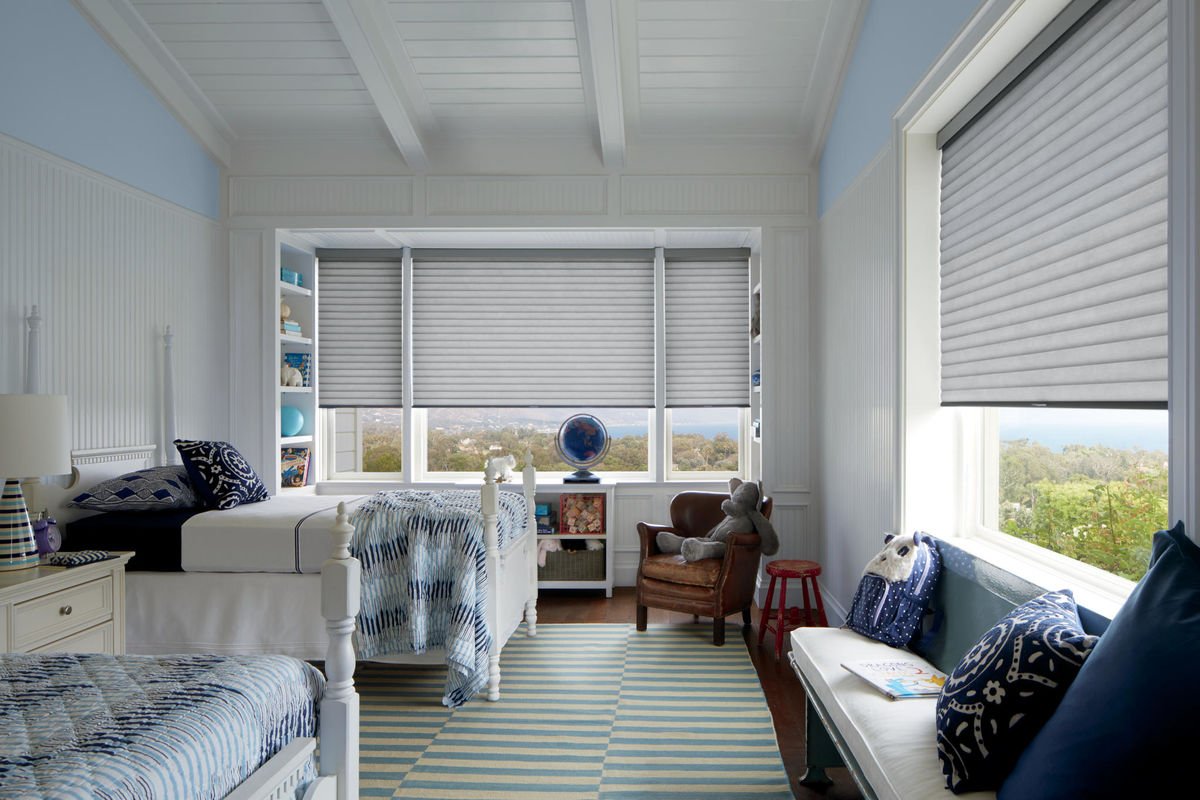 Automated Blinds and Shades
Another option for your baby room or nursery, as well as for your whole house, is automation and motorization of your window treatments. This gets rid of the need for a corded product entirely because you can operate all of your window coverings and window treatments with the push of a button or the sound of your voice. Hunter Douglas has PowerView® Automation to provide just that. Using the Pebble® remote or the user-friendly app, you can control your window coverings easily by pushing a button or setting the blinds and shades to open or close at particular times of day. By integrating the system with smart home technologies, you can also do all of the same features with the sound of your voice. With the PowerView® Automation system, you don't have to worry about any cords or rods ever.
Room Darkening Shades
Another consideration for your nursery curtains is the ability to block out any light for nap times during the day. On the other hand, you don't want a window treatment that will leave your child's room dark all day long. The Duolite® system, from Hunter Douglas, works for many of its shades, and it allows you to control the level of darkness in your nursery. By combining two, independently operating fabric panels into a single shade, this system gives you the control to have a shade that functions like a blackout curtain or allows light to gently filter in without raising the shades entirely. The Duolite® stytem is available on Vignette® Modern Roman Shades, Duette® Honeycomb Shades, and Silhouette® Window Shadings.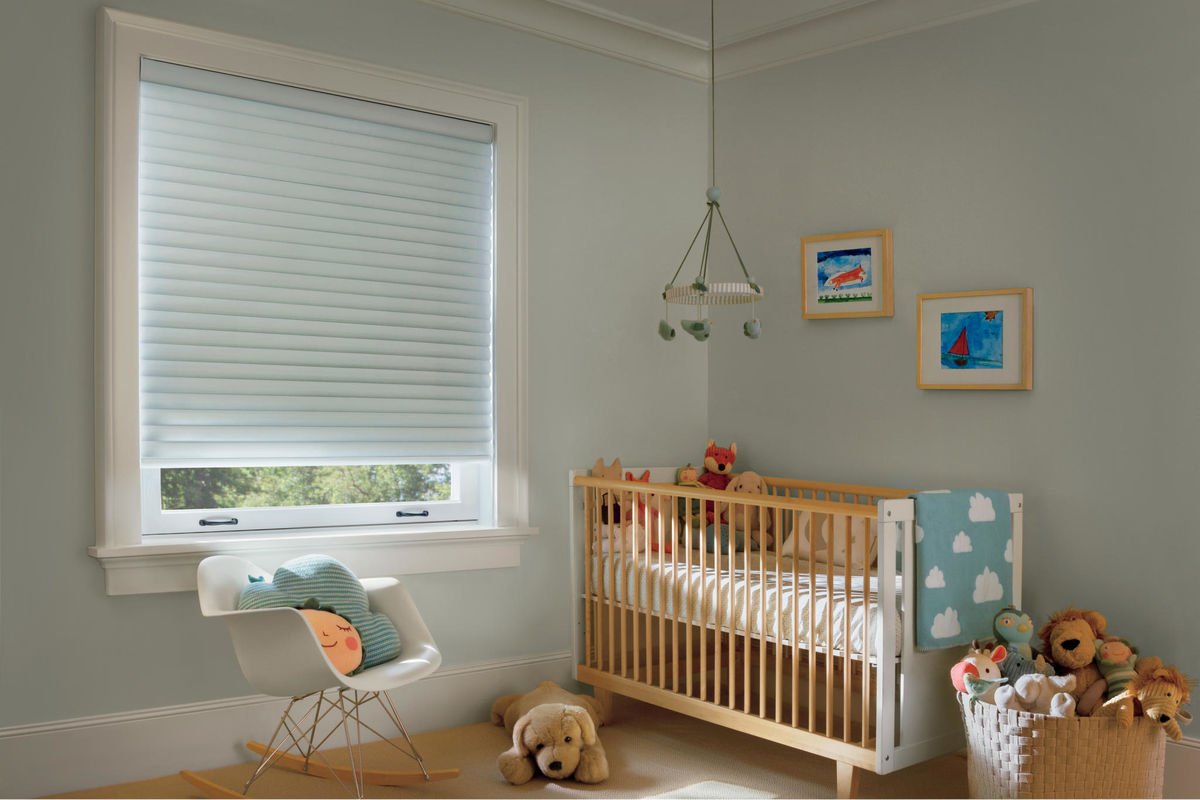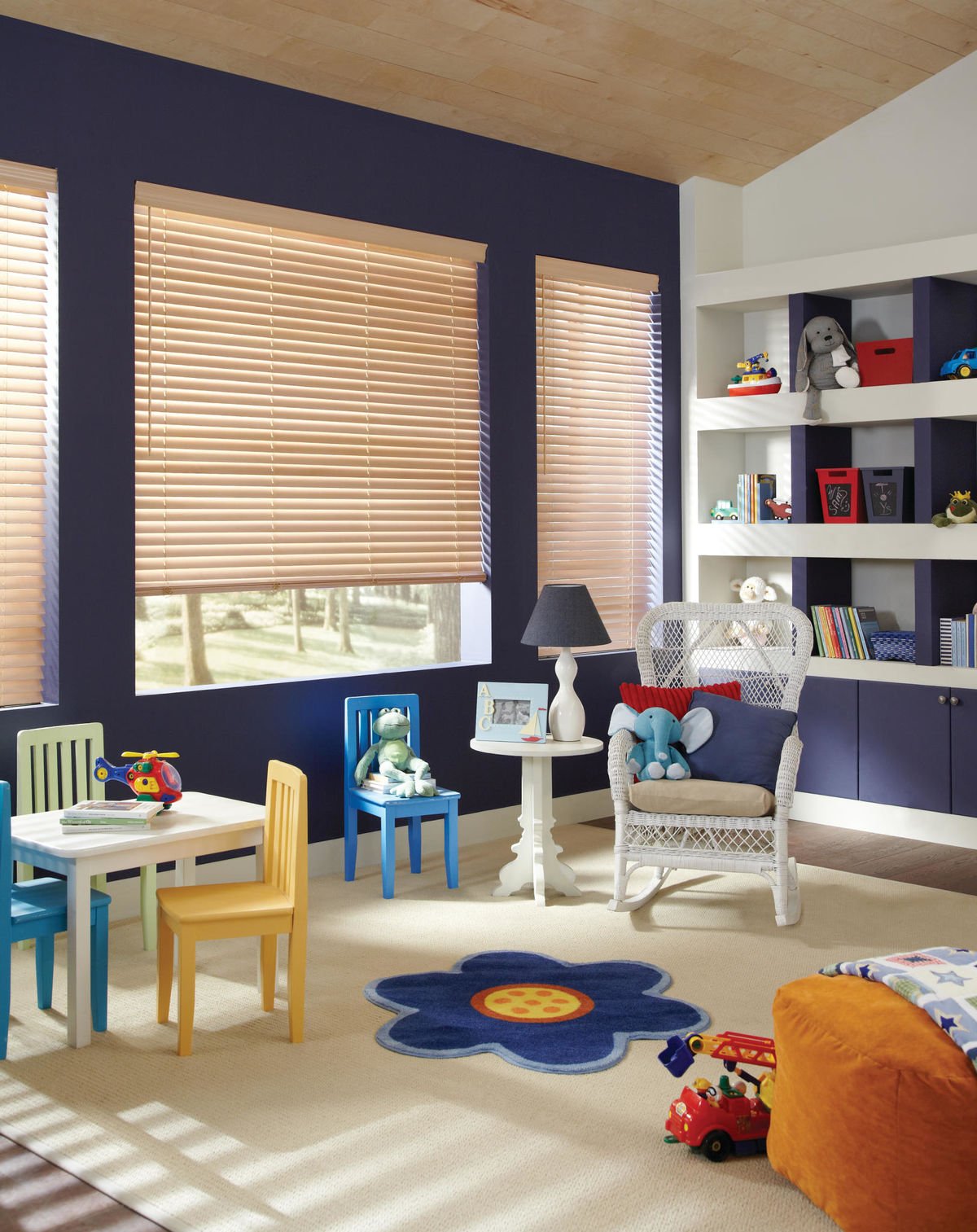 Young Children and Window Cords Don't Mix
The window coverings industry uses warning tags, labels, and other methods to communicate the potential hazards of corded window coverings. While many cordless window products are available and recommended as safer for young children, if you intend to use a corded product, please refer to and understand the potential strangulation hazards. More information and repair kits are available from the Window Covering Safety Council website.
Each curtain, shade, shutter, blind, and sheer made by Hunter Douglas is designed to perfectly suit your needs. Janovic is here to make sure you make the perfect choice from all these great options. The professionals at Janovic will help you determine the best color, style, and type of window treatment for your nursery windows.
If you need help with other ideas for any space in your home, we are here to help, and we invite you to contact us. We offer an extensive collection of curtains, shades, sheers, blinds, and shutters in New York, NY and beyond.