If you are looking for window treatments for a media room window or blackout curtains for any room in your house, then you are primarily concerned with one thing: room darkening. No one enjoys a nasty glare and bright lights while they are trying to watch their movie. Fortunately, Hunter Douglas has wonderful options for blackout curtains, and they even offer some other benefits you may not have considered.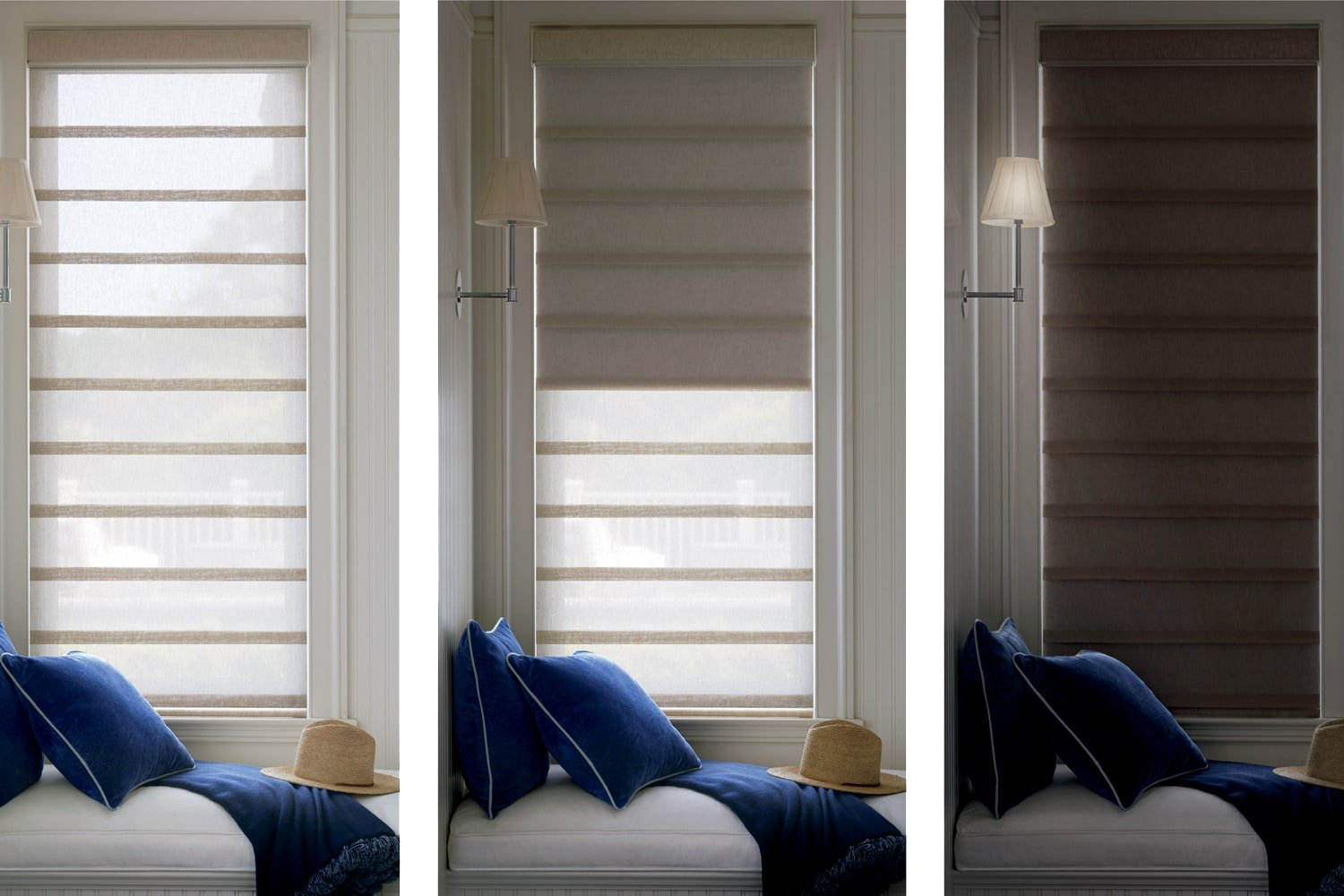 Room Darkening Shades
When trying to create a total room darkening effect in a media room, one of the most frustrating aspects can be finding a tiny sliver of light despite having blackout curtains. This is to be expected from lesser quality brands, but Hunter Douglas knows that several factors go into creating a completely dark room including minimizing light gaps, but also fabric, material type, and colors.
Duette® Honeycomb Shades with LightLock™ is an excellent option for any room where you need to block out light and sound. These shades feature the honeycomb design that insulates your room from outside sounds, and, the LightLock™ feature combines this design with U-shaped side channels. These go over the front and back of the shades and completely eliminate light gaps for a true darkening experience.
Shades That Filter or Block Light
Often, your media room windows are not just for blocking out light, but you want the control to let light filter in when you want it too. For that, Hunter Douglas presents the Duolite® system for many of its shades. By combining two, independently operating fabric panels into a single shade, this system gives you the control to have a shade that functions like a blackout curtain or allows light to gently filter in without raising the shades entirely. The Duolite® stytem is available on Vignette® Modern Roman Shades, Duette® Honeycomb Shades, and Silhouette® Window Shadings.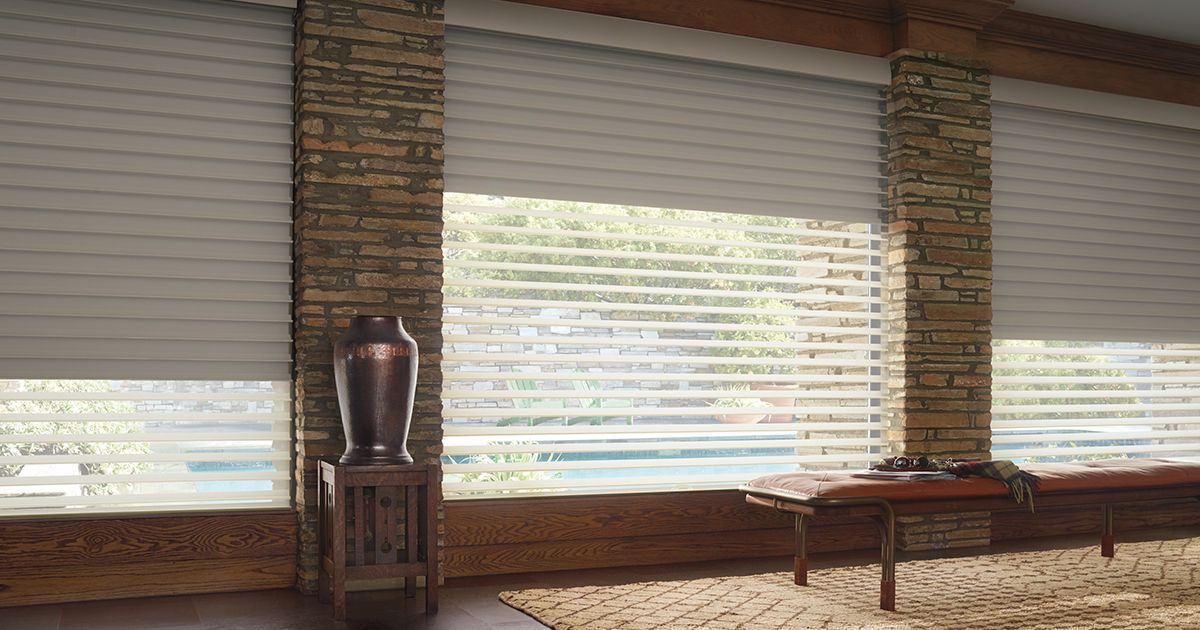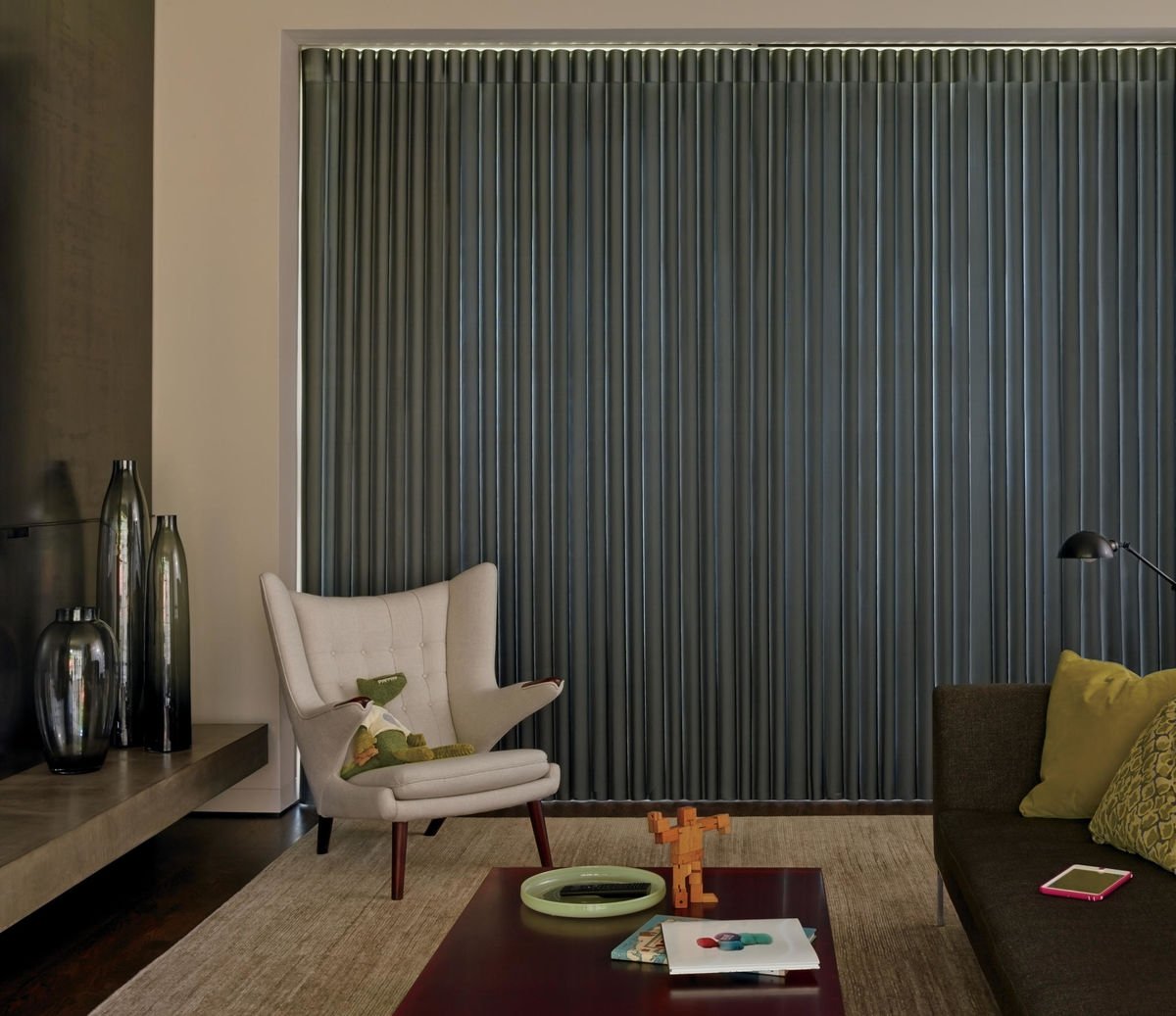 Innovative Drapery
Even when windows have unique shapes or needs, that does not mean that blackout curtains are unavailable for them. Hunter Douglas shades can be custom made to fit a variety of window shapes and sizes. Media rooms with large windows or sliding glass doors could benefit from Luminette® Privacy Sheers. The sheer fabric allows natural light to filter in from the sun, but when the vanes on this innovative drapery are rotated, it redirects the light to point where you want it. When the vanes are closed completely to block out the sun, it prevents light from entering the room.
Room Darkening Blinds
You have probably heard of room darkening shades and blackout curtains, but there are room darkening options for blinds too. Hunter Douglas blinds can include an optional de-Light™ feature the helps minimize the light gaps and prevent light filtering in. It does this by removing the lift cord and the rout holes required for regular blinds. This eliminates unwanted spots where light would leak through, and it allows the slats of the blinds to close tighter too. The de-Light™ feature is available on Parkland® Wood Blinds, EverWood® Alternative Wood Blinds, and Modern Precious Metals® Aluminum Blinds.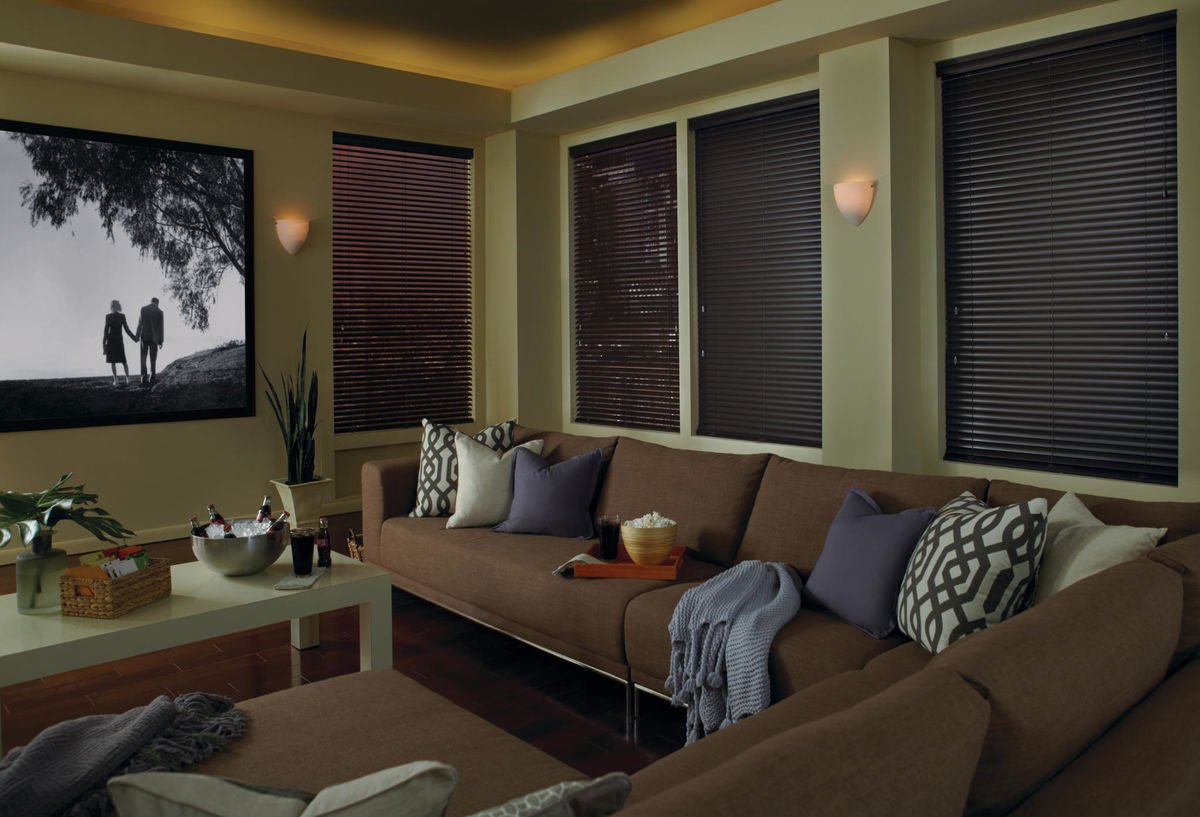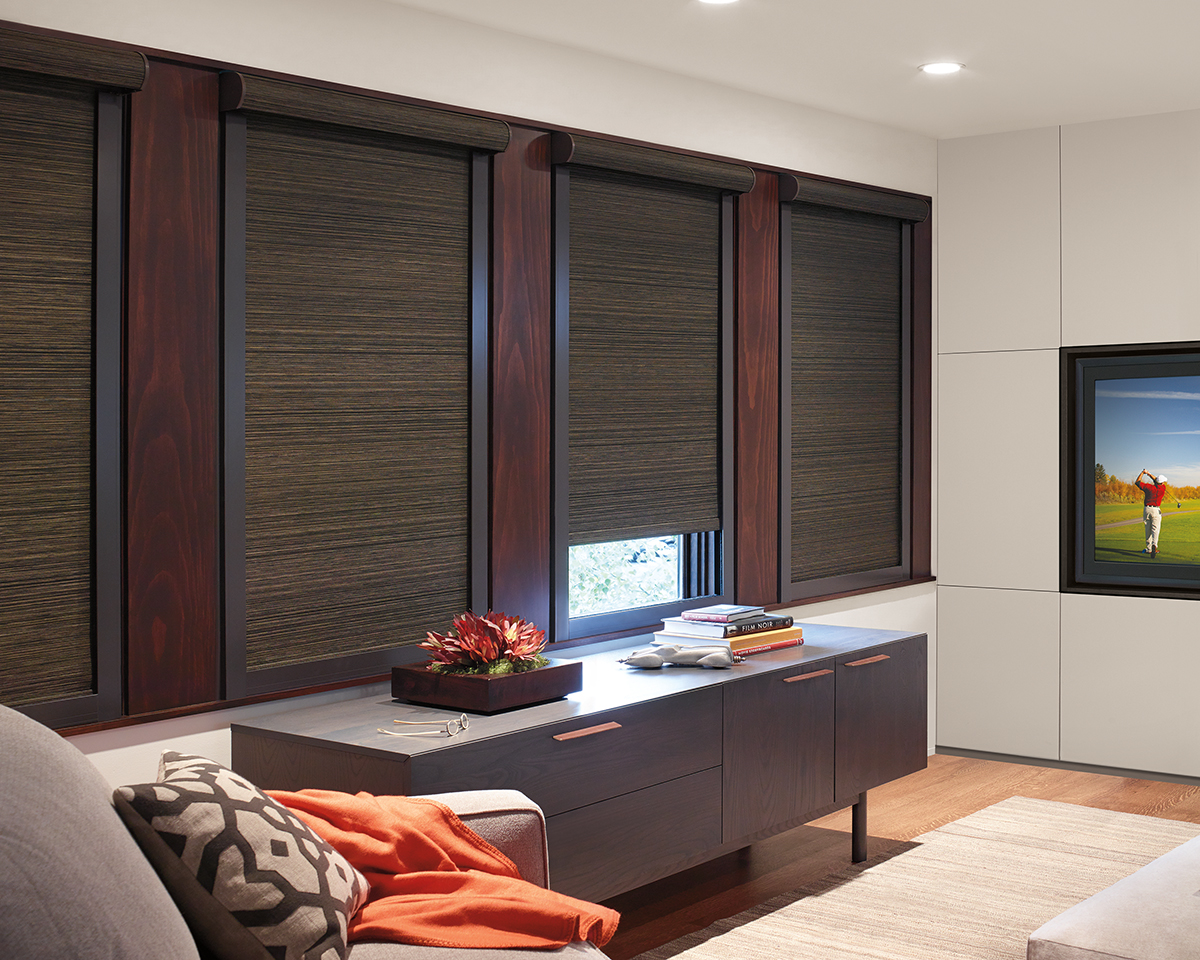 Automate Your Shades
A feature that can really set your media room window treatments apart from the rest is automation and motorization, and thankfully Hunter Douglas has PowerView® Automation to provide just that. Using the Pebble® remote or the user-friendly app, you can raise and lower your blinds with the push of a button. By integrating the system with smart home technologies, you can also do all of the same features with the sound of your voice. This is a great option for anyone looking to block light when it is coming in the most as well. The PowerView® system can be used to program your shades to open or close at particular times of day, so if you know when the most light will be entering your room, you can schedule your window coverings to close at that time.
Each curtain, shade, shutter, blind, and sheer made by Hunter Douglas is designed to perfectly suit your needs. Janovic is here to make sure you make the perfect choice from all these great options. The professionals at Janovic will help you determine the best color, style, and type of window treatment for your media room windows.
If you need help with other ideas for any space in your home, we are here to help, and we invite you to contact us. We offer an extensive collection of curtains, shades, sheers, blinds, and shutters in New York, NY and beyond.