Bathrooms and windows are a tricky subject, but they do not have to be! Thinking through a couple of questions can help you determine the best bathroom window curtains for your home, or it can help you decide that you might need a completely different window treatment like shutters or roman shades. When selecting window treatments for a bathroom, consider these questions:
Does your bathroom get really humid?
What are your needs in terms of privacy? Do you have neighbors or busy streets nearby?
What kinds of windows do you have, and will you need a special rod or valance to fit special window sizes?
Does your bathroom get particularly hot in the summer or cold in the winter?
Answering questions like these can help you determine what your needs are and which style of bathroom window curtains, shades, sheers, shutters, or blinds are best for your home. Fortunately, Hunter Douglas has products to meet all of these needs in an array of colors, designs, and styles.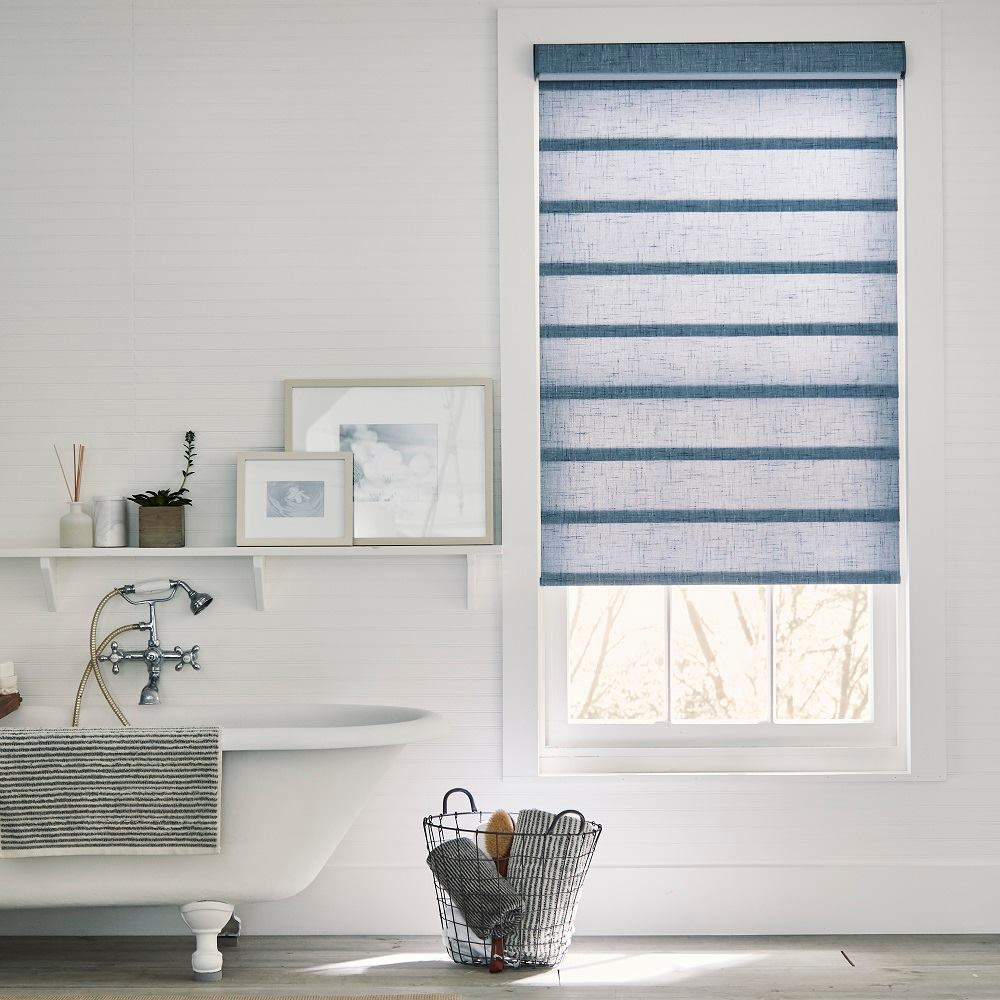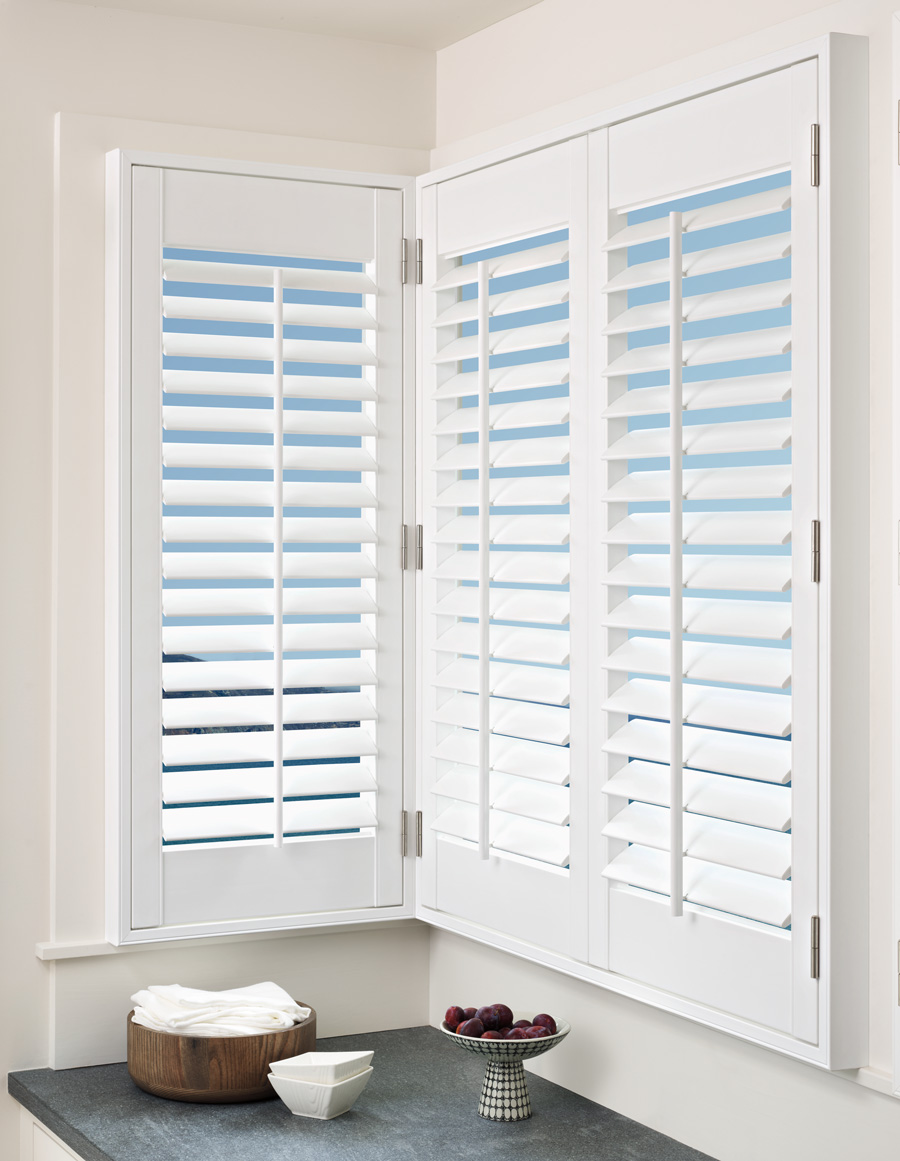 Window Treatments for Humid Bathrooms
Moisture and humidity are one of the biggest things to consider when looking at your best options for bathroom window curtains, shutters, or shades. If your bathroom gets very humid or if you need a curtain by your tub or shower, you likely don't want a material that will warp or fabrics that will get wet easily.
Palm Beach™ Polysatin™ Shutters are a great option for bathroom window treatments. They are made with a UV-resistant polysatin compound. This innovative material prevents them from warping, cracking, fading, chipping, peeling or discoloring over time, even in high humidity.
Another great option would be the EverWood® Alternative Wood Blinds. Not only do these blinds keep the organic and natural look of genuine hardwood, but just like Palm Beach™ Polysatin™ Shutters they're actually guaranteed never to fade, yellow, warp or bow, even in areas with high heat or humidity.
Bathroom Window Curtains for a Bathroom Needing Privacy
The bathroom is an important place to ensure that you have privacy, but you also want the flexibility to let the light in when you want. Many Hunter Douglas shades have Top-Down / Bottom-Up functionality, which allows you to open your shades from the bottom up, top down, or anywhere. This helps you create the perfect balance between privacy and natural light control. Duette® Honeycomb Shades, Vignette® Modern Roman Shades, and Provenance® Woven Wood Shades all feature this easy functionality and would be a great addition to the bathroom in your home.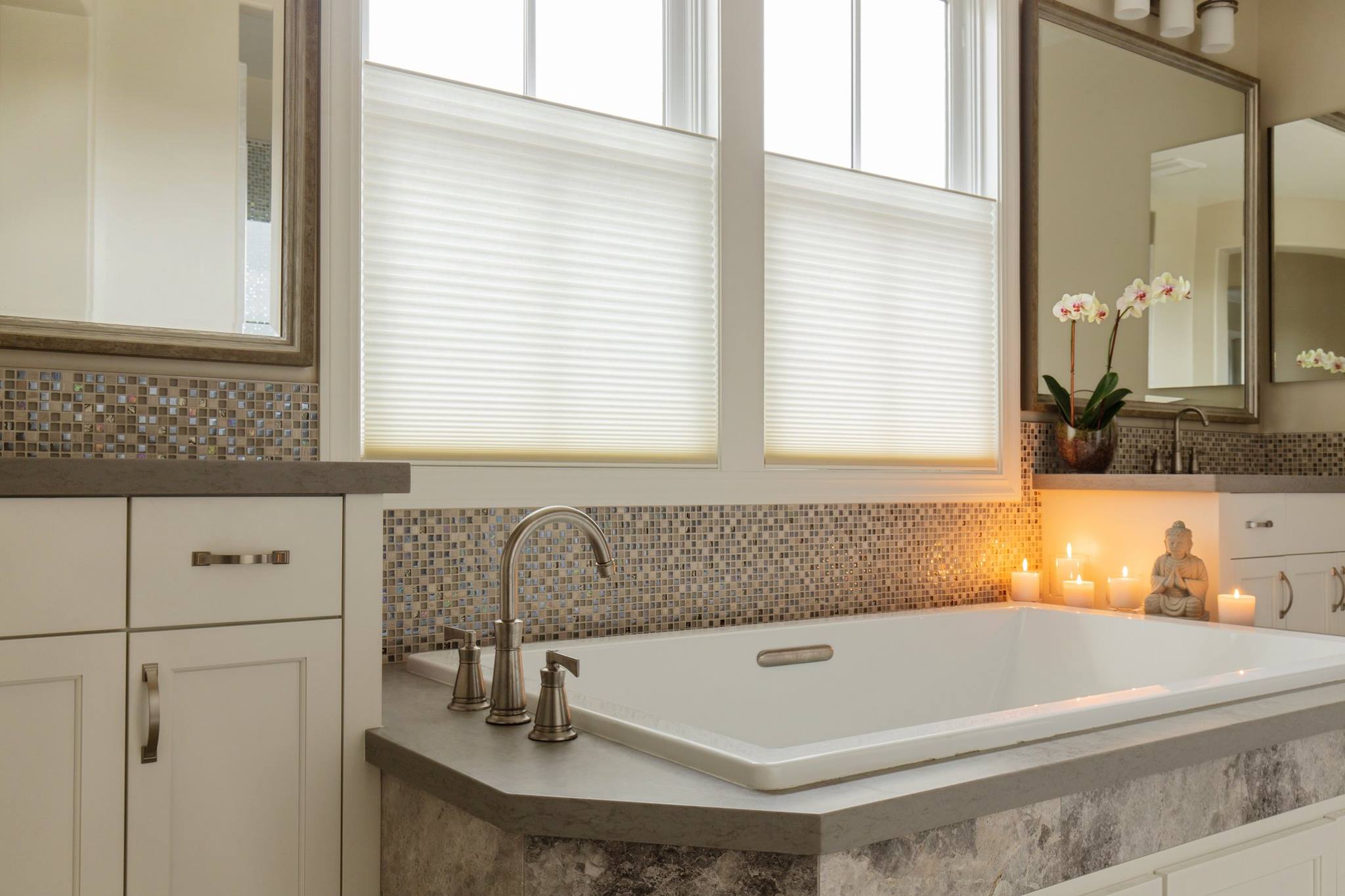 Bathroom Windows with Odd Shapes or Sizes
Between skylights, sidelights, and other uniquely shaped windows, it can be hard to find the right bathroom window treatment for your home. Fortunately, Hunter Douglas has custom shades, shutters, blinds, and sheers that can help you get the perfect fit for any window size. Plus, other customization options mean you can have the perfect size for that window, but also choose a curtain for it in the perfect color, style or design. Many Hunter Douglas products also come with unique operating systems like LiteRise® and SimpleLift™ if you want the increased benefit of ditching cumbersome cords and rods. Lastly, many Hunter Douglas products can be equipped with PowerView® Automation. This advanced system allows you to control any of your window shades with the push of a button or even the sound of your voice. It's perfect for when you're soaking in the tub and want to enjoy the view from your windows!
Temperature Control for Bathroom Windows
The bathroom is one of the hardest places to maintain the right temperature, and if you have windows, then this is only even more true. Because so much of your heat or air conditioning is lost through windows, it makes sense that you would want to have window treatments that would keep the temperature just right, and there is no better option than Duette Honeycomb Shades. These innovative shades feature a honeycomb design that traps outside heat and cold while keeping your room the desired temperature.
Each curtain, shade, shutter, blind, and sheer made by Hunter Douglas is designed to perfectly suit your needs. Janovic is here to make sure you make the perfect choice from all these great options. The professionals at Janovic will help you determine the best color, style, and type of window treatment for your bathroom windows.
If you need help with other ideas for any space in your home, we are here to help, and we invite you to contact us. We offer an extensive collection of curtains, shades, sheers, blinds, and shutters in New York, NY and beyond.