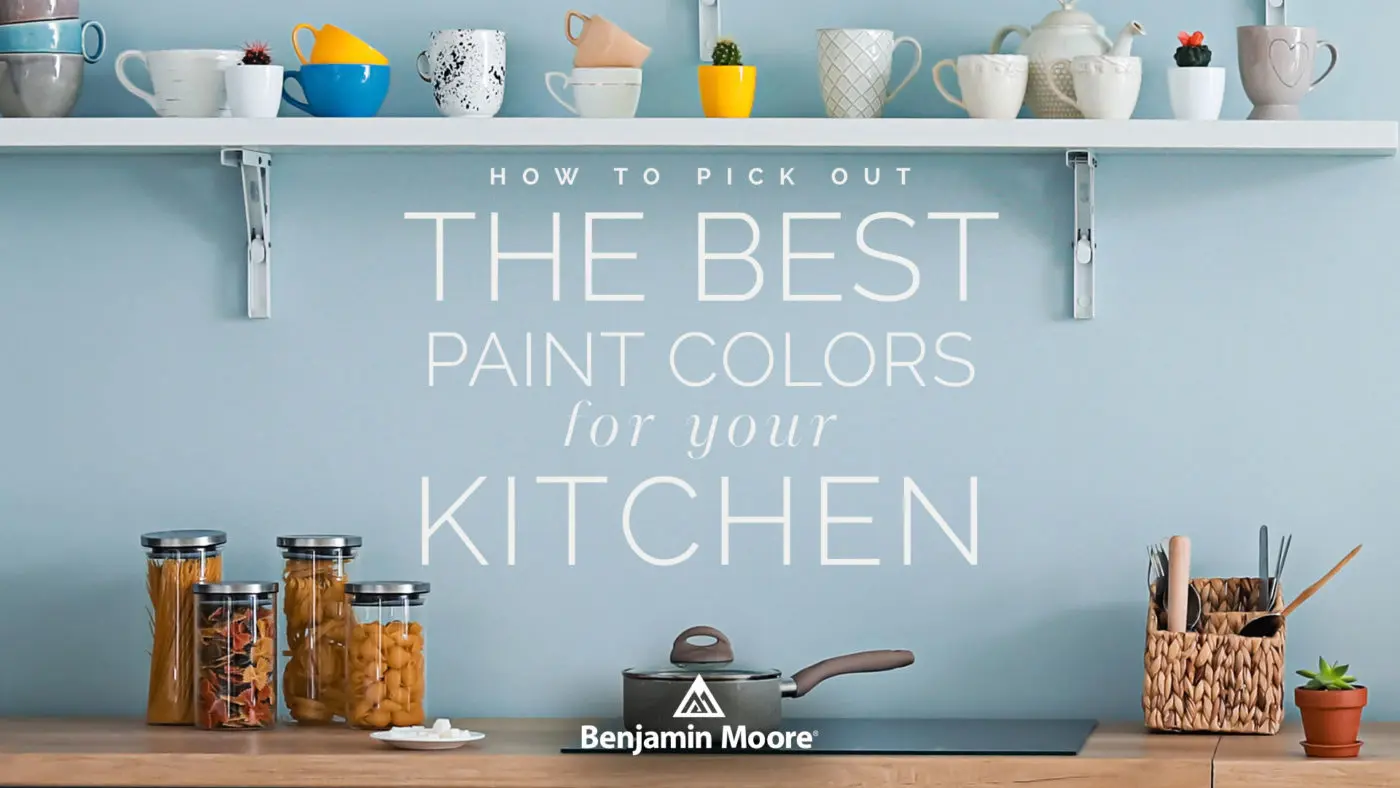 Tips From the Janovic Paint Professionals
Color: It's exciting, it's personal, but it can also be overwhelming. This is especially true when selecting a paint color for a multi-purpose, highly-trafficked room or space in your home – like your kitchen. It's a place in which you spend at least a few hours each day, where you welcome friends and family, where you enjoy your morning cup of coffee and prepare your most elaborate holiday meals.
And, unlike a bedroom or family room, it's not just the walls of your kitchen that you need to consider. What about the cabinetry, butcher block, or center island? And how will these colors blend with the many other dynamic fixtures and materials in the space, like your stainless-steel refrigerator, stylish backsplash, or farmhouse sink? If you're redoing your kitchen for the first time, it's easy to become overwhelmed when thinking about how to balance paint choices with all of these different elements.
Janovic is here to help. As New York City's top paint retailer and Benjamin Moore partner, we put together this kitchen color guide to help you through your paint selection, organize your color ideas, and get you started on your redecorating journey. Whenever you're ready to get started, give us a call or place an order online for in-store pickup.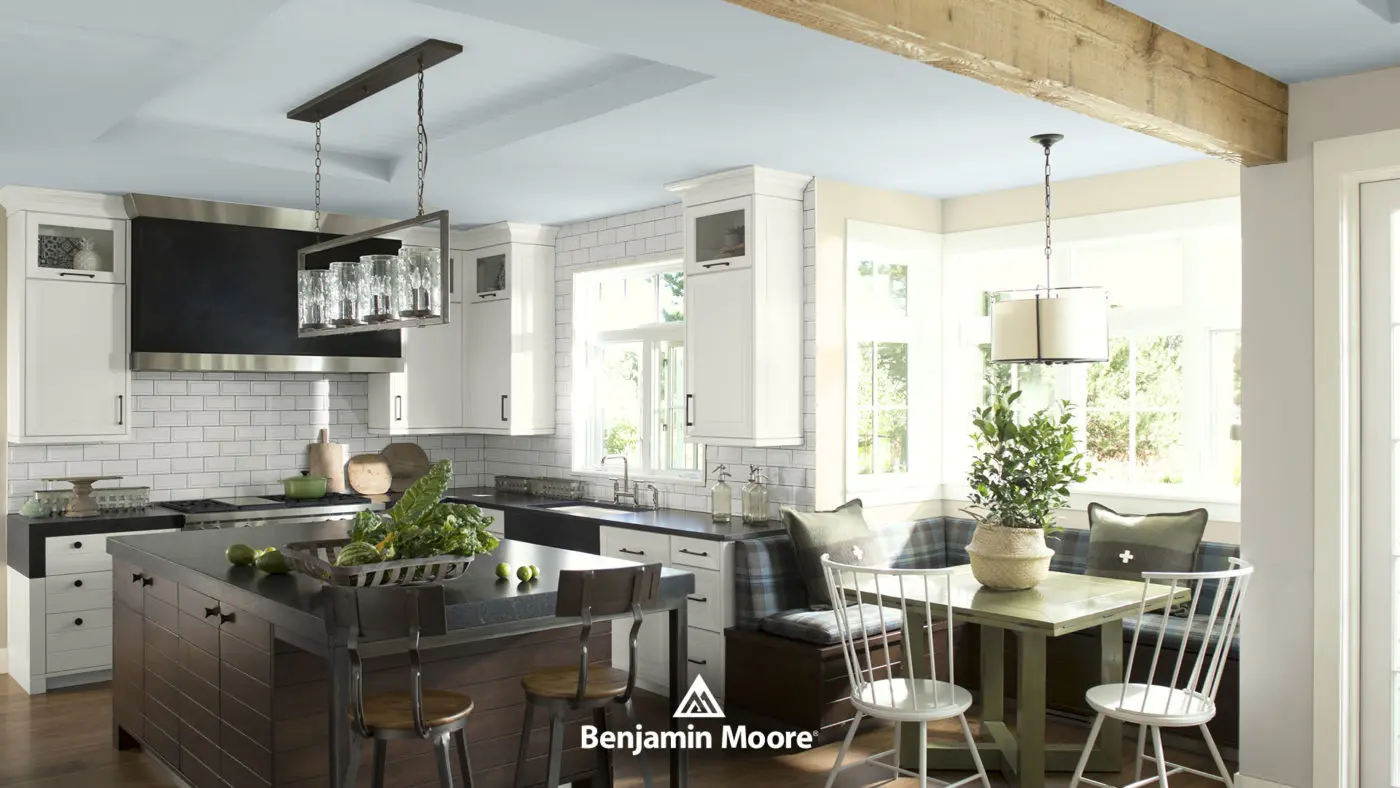 The Best Kitchen Colors Set the Mood
Think about how you use your kitchen to inform the color palette you and your family will be happiest with long-term. Do you eat a bowl of cereal and read the news at your kitchen island every morning? If so, you might want a color that's bright and cheerful, like a sunny yellow, that brings energy to the space. Do you host lots of dinner parties and gatherings in your kitchen and adjacent dining or living area? In this case, you may want to pick a subtle, warmer shade of gray, green, or even red that plays up your indoor lighting and enhances the evening ambiance.
Don't forget to consider the size and flow of your kitchen and surrounding living spaces. Do you have an open floor plan, with a kitchen that flows directly into your living or dining room, or is it self-contained in its own corner of the house? In general, the smaller the space you're working with, the lighter you should keep your color palette. A larger space can stand up to darker grays, bold blues, and deep burgundy, especially if you have lots of natural light.
The color of the walls and cabinets in your kitchen will directly impact the mood, atmosphere, and personality the area takes on. On the one hand, you can use a neutral paint color to draw more attention to your favorite focal points, like your custom stove and range hood or your patterned tile floors. On the other, you can make the walls or cabinets the focal points, applying a bold hue, perhaps a blue kitchen, for instant charisma and drama.
Obsessed with red? Try Benjamin Moore Tomato Tango CSP-1145 on an accent wall juxtaposed against a classic neutral, Harbor Gray AC-25, as shown below.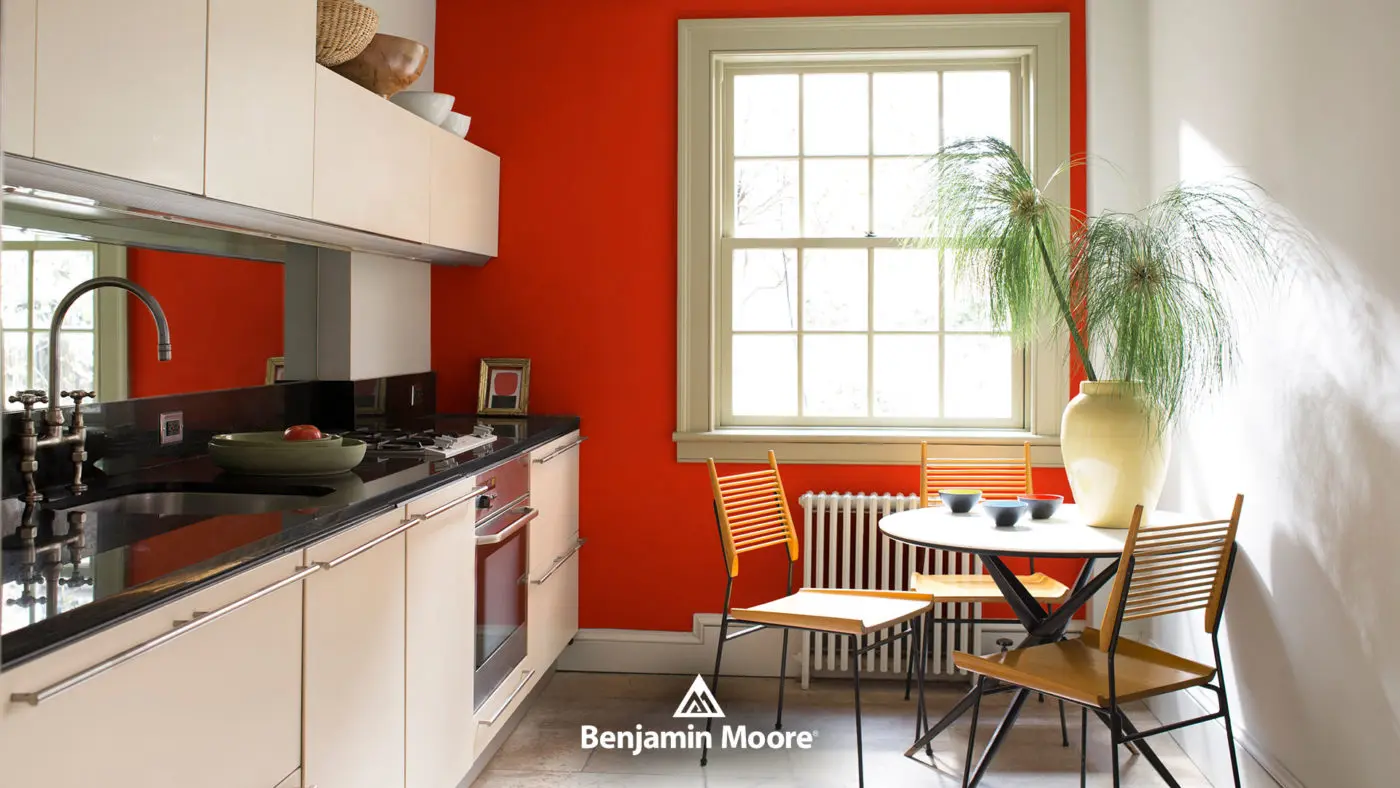 Go Beyond the White Kitchen with Warm and Cool Tones
While there's nothing wrong with the classic "white kitchen", when you're repainting any interior surface in your home, there's one golden rule that should never be forgotten: balance. Too much of any one color, be it gray, beige, or canary yellow, is a recipe for disaster (whether overpowering or just plain boring). The key is to maintain a healthy balance of neutrals, such as grays, whites, and beiges, against brighter pops of color – as well as a balance of warm (red, yellow, beige) and cool (white, blue, charcoal) tones.
The same principle applies for light and dark color palettes: Too much navy blue, especially in a kitchen with minimal light, will make the space feel smaller than it is. Work with your natural lighting and other pre-existing surfaces, such as floors and countertops, to create an aesthetically pleasing – and visually interesting – result. For example, white or light gray marble countertops often benefit from a cool blue, blue-gray, or even dusty violet walls or cabinets to play up the natural veining in the stone.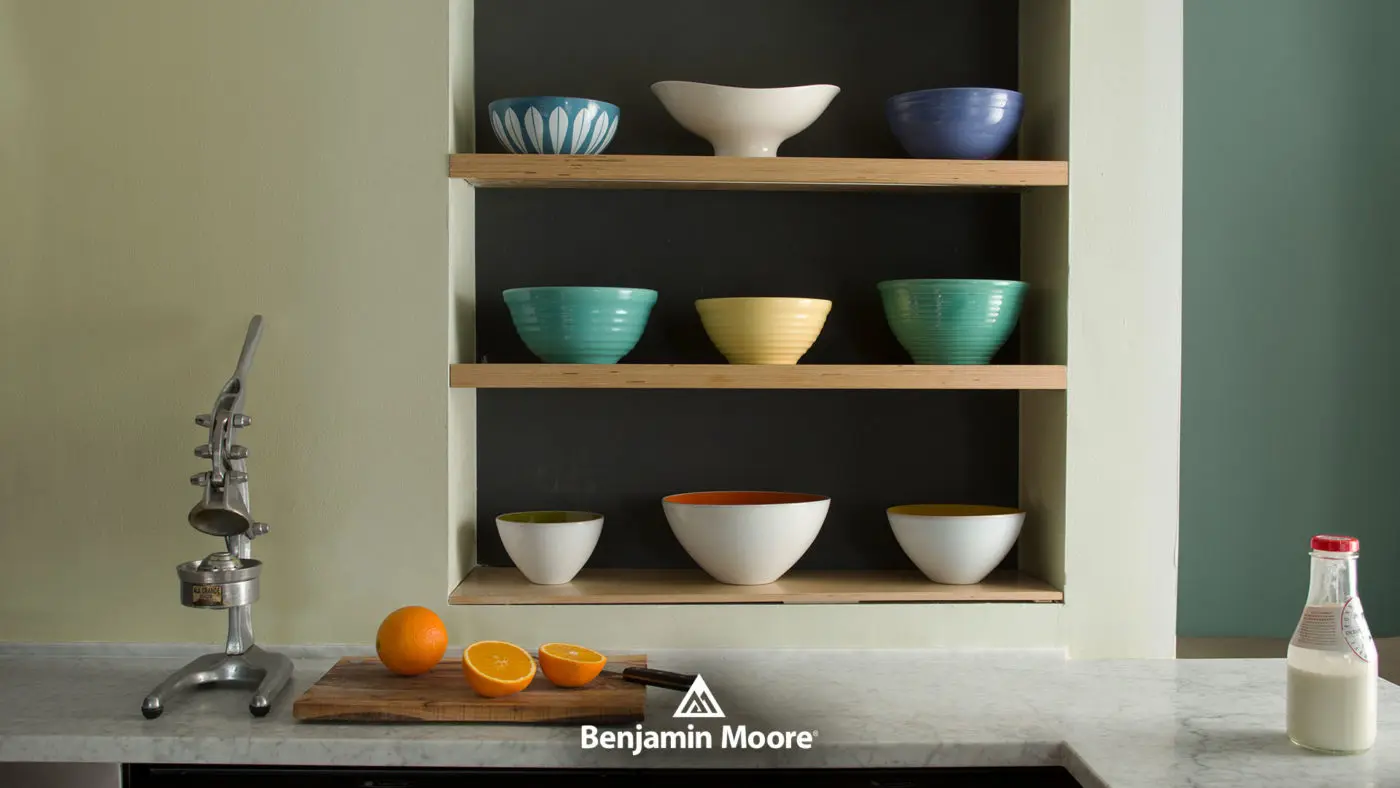 If you have lots of natural wood elements in your kitchen (like pine floors, kitchen cabinets, or a reclaimed wood dining table), try a forest green paint color to add a touch of formality. Drawing inspiration from nature – in this case, using the colors of the pine boughs and foliage in a forest – is always a good idea, especially when it reflects your home's physical setting. Even a lighter yellow-sage will create the same effect, as pictured above in Benjamin Moore Lime Sherbet CSP-845.
If you live near the coast (or even if you don't), try out a refreshing color palette that incorporates the deep blues, grays, whites, and beiges of the shoreline. Bright white cabinets against light blue-gray painted kitchen walls, for example, is a go-to kitchen color palette for many top designers because it's a universally appealing combination. Try Benjamin Moore Metropolitan AF-690, pictured below, for a fresh yet soothing kitchen look.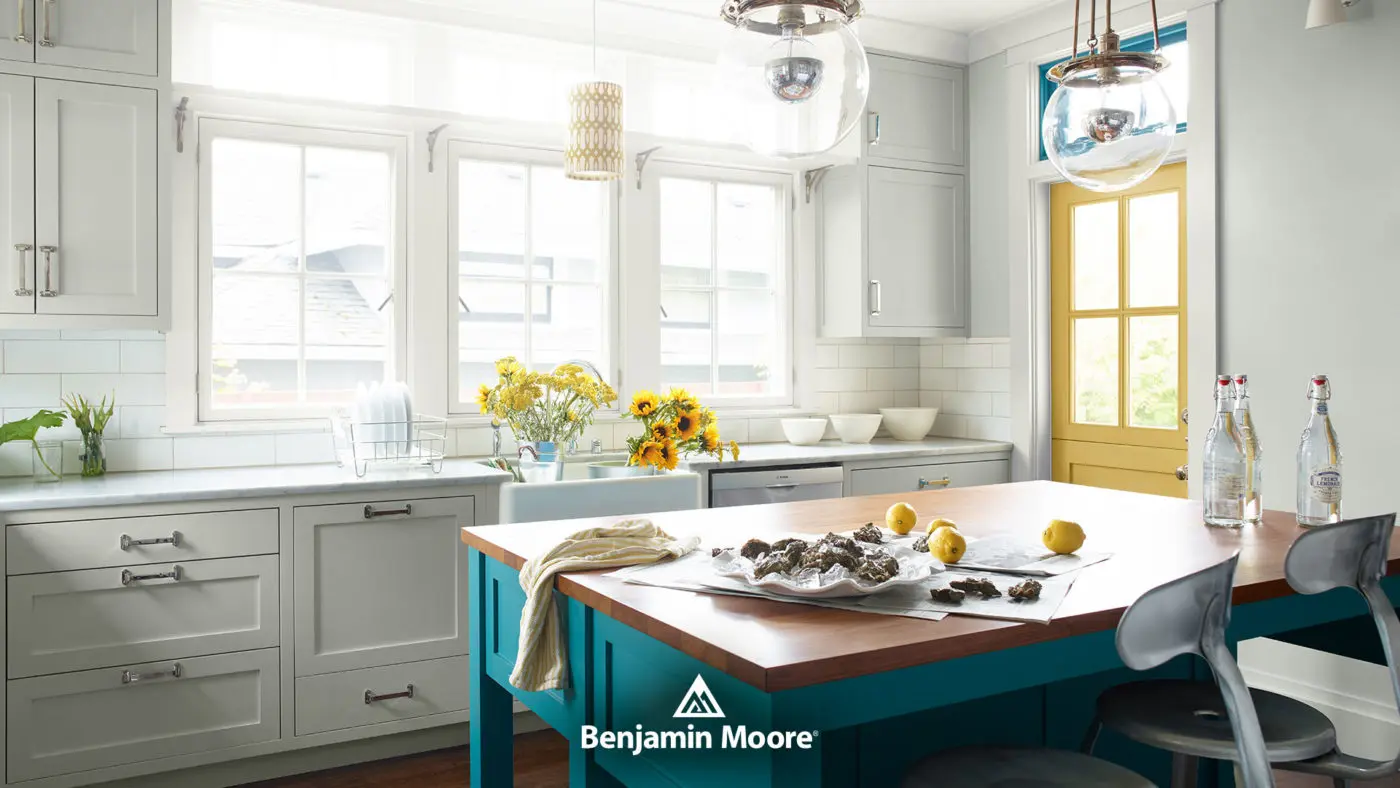 Bring It All Together with Paint Colors from Benjamin Moore
Your kitchen tends to be the central hub of your family home. It is, after all, the source of our favorite distraction: food! If you know your family congregates in your kitchen often, spending time together while preparing meals or sitting down to enjoy them, it's worth creating the best kitchen that you genuinely love.
Your kitchen also needs to be practical: High-quality, satin, or semi-gloss paint is key, especially for walls and cabinets. You can also opt to totally change your cabinet color and bring out undertones within your kitchen cabinets by staining them. These surfaces are prone to receiving a splattering of pasta sauce or cake batter from time to time, so they need to be durable, scratch-resistant, and easy to wipe down. The Benjamin Moore Kitchen & Bath line offers excellent color retention and durability with added mildew resistance, even in humid conditions.
Remember: When choosing a kitchen paint color, stick to a balance of neutral color palettes against bright tones, lights against darks, and warmer shades against cooler shades. Incorporate all of your kitchen's existing materials like your countertops, backsplash, cabinetry hardware, and fixtures into your palette to make sure it all will work together – but don't overthink it! Your paint color choice doesn't have to be permanent.
If your gut is telling you to try out a dusty red accent wall, give it a shot. If it's not quite right, just swing by your neighborhood Janovic paint store and we'll mix up a new Benjamin Moore shade that captures the exact look you were going for. Whether you are after a farmhouse kitchen in the city or a contemporary one, we can't wait to help you make your kitchen dreams come true!