Layering curtains and drapery elevates a room's aesthetic and adds dimension. New York City is known for having ample personality, and layering your window treatments allows you to add more of yours to your home. A layered design is perfect for every home; our designers will help you find the right one for yours.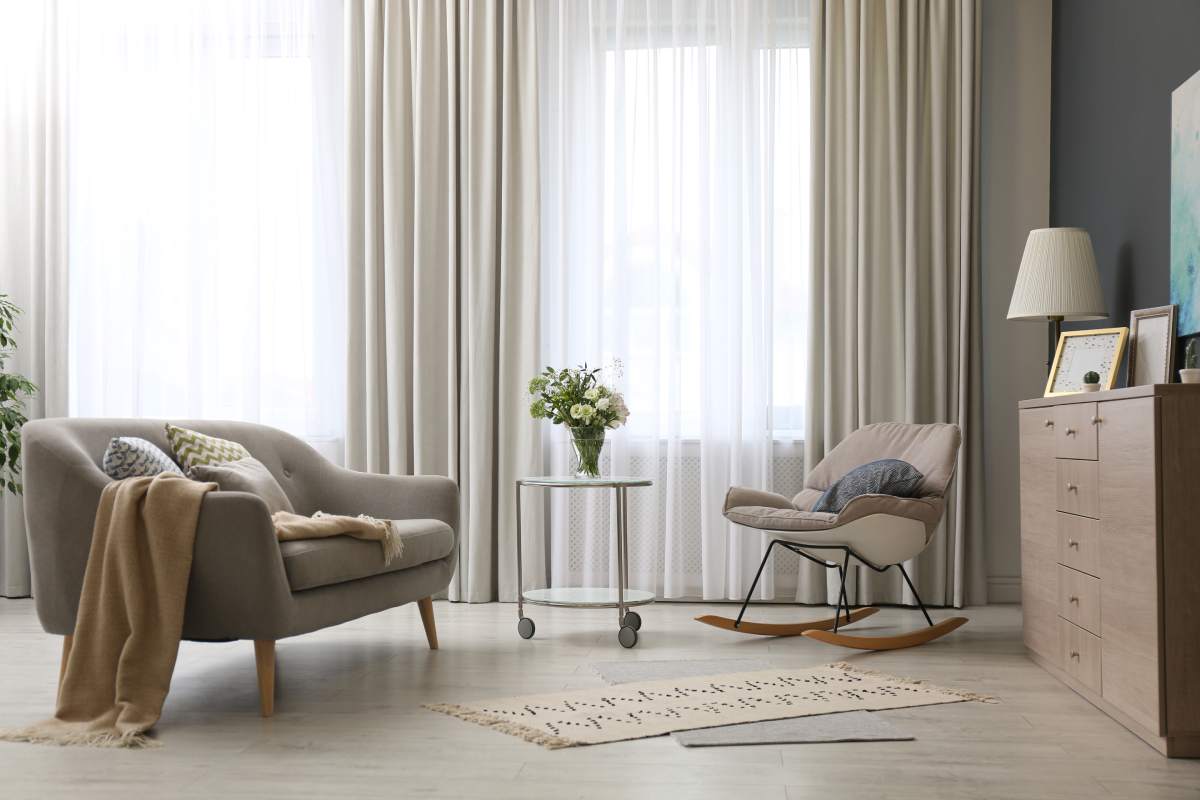 Material Matters
Layering sheer panels with heavier drapery is the Old Faithful of layered curtains, and for a good reason – it works. Using two sets of drapery or curtains is a beautiful way to introduce texture to a space. Silk and velvet drapery on the same window creates an ethereal beauty that's hard to match. A double rod with a luxe finish and chic finials are all you need to take this standard style up a notch. Layering two sets of drapery made from the same material will result in a flat, uninteresting look. Visual interest and depth are two primary motivators behind layered curtains, and you can only accomplish these by using two distinct materials.
Don't Forget Functionality
Your layered curtains should look fantastic while serving a purpose. A room-darkening shade paired with opaque drapery may be great for a bedroom but less useful in your living room. In spaces with a lot of daytime activity, use a sheer shade as the base treatment and drapery with a light-filtering liner as the top covering. The room won't be completely dark even with both window treatments closed. Layering blinds or shutters with room-darkening drapery gives you exceptional control over privacy and natural light. You can draw the drapery back and adjust the slats of the blinds for the perfect amount of light without eliminating your privacy.
Posh Patterns
Incorporating fun prints onto your window is effortless when you embrace the layered look. If a subtle style is your thing, choose a patterned base layer with drapery made using a solid color. Drawing the drapery back to reveal the patterned material adds unexpected panache to your home. Drapery made using printed fabric will allow your flair to shine through even when they're drawn back.
We realize there are more adventurous decorators out there, and if you're one of them, you may wonder if you can pair two patterns. The answer is "Absolutely," but there are a few guidelines to remember. The two fabrics should share at least one color in common for a cohesive look. Scale and proportion are other factors to consider when avoiding a clustered, chaotic appearance. Choose a larger, more subdued pattern for the second if one print is small and busy.
Custom Drapery for Your NYC Home
NYC has several layers of design and diversity, and Janovic loves being a part of the Big Apple community. Our professional designers are here to help you create a magnificent view with layered drapery, paint, and wall coverings. Visit one of our locations across the city or schedule a complimentary in-home consultation to get started.