If your NYC apartment has a balcony, you know the struggle; you want to take in the view of the city without putting yourself on display. Window treatments are the perfect way to enjoy your balcony without sacrificing privacy and enhance your home's aesthetic. Consider Hunter Douglas Sheer Shades or Shutters from Janovic. Book a consultation or visit one of our NYC stores to learn more!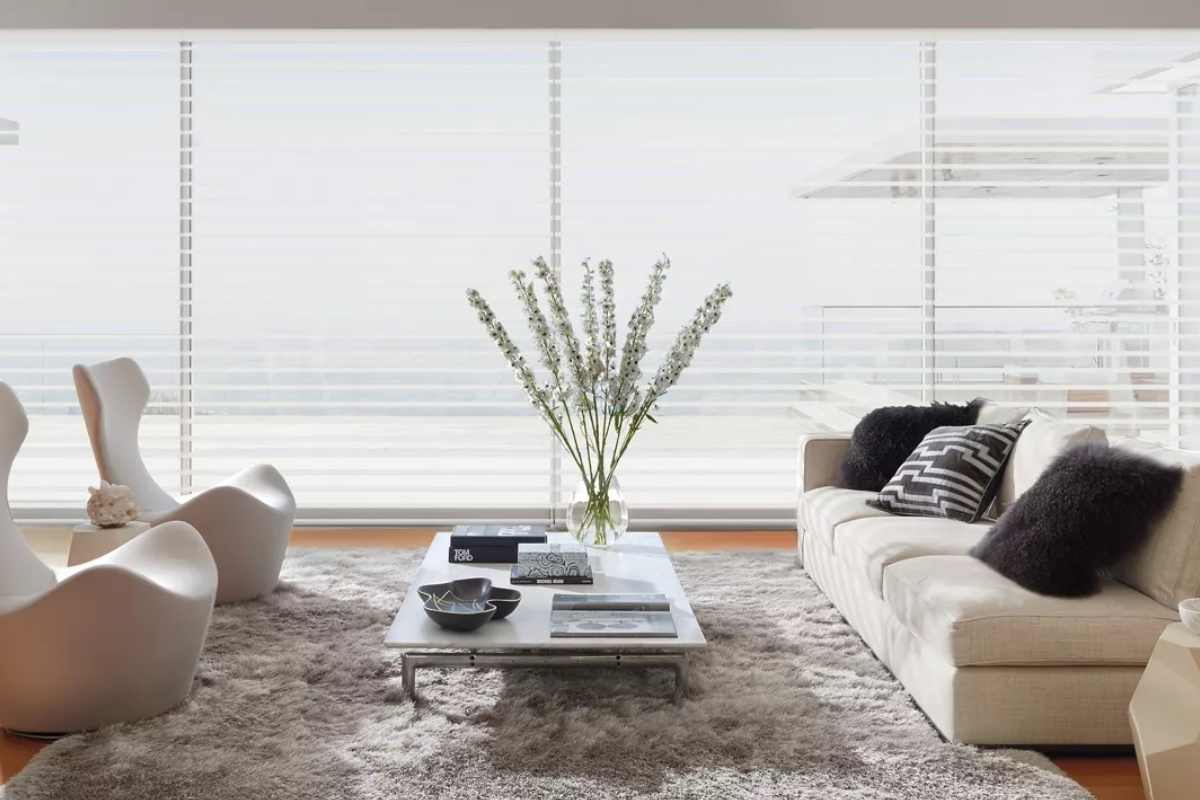 Sheer Shades for Balconies
French doors are an exquisite accent to a balcony but aren't the perfect fit for vertical blinds. We love sheer shades with their translucent backing and adjustable fabric vanes that provide outstanding protection from UV damage. Sheer shades fit neatly within the frames of French doors, allowing you to highlight the woodwork. We recommend sheer shades with front and back light-filtering panels for extra privacy. These balcony shades for your apartment offer maximum privacy even with fully open shades, allowing you to take in a spectacular view.
Banded shades are another excellent option for balcony doors. The alternating bands of opaque and sheer fabric offer outstanding versatility; They will allow an unobstructed view without passersby looking into your apartment. With the straightforward design of a roller shade paired with tasteful sheer fabric, banded shades are a fantastic solution for your minimalist or modern interior.
Shutters – A More Solid Solution
Shades and blinds aren't everyone's cup of tea. If you're among that group but still want to enjoy your view, we suggest shutters with 4 ½" wide louvers. Wide louvers offer more significant gaps between them, allowing you to see out without others being able to see into your apartment. Tilt them a little or a lot until you have the desired view. Shutters also have the added benefit of being easier to clean than most fabric materials.
Wood shutters beautifully complement classic decor, while composite options are ideal for minimalist and contemporary design. No matter whether you choose natural wood shutters or durable faux wood shutters, shutters will make your balcony one of your favorite spots in your NYC apartment.
Outdoor Options for Privacy
Somedays practically beg for you to raise your shades, throw the doors to your balcony wide open, and enjoy the warmth and natural light of the sun. A "living screen" with large plants and potted trees is the perfect way to ensure privacy and a phenomenal view. We love the look of large leaves, like palms, for breaking up the view onto your balcony and into your home. Pro Tip: choose naturally bug-repellant plants like lavender to keep bugs away while maintaining a gorgeous view!
Balcony Shades for NYC Homes
Enjoy your New York City views when you work with the window treatment experts at Janovic! Janovic is the city's premier Hunter Douglas dealer, and we can assist you with finding the perfect shades or shutters to complement your balcony view. Visit one of our showrooms across New York City or schedule a free, in-home design consultation. Contact us today to schedule your consultation.