Consider Your Needs
There are several questions you should be asking yourself before deciding what the best kitchen window curtains are for your personal and home needs.
Is the window close to something that produces water, steam, or heat like a stove or dishwasher? Some window treatments are better suited to heat and moisture resistance than others.
How much privacy do you want in your kitchen? Or would you prefer to prioritize natural light?
Are you concerned with temperature control in your kitchen? Kitchens can get very hot with ovens and cold with freezers and refrigerators, so you don't want your windows making it even hotter or colder. An energy efficient curtain or shade can help with this.
These are just a few of the questions you should be asking yourself to try and determine the best kitchen window curtains for your home. Fortunately, Hunter Douglas has innovative, unique, and stylish products to perfectly fit into the design of any home.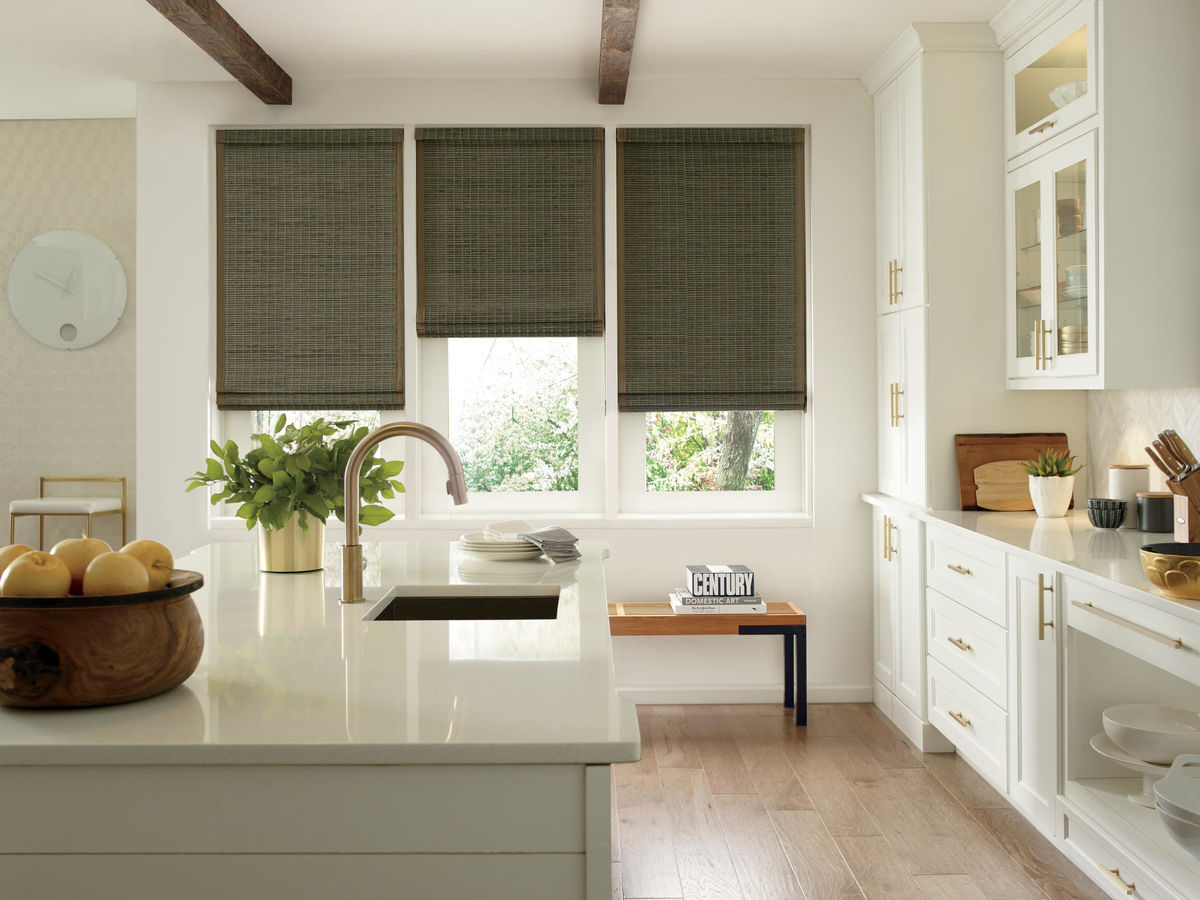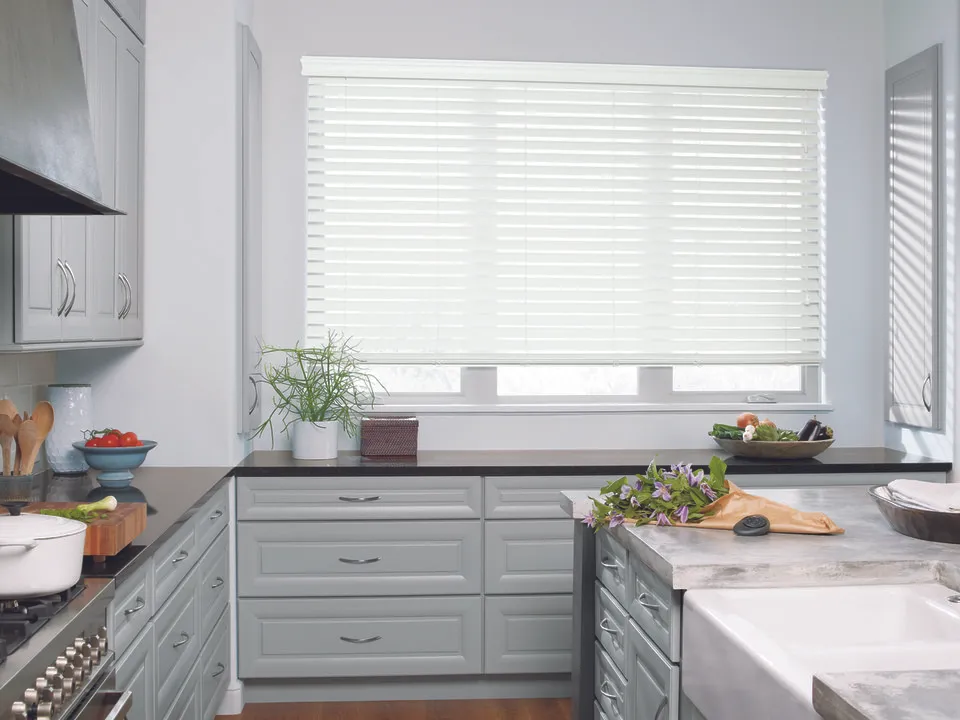 Heat and Moisture Resistant Blinds and Shutters
Perhaps the biggest concerns for window treatments in any kitchen are heat and moisture. A kitchen with a steamy dishwasher or a hot gas stove top might need something different out of their kitchen window curtains than what you would need in a living room. Hunter Douglas has several great options that can stand the heat and humidity including Modern Precious Metals® Aluminum Blinds, EverWood® Alternative Wood Blinds, and Palm Beach™ Polysatin™ Shutters.
Not only are all of these window treatments made from innovative materials that won't warp, crack, fade, chip, peel or discolor, but they are made to imitate the look of natural woods and precious metals. This means that you won't have to worry about them warping, chipping, or discoloring when they are near a sink or stovetop, and they'll look great the whole time.
Insulating Honeycomb Shades
Kitchens have a tendency to get very hot and very cold depending on the work that is being done there. Fortunately, Hunter Douglas has products that can make sure your kitchen window curtains are helping prevent this from being exasperated by your windows.
Duette® Architella® Honeycomb Shades, for example, utilize a unique double honeycomb construction to create insulating air pockets. This helps to keep unwanted outside heat and cold on the outside.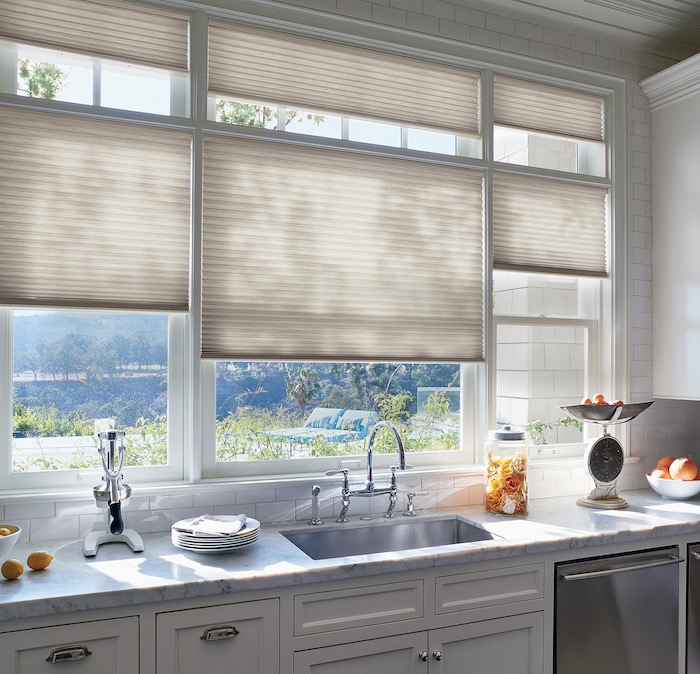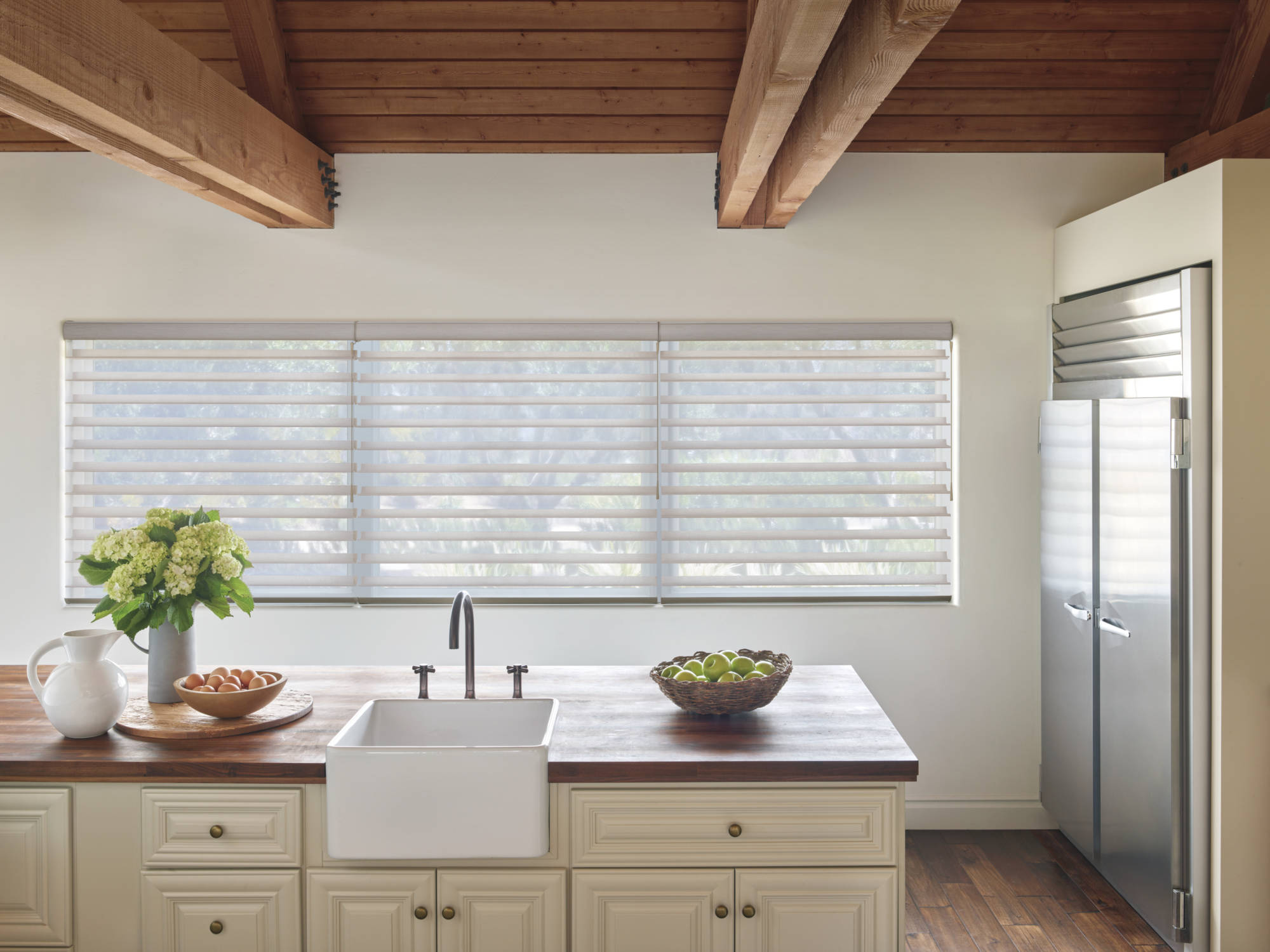 Privacy and Natural Light
Kitchens are often great gathering spaces where you would want natural light filtering in, but you also don't want neighbors looking in while you are having your morning breakfast. Your kitchen window curtains should help you achieve that. Silhouette® Window Shadings from Hunter Douglas do just that. They utilize S-shaped vanes between two sheer panels that allows light to diffuse gently into a room. When the vanes are tilted, though, it blocks the view into your home. This puts the power of deciding on light or privacy into your control.
Options for Every Style
Another consideration, of course, is your kitchen's style. From modern shades to classic shutters, we have window treatments to complement any décor. Not only do Hunter Douglas window treatments come in a nearly any design, style, and color, but they can also be made to fit a variety of regular and custom window sizes.
Each curtain, shade, shutter, blind, and sheer made by Hunter Douglas is designed to perfectly suit your needs. Janovic is here to make sure you make the perfect choice from all these great options. The professionals at Janovic will help you determine the best color, style, and type of window treatment for your kitchen windows.
If you need help with other ideas for any space in your home, we are here to help, and we invite you to contact us. We offer an extensive collection of curtains, shades, sheers, blinds, and shutters in New York, NY and beyond.